This delicious and easy low-carb breakfast idea is perfect to help get your day off to the right start! An amazing fried cheese, some fruit, a veggie, and your favorite protein. Easy to switch up while still keeping it low carb and perfect if you are trying to keep it healthy!
Be sure to check out these other low-carb recipes while you are here: Low-carb Chicken Parmesan Stuffed Peppers and Low-carb Zucchini Lasagna.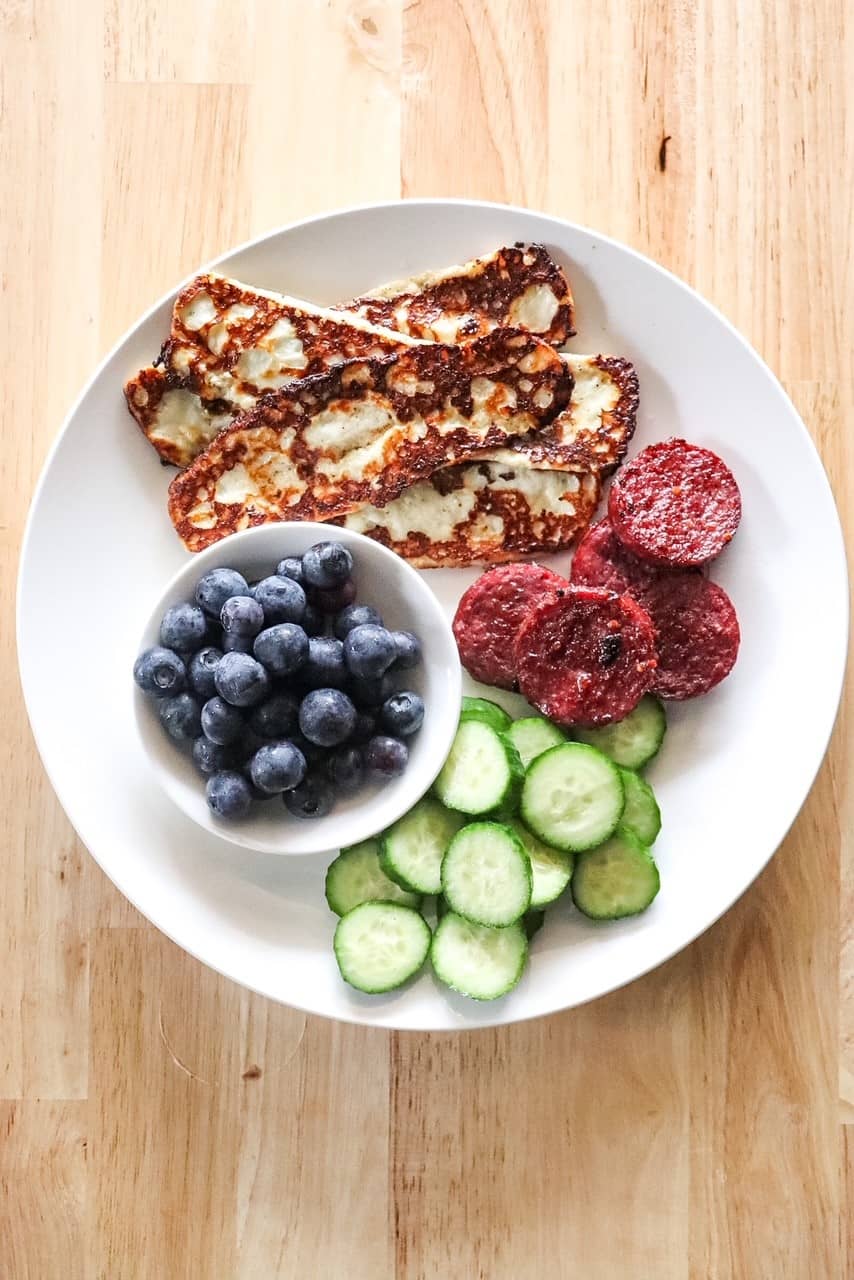 If easy breakfast ideas are more your style, check out this delicious Mixed Berry Smoothie Bowl. This Loaded Avocado Toast is also full of healthy deliciousness!
Breakfast is oftentimes referred to as the most important meal of the day. Admittedly, I am guilty of skipping it sometimes! Whether it is due to being busy, or just not being a huge fan of the traditional breakfast.
This Low Carb Breakfast Idea is perfect though! Quick and easy to make, tons of ways to switch it up and you can even eat it on the go if you need to. 
What kind of fruit is best to use?
In theory, all fruit is good for you;  but the idea here is low carb! With that, you want fruits high in fiber and antioxidants. Not only will they break down better, it sticks to the ideal of being low carb.
Ideal fruits include:
Berries: strawberries, blackberries, blueberries
Kiwi fruit
Peaches or other stone fruits
Melon
Vegetable ideas for a low carb breakfast:
When picking vegetables, keep in mind that veggies with high fiber, will help lower the carbs. Higher fiber mean, less sugar, which means less carbs.
Vegetables such as:
Cauliflower
Bell peppers
Cucumbers
Broccoli
Spinach
These are merely suggestions, and happen to be some of my favorites!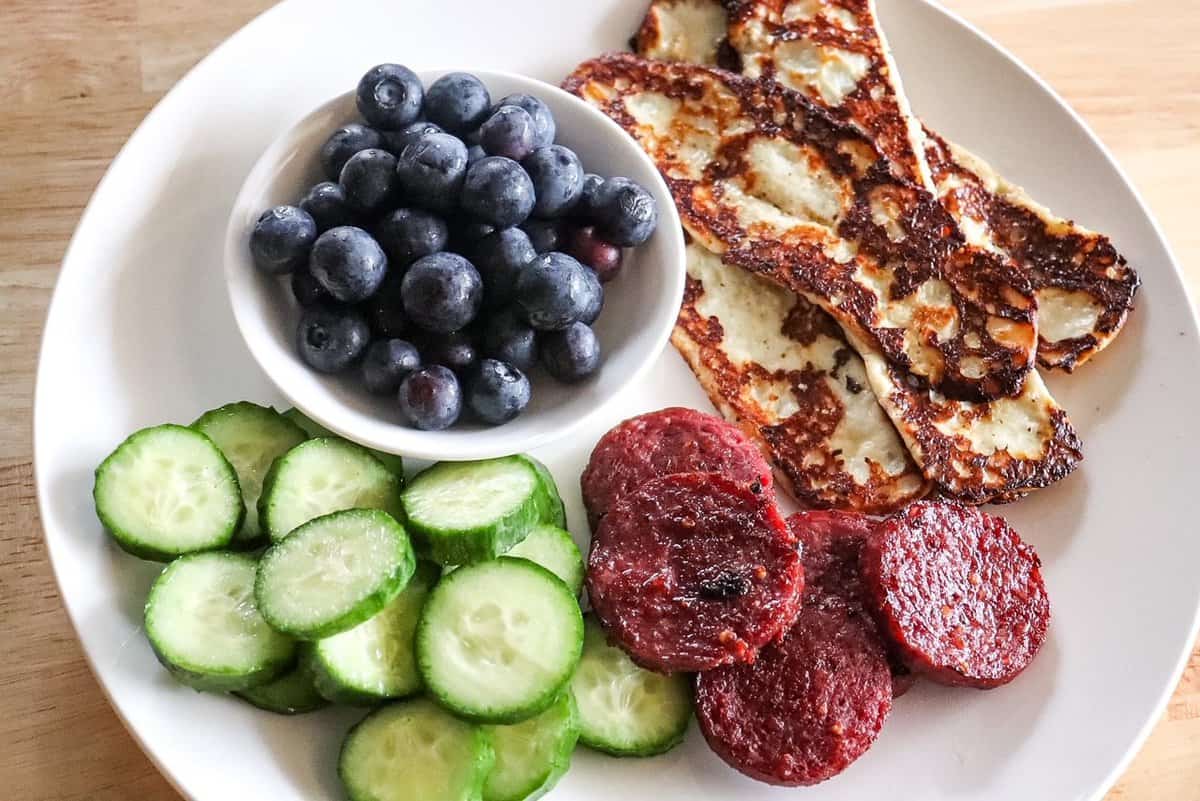 Best cheese for frying:
When scoping out which cheese to go with, go for hard cheeses! They fry well and will not just end in a gooey mess. Instead, they will hold their structure. Cheeses like: white cheddar, halloumi or queso fresco are all great choices.
Aged white cheddar
Halloumi
Queso Fresco
Swiss
Most of these cheeses can be found right in your local grocers deli section.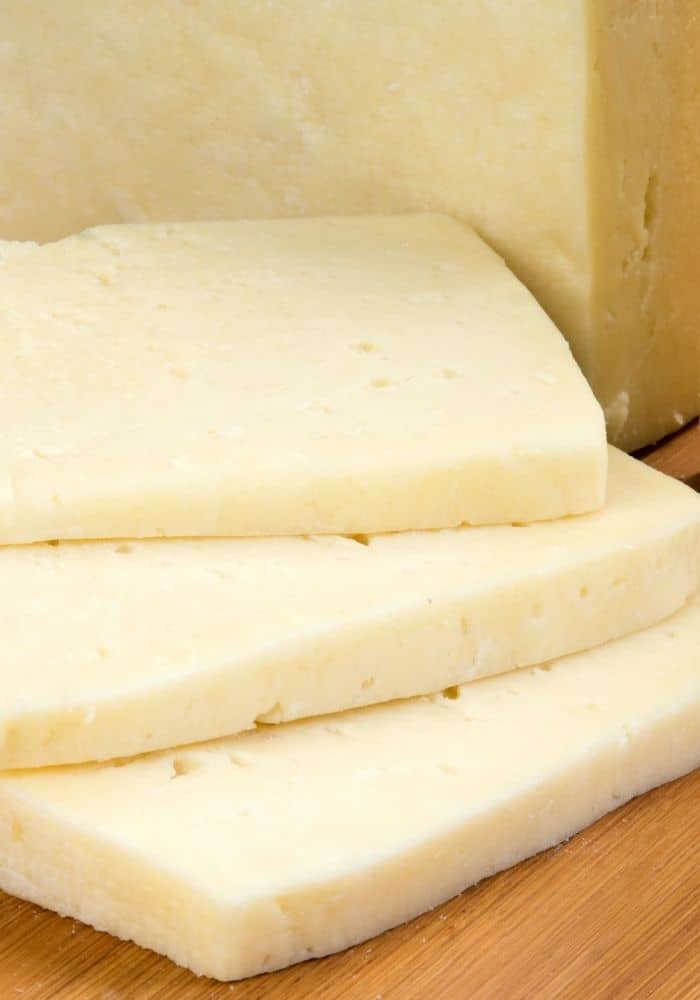 Other things to add for a low-carb breakfast idea:
I think the fact that you can switch it up in so many different ways is one of my favorite parts of this recipe. Swap out for whichever fruits or veggies are in season. Eggs are amazing, and are definitely low carb. So add an egg.
Switch out the type of cheese, add bacon, or a different type of sauce. Add in a high fat, low carb dip like cream cheese, and enjoy it with a cup of black coffee. The options are endless!
Benefits of eating low carb?
Aside from being a great way to reduce your appetite and lower or maintain a healthy weight, eating low carb also has many other health benefits.
Eating low carb is a great way to keep your sugar intake in check, lower cholesterol, as well as lowering your blood pressure.
This Low Carb Breakfast Idea shows that eating healthy, yet convenient foods can still be fun and taste good too!
(The information provided on the site is for educational purposes only, and does not substitute for professional medical advice.)
📖 Recipe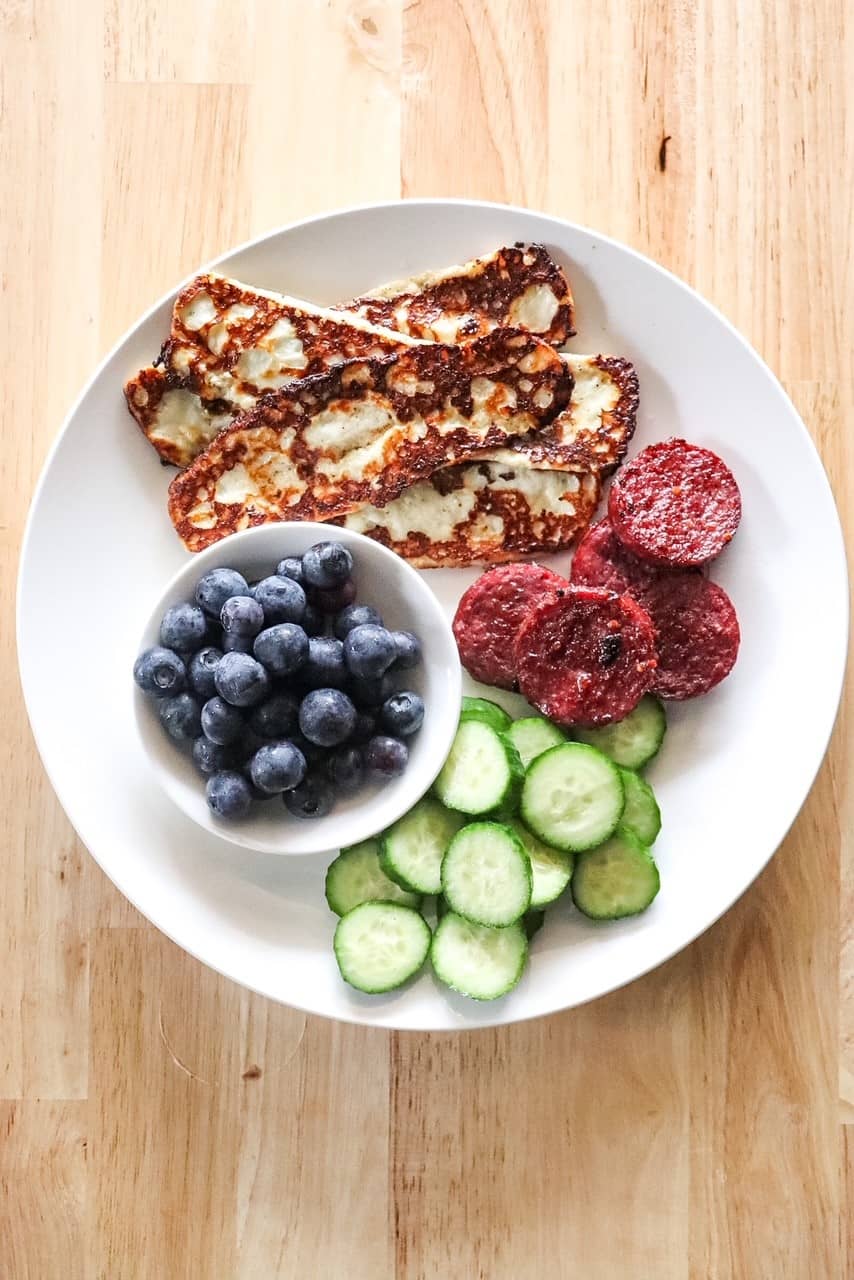 Yield:

1 serving
Low-Carb Breakfast Idea
A delicious and easy low-carb breakfast idea to help get your day off to the right start! An amazing fried cheese, some fruit, a veggie, and your favorite protein.
Ingredients
5 slice Beef sausage
4 slice Semi hard cheese, for frying
½ cup Fruit, cut into small pieces
½ cup Vegetable, cut into small pieces
Instructions
Preheat a skillet over medium heat. Add the slices of cheese directly into the ungreased skillet. Fry them for about three minutes per side. The cheese will harden, and take on a golden brown color.
Next, add the slices of beef sausage into the same skillet, and fry until they are golden brown; about three minutes per side.
Cut up small pieces of fruit, and your favorite vegetable and add them to your plate. Enjoy with a cup of black coffee!
Notes
See the post above for different options and variations for the ingredients.
Nutrition Information:
Yield:
1
Serving Size:
1
Amount Per Serving:
Calories:

479
Total Fat:

79g
Saturated Fat:

8g
Trans Fat:

1g
Unsaturated Fat:

7g
Cholesterol:

22mg
Sodium:

3847mg
Carbohydrates:

6g
Fiber:

6g
Sugar:

6g
Protein:

27g
This website provides approximate nutrition information as a courtesy and for convenience only.