Citrus Ginger Immunity shots, sometimes called immune system boosters, are a great way to keep your immune system strong. Made with all the ingredients your body needs to maintain optimal health.
You should definitely check out this Kale Salad with Salmon and this Baked Frittata while you're here!
Jump to:
It's that time of year where the cold and flu are spreading like crazy. These immunity shots have helped me and my families immune systems stay in tip-top shape!
Why this recipe is so good
Everyday ingredients! These immune shots use ingredients that are easy to find. Use your favorite local fruits like lemons and oranges.
Inexpensive to make! Using fresh ingredients that you can find at your grocery store make this recipe budget friendly.
Immune booster! Keeping your immune system in check during cold and flu season is very important. These immunity shots have ingredients to help your system stay healthy and strong.
Easy! This immunity shot is super simple to make. Peel your fruits and place everything in a blender.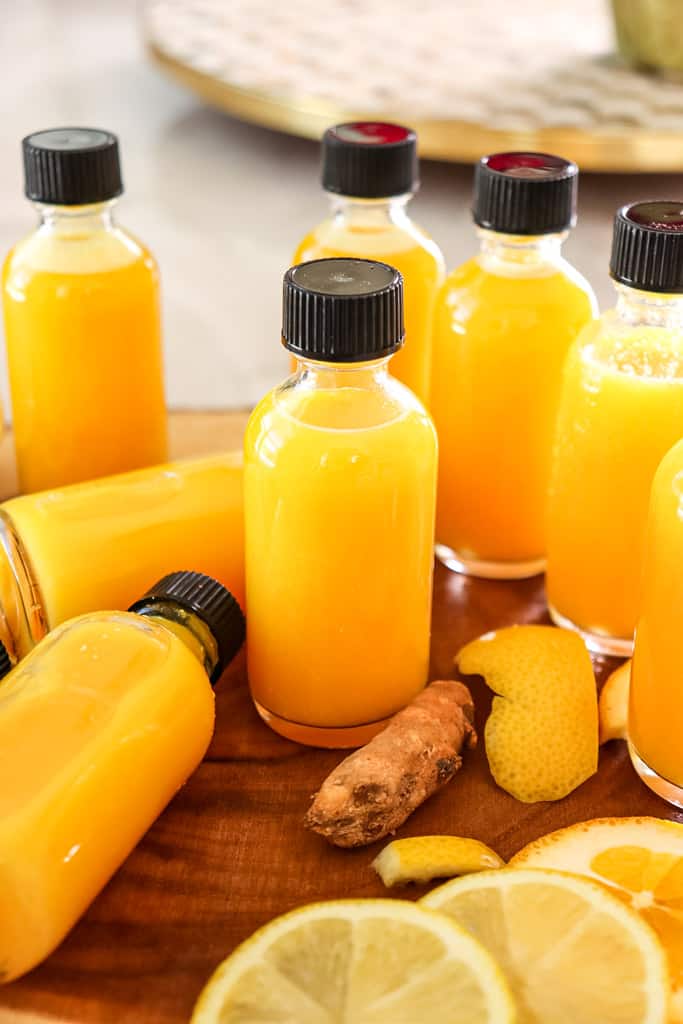 What is a natural Immune booster shot
These immune booster shots are filled with citrus, namely lemons and oranges. They also have ginger, turmeric, and garlic in them. All of these ingredients have amazing health benefits.
You will have great immune support if you drink at least one immunity drink per day. They also have properties in them that aid in digestive health. Ginger shots and turmeric are great for digestive health and immune health.
Ingredients needed
The best part about this immune booster recipe is that the ingredients are easy to find. Here is what you will need:
Oranges: use regular navel oranges instead of the small cutie style mandarin oranges.
Lemons: full sized lemons are the best because they will yield the most juice. If possible, grab the USDA certified organic lemons.
Garlic: you will only need one clove of garlic. Fresh garlic is best, not the pre-diced in a jar garlic.
Turmeric: grab fresh turmeric from your local Sprouts or grocery store.
Ginger: you will need a knob of fresh ginger for this recipe. Check out a farmer's market, or the produce section of your store to find organic ginger. Ginger shots are great for immune support.
Manuka Honey: This can be found online, or at a local Sprouts or health and wellness store.
How to make Immune Booster Shots
These immunity shots are really easy to make. You only need to peel your oranges and lemons, and take the skin off of the turmeric, ginger, and garlic.
Once everything is peeled, you can cut them down into small enough chunks to fit into your blender. Add all of the ingredients, including the black pepper and the honey.
Pour the water directly into the blender, and blend it on high for about two minutes. The mixture will be very chunky with a lot of pulp.
Use a fine mesh strainer to get all of the pulp out. Strain the juice into a glass jar or glass container with a lid.
Health Benefits of immunity shot
Immunity shots have several ingredients that are beneficial to immune health. The citrus provides a great dose of vitamin C which is excellent for immunity support.
Gingerol is the main compound found in ginger. It has a very powerful antioxidant and anti-inflammatory component. Turmeric is also a very powerful anti-inflammatory ingredient which aids in immunity defense.
Antioxidant properties can be found in black pepper. This is helpful to combat free radicals that may cause illness. Vitamin d3 also has amazing immune health properties. This can be found in the fresh orange juice and lemon juice.
Regular Honey versus Manuka Honey
Manuka honey is the best to use for these immunity shots because it has antimicrobial and antibacterial properties. It's healing properties are known to help combat seasonal allergies and common colds.
Regular honey is also very good for combatting sore throats. Most store bought honey are highly processed though. Since honey is almost 100% sugar, it is pretty nutrient dense.
Evenmore, regular honey is sourced from many different places, whereas manuka honey comes from a specific plant only found in New Zealand.
Optimal Immune Function
In order to combat a common cold, or any other seasonal illness, a healthy immune system is key. Drinking at least 2 oz of this immune booster shot will aid in optimal immune function.
Think of this drink as a preventative measure. Take at least one immunity shot a day to stay ahead of it. Plant-based ingredients and live probiotics are always helpful to keep your body healthy.
FAQ
Do Immunity Shots really work?
Yes immunity shots have a lot of antioxidant and anti-inflammatory properties that are vital to immune health. The Vitamin C alone is a great source for immune defense.
What do these taste like?
These shots have a very fresh taste. The citrus is very fruitful. You can definitely taste the ginger, but it is not overpowering.
How often do I need to drink an immunity shot?
Drink about 2 ounces of this immune boosting juice at least once per day for optimal health.
How long can these stay in the refrigerator?
You can store these immunity shots in a glass, airtight container, for up to two weeks.
Can I make these ahead of time?
Yes you can make these immune shot ahead of time. This recipe yields 12, 2 oz servings.
📖 Recipe
Yield:

12 Servings
Citrus Ginger Immunity Shots
Citrus Ginger Immunity shots, sometimes called immune system boosters, are a great way to keep your immune system strong. Made with all the ingredients your body needs to maintain optimal health.
Ingredients
3 whole Oranges, peeled
2 whole Lemons, peeled
2 tablespoons Ginger, about a 2 inch knob, peeled
2 pieces Turmeric, peeled
1 clove Garlic
2 tablespoons Manuka Honey
2 teaspoons Black pepper
2 cups Water
Instructions
Remove the peel from the oranges and lemons. Peel the turmeric, ginger, and garlic as well.
Add the oranges, lemons, ginger, turmeric, garlic, manuka honey, black pepper, and water into a high speed blender.
Blend all of the ingredients on high for 2 minutes.
Use a fine mesh strainer to strain the juice into a container with a lid. Pour the juice directly into the strainer, and use a spoon to move it around until only the pulp is left.
Place the lid on the jar or container and place it in the refrigerator for up to 2 weeks.
Optional: use a funnel to add the juice into individual containers.
Nutrition Information:
Yield:
12
Serving Size:
1
Amount Per Serving:
Calories:

36
Total Fat:

0g
Saturated Fat:

0g
Trans Fat:

0g
Unsaturated Fat:

0g
Cholesterol:

0mg
Sodium:

3mg
Carbohydrates:

9g
Fiber:

1g
Sugar:

6g
Protein:

1g
This website provides approximate nutrition information as a courtesy and for convenience only.