Low-Carb Chicken parmesan stuffed peppers, and can be made in the air fryer! Made with juicy pieces of chicken, mozzarella and parmesan cheese, all stuffed in a tender bell pepper.
These Cheesesteak Stuffed Peppers and Cheesy Taco Stuffed Peppers are also super delicious! Be sure to check them out while you are here.
Wow! It feels great to share this recipe with you! The idea for this recipe has been sitting in my head for sometime now. Stuffed peppers are definitely a family favorite in this household. They are fairly simple to put together, and a healthy alternative to a traditional meal.
No air fryer? No problem! Keep reading to learn alternative cooking methods.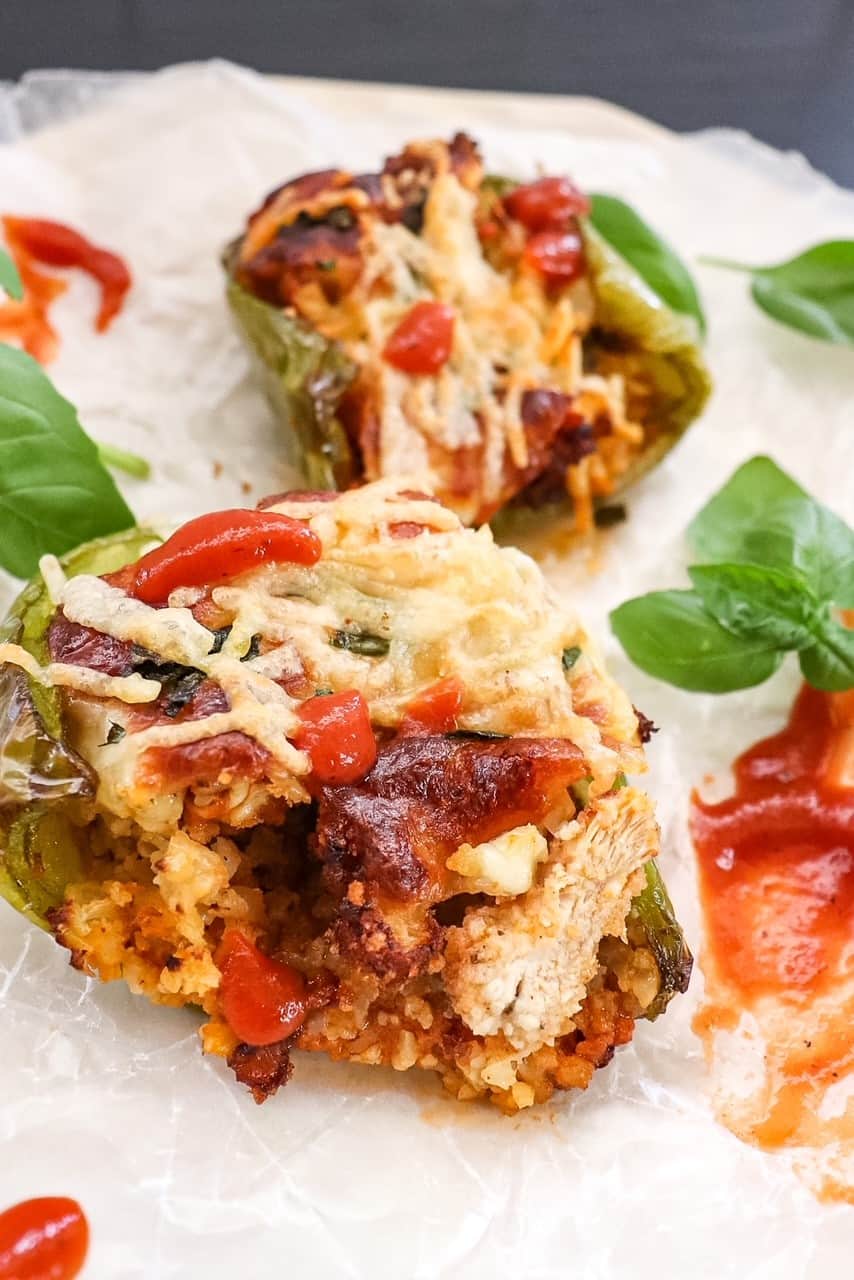 Ingredients used for this recipe:
It is always best to gather all of the ingredients you need before you start cooking. Here is what you need:
Bell peppers- for this recipe we used green peppers, but any color will suffice!
Chicken breast
Sun-dried pesto or marinara sauce
Mozzarella cheese
Cauliflower rice
Seasonings
If you do not own an air fryer:
No worries at all. Although, I highly recommend you get yourself an air fryer ASAP! One of my favorite things about the air fryer, is that it cuts down on the cooking time. Even more, there is no need to heat-up the entire house with the oven!
With that said, using the traditional oven will work just as great for this recipe. Instead of frying the chicken in the air fryer, you can bake it in the oven. Place the chicken in a single layer on a non-stick baking sheet. Place it in a 375 degree oven and cook for 8-10 minutes. Flip the chicken over, and cook an additional 8 minutes.
Same thing with the peppers, once they are stuffed, place them on the baking sheet and bake them for 5 minutes, (or until cheese is melted). Cooking times may vary, because everyone's oven settings are actually different.
Alternatives to using almond flour:
If almond flour is not your thing, try these pork rind breadcrumbs instead. Trust me, your chicken will not taste "porky!" They actually have a very subtle flavor, but offer that crunch factor that we are after here. Follow all of the same steps, just replace the almond flour with these breadcrumbs.
Best side dishes for the stuffed peppers:
Truth be told, this is truly a meal in and of itself! To make it more substantial, while keeping it low carb, add a simple side salad. Another great idea is to steam a vegetable of choice. Or even something like this squash and zucchini bake would be an amazing side.
How to store and reheat leftovers:
I HIGHLY doubt there will be any leftovers with these bad boys! Just in case there are, or if you are meal prepping, here are some pointers. Store the leftover peppers in an air tight container, and place them in the refrigerator for up to 3 days.
When it is time to reheat, pop them in the air fryer on the "reheat" mode. If you do not own an air fryer, place them in the microwave for 2-3 minutes or until heated all the way through. They are just as delicious when reheated!
📖 Recipe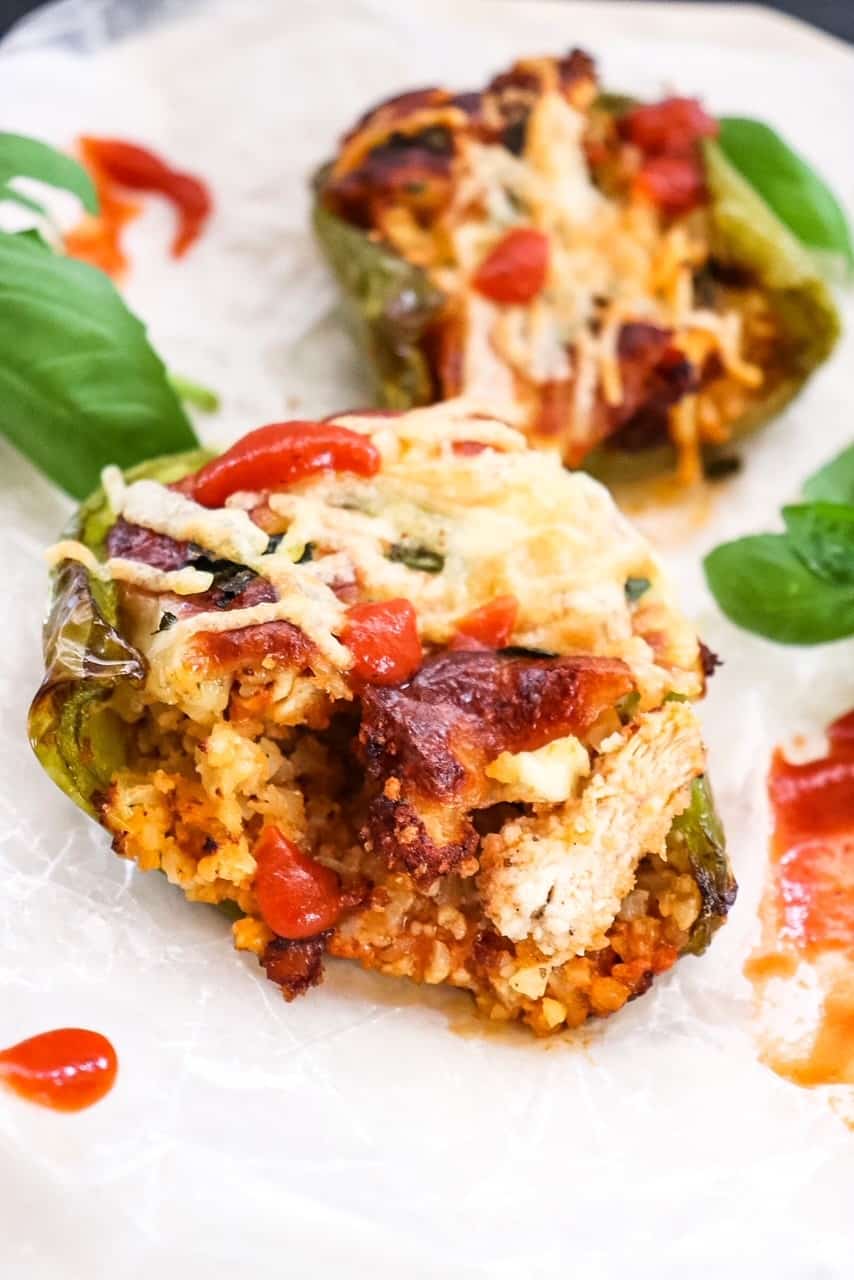 Yield:

8 Half Peppers
Low-Carb Chicken Parmesan Stuffed Peppers- Air Fryer Recipe
Low-Carb Chicken parmesan stuffed peppers, and can be made in the air fryer! Made with juicy pieces of chicken, mozzarella and parmesan cheese, all stuffed in a tender bell pepper.
Ingredients
4 Bell peppers
2 Chicken breast
4 cups Cauliflower rice
2 cups Mozzarella cheese, shredded or thinly sliced
3 cups  Sundried tomato pesto sauce, (or marinara sauce)
Seasoning for the Chicken
2 cups Almond flour
1 tablespoon Seasoned salt
1 tablespoon Italian seasoning
½ tablespoon Garlic powder
½ tablespoon Onion powder
Instructions
Clean chicken well. Cut into bite size pieces, about one to two inches each. Add the chicken to a large bowl, and add all of the seasoning for the chicken. Toss to coat each piece evenly.
In another bowl, (or large Ziploc bag), add the almond flour. Add the pieces of chicken, and toss to coat evenly.
Preheat the air fryer on "fry" mode on 375 degrees. Spray the interior with a non-stick spray.
Place the pieces of chicken into the air fryer in one single layer. Do not overcrowd or let the chicken overlap. Cook for eight minutes, open the air fryer and flip the chicken. Cook an additional eight minutes. Continue this process until all of the chicken is cooked.
While the chicken is cooking, cut the tops off of the bell peppers. Slice the bell peppers directly down the middle. Remove any seeds and membranes and discard of them.
Bring a large pot of water to a rapid boil (enough water to cover the bell peppers). Once the water is boiling, place the bell peppers into the water and boil for 3-5 minutes.
Remove the bell peppers and set them aside. Discard of excess water.
Cook cauliflower rice according to package instructions.
Begin layering the peppers. Smear the inside of the pepper with the tomato pesto sauce, or marinara sauce.
Next, sprinkle a little bit of the cheese, then the cauliflower rice, some of the chicken and finally, top with more mozzarella cheese. Eyeball how much of each to ensure all of the peppers are filled evenly.
Place the filled peppers in a lined air fryer, and set it to "bake" at 350 degrees. Bake the peppers for 5-7 minutes, until the cheese is melted.
Continue the same process until all of the peppers are done. Remove, and enjoy!
Notes
See the post above for traditional oven method.
Nutrition Information:
Yield:
8
Serving Size:
1
Amount Per Serving:
Calories:

542
Total Fat:

26g
Saturated Fat:

11g
Trans Fat:

0g
Unsaturated Fat:

16g
Cholesterol:

32mg
Sodium:

299mg
Carbohydrates:

10g
Fiber:

10g
Sugar:

10g
Protein:

32g
This website provides approximate nutrition information as a courtesy and for convenience only.