This Parmesan Squash and Tomato Bake is full of delicious flavors. A delicious way to use-up summertime harvest of zucchini, tomatoes, and yellow squash.
Check out this Zucchini Lasagna and these Collard Greens while you are here!
Why we love this recipe
This Parmesan Squash and Tomato Bake dish came about because of the plethora of zucchini and yellow squash I had on hand.
If you know like I know, zucchini and yellow squash do not have a very long shelf life. So, it was time to use it up before it went bad.
With squash on hand, tomatoes, and onion- a delicious side dish was created! I must admit, I was a little skeptical at first of getting the families opinion on the dish.
The greatest compliment is when all the food is gone once dinner is over!
Alternatives to hand slicing the veggies:
Although the squash & tomato bake was surprisingly very easy to make, cutting the veggies is tedious! Using a chef's knife, each piece of squash and tomato need to be thinly sliced.
As an alternative though, a hand held mandoline, or one of my favorite favorite FAVORITE kitchen gadgets, the Veggie Bullet can be used. This machine is absolutely legendary! It spiralizes, slices, and shreds any vegetables or fruits.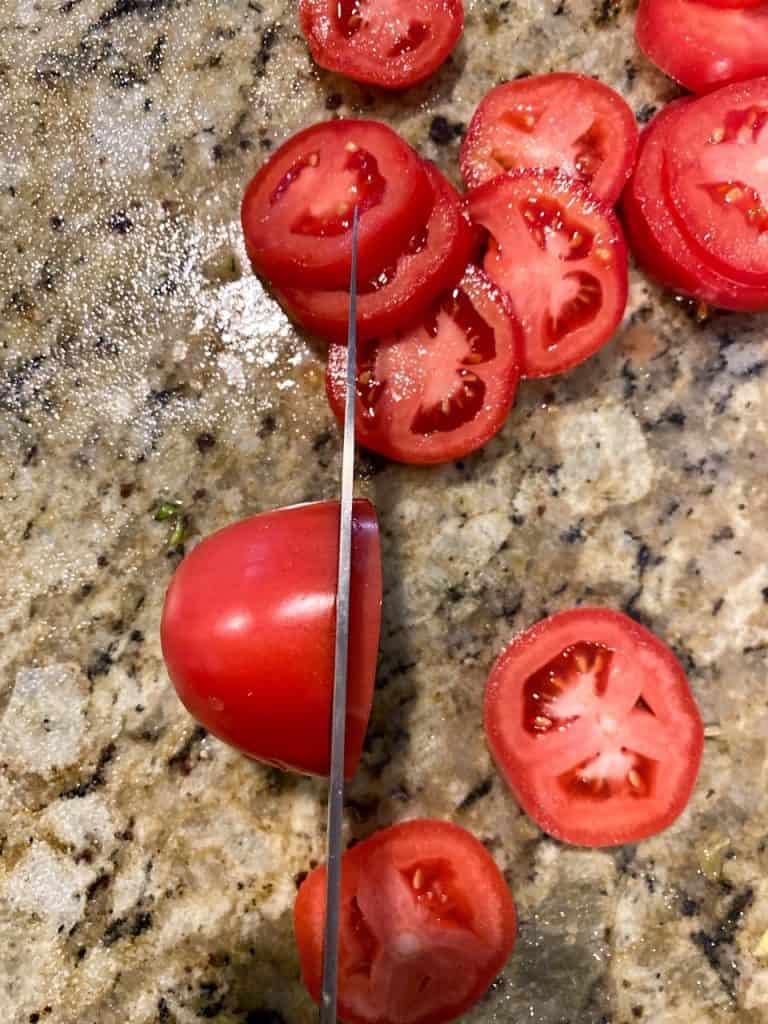 I definitely pulled that nifty little gadget out for this dish. Don't worry though, if you don't have a Veggie Bullet, simply slice the zucchini, squash, and tomatoes by hand.
Try to get them as thin as possible to achieve the optimal tenderness when baked.
Here are the steps to create the Squash & Tomato Bake:
Wash your vegetables. Use your veggie bullet to slice the zucchini, and yellow squash. I cut the tomato and onion by hand.
Once they are all sliced, add olive oil and seasoning to coat veggies well. Also sprinkle and mix-in about ¼ of grated Parmesan.
Begin stacking veggies in rows in a baking dish. Alter zucchini, yellow squash, tomatoes and onions and stack TIGHTLY in the dish.
Sprinkle more Parmesan cheese over the dish, and cover with aluminum foil and bake for 30 minutes.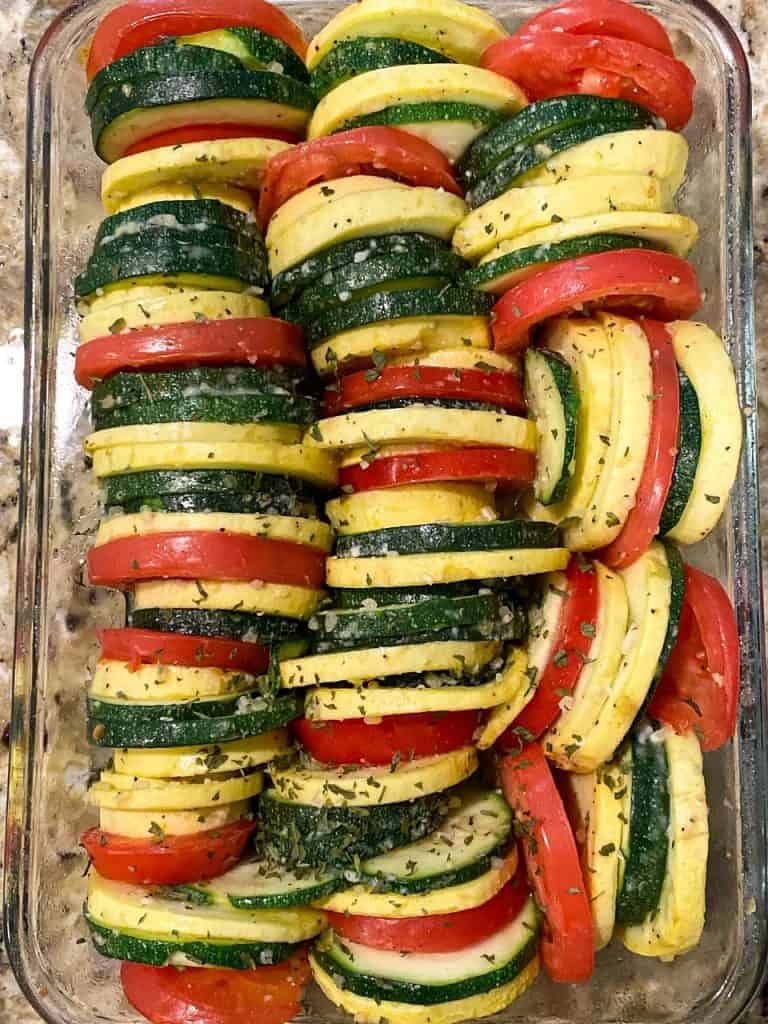 Remove foil and bake additional 5-10 minutes to get a golden brown texture on the top. Add more Parmesan cheese if desired.
How to handle excess water after baking:
All of these veggies together will produces an excessive amount of water after they bake. Prior to placing them back in the oven without the foil, gently tilt the pan over the sink to allow excess water to drain.
Use a spoon or spatula to cover the vegetables while tilting so that they do not all spill over into the sink.
Do not worry if there is a bit of liquid remaining in the dish. By baking them for the additional 5-10 minutes, even more liquid will evaporate.
Great entrees to enjoy this with:
📖 Recipe
Yield:

6 People
Parmesan Squash and Tomato Bake
This Parmesan Squash and Tomato Bake is full of delicious flavors. A delicious way to use-up summertime harvest of zucchini, tomatoes, and yellow squash.
Ingredients
1 medium Zucchini, thinly sliced
1 medium Yellow squash, thinly sliced
2 roma Tomatoes, thinly sliced
½ medium Onion, sliced
2 tablespoon Olive Oil
¼ cup Parmesan cheese, to sprinkle on top
Seasoning (to taste)
1 teaspoon Black pepper
1 teaspoon Seasoning salt
½ teaspoon Garlic powder
½ teaspoon Onion powder
¼ teaspoon Oregano
Instructions
Preheat oven to 375 degrees.
After all vegetables are sliced, toss them with all seasonings and olive oil, be sure to coat them all evenly.
In a small baking dish (8x4"), begin stacking squash, tomatoes, and onions into two even rows. Tightly pack veggies to fill up the pan.
Sprinkle the parmesan cheese on top- reserving a bit for after it's cooked.
Cover with aluminum foil and bake for 30 mins, or until veggies are tender.

If there is more liquid than desired, slightly tilt the pan over the sink to drain excess.

Sprinkle with remaining parmesan.
Enjoy!
As an Amazon Associate and member of other affiliate programs, I earn a small commission for my referral at NO extra cost to you. Thank you for supporting Razzle Dazzle Life!