These koolickles (Kool-aid pickles) are one of those snacks that even the non- pickle lovers might enjoy! Kool aid infused pickles are addictingly delicious. They will make your taste buds dance with a hint of sweet and sour in every bite!
While you're here you should definitely try these Chamoy Pickles and Spicy Bowls too!
One day my twins came home and told me that their teacher was selling kool-aid pickles and they bought some! Once I tried them, I knew we had to try this recipe at the house. I am already a pickle lover, so I definitely enjoyed this little snack!
What are Kool Aid pickles
They are dill pickles that are brined in a koolaid sugar mixture. They are literally jar dill pickles, either dill pickle spears, or whole pickles sliced into pieces, covered in a delicious koolaid flavor!
Why you will love a koolickle
Variety of flavors: there are so many different flavors, you add whichever kool-aid mix you would like! You can also experiment with different flavors of to create a variety of unique pickles.
Tangy and sweet: the tart flavor from the drink mix and pickle, along with the sweetness from the sugars, make a delicious little treat!
Kid approved: you and your kids will absolutely love these pickles! Kids especially love sour candy now-a-day, and these definitely fit the bill.
Easy to make: grab your jar of pickles, one of the popular flavors of koolaid, and some sugar along with the pickle juice, and you have everything you need!
Ingredients you will need
Pickles: you can use large whole pickles, dill pickle spears, or pickle chips to make this recipe. We have not tried the recipe with sweet pickles or bread and butter pickles yet.
Kool-aid: grab your favorite flavor of this drink mix packet. Some popular flavors include, cherry kool aid, strawberry, blue raspberry, and grape.
Sugar: you will definitely need to add some granulated sugar to your pickles. This helps cut the tartness down a bit.
How to make koolaid pickles
Step 1
Pour the pickle juice out of the jar of pickles and reserve a little juice it to use again. Cut your pickles into ¼ inch thick slices. If you are using dill pickle spears, you can leave them as-is.
Step 2
Add your sliced pickle into a jar, or a large bowl, and sprinkle in a whole koolaid packet. Then add your sugar. If you're using a large bowl, pour the pickle mixture back into a jar now.
If you are making more than one flavor, place the them in separate jars, and pour in 1 packet kool aid per jar.
Step 3
Pour some of the reserved pickle juice over the pickles and close the jar tightly. Shake the jar up well so that the pickle juice and koolaid mixture covers all of them evenly.
Step 4
Place them in the refrigerator for at least 1 day, but up to 5 days for the best results. After 5 days, remove them from the refrigerator, and enjoy!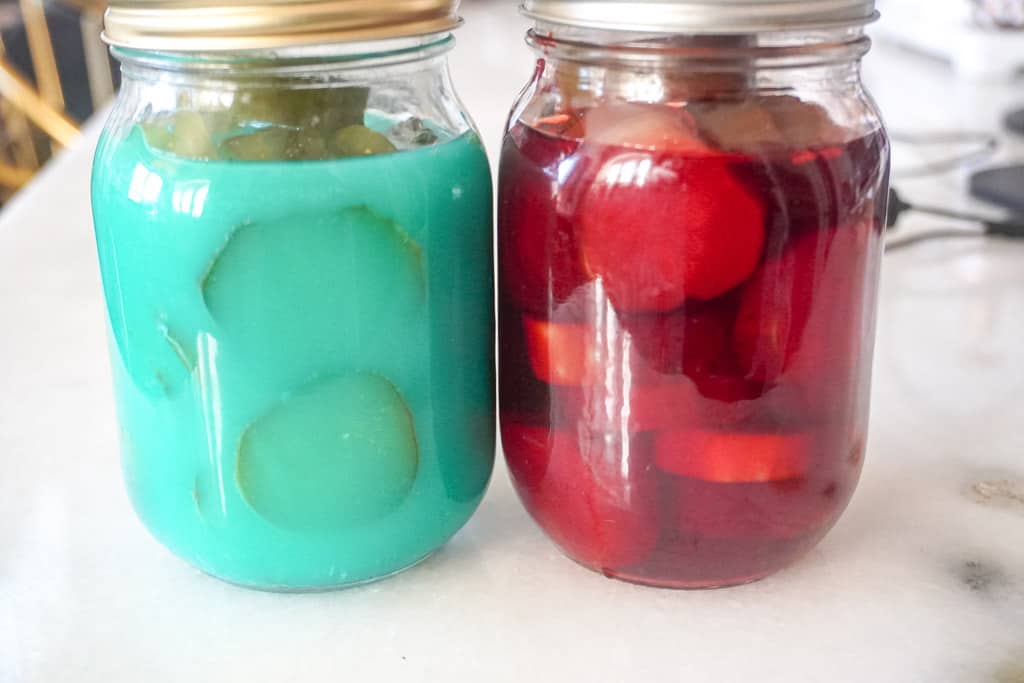 FAQ
Where do kool aid pickles come from?
The Mississippi delta region is best known for creating these kool aid flavor pickles. They've since adopted the name "koolickles" as a play on the fusion!
Do kool aid pickles taste good?
Yes are a delicious snack for even the non-pickle lovers out there. The pickles take on a sweet tangy flavor that you have to try before you decide!
What do Kool aid pickles taste like?
This fun snack tastes like a tart pickle that has a little hint of sweetness from the kool aid mix, and sugar that the pickle brine in. Adjust the amount of sugar and kool-aid for a sweeter or more tart flavor!
How do you make kool aid pickles?
Kool Aid pickles are surprisingly easy to make. All you need is a jar of pickles, Kool Aid mix, and sugar. Add the kool aid and sugar to the pickles, and allow them to soak in the mixture for a few days, then enjoy!
📖 Recipe
Yield:

2 Jars Pickles
How to Make Delicious Kool Aid Pickles
These koolickles (Kool-aid pickles) are one of those snacks that even the non- pickle lovers might enjoy! Kool aid infused pickles are addictingly delicious. They will make your taste buds dance with a hint of sweet and sour in every bite!
Ingredients
4 large Dill pickles
1 pack Strawberry Kool Aid
1 pack Blue Raspberry Kool Aid
1 cup Sugar, divided
1 cup Pickle juice
Instructions
Slice your whole pickles into ¼ inch slices. Place half of the sliced pickles into a 16 ounce jar, or bowl with a tight fitting lid, place the other half in a separate container or jar.
Sprinkle the strawberry kool aid over one container of pickles, and sprinkle the blue raspberry Kool aid over the other half.
Now sprinkle ½ cup of sugar over each container of pickles. Next, pour ½ cup of the pickles juice into each jar.
Close the container or jar and shake it up very well, so that everything is evenly distributed and mixed up.
Place the jar in the refrigerator and let the pickles marinate in the kool aid mixture for at least one day. And enjoy!
Notes
Check the post above for detailed instructions and tips.
You can substitute pickle spears for whole pickles. If you use whole pickles, poke hole in the pickle with a fork so that the flavors will absorb.
Nutrition Information:
Yield:
12
Serving Size:
1
Amount Per Serving:
Calories:

87
Total Fat:

0g
Saturated Fat:

0g
Trans Fat:

0g
Unsaturated Fat:

0g
Cholesterol:

0mg
Sodium:

949mg
Carbohydrates:

22g
Fiber:

1g
Sugar:

21g
Protein:

0g
This website provides approximate nutrition information as a courtesy and for convenience only.