Homemade Lumpia (Filipino spring rolls) are a savory and crunchy staple in Filipino households around the world. Seasoned meat and vegetables wrapped in a spring roll wrapper and fried to crispy perfection!
These Lumpia are the perfect side for this Quick and Easy Pepper Steak recipe. Or, try them with these Food Court Style Asian Noodles as well!
This is one of the most requested appetizers from family and friends! Crunchy, and super delicious Filipino spring rolls called Lumpia. I owe a lot of my Filipino childhood friends for teaching me how to make these delicious spring rolls.
What you need to get started:
Lumpia wrappers: These are very thin and delicate wrappers, but are strong enough to hold the lumpia filling.
Diced veggies: This recipe calls for carrots, celery, and onion. You can also shred the veggies if a finer texture is desired
Ground beef and/ or ground pork: A lot of people combine the two, or use either or.
A small bowl of water: This is used to help seal the edges when rolling
Grab your seasoning, and a large bowl to mix it all up!
Vegetable oil: For frying.
What is lumpia?
Lumpia are deep-fried Filipino spring rolls filled with sweet or (in this case) savory fillings. They are also referred to as Lumpia Shanghai or Lumpiang Shanghai; a smaller, meatier version of lumpia. Homemade lumpia is a staple in Filipino cuisine, usually served with rice, noodles, soup, or salad.
Lumpia Filling Variations:
This homemade lumpia recipe with ground beef is delicious but what I love most about lumpia is how versatile it is. You can fill them with whatever meats or veggies you have. Here are some ideas to mix and match.
Meat: Ground pork, ground chicken, minced shrimp. A lot of Filipino lumpia recipes are made with minced pork instead of minced meat.
Vegetables: Green onions, red pepper, cabbage, bean sprouts, sweet potatoes, chili pepper, jalapenos, green beans, cilantro
Is homemade lumpia hard to make?
They seem time-consuming, but once you get the hang of it, you will be able to whip these up in no time. In fact, the most tedious part is separating the lumpia wrappers!
The ingredients can be customized to your taste, which makes this recipe SUPER inexpensive to make. Once you make them, trust me, you will not be able to eat just one!
Where do I buy Lumpia Wrappers?
Head to your local Asian market to grab some of these wraps. Find them in the freezer section. There are also some online buying options, just search Google for "lumpia wrappers" to order for shipping.
Are lumpia wrappers the same as spring roll wrappers?
No they are not the same. Spring roll wrappers can be found in the Asian aisle at your grocery store, whereas lumpia wrappers are in the freezer section.
Spring roll wrappers are almost "plastic like" when they are dry. Once they are rehydrated in water, they become almost "skin like," and super pliable. They are both different from egg roll wrappers as well!
Both these wrappers are very delicate once they are in the wrapping form. So it is very important to handle them with care.
What kind of dipping sauce to use:
Once you put your own spin on them, you will be making these decadent spring roll-like appetizers for many meals! They are amazing when you dip them in a sauce.
Serve them piping hot with your favorite sweet chili sauce, sweet-and-sour sauce, or even ketchup! Some people like to make their own sauce with a mixture of fish sauce, soy sauce, and hoisin.
Another super popular sauce is the Filipino banana ketchup. It has a sweet distinction from American ketchup. This homemade lumpia is SUPER addictive, you will not eat just one!
Two methods for rolling the lumpia recipe:
For the first method, simply combine all of the ingredients in a large bowl. Cut the spring roll wrappers down the middle diagonally so that you get to equal triangles.
On a clean work surface, separate the spring roll wrappers by pulling them apart and layering them in a crisscross fashion so that they are easy to grab (see pic below). Pinch off a little piece of the meat mixture, and place it on the bottom edge of the wrapper.
Fold the wrapper just over the edge of the meat, enough to cover it up. This will take approximately one full roll going upward.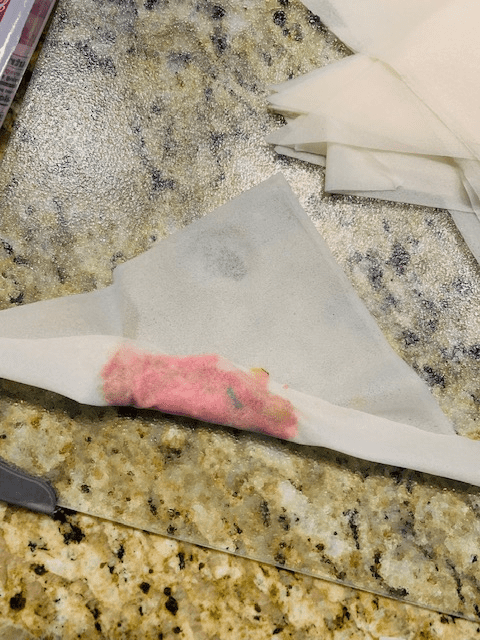 Then fold each side toward the middle. It is okay if the pieces overlap a bit.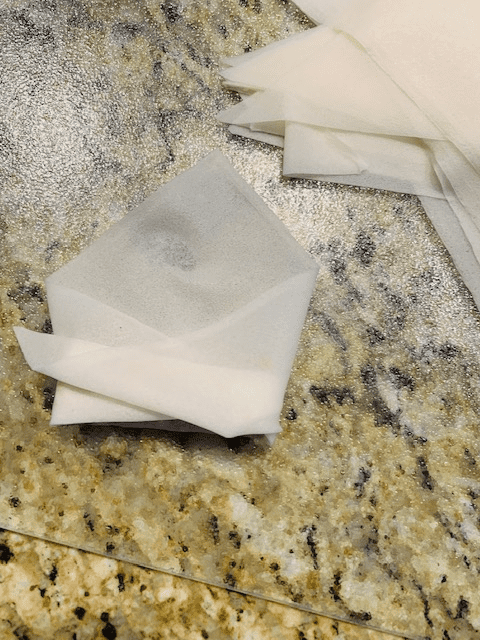 Continue rolling upward until there is only about an inch of the wrapper left at the top. Wet your fingers with the water, and continue rolling to seal the roll.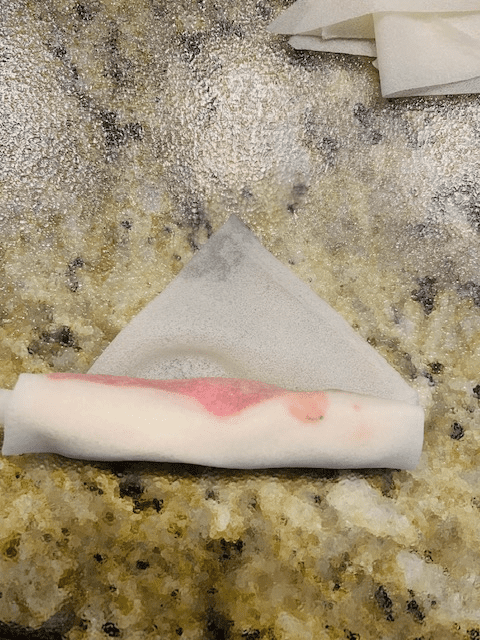 Set each rolled lumpia to the side until you are finished with them all. Next, you will preheat your vegetable oil to get ready to deep fry them. You can use a deep fryer, or a large skillet over medium high heat.
Lumpia should be fried in batches so that you do not over crowd the skillet or deep fryer. Over crowding when frying will cause them to steam and they will not be as crispy.
Video of how to roll lumpia:
The video in the recipe card shows you exactly how to achieve the alternative rolling method. Some prefer this method because it requires less handling of the meat, and it can be a bit faster!
Whichever method you decide to use, fry them up in some hot oil until you achieve that beautiful golden brown appearance. Usually, 5 minutes per side is perfect.
How to air fry lumpia:
Cooking lumpia in an air fryer is super easy and a healthier alternative to
frying. Preheat the air fryer to 380°F then place the pre-rolled, uncooked, lumpia in the basket, ensuring they aren't touching. Cook for 5 minutes on one side before flipping and cooking for an additional 5 minutes on the other.
How to store and reheat homemade lumpia:
You do not need to fry all of the lumpia at once. Fry enough for yourself and family that you intend to eat in on sitting.
The pre rolled lumpia that you do not fry can be stored in a gallon size Ziploc bag. You can freeze it for up to two months.
When you are ready to eat the lumpia, fry them straight from frozen. There is no need to thaw or defrost them. They are just as delicious as when you first rolled them!
Yield: 8 people
Homemade Lumpia (Filipino Spring Rolls)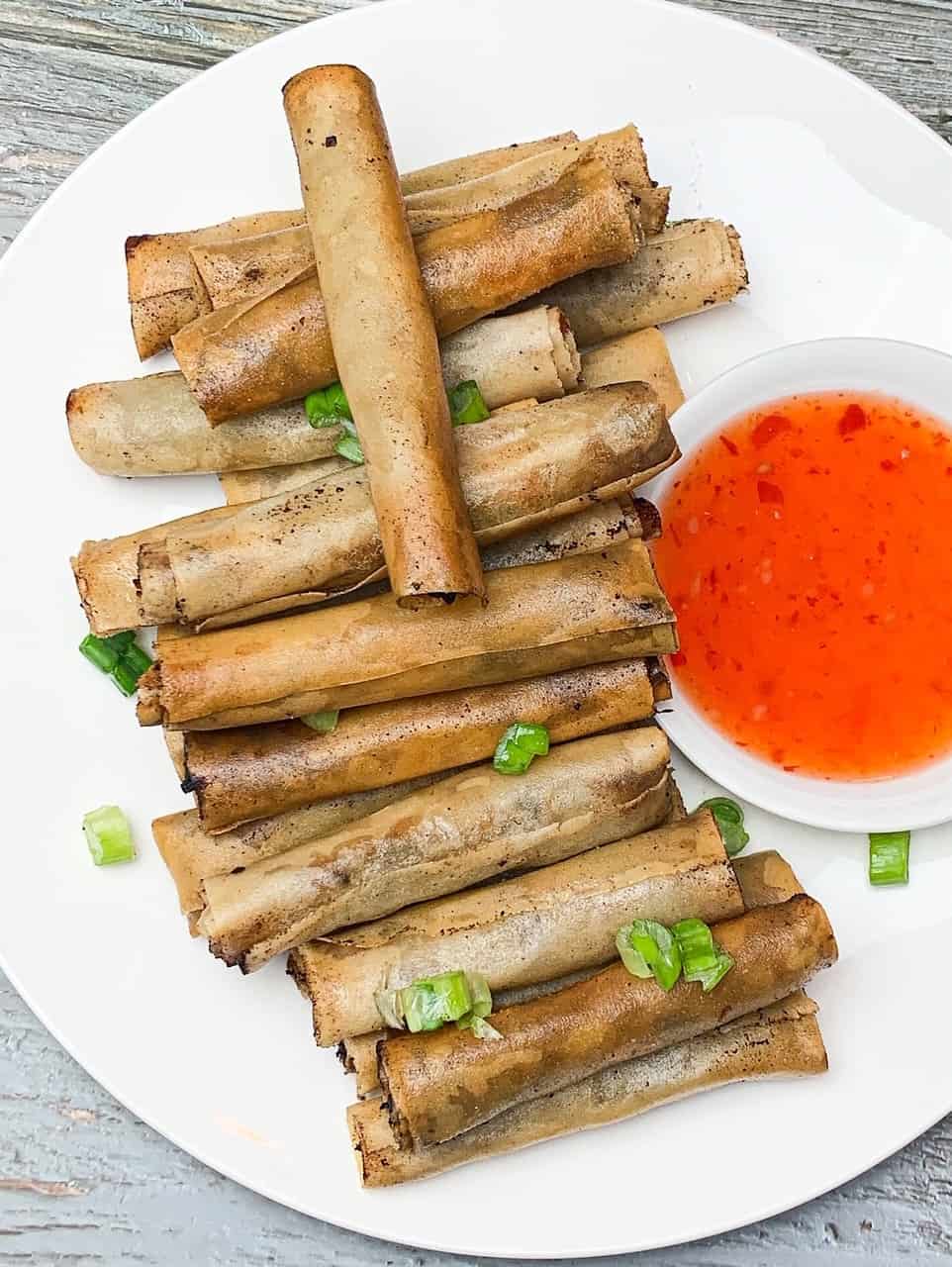 Homemade Lumpia (Filipino spring rolls) are a savory and crunchy staple in Filipno households around the world. Seasoned meat and vegetables wrapped in a spring roll wrapper and fried to crispy perfection!
Ingredients
1 pound Ground beef, not cooked
1 package Spring roll wrappers
½ cup Carrot, shredded diced
½ cup Celery, shredded or diced
½ medium Onion, diced
2 cloves Garlic, minced
1 small bowl Water, to help seal lumpia
2 cups Vegetable oil, for frying
Seasoning (to taste)
1 teaspoon Black pepper
1 tablespoon Seasoning salt
½ teaspoon Garlic powder
½ teaspoon Onion powder
Instructions
Cut spring roll wrappers in half (diagonally). Use a pizza cutter or a very sharp knife for this step. Once they are halved, separate each sheet and set to the side to make them easier to grab once you start rolling the lumpia.
Place a damp paper towel over the top of wrappers to prevent them from drying out.
Combine ground beef, and all of the vegetables and seasoning in a large bowl, mix well so that vegetables are evenly distributed.
Grab one of the spring roll wraps, take about a tablespoon of the mixture and place it on the very edge of the long side of the wrapper.
Roll upward toward the pointy edge of the wrap, being sure to roll as tight as possible without tearing the wrap.
Once half-way up, fold the sides in towards the middle.
Continue rolling all the way up, once an inch is left at the top, wet your fingers with the water and place it on the wrap to help seal it. close the roll and set to the side.
Continue rolling until all wrappers and meat have been used.
If serving right away, heat oil on medium heat, and fry them until golden brown, about 10 minutes- turning frequently to cook them evenly.
MUST HAVE: this sweet chili dipping sauce, it makes the lumpia much more irresistible!
Notes
Wrappers do not have to be cut in half, keep them whole and add more meat if you prefer. See video for alternative rolling method.
Use more or less meat, depending on preference. Recipe tastes great with both ground pork and ground beef combined. 
Rolls can be meatless by adding mushrooms and cabbage instead of meat.
Remaining, uncooked lumpia can be stored in a freezer bag and kept frozen up to a month. When you're ready to cook, fry them frozen, no need to thaw.
Nutrition Information:
Yield:
8
Serving Size:
8 people
Amount Per Serving:
Calories:

672
Total Fat:

65g
Saturated Fat:

8g
Trans Fat:

2g
Unsaturated Fat:

53g
Cholesterol:

56mg
Sodium:

682mg
Carbohydrates:

5g
Fiber:

1g
Sugar:

1g
Protein:

17g
This website provides approximate nutrition information as a courtesy and for convenience only.
Be sure to tag me on Instagram or Facebook when you make this recipe! I would love to see your creation, and give you a shoutout!