These air fryer crab rangoon are a delicious copycat recipe for the Chinese restaurant favorite. Perfectly crisp wonton wrappers filled with creamy crab goodness!
Since you love this handheld treat, be sure to check out these Mini Pizza Cups and these Homemade Lumpia while you are here!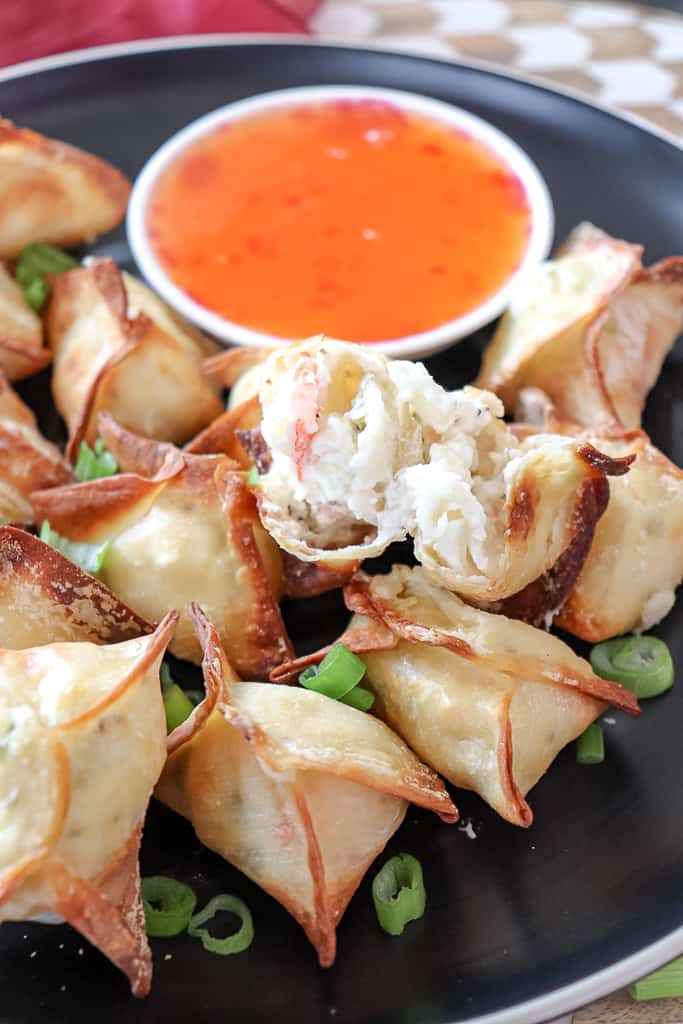 I love crab rangoon, but I'm not always in the mood for greasy takeout. So I developed my own recipe for Air Fryer Crab Rangoon. The air fryer produces perfectly golden, crispy crab rangoon shells. And the filling is just as delicious as traditional recipes.
Jump to:
What is crab rangoon?
The crab rangoon is a quintessential American Chinese restaurant appetizer. Historians say that this handheld favorite also has ties to the tiki culture. They can be referred to as cream cheese puffs, or crab rangoon wonton.
What are rangoons made with?
Crab rangoons are dumpling or wonton wrappers filled with a cream cheese and crab mixture that is seasoned to perfection. Some chopped green onions are added; both the white parts and green parts.
Spices are also added. Such as garlic powder, salt, and pepper. Once they are filled, they're typically deep fried until golden brown. This popular appetizer adds the perfect pop of texture and flavor to a meal.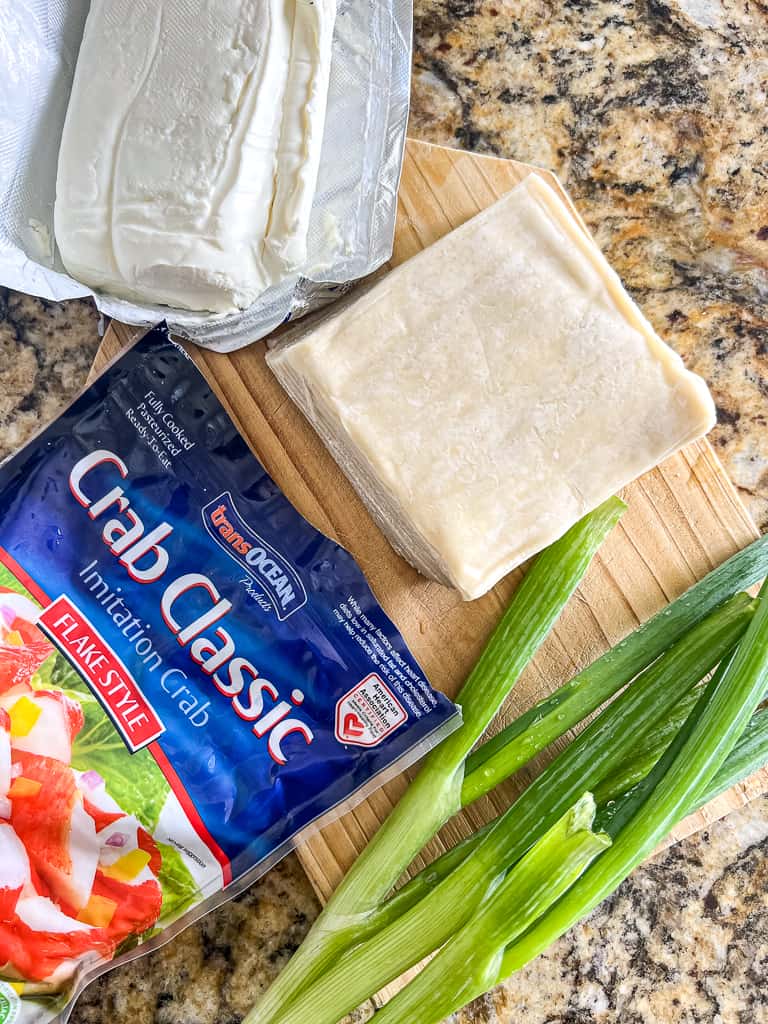 Difference between imitation crab meat and real crab meat:
Imitation crab is not made with actual crab meat. In fact, it is most often made from surimi- a fish paste that primarily comes from Alaskan Pollock. Other additives are added to help create a crab leg like shape.
Real crab meat comes straight from the shellfish, out of the ocean. Crab meat from the actual shellfish yields more proteins and vitamins. Whereas the imitation crab is more nutrient dense.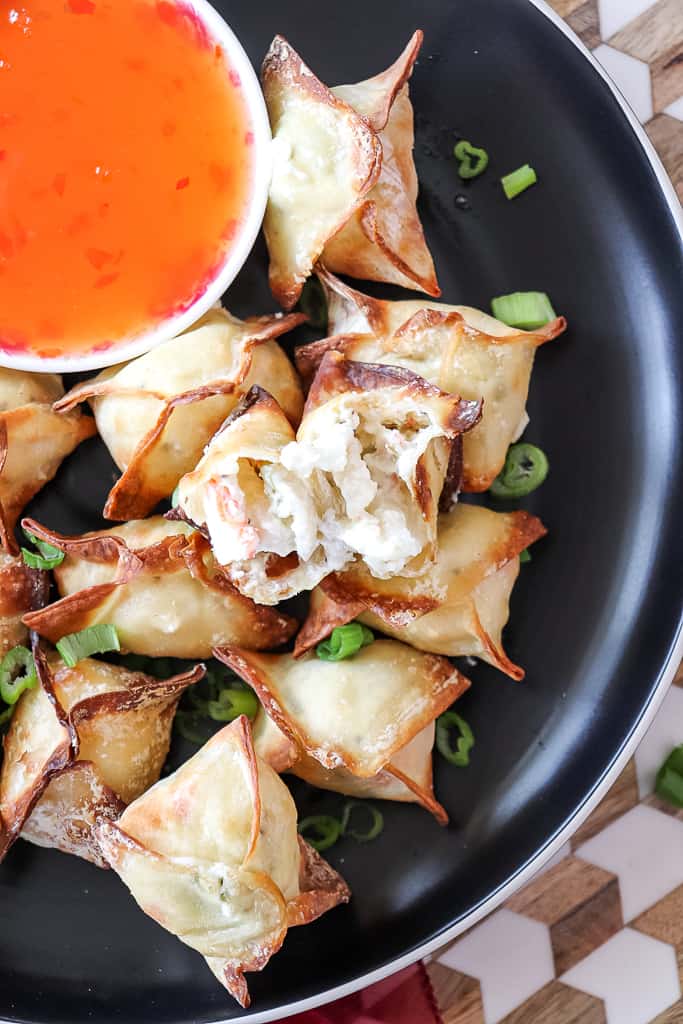 Should I use real or imitation crab for the rangoon?
Both real and imitation crab meat are very popular to use for the crab rangoon. However, imitation crab is inexpensive in comparison to real lump crab meat. Real crab meat is also a good source of protein and vitamins.
That said, most restaurant style crab and cheese puffs will have the imitation crab in them. So this recipe is definitely a copycat version of the cream cheese and crab wontons you would get when ordering takeout.
Can you fix crab Rangoon in the air fryer?
Yes! Once the wrappers are filled with the cream cheese and crab mixture, it is important to close and seal them tightly. Then you can add the little pockets directly into your air fryer and cook them until they are golden brown.
Spraying or brushing the outside of the wonton wrappers with an olive oil spray or cooking spray, will help them achieve the deep fried appearance, but without all of the extra grease.
How to fold the Crab Rangoon:
Place the wonton wrapper on a clean, dry, and flat surface.
Add about one tablespoon of the filling directly into the center of each wonton wrapper.
Lightly rub the edges of the wrapper with water or a corn starch slurry.
Grab the opposite corners of the wrapper and fold them directly towards the middle and press them together.
Pull the other two sides toward the middle so that all four corners are touching.
Firmly press all of the edges together so that the wonton wrapper is completely sealed.
Video of how to make Air Fryer Crab Rangoon:
Are the air fried wontons healthy?
Considering that you are omitting the excess grease, they are more healthy than the deep fried version of the Rangoons. Keep in mind that the wonton wrappers do have about 15 net carbs.
Then you must also consider the cream cheese, which is high in fat, but low in carbohydrates. So as with most everything we eat, it is wise to eat this delicious finger food in moderation!
Storing and reheating leftovers:
If you happen to have any leftovers, simply place them in a large Ziploc bag, or an airtight container. Refrigerate them for up to three days.
When you are ready to reheat them, take them out of the refrigerator and put them in the air fryer basket. Put it on the "reheat" mode for about 5 minutes. Alternatively, you can microwave them for 30 seconds- but they may not be as crispy.
Good dipping sauce to use:
We like to dip our crab rangoon in a sweet chili sauce. It adds a nice hint of spiciness along with sweetness that balance great with the creamy crab filling.
Another delicious sauce is simply sweet and sour sauce. Both of these are often times found in your takeout order too!
FAQ About crab Rangoon's:
Can you freeze them?
Yes you can freeze crab rangoon. Once you wrap and seal them tightly, do not cook them. Instead, place them in the freezer on a baking sheet or plate to flash freeze them. After about one hour, remove them and put them in a gallon sized Ziploc bag and freeze for up to two months.
Is it safe to eat crab Rangoon while pregnant?
The short answer is yes. A more explanative answer is that although it is safe to eat during pregnancy, the imitation crab is heavily processed.
There are some ingredients, such as egg, that are added as binding agents. So check with your doctor to ensure the additives are safe.
Can I bake these in the oven if I don't have an air fryer?
Yes. If you do not own an air fryer, you can bake them in the oven at 400° for about ten minutes. Follow all of the additional instructions exactly as if you were air frying them.
More Air Fryer Recipes:
📖 Recipe
Yield:

18 Crab Rangoon
Air Fryer Crab Rangoon Recipe (with video)
Ingredients
18 Wonton wrappers
6 ounces Cream cheese, softened
6-8 ounces Imitation crab meat, if you like more crab flavor, add the full 8 ounces.
2 sprigs Green onions, chopped
½ Lemon, juiced
1 teaspoon Garlic powder
1 teaspoon Black pepper
1 teaspoon Worcestershire sauce
Small bowl of water to help seal wonton wrappers
Olive oil or Canola oil to spray or brush on crab rangoon
Instructions
If cream cheese is not soft enough to mix with a spoon, place it in a microwave safe bowl for up to 20 seconds.
Add the softened cream cheese, crab meat, and chopped green onions into a medium size bowl. Mix this up well.
Use the spoon as you mix to break up the crab meat to your desired consistency. If you like larger pieces, do not over mix the meat.
Next, squeeze half of the lemon, add the garlic powder, black pepper, and Worcestershire sauce directly into the cream cheese mixture.
Stir this up until all of the ingredients are fully combined.
Place one wonton wrapper onto a clean, DRY surface. Add in about one tablespoon of the rangoon filling directly into the middle of the wrapper.
Dip your finger in the water and lightly brush a tiny bit right along the edges of the wrapper.
Grab the opposite corners and bring them together towards the middle and lightly press them so that they stick to form a peak.
Now grab the other corners and bring them directly toward the middle so that they meet the other two corners. Use your fingers to press all the sides together so that there are not any gaps.
Continue this process until all of the rangoons have been built.
Spray or brush the air fryer with the olive or canola oil. Place the crab rangoons directly onto the rack, careful not to over load or over lap them (air fry batches of about 6-7 at a time depending on the size of your tray).
Spray the top of each one with the oil. Place the settings on "air fry" mode at 370° and fry for about 5 minutes. Open it up and turn them on the side, and fry for an additional 2 minutes, (his is to ensure the top of the wonton wrapper does not burn.)
Use tongs to remove them from the air fryer and serve immediately- take caution to how hot the filling is!
Continue air frying in batches until all of them have been cooked.
Nutrition Information:
Yield:
18
Serving Size:
1
Amount Per Serving:
Calories:

154
Total Fat:

6g
Saturated Fat:

2g
Trans Fat:

0g
Unsaturated Fat:

3g
Cholesterol:

22mg
Sodium:

213mg
Carbohydrates:

10g
Fiber:

1g
Sugar:

5g
Protein:

9g
This website provides approximate nutrition information as a courtesy and for convenience only.