This breakfast bowl recipe includes buttery baked biscuit bowls stuffed with hash browns, eggs, cheese, and bacon. Then topped with savory gravy. It is a quick, easy, and perfect way to enjoy breakfast on the go or serve a crowd at brunch.
If you are craving more savory breakfast recipes, try our Steak Egg and Cheese Breakfast Sandwiches and Cheesy Ham and Croissant Casserole.
When you think of a breakfast bowl recipe you probably imagine an acai bowl or smoothie bowl. But I bet you did not expect to see actual bowls made of biscuits!
This recipe has been made in partnership with Pioneer®. My opinions are all my own.
Enjoy everything you love about breakfast in this layered treat, topped with a delicious Pioneer Country Gravy. It is perfect for those short on time, or for a make ahead meal idea. Plus, you get to gobble up everything, including the bowl!
Jump to:
Why We Love This Breakfast Bowl Recipe:
The Perfect On-The-Go-Meal! It is a handheld meal that you can eat on the road, or on the couch.
A savory Breakfast bowl! Never skip the most important meal of the day again! Enjoy this filling, protein-packed meal first thing in the morning so you are energized. Scrambled eggs are the perfect way to get your meal prep balance full of protein.
Easy to Prepare! Skip the freezer aisle because these healthy breakfast bowl are assembled quickly with premade ingredients at home. This so simple, kids can help prepare it! Cook everything you need in just 15 minutes and then enjoy make-ahead breakfast bowls all week.
Customizable Bowls! With flaky, golden brown biscuits as your base, fill them up with whatever you would like. Veggie filled, meat lovers, sweet and savory... the possibilities are endless!
Ingredients you need:
Biscuits: You will need one can of biscuits. You can definitely make them homemade, but canned biscuits are just as great and take well under 20 minutes to bake.
Hash Browns: These should be cooked before you assemble. You can also use roasted potatoes.
Cheddar cheese: Use shredded cheese for easy sprinkling.
Eggs: Scrambled eggs are quick and easy to make. But you can make them over easy, hard-boiled, make a fried egg, or just use egg whites.
Bacon: You will cook it until it is nice and crispy. Bacon definitely makes any breakfast dish a great recipe!
Pioneer Country Gravy: This gravy is done in under 2 minutes, and is super delicious. Prepared as a topping or to serve on the side.
Instructions to make Biscuit Breakfast Bowl
Bake Biscuit Bowls
Start by preheating your oven to 350°F. You will need to use a muffin tin, but turn it upside down!
Then you are going to take your biscuits, and spread them out around the cups of the tin to form a bowl shape.
Next you will bake the muffin bowls for about 10 minutes, or until they are golden brown.
Take them out of the oven and set them aside so that they can cool down. Once they are cooled, you will be able to easily separate them.
Assemble Breakfast Bowls
Once your hashbrowns, bacon, and eggs are cooked, it is time to start assembling the make-ahead breakfast bowls.
Layer your ingredients into the biscuits: put some of the hash browns, then a little cheddar cheese, then some eggs, more shredded cheese, and top with some of the crumbled bacon!
Finally, pour some of the country gravy over the top of your biscuit bowl, or reserve it to dip ever bite in on the side.
Alternatives and Variations:
Meat: Bacon can be replaced with turkey bacon, ham, or sausage. These skillet fried potatoes with smoked sausage would be delicious in a biscuit bowl.
Vegetarian: If you want to go meatless, skip the bacon and add veggies like mushrooms and spinach, or top with sliced avocado.
Cheddar cheese: You can add feta cheese, gouda cheese, or any variation that you like.
Bigger Biscuit Bowl: For a larger bowl, use ramekins instead of muffin pans.
Homemade Biscuit Bowls: Although it is not necessary, you can make the biscuit dough from scratch. If you opt to do this, try these Cinnamon Sugar Sweet Potato Biscuits.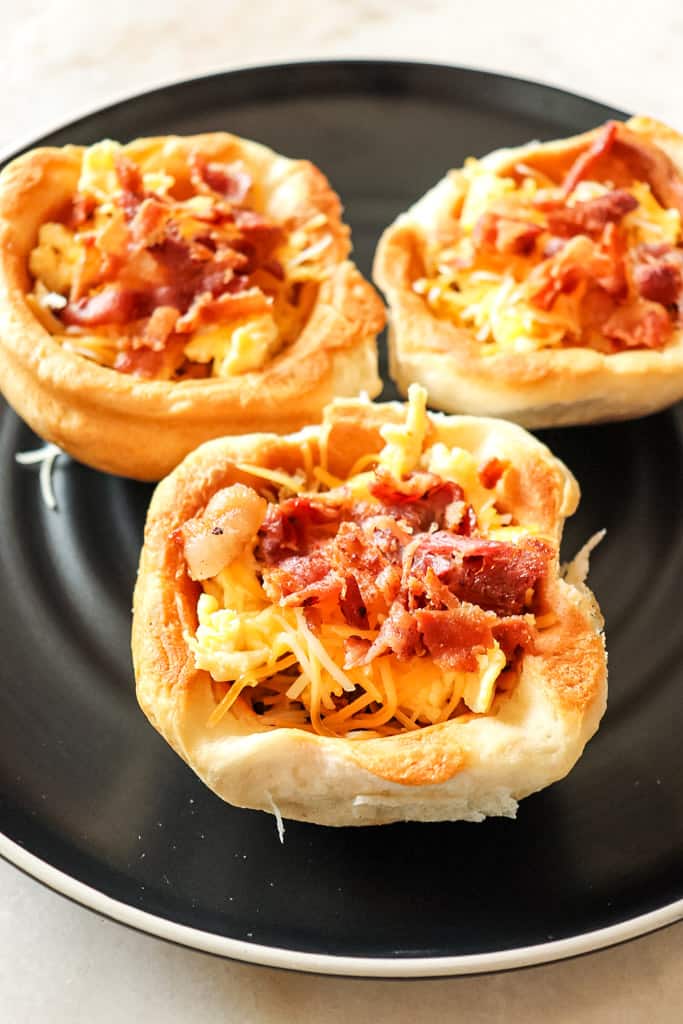 Sweet versus savory: If you're a fan of something sweet like a smoothie bowl, add a drizzle of syrup, jelly, or honey to your breakfast bowl recipe.
Veggies and additions: You can make this more of a healthy breakfast bowl by adding in your favorite vegetables. Saute some sweet potatoes in a bit of olive oil, salt and pepper and add them.
You can also add some black beans, use egg whites instead of the whole egg, or you can add some cherry tomatoes to your scrambled eggs as well. Top your biscuit bowls with some chopped green onions for another layer of flavor.
Storing and Reheating:
Store leftover breakfast bowls in the fridge for up to 5 days. When you want to reheat, microwave a biscuit and add potatoes and bacon to a skillet. Then top it with freshly scrambled eggs and shredded cheese.
FAQ:
Can breakfast bowls be made ahead?
With the exception of the scrambled eggs, Biscuit breakfast bowls can be made in advance. Store the biscuits, bacon, and hashbrowns in individual airtight containers and refrigerate.
Are breakfast bowls good for you?
Breakfast bowls are a convenient way to eat a balanced meal on the go. Potatoes are full of nutrients, while bacon and eggs are an excellent source of protein. Individual bowls are also a great way to measure portions.
What's in a breakfast bowl?
Breakfast bowls can contain a variety of ingredients. These biscuit breakfast bowls contain shredded potatoes, cheese, eggs, and bacon with an optional side of gravy.
More Breakfast Recipes to Try
📖 Recipe
Yield:

6 Biscuit bowls
Biscuit Breakfast Bowl
This breakfast bowl recipe includes buttery baked biscuit bowls stuffed with hash browns, eggs, cheese, and bacon. Then topped with savory gravy. It is a quick, easy, and delicious way to enjoy breakfast on the go or serve a crowd at brunch.
Ingredients
1 can Biscuits, any brand is okay
1 cup Hash Browns, cooked
1 cup Cheddar cheese, shredded
3 large Eggs, scrambled
4 slices Bacon, cooked and crumbled
1 cup Pioneer Country Gravy, prepared to top or serve on side
Instructions
Preheat the oven to 350°F. Turn a muffin tin upside down and spray the exterior with nonstick cooking spray.
Spread your biscuits out to stretch them over the exterior of the muffin tin, to form a bowl. Push them down as much as possible so that they adhere to the tin.
Place the muffin tin in the oven and bake the biscuits for 7-10 minutes, or until golden brown. Remove the tin from the oven.
Take the biscuit bowls off of the tin and set them aside on a plate.
To begin assembling the breakfast bowls, add the hash browns to the bottom of the biscuit bowl, then add a sprinkle of shredded cheese, next add some of the eggs, a sprinkle of cheese, then add a bit of the crumbled bacon.
Pour some of the country gravy over the top of your biscuit bowl, or reserve to dip on the side.
Nutrition Information:
Yield:
6
Serving Size:
1
Amount Per Serving:
Calories:

349
Total Fat:

25g
Saturated Fat:

9g
Trans Fat:

0g
Unsaturated Fat:

14g
Cholesterol:

117mg
Sodium:

734mg
Carbohydrates:

19g
Fiber:

1g
Sugar:

2g
Protein:

13g
This website provides approximate nutrition information as a courtesy and for convenience only.
Be sure to tag me on Instagram or Facebook when you make this recipe! I would love to see your creation, and give you a shoutout!