A delicious Salvadoran curtido recipe that is made with cabbage, red onions, carrots, and spices that are all fermented in a spicy vinegar mixture. The perfect side or topping to go with your pupusas, tacos, and more!
Make sure you check out this amazing Pupusa Recipe and these Chicken Birria Quesatacos while you are here.
If you are a fan of fermented foods, such as sauerkraut or kimchi, this is the perfect recipe for you. It has a delicious tangy, pickle-like flavor that tastes better and better each day it sits.
Jump to:
What is Curtido?
Curtido is a traditional side dish of sorts that originates in El Salvador. It is is a pickled cabbage slaw that is full of robust flavors.
It is fermented by the addition of vinegar, and therefore has some probiotic properties that would benefit your gut health. Most often, curtido is eaten with pupusas as a topping, alongside salsa roja.
What does curtido taste like?
It most resembles the flavor of a pickle relish, as it has a sour-like flavor from the vinegar. Although this curtido recipe is not too spicy, you can make it more spicy by adding more thinly sliced jalapenos.
Ingredients needed for this curtido recipe:
The best part about this recipe is how few ingredients you need to yield a lot of this spicy slaw.
Here is what you will need to make curtido:
Cabbage: a large head of green cabbage that is thinly sliced.
Red Onion: red onion is preferred because it is more mild than white onion.
Carrots: use whole carrots instead of baby carrots because you will need to shred them. You can also purchase pre-shredded carrots for this recipe.
Jalapenos: fresh jalapenos that are thinly sliced.
Spices: oregano is a MUST for this recipe. Add salt to taste as well.
Vinegar: white vinegar is preferred, but apple cider vinegar can be used as well.
How to make Salvadoran curtido slaw:
You want to start by boiling a pot of water. The water will be used to help soften up the cabbage prior to mixing it with the other ingredients.
Next you will finely slice your cabbage using a knife and a cutting board. Or you can simply grate the cabbage so that it is in thinly shredded pieces.
Add the thinly sliced cabbage into a fine mesh strainer, and gently pour the hot water over it. Then you want to rinse the cabbage with cold water. Strain as much water off as possible.
Place the cabbage into a large bowl, and add in the red onion, shredded carrots, and thinly sliced jalapenos. Now add the oregano, salt, and vinegar directly into the bowl.
Use a large spoon and thoroughly mix the cabbage slaw until everything is fully combined.
How to store curtido:
Once the Salvadoran curtido recipe is fully combined, you can place it in a bowl with an air tight lid, and put it in the refrigerator.
Alternatively, you can scoop the curtido mixture into large jars with lids and refrigerate for up to one week. The longer it sits, the more delicious it tastes!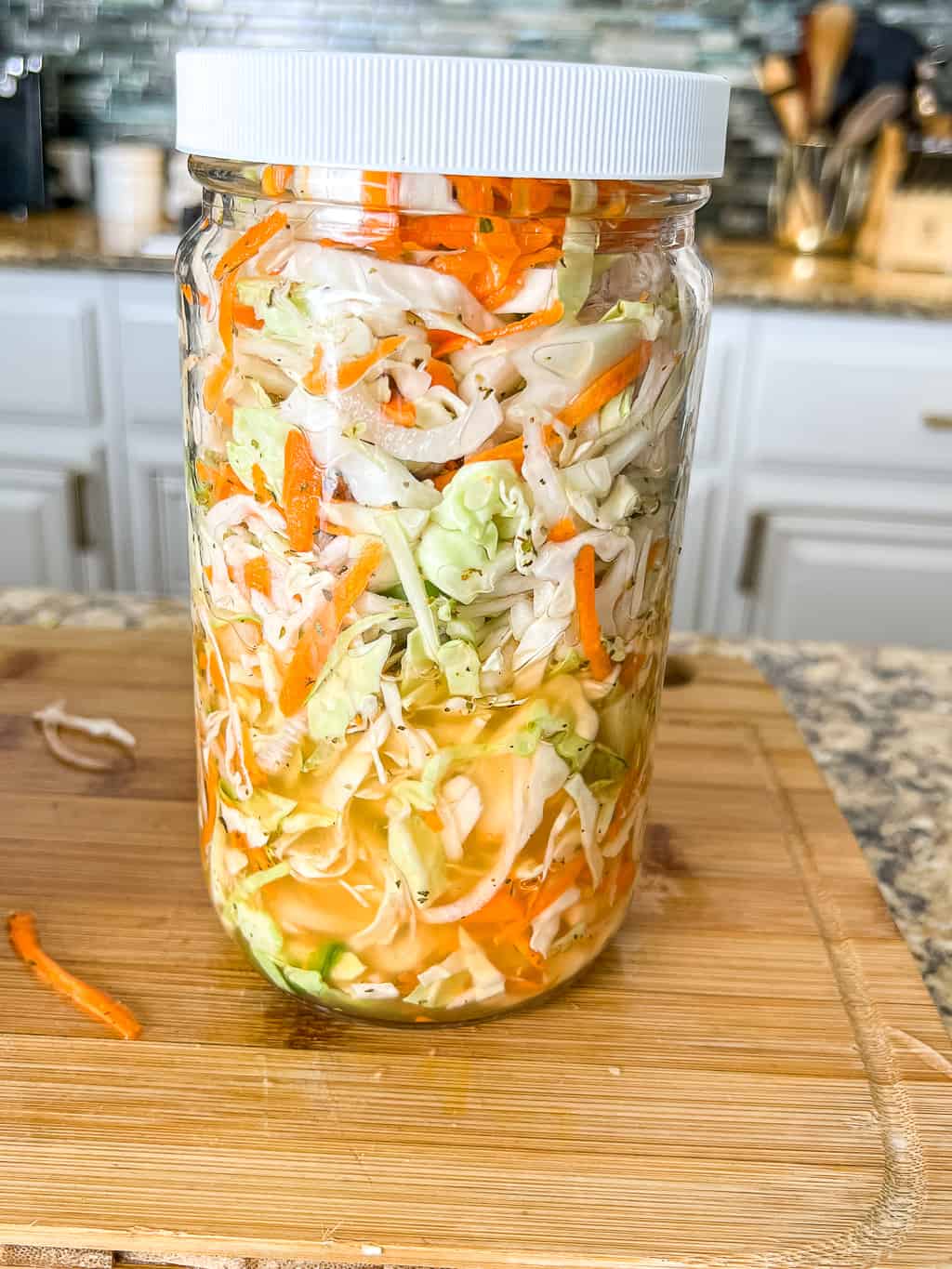 Is curtido the same as Kimchi?
Although both of these native side dishes are made with cabbage, they are not the same. Kimchi is a Korean staple that is made with familiar Korean ingredients such as Korean chili powder, and fish sauce.
Both Kimchi and Curtido are fermented cabbage because of the vinegar that is added as a pickling agent.
Making curtido recipe ahead of time:
You can make the curtido ahead of time and store it in an airtight container for up to one week. The longer the cabbage has to ferment in the vinegar mixture, the more pungent and delicious the flavor.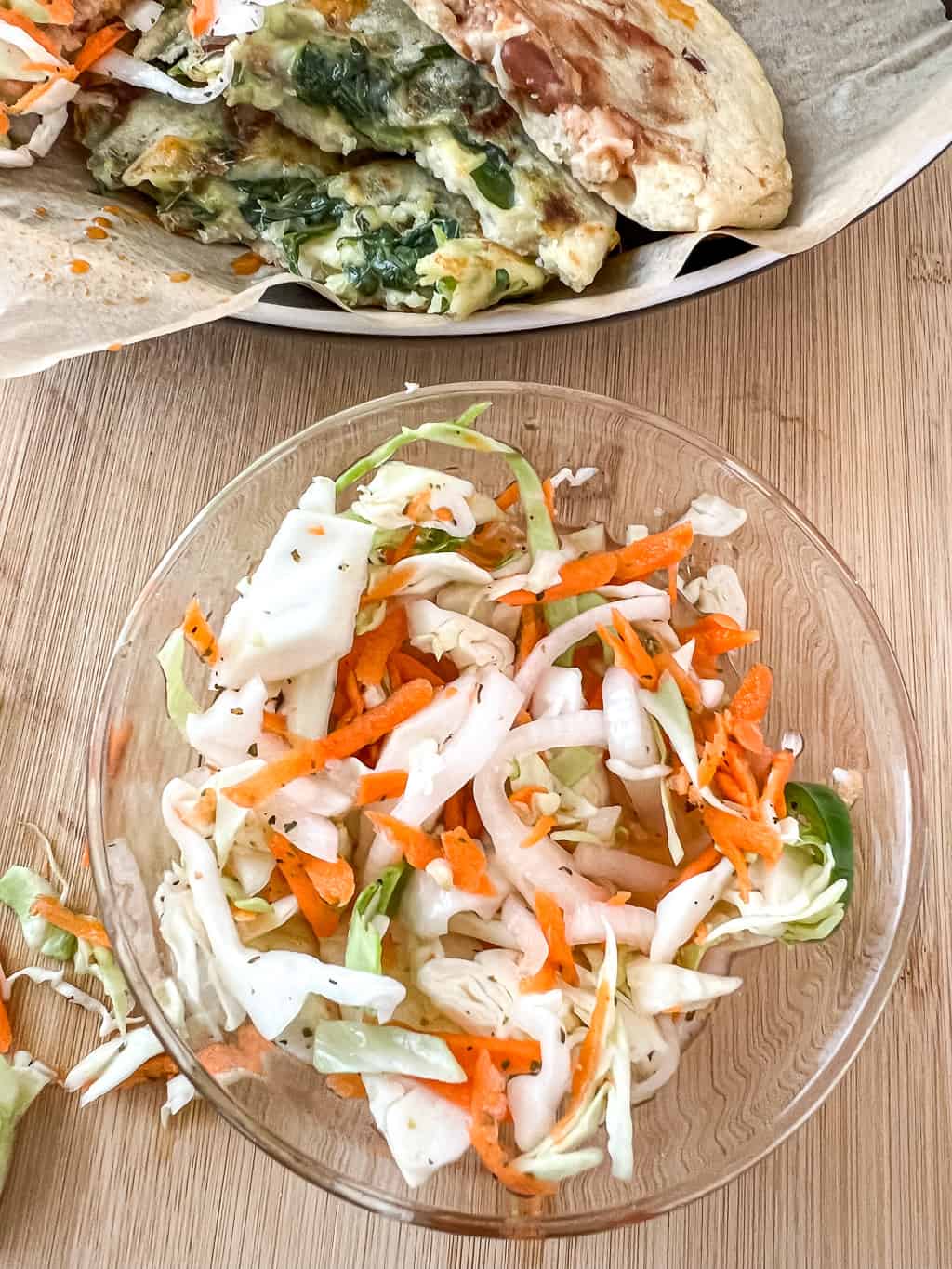 What to eat with curtido:
Enjoy this delicious spicy slaw as a topping for your bean and cheese pupusas. Additionally, you can add these to your tacos, in your ramen, on top of your enchiladas, or to top your pozole.
📖 Recipe
Yield: 8 Cups
Curtido Recipe (Salvadoran Cabbage Slaw)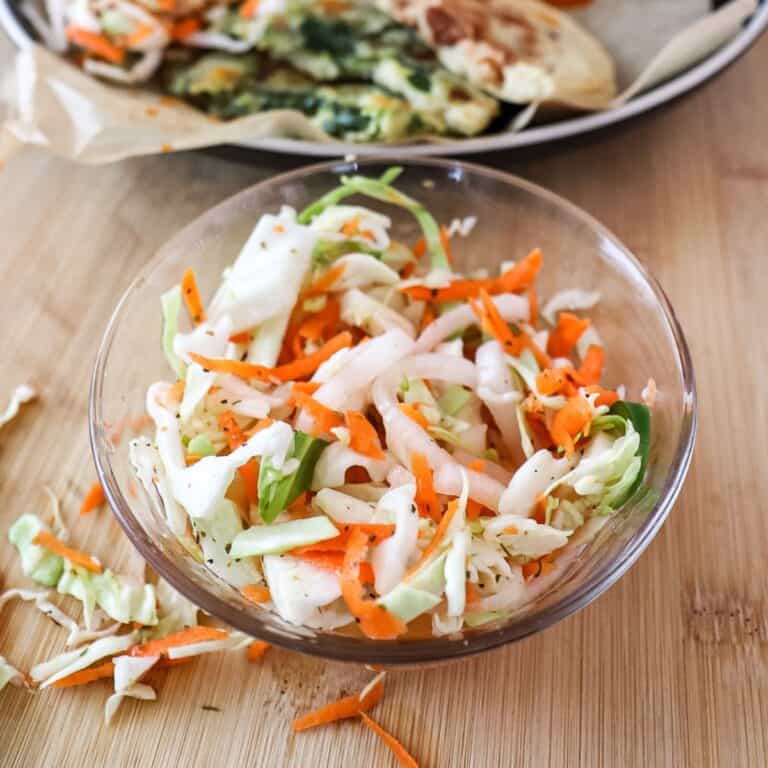 A delicious Salvadoran curtido recipe that is made with cabbage, red onions, carrots, and spices that are all fermented in a spicy vinegar mixture. The perfect side or topping to go with your pupusas, tacos, and more!
Ingredients
6 cups Water, boiled
1 head Green cabbage, shredded very fine
4 whole Carrots, shredded very fine
1 medium Red Onion, sliced thinly
2 fresh Jalapenos, thinly sliced (optional but recommended)
2 teaspoons Dried Oregano
1 teaspoon Salt, (or enough to taste)
1 ½ cup Vinegar, white or Apple Cider will work
Instructions
Bring 6 cups of water to a rolling boil.
Once cabbage is very finely shredded, place it in a fine mesh strainer and place it over a large bowl. Carefully pour the hot water over the cabbage. Then rinse the cabbage with cold water over the sink, and try to drain out as much water as possible.
Place the drained cabbage into a large bowl and add in your shredded carrots, sliced onions, jalapenos, Oregano, and salt. Next, pour the vinegar over the slaw mixture.
Use a large spoon or gloved hands and mix the slaw until everything is fully combined. You can also place a lid on the bowl and shake until it is all completely mixed up.
Add the curtido to large glass jars with lids, or a bowl with a lid, and refrigerate it until you are ready to use.
Curtido is absolutely delicious after it rests overnight, or for a few hours before enjoying.
Store in the fridge for up to one week.
Nutrition Information:
Yield:
8
Serving Size:
1
Amount Per Serving:
Calories:

74
Total Fat:

0g
Saturated Fat:

0g
Trans Fat:

0g
Unsaturated Fat:

0g
Cholesterol:

0mg
Sodium:

300mg
Carbohydrates:

16g
Fiber:

4g
Sugar:

9g
Protein:

2g
This website provides approximate nutrition information as a courtesy and for convenience only.
Be sure to tag me on Instagram or Facebook when you make this recipe! I would love to see your creation, and give you a shoutout!