Chicken Birria Quesatacos are juicy shredded chicken thighs with gooey cheese, piled into corn tortillas then fried to a golden crisp. This delicious taco meal is served with a side of rich, savory consomé for dipping. One thing is for certain; your Taco Tuesdays will never be the same!
If you are looking for more Mexican-inspired dinners then you gotta check out the popular Beef Birria QuesaTacos con Consomé and these Green Chile Chicken Enchiladas.
Chicken Birria QuesaTacos are crunchy and cheesy with loads of flavor. We have all seen videos and photos of heaping plates of tacos served with consomé on the side for dipping. It is no wonder that this classic Mexican dish has become a TikTok and Instagram phenomenon!
Jump to:
Why we love this recipe
However, this meal is no trend. Birria tacos are here to stay and I am going to show you how to make this a go-to staple in your household.
I swapped out beef for chicken thighs because they are just as tasty and affordable.
Chicken Birria Quesatacos also cook in a fraction of the time as beef birria quesatacos. You and your family are gonna love this bold, yummy take on birria tacos!
What exactly are Birria tacos?
In order to understand birria tacos, you must first know what birria is. Birria originated in Jalisco, Mexico, and is a slow-cooked meat stew that contains a blend of chiles and spices.
Traditional birria contains goat meat. However, it is not as readily available or affordable as beef or chicken.
Birria tacos originated as street food in Tijiuana, Mexico in the early 2000s. With birria tacos, consomé is served on the side. This is the inspiration for my Chicken Birria Quesatacos.
First the corn tortillas are dipped in consomé. They are then filled with shredded meat and cheese before they are finally fried. Talk about a flavor explosion!
Key Ingredients for Chicken Birria QuesaTacos
Chicken: Boneless chicken thighs make for a rich and flavorful broth. The extra fat ensures a moist, tender meat.
Adobo Seasoning: The base of the seasoning for the chicken. It serves to tenderize the meat and adds a tangy sweetness with a hint of garlic.
Chiles: This quesatacos recipe uses dried chiles of the Guajillo and Arbol variety. Guajillo peppers are a mild-medium whereas, Arbol pack more heat. Rehydrate the freeze-dried peppers prior to adding them to the Instant Pot.
Cheese: You can use whatever melty cheese you prefer. Just shred it.
Corn Tortillas: Used for the taco shells. I prefer these over flour tortillas because they fry easier.
Garnishes: Onions, cilantro and lime are optional toppings that add extra Razzle Dazzle!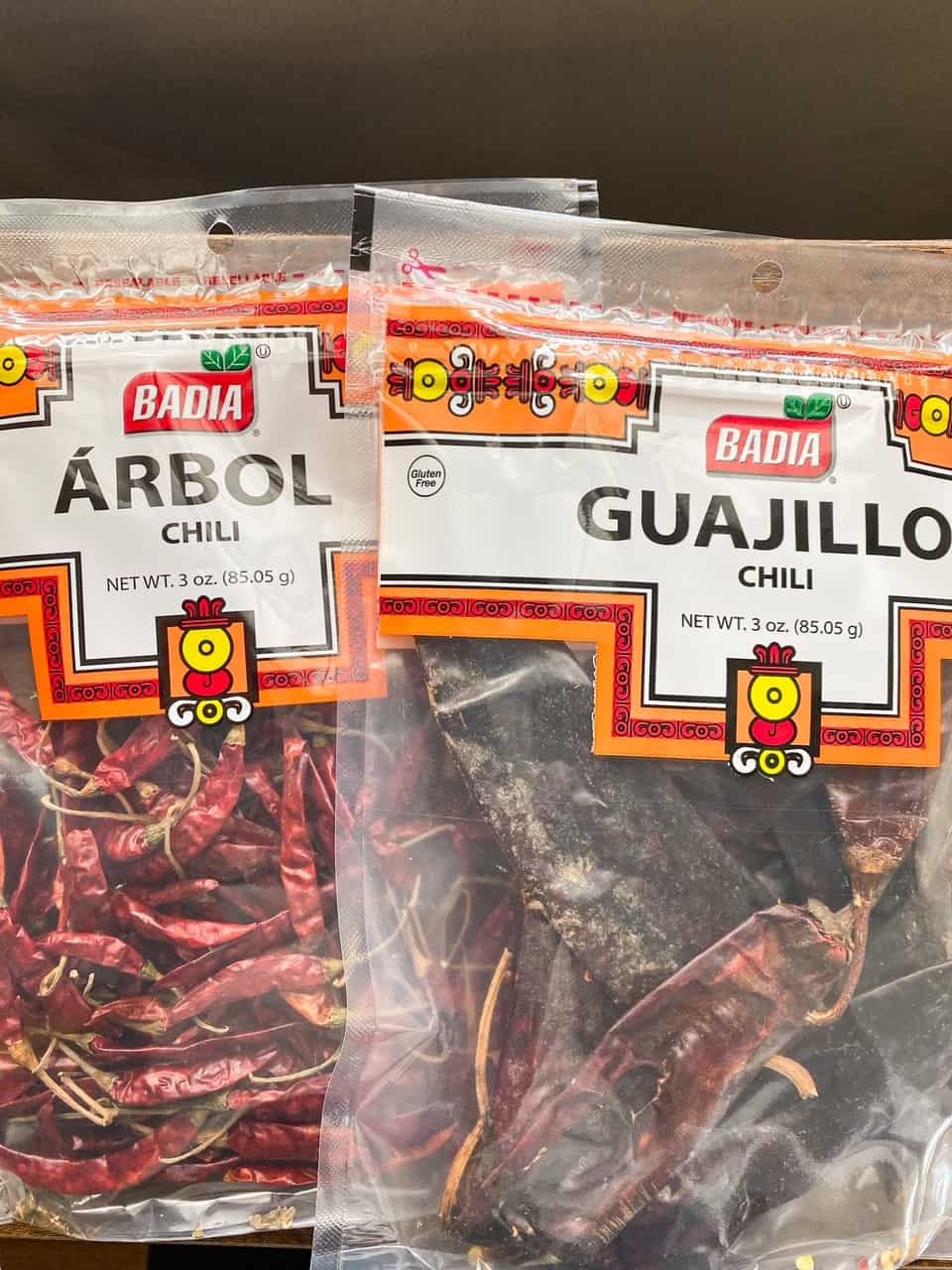 How long does it take to cook chicken in an Instant Pot?
I used an Instant Pot for the Chicken Birria QuesaTacos because it is a faster cooking method. It ensures that the chicken cooks in just about 30 minutes. Just rehydrate the peppers, blend them and add them to the Instant Pot with the seasoned chicken.
How do I use or reheat leftover Chicken Birria QuesaTacos?
To reheat any leftover tacos (which, I doubt you'll have), simply place them on a baking sheet and then heat them in the oven at 350 degrees for 10 minutes. They will come out just as crispy the second time around!
If you have leftover chicken and consomé, consider the following ideas:
Enjoy chicken and consomé alone as a stew, reheated in the microwave or the stovetop.
Add leftover chicken to grilled cheese sandwiches then dip it into the consomé, like these Chicken Birria Grilled Cheese Sandwiches.
Add some ramen to your broth for Birria Ramen!
📖 Recipe
Yield:

20 tacos
Chicken Birria Quesatacos
Chicken Birria Quesatacos are juicy shredded chicken thighs with gooey cheese, piled into corn tortillas then fried to a golden crisp. This delicious taco meal is served with a side of rich, savory consomé for dipping.
Ingredients
6 Chicken thighs, boneless skinless
2 tablespoons Vegetable oil
tablespoons Garlic powder1
1 tablespoon Onion powder
½ tablespoon Oregano
½ tablespoon Ground cumin
½ tablespoon Adobo seasoning, or seasoning salt
2 Chicken bouillon cubes
2 cups Water
1 whole Onion, roughly chopped
CONSOMÉ INGREDIENTS
7 dried Guajillo chiles
2 Limes, juiced
4 dried Arbol chiles
3 Roma tomatoes
2 whole Cloves
2 cloves Garlic
2 Bay leaves
2 Limes, juiced
Build the Tacos
20 Corn tortillas
4 cups Monterrey jack cheese, shredded
Shredded chicken (from recipe above)
2 cups Consomé
1 cup Vegetable oil (1 tablespoon used at a time)
Topping
Cilantro chopped
Onions diced
Lime wedges
Instructions
COOKING THE CHICKEN
Season the chicken liberally with all of the seasonings (except chicken bouillon cubes). Ensure that it is rubbed into the chicken until coated evenly.
Place the Instant Pot on sauté mode, and add the vegetable oil directly into the pot. Place the chicken in one single layer to sear on each side for 3 minutes.
Cover the chicken with water, add the chicken bouillon cubes and chopped onion. Place the Instant Pot on "meat" mode and set the timer to 20 minutes.
After it has cooked, open the pot and shred the chicken using two forks. Or place on a cutting board and chop it up. Set the chicken aside
PREPARING THE CONSOMÉ (while chicken cooks)
Cut or tear the guajillo and ancho peppers down the middle to remove and discard the seeds and stems.
Place the chiles, tomatoes, cloves, bay leaves, and all of the other seasonings and spices into a stockpot and cover with about 3-4 cups of water. Bring the mixture to a rapid boil for 10 minutes. Remove the pot from the heat and allow it to cool to room temperature.
Using tongs or a fines strainer, carefully remove the bay leaves and cloves from the water mixture (save the water to use later). Add the peppers (and tomatoes if they didn't dissolve), into a blender with about 1 cup of the cooking water.
Blend on high for 1-2 minutes, or until the mixture is completely pulverized.
Using a fine mesh strainer, strain the chile mixture into another pot by pushing it around the strainer with a spoon.
Use the liquid the chiles were boiled in to pour into the fine mesh strainer (a little at a time), and continue pushing it through with a spoon. This is to ensure all of the flavors are extracted from the chile mixture.
Squeeze the lime juice into the consomé mixture, and heat over medium on the stove top while preparing the birria quesatacos.
PREPARING THE CHICKEN BIRRIA QUESO TACOS
Add 1 tablespoons of vegetable oil to a large skillet over medium heat.
Dip the corn tortilla into the consomé, then place it flat into the oil in the skillet. Add about 1-2 tablespoons of chicken, and shredded cheese onto one side of the tortilla.
Fold the other side over to form a taco shape. Fry each side of the taco for 2-3 minutes, until both sides are golden brown and crispy and cheese is melted.
Remove the tacos and place on a paper towel or baking rack to drain excess grease. Repeat this process until all of the tacos are made.
Serve with onion, cilantro, lime wedges, and a bowl of consomé to dip the tacos in.
Notes
Chicken can be cooked on the stove top in a pot instead of using an Instant Pot. Follow all of the instructions above, but cook an extra 10 minutes to ensure it is cooked through.
Nutrition Information:
Yield:
8
Serving Size:
1
Amount Per Serving:
Calories:

559
Total Fat:

29g
Saturated Fat:

6g
Trans Fat:

1g
Unsaturated Fat:

10g
Cholesterol:

171mg
Sodium:

489mg
Carbohydrates:

24g
Fiber:

7g
Sugar:

7g
Protein:

43g
This website provides approximate nutrition information as a courtesy and for convenience only.