Green chile chicken enchiladas smothered in a zesty and creamy green chile sauce and Monterrey jack shredded cheese melted and bubbled to perfection.
While you're here you should definitely check out these super popular Beef Birria QuesaTacos with Consome!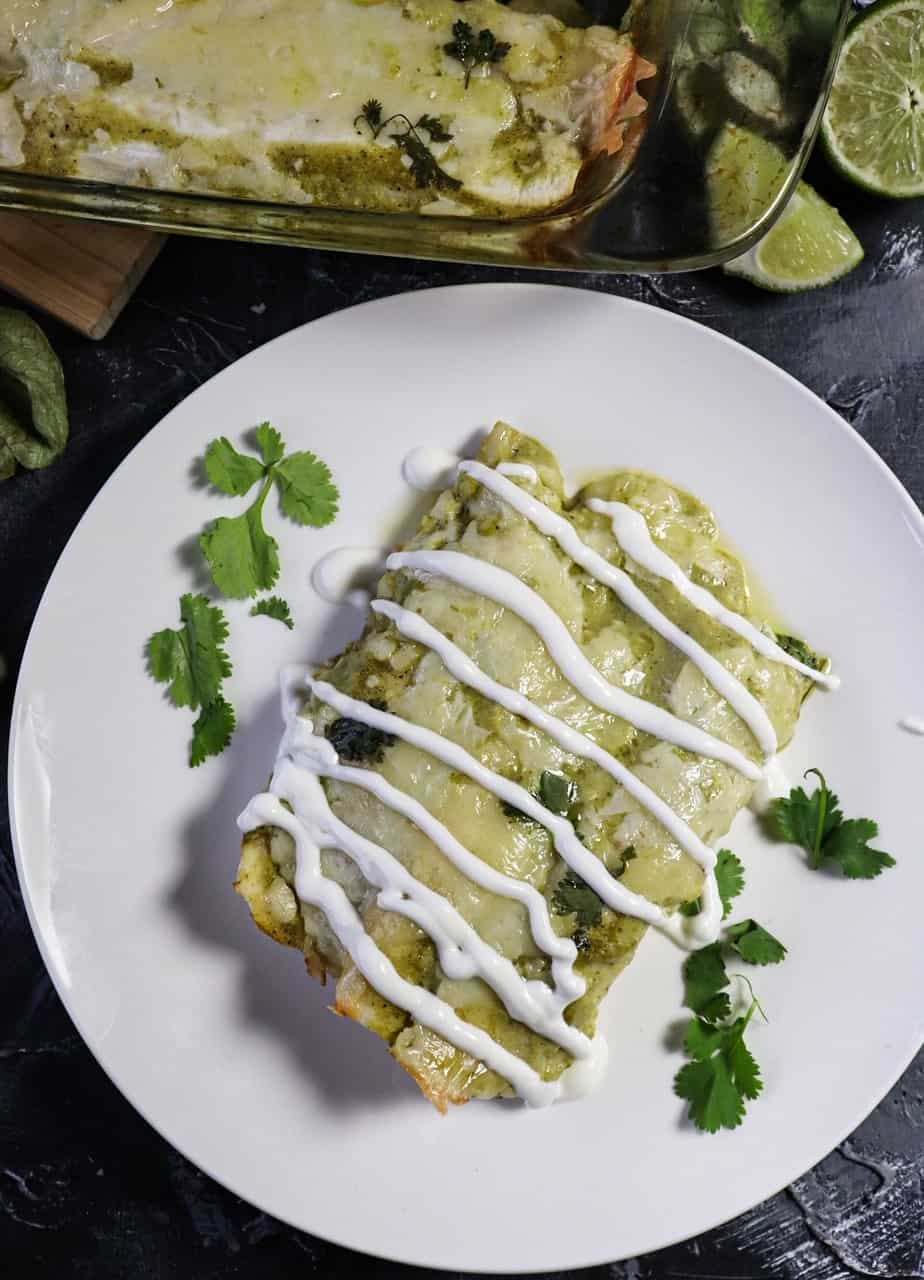 Green chile chicken enchiladas are one of the most requested Mexican food dishes in our house. In fact, when we eat out at a Mexican restaurant, I can almost bet that green chile enchiladas are going to be ordered by someone in the family.
Store bought vs. homemade enchilada sauce:
The sauce in this recipe is store bought, and "doctored" up to add a little Razzle Dazzle to the dish! Okay-okay, I really just add sour cream to a jar of salsa verde  to  make the sauce nice and creamy!
Here's an awesome tutorial on how to make your green chile enchilada sauce from scratch. It's definitely not difficult at all, so go for it!
Of course, homemade green enchilada sauce is absolutely amazing for these enchiladas, but I'm here to keep things simply and delicious for you! It really can't get any easier than this when it comes to a good enchilada sauce.
Corn or flour tortillas?
My house is divided. Some like four tortillas, some prefer corn. So what do I do? I make both! With the corn tortillas, I HIGHLY recommend frying them in a bit of oil, just enough to soften and make them pliable prior to rolling.
For the flour tortilla, you can simply microwave them enough to soften them up (of course this is the more healthy option). Trust me though, they taste so much better with that touch of oil! I mean, we're indulging in enchiladas, might as well go all out. Nonetheless, I've tried both methods, and I can tell the difference when they're flash-fried first.
How to prepare the chicken:
Add the chicken to a pot and cover with the chicken bouillon. Pour about two to three cups of water. Cover the pot and bring the chicken to a boil for about 20-30 minutes. After it has boiled, take it out of the water and set it aside. Reserve at least one cup of the water that the chicken cooked in.
When the chicken is cool to the touch, use your hands, or two forks to shred it as fine as possible. Season the chicken liberally, and add the diced green chiles. Mix it all together until it's coated evenly. Set the chicken aside.
Roll the enchiladas!
Preheat the oven to 375 degrees. Once the tortillas are made pliable, it's time to roll-em-up! This is my favorite part... not sure why, but it's kinda fun. Spray a 9x13 baking dish with non-stick cooking spray. Pour about ¼ cup of the enchilada sauce into the bottom of the dish and spread it out with a sppon.
Spoon some of the chicken mixture into the tortilla on one side, add a sprinkle of cheese, and roll it up as tight as possible. Once the tortilla is rolled, place it into the pan seam side down.
Once each tortilla is filled with the chicken mixture, and the pan is filled as tight as possible, pour the rest of the enchilada sauce over the top.
Cover the dish with aluminum foil, and place them in the oven for 20 minutes. Remove the foil and sprinkle with the remaining cheese. Place the oven on broil and add the dish back into the oven. Broil for 3-5 minutes. WATCH IT CAREFULLY BECAUSE THE CHEESE WILL BURN!
AND WAH-LA! 
Eat these enchiladas with a side of Restaurant Style Mexican Rice, and you'll feel like you're at an authentic Mexican restaurant! Another cool thing about this recipe is that everything can be prepped ahead of time, covered, put in the fridge. Then pop-it in the oven when it's time for dinner.
That's a lifesaver for my family, especially when we're torn in a million different directions throughout the week.
📖 Recipe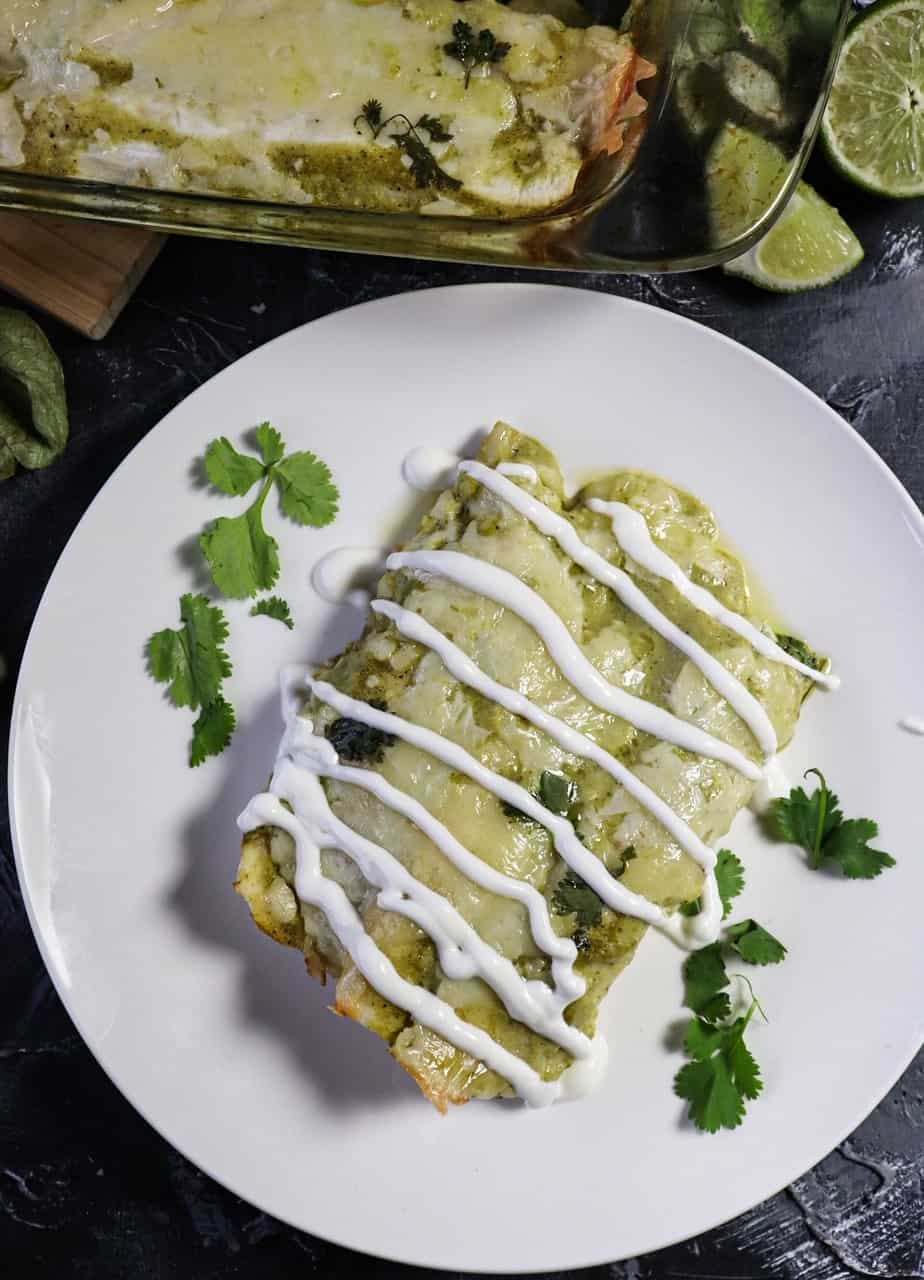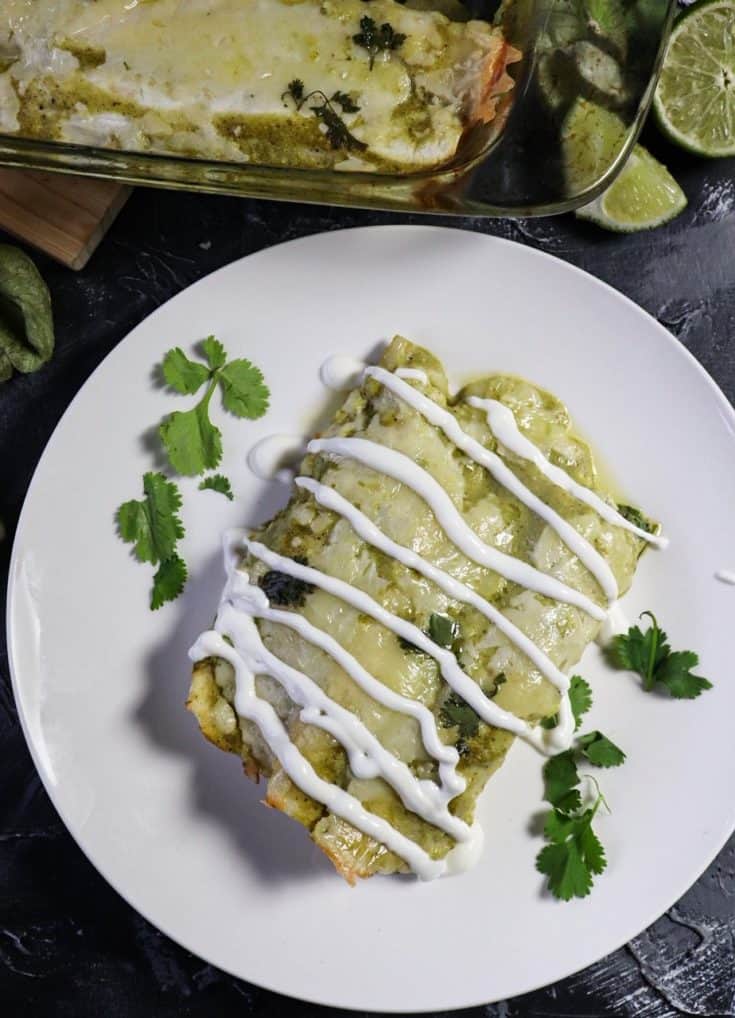 Yield:

6 People
Green Chile Chicken Enchiladas
Green chile chicken enchiladas are made up of a delicious chicken and chile mixture wrapped in warm tortillas, and then smothered in a green chile sauce and bubbly cheddar jack cheese.
Ingredients
2 Chicken breast, cooked and shredded or diced
1 tablespoon Chicken bouillon powder
½ Yellow onion, diced
1 4.5 ounce Can Green chiles, mild
1 bottle Salsa verde, mild
8 ounces Sour cream
7 Corn tortillas
7 Flour tortillas
16 ounces (1 bag) Shredded cheese, Monterrey Jack or Mozzarella
1 cup Vegetable oil (to fry tortillas, optional)
1 tablespoon Seasoned salt, or adobo seasoning
½ tablespoon Ground cumin
½ tablespoon Garlic powder
½ tablespoon Chili powder
½ teaspoon Black pepper
Instructions
Preheat the oven to 375 degrees. Add the chicken to 2-3 cups water in a pot. Add the chicken bouillon cube and boil for about 20-30 minutes. Remove the chicken and place it in a bowl to cool down.
Once the chicken is cool to the touch, use hands and/or two forks to shred the chicken as thin as possible. Add all of the remaining seasoning to the chicken and mix it until combined.
Next add the onion, ¼ bag of the Monterrey jack cheese, can of green chiles, mix until combined.
Heat oil in a skillet. Fry corn tortillas for 30 seconds (enough to make them pliable). Remove them from the oil and drain on a paper towel. Heat flour tortillas in the microwave for 30-45 seconds.
Heat and combine the bottle of mild salsa verde, and sour cream in a small sauce pan until it begins to lightly boil. Remove it from the heat and set it aside.
Spray a 9x13 baking dish with nonstick spray. Spread about ¼ cup of the salsa verde and sour cream mixture into the bottom of the baking dish- just enough to form a thin layer.
Begin filing and rolling each tortilla with the chicken mixture. Spoon the chicken onto one side of the tortilla, and roll them up as tight as possible.
Place the enchiladas in the baking dish seam side down. Pour the remaining green chile sauce over the top of the enchiladas.
Cover with aluminum foil and bake for 20 minutes.
Remove the enchiladas from the oven, take off the foil and sprinkle with remaining Monterrey jack cheese.
Turn the oven on to broil, and put the enchiladas back into the oven to melt and brown the cheese (about 3 minutes). WATCH VERY CLOSELY BECAUSE THEY WILL EASILY BURN.
Notes
For a healthier version, warm corn tortillas in the microwave instead of frying.
Cilantro on top in photos is for garnishment only- and is optional.
Recommended Products
As an Amazon Associate and member of other affiliate programs, I earn from qualifying purchases.
Nutrition Information:
Yield:
6
Serving Size:
1
Amount Per Serving:
Calories:

750
Total Fat:

52g
Saturated Fat:

9g
Trans Fat:

1g
Unsaturated Fat:

39g
Cholesterol:

61mg
Sodium:

377mg
Carbohydrates:

51g
Fiber:

4g
Sugar:

3g
Protein:

22g
Be sure to tag me on Instagram or Facebook when you make this recipe! I would love to see your creation, and give you a shoutout!