Beef Birria QuesaTacos con Consomé made with juicy and tender shredded beef and cheese stuffed in corn tortillas, then fried to a slight crispy perfection. Topped with cilantro and onion, with a delicious side of rich consommé for dipping.
You gotta check out these Green Chile Chicken Enchiladas and this Chicken Avocado and Lime Soup while you're here.
Y'all! I had to jump on this Birria taco bandwagon. Being a lover of all things taco- it was only right to master this recipe! It is a bit time consuming, but COMPLETELY worth every minute of labor!
What is Birria?
Birria is a traditional Mexican dish that originated in Jalisco Mexico. Often times it is found and sold as street food. Usually it is made with goat, which is slowly cooked in a rich broth (consommé),and shredded.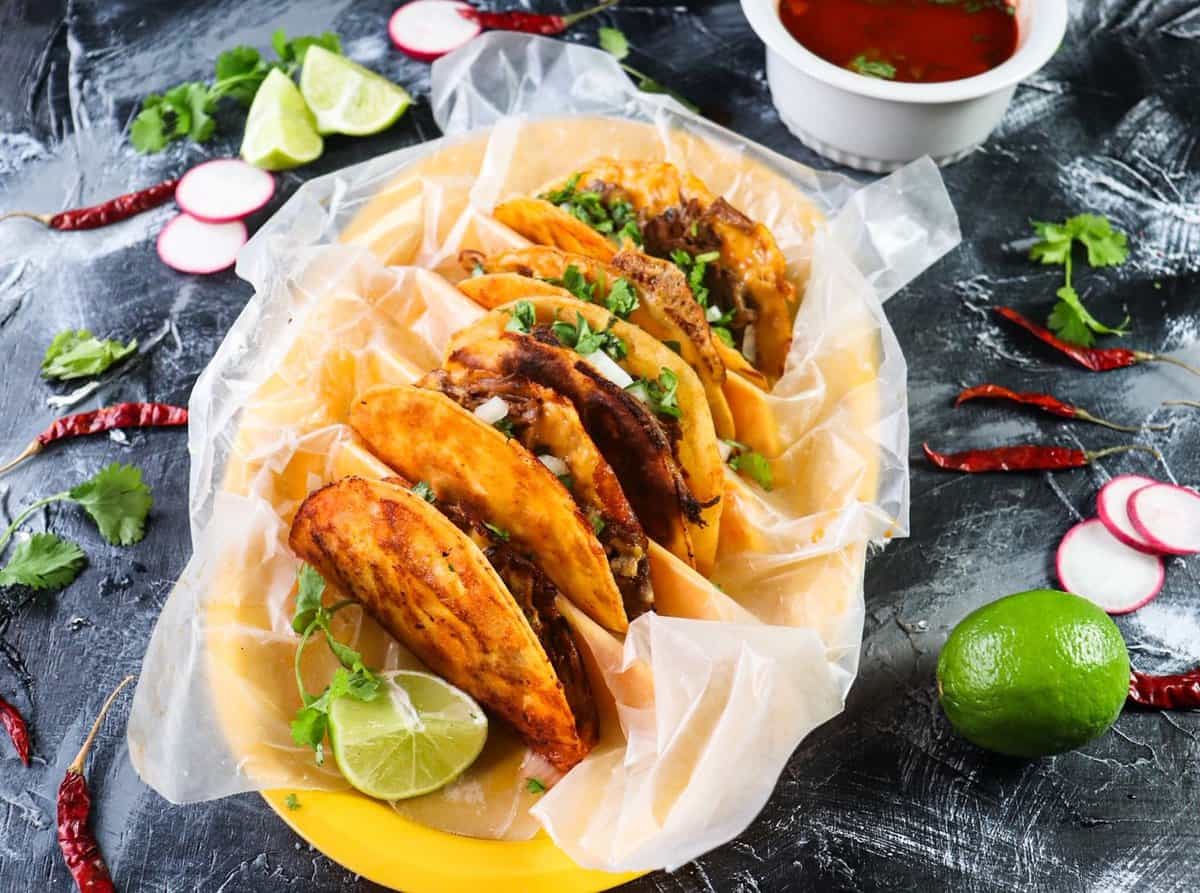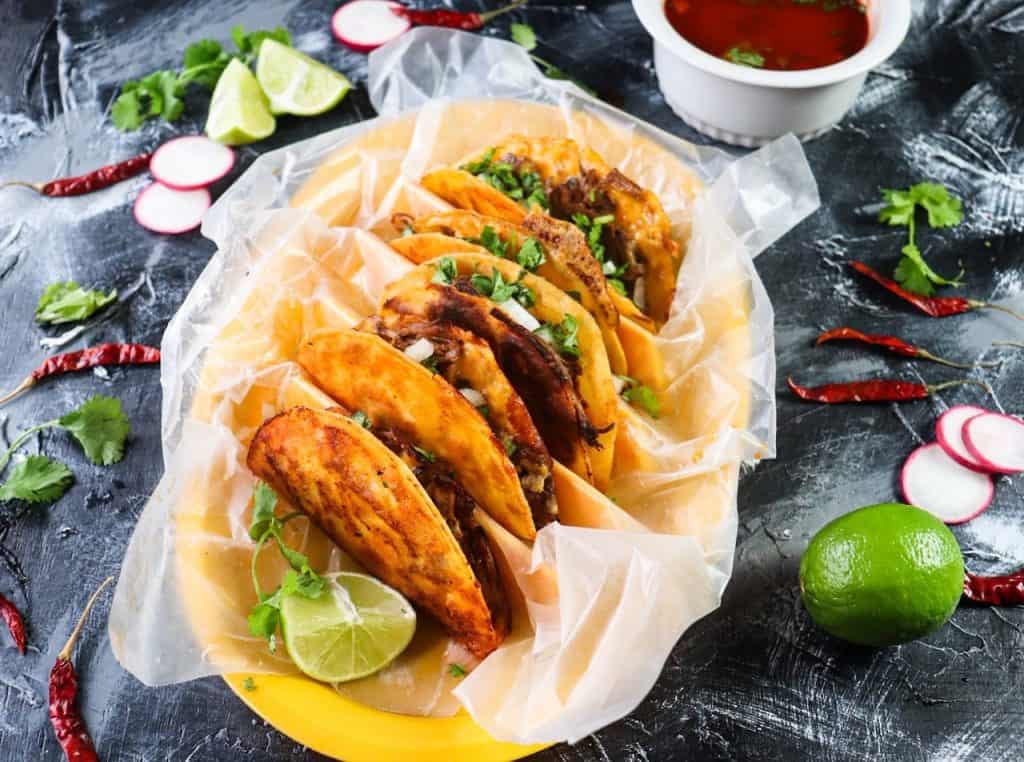 More often, you will find Birria made with beef instead of goat. Almost any large cut of beef can be used to make Birria. Chuck roast, bottom or round roast, large pieces of stew meat. The key is to cook the meat until it is easy to shred.
Can I use ground beef to make Birria?
Traditional Birria is made with shredded meat. Therefore, ground beef doesn't quite fit the bill. If that is all you have on hand though, make tacos and dip them in the consomme!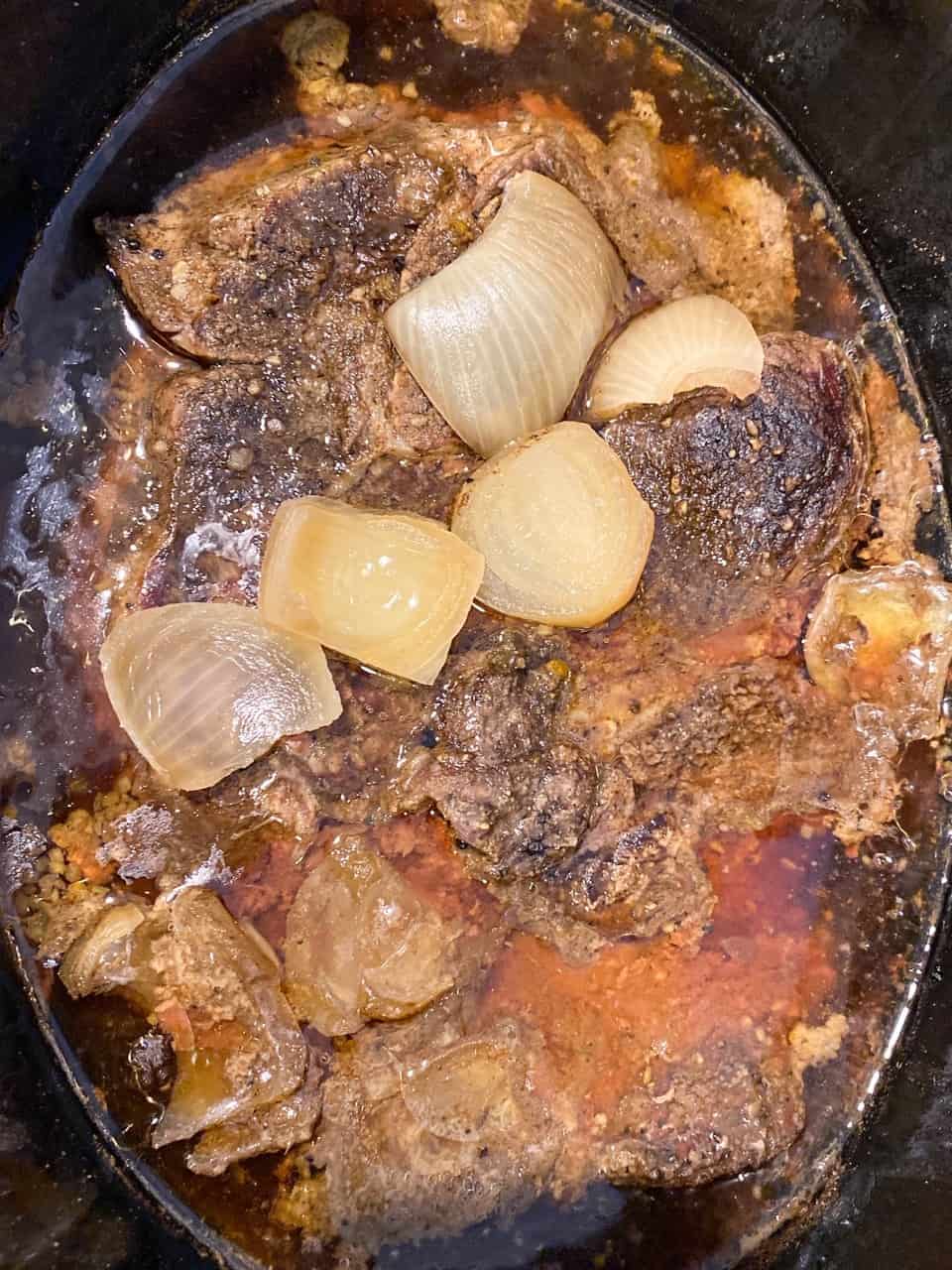 What do you eat with Beef Birria QuesaTacos con Consomé?
Birria is usually eaten with the consomé it cooks in, or the consomé that is made on the side. It (the meat) can be added to the consomé and eaten as a soup, or made into tacos.
Garnish the tacos with cilantro and onion, and a wedge of lime. Then dip all of that goodness in the prepared consomé Another great side for the dish is Mexican Rice.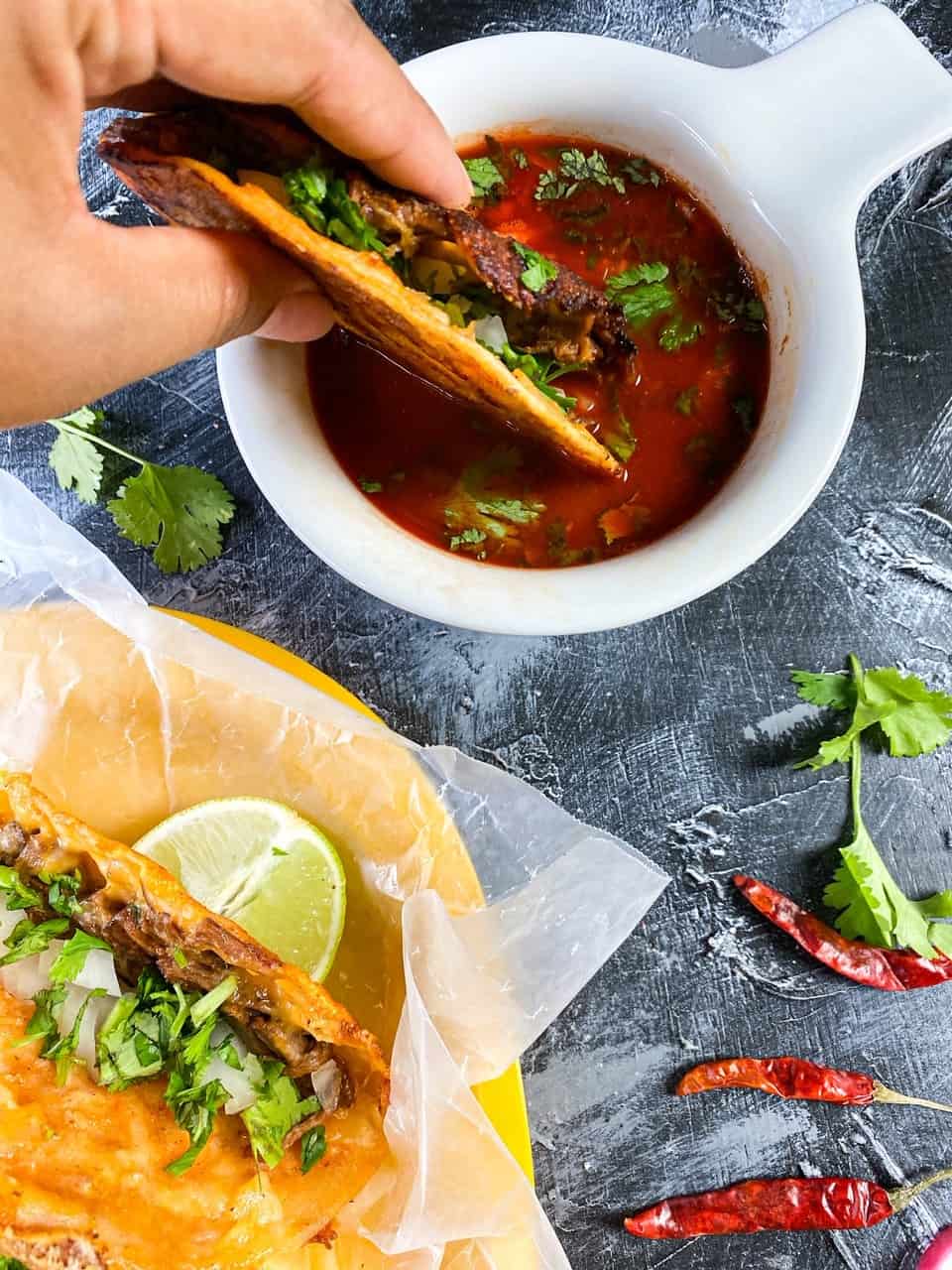 About the consomé:
Consomé is a rich, clarified soup in the traditional since. It starts out as a broth, which is then clarified using an egg white "raft." This "raft" helps remove impurities and fat to leave behind a clear soup.
Although that is traditionally how consome is made, we skipped the egg white raft for this recipe. Instead, we strained the chiles to leave behind a semi-thick, but super smooth, flavorful broth.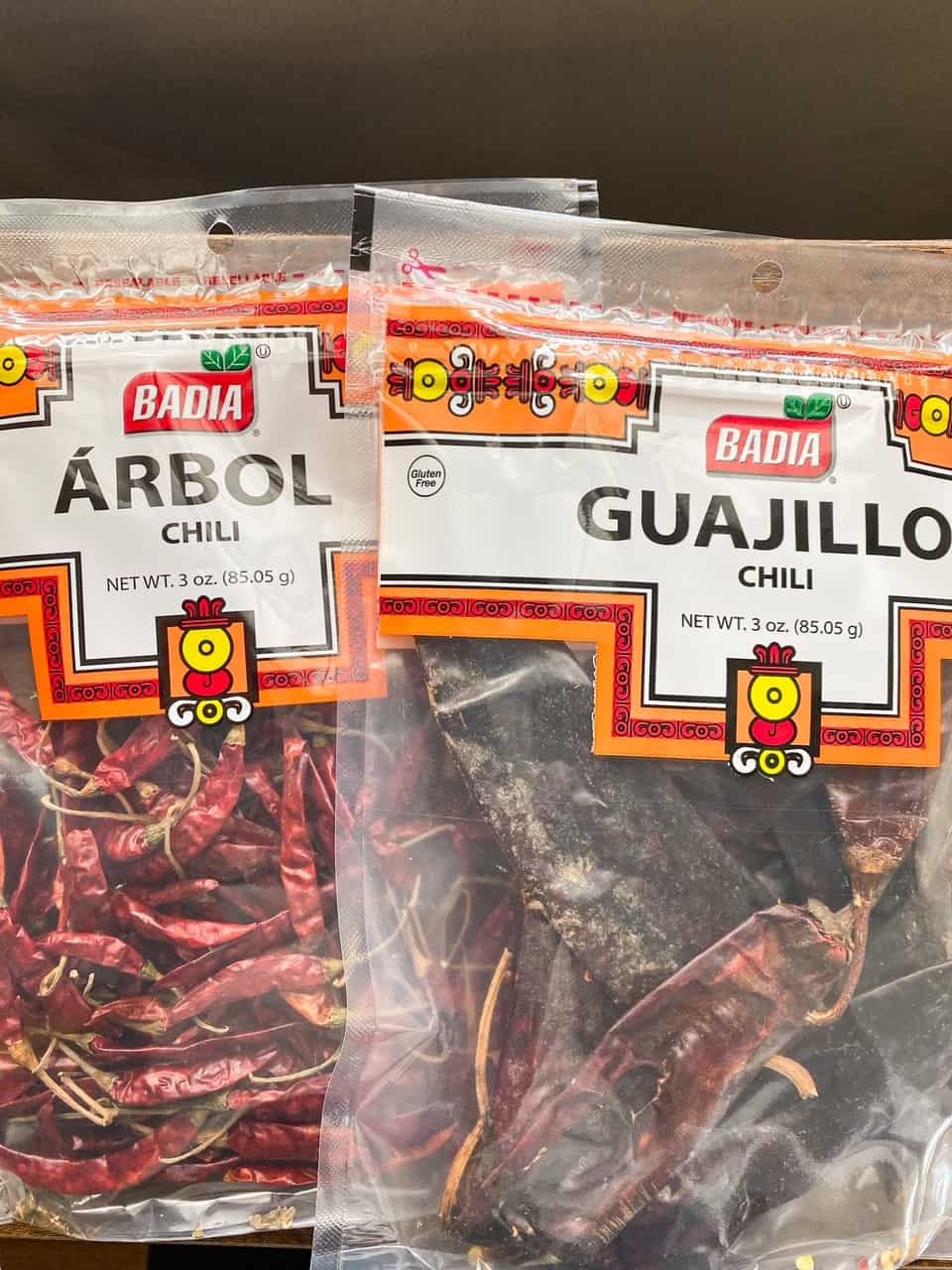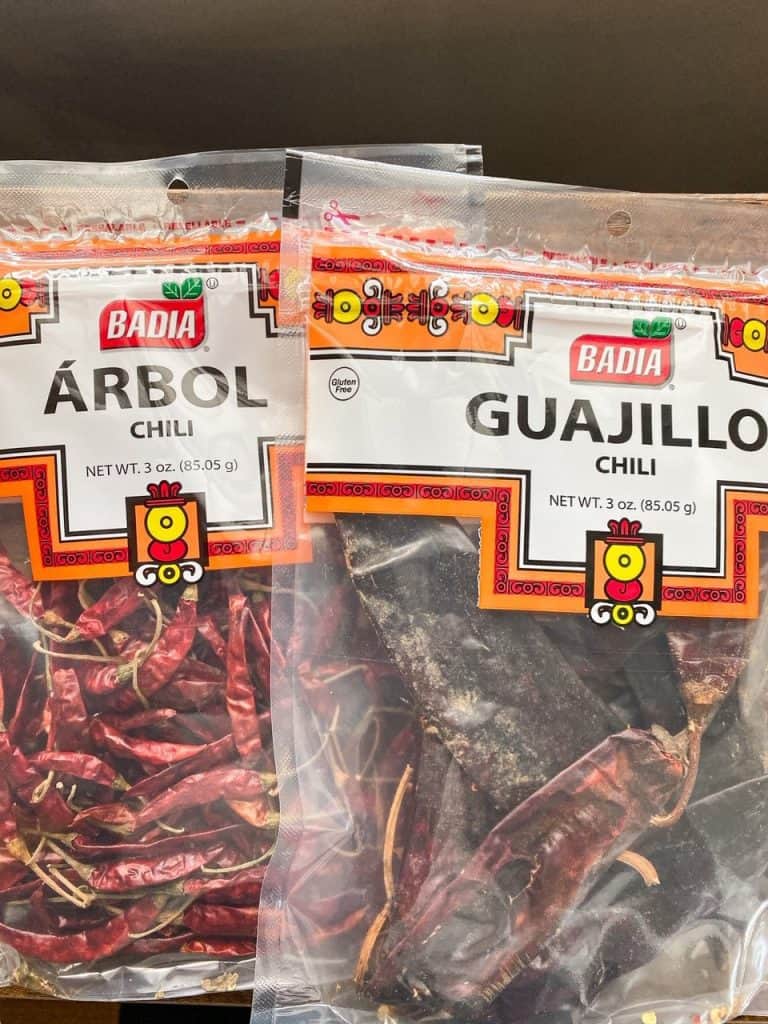 How is the consomé made?
To begin with, the broth is boiled using water and a variety of dried chiles, spices, and herbs. Once the dried chiles are rehydrated, they are all blended together with onions, garlic, and more spices.
For this (and most traditional Mexican consommé recipes), the egg white raft is not used. Instead, the blended liquid is poured through a fine mesh sieve to remove any chunks left behind from blending.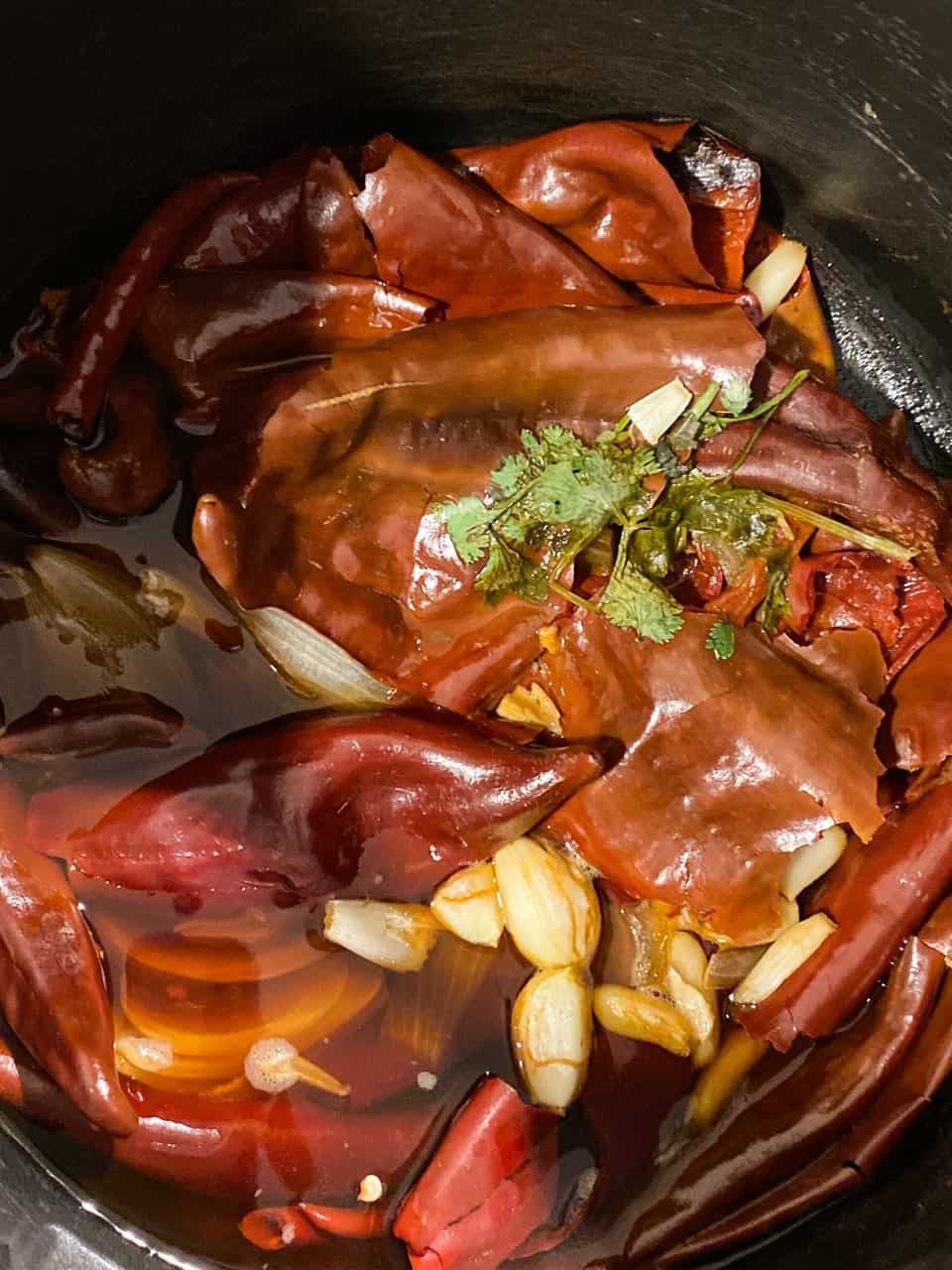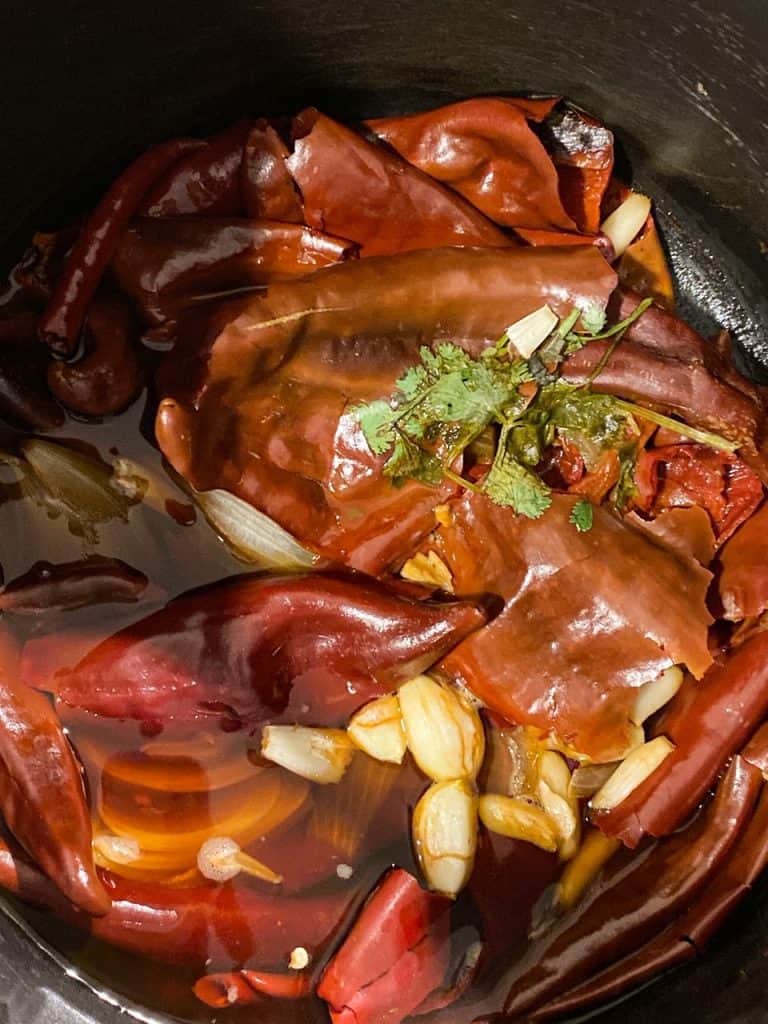 After the consommé is smoothed out, it is then added back to a pot and simmered for 20-30 minutes. More impurities will float to the surface as it's simmered. Easily remove them using the fine mesh sieve.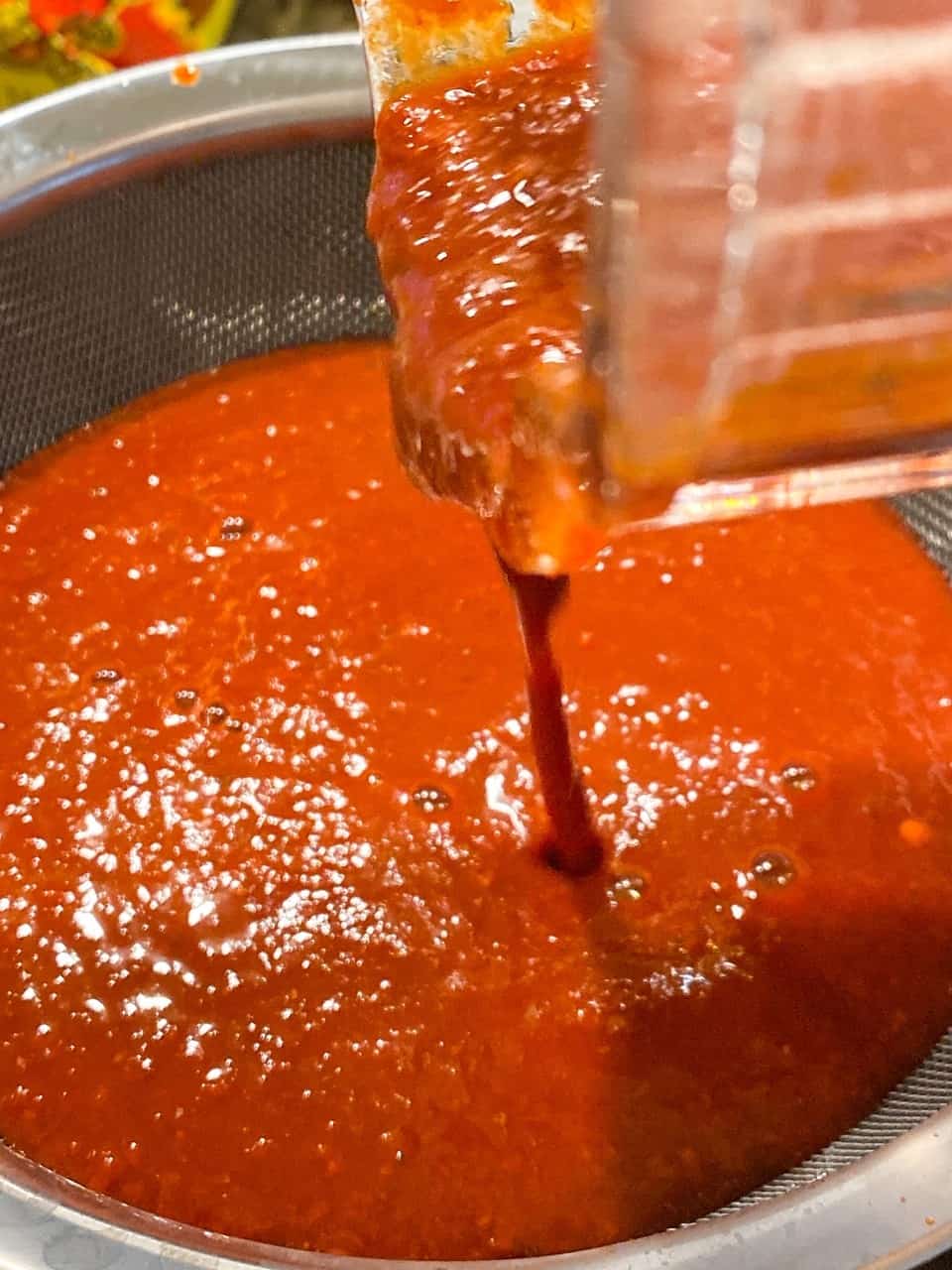 How do you make Birria tacos?
Once the meat is fork tender, you remove it from the liquid it cooked in and shred it. After it is shredded, set it aside. Heat about a tablespoon of vegetable oil in a large skillet. Spoon a couple of cups of the prepared consomé onto a plate or shallow dish.
Dip a corn tortilla in the prepared consomé. Place the corn tortilla flat in the oil, add some of the shredded beef and some cheese. Fold one side over to form a taco shape.
Lightly fry the taco in the oil and consomé until both sides are crispy. Serve the Birria tacos with cilantro and onion. Add the consomé to a bowl and dip the taco in it as you're eating it.
Do I use flour or corn tortillas for the tacos?
Traditional Birria tacos are made with corn tortillas. However, for this recipe flour or corn tortillas can be used. It is most definitely a preference thing.
Follow the same steps in the recipe whether using flour or corn tortillas.
How do I use or reheat leftovers?
To reheat any leftover tacos (which, I doubt you'll have), simply place them on a baking sheet and heat in the oven at 350 degrees for 10 minutes. They will come out just as crispy the second time around!
📖 Recipe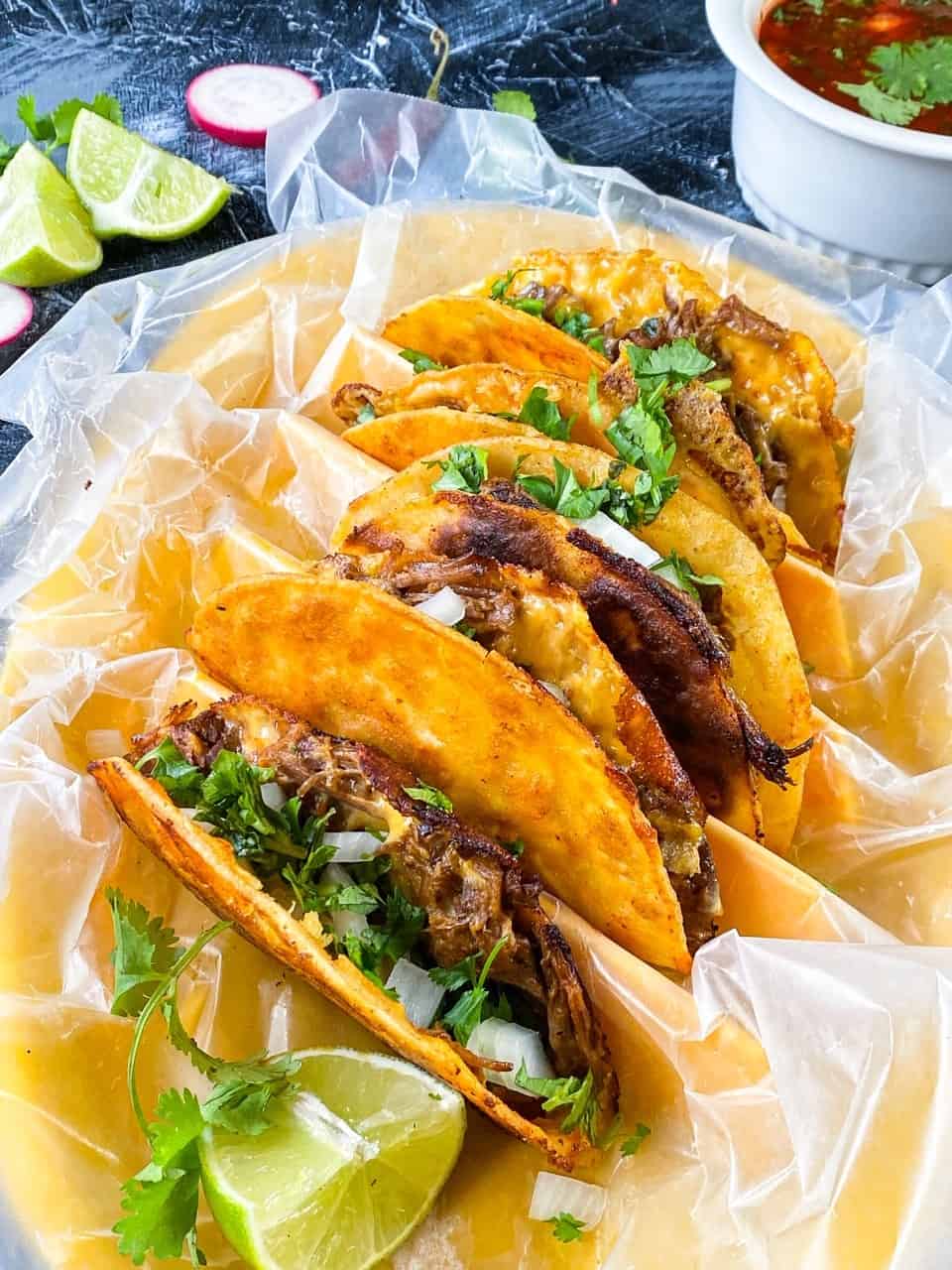 Yield:

15 tacos
Beef Birria Quesatacos con Consomé
Total Time:
4 hours
25 minutes
Beef Birria Quesatacos con Consomé made with juicy and tender shredded beef, and cheese stuffed in corn tortillas, then fried to a slight crispy perfection. Topped with cilantro and onion, with a delicious side of rich consomé for dipping.
Ingredients
1 whole Beef roast, see notes for various types
1 whole Onion, roughly chopped
2 cups Water
2 Beef bouillon cubes
2 tablespoons Garlic powder
1 tablespoon Onion powder
1 tablespoon Oregeno
1 tablespoon Ground cumin
1 tablespoon Adobo seasoning, or seasoning salt
Consomé Ingredients
7 dried Guajillo chiles
4 dried Arbol chiles
3 Roma tomatoes
2 Cloves
2 Bay leaves
½ tablespoon Oregeno
1 teaspoon Ground cumin
½ teaspoon Ground cinnamon 
2 tablespoons Salt (adjust to taste)
2 Limes, juiced
Birria Queso Tacos
15 Corn tortillas
Shredded beef (from recipe above)
2 cups Shredded cheese
2 cups Consomé 
1 cup Vegetable oil (1 tablespoon used at a time)
Topping and Garnish
Onion, diced
Cilantro, Chopped
Lime wedges
Instructions
Cooking the Meat
Season the roast liberally with all of the seasonings. Ensure that it is rubbed into the beef until coated evenly. Place the meat in the slow cooker, or in a large dutch oven.
Cover with water, add the beef bouillon cubes and chopped onion. If using a slow cooker, place the heat to high and cook for 4-5 hours. If placed on low heat, cook for 6-8 hours. For dutch oven, cover and place in the oven at 350 degrees for 4-5 hours.
Preparing the Consomé
Cut or tear the guallijo and ancho peppers down the middle to remove and discard the seeds and stems.
Place the chiles, tomatoes, cloves, bay leaves, and all of the other seasonings and spices into a stockpot and cover with about 3-4 cups of water. Bring the mixture to a rapid boil for 10 minutes. Remove the pot from the heat and allow it to cool to room temperature.
Using tongs or a fines strainer, carefully remove the bay leaves and cloves from the water mixture (save the water to use later). Add the peppers (and tomatoes if they didn't dissolve), into a blender with about 1 cup of the cooking water.
Blend on high for 1-2 minutes, or until the mixture is completely pulverized. Using a fine mesh strainer, strain the chile mixture into another stockpot by pushing it around the strainer with a spoon. Add a little bit at a time, until all of the chile mixture is used.
Use liquid the chiles were boiled in, and liquid the beef cooked in to pour into the fine mesh strainer (a little at a time), and continue pushing it through with a spoon. This is to ensure all of the flavors are extracted from the chile mixture.
Squeeze the lime juice into the consomé mixture, and heat over medium on the stove top while preparing the birria queso tacos.
Birria Queso Tacos
Pour ½ cup of the consomé onto a shallow plate or dish. Add 2 tablespoons of vegetable oil to a large skillet over medium heat.
Dip one corn tortilla at a time into the consomé, then place it flat into the oil in the skillet. Add about 1-2 tablespoons of beef, and shredded cheese onto one side of the tortilla.
Fold the other side over to form a taco shape. Fry each side of the taco for 2-3 minutes, until both sides are golden brown and crispy.
Remove and place on a paper towel of baking rack to drain excess grease. Repeat this process until all of the tacos are made.
Serve with onion, cilantro, lime wedges, and some consomé to dip the tacos in.





Notes
Different cuts of beef can be used for this receipe. Chuck roast, rump roast, virtually any roast that can be cooked and shredded.
Other options are stew meat, or chunks of beef the butcher cuts. Ground beef is not recommended.
The consomé can also be served as a soup or stew instead of making tacos.
Nutrition Information:
Yield:
6
Serving Size:
1
Amount Per Serving:
Calories:

790
Total Fat:

57g
Saturated Fat:

12g
Trans Fat:

1g
Unsaturated Fat:

40g
Cholesterol:

72mg
Sodium:

3407mg
Carbohydrates:

50g
Fiber:

8g
Sugar:

9g
Protein:

26g
This website provides approximate nutrition information as a courtesy and for convenience only.
Be sure to tag me on Instagram or Facebook when you make this recipe!
I would love to see your creation, and give you a shoutout!