Birria Ramen with Beef is made with a rich and flavorful broth that is served over ramen noodles. Dried peppers are the base, along with robust seasonings and spices.
Calling all Birria fans! Check out these Beef Birria Quesatacos with Consome and these Chicken Birria Grilled Cheese Sandwiches.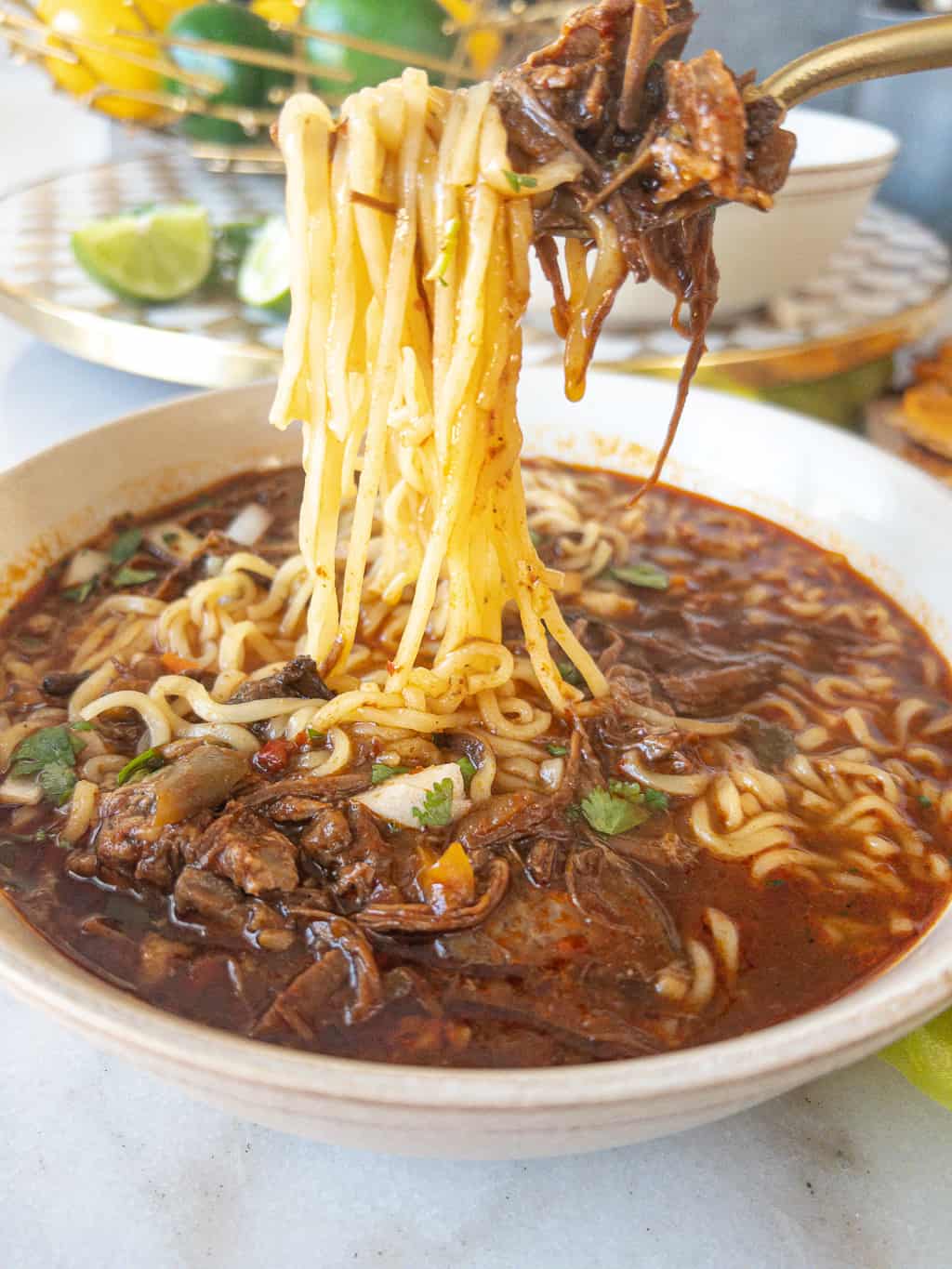 Birria tacos are ALL the craze right about now. Nothing new, because these babies have been around for many years. But this birria ramen is on a WHOLE DIFFERENT level y'all! You may have seen this sensation all over social media, so we had to recreate the recipe.
Jump to:
It is believed to have originated in Jalisco, Mexico; but is now wildly popular in the Los Angeles and throughout the United States.Traditional large cuts of meat are rubbed down in seasonings and spices, and cooked until fork tender.
What is Birria Ramen with Beef?
As aforementioned, Birria de res is a traditional Mexican dish that originated in Jalisco Mexico. Often times it is found and sold as street food; like in Mexico City and even New York .
Usually it is made with goat, which is slowly cooked in a rich broth also known as consommé, and shredded.
More and more, large cuts of beef are being used as a substitute for goat. For one, beef is much easier to find in our local grocers. Even more, the flavors that come from the rich broth that is created is second-to-none.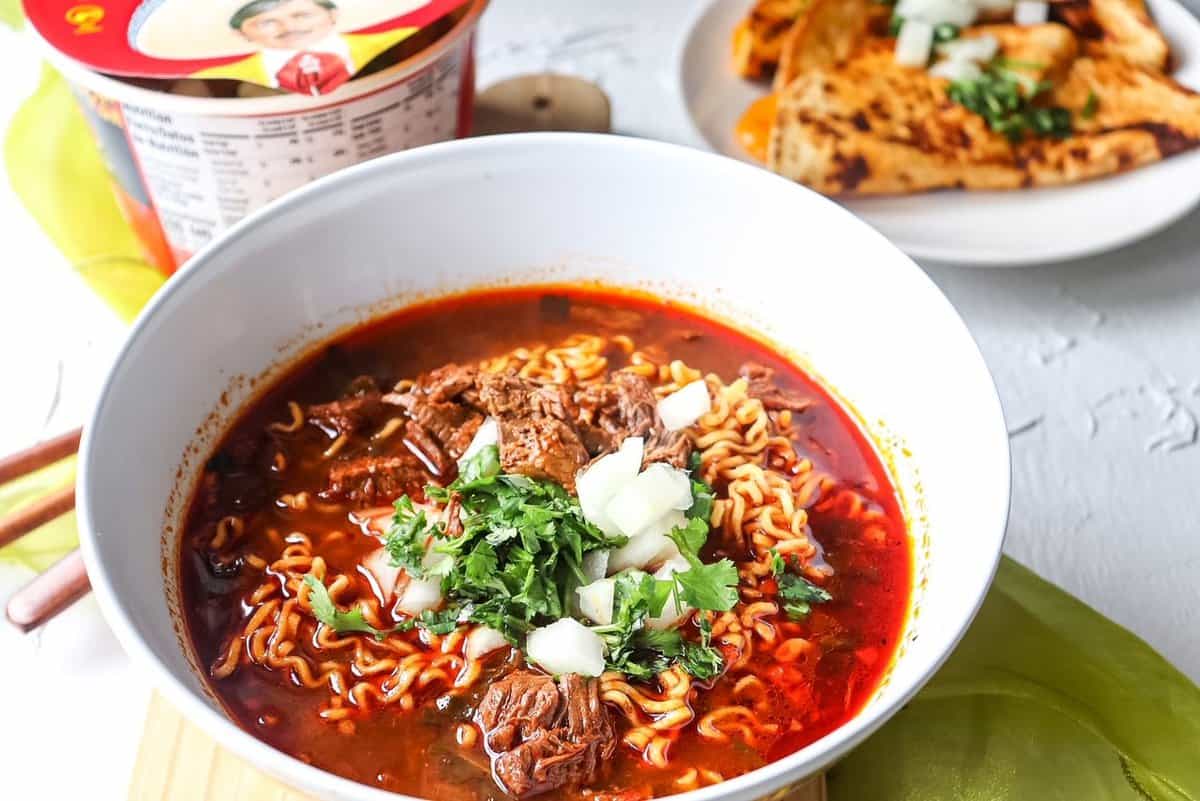 How to make the consomé or broth for the birria ramen:
For this birria consommé or broth, it is best to use dried Guajillo peppers. These peppers are generally mild, so to add a tad bit of spice, use chile de arbol as well. Some people like to add chipotle peppers as well.
Some people like to use chipotles that come in the adobo sauce as well. These will make a delicious bowl of birria.
Since the guajillo peppers are freeze dried, they need to be rehydrated by adding them to boiling water or beef stock over medium heat or medium-high heat for about 2- minutes.This will soften then up enough to be blended for the sauce.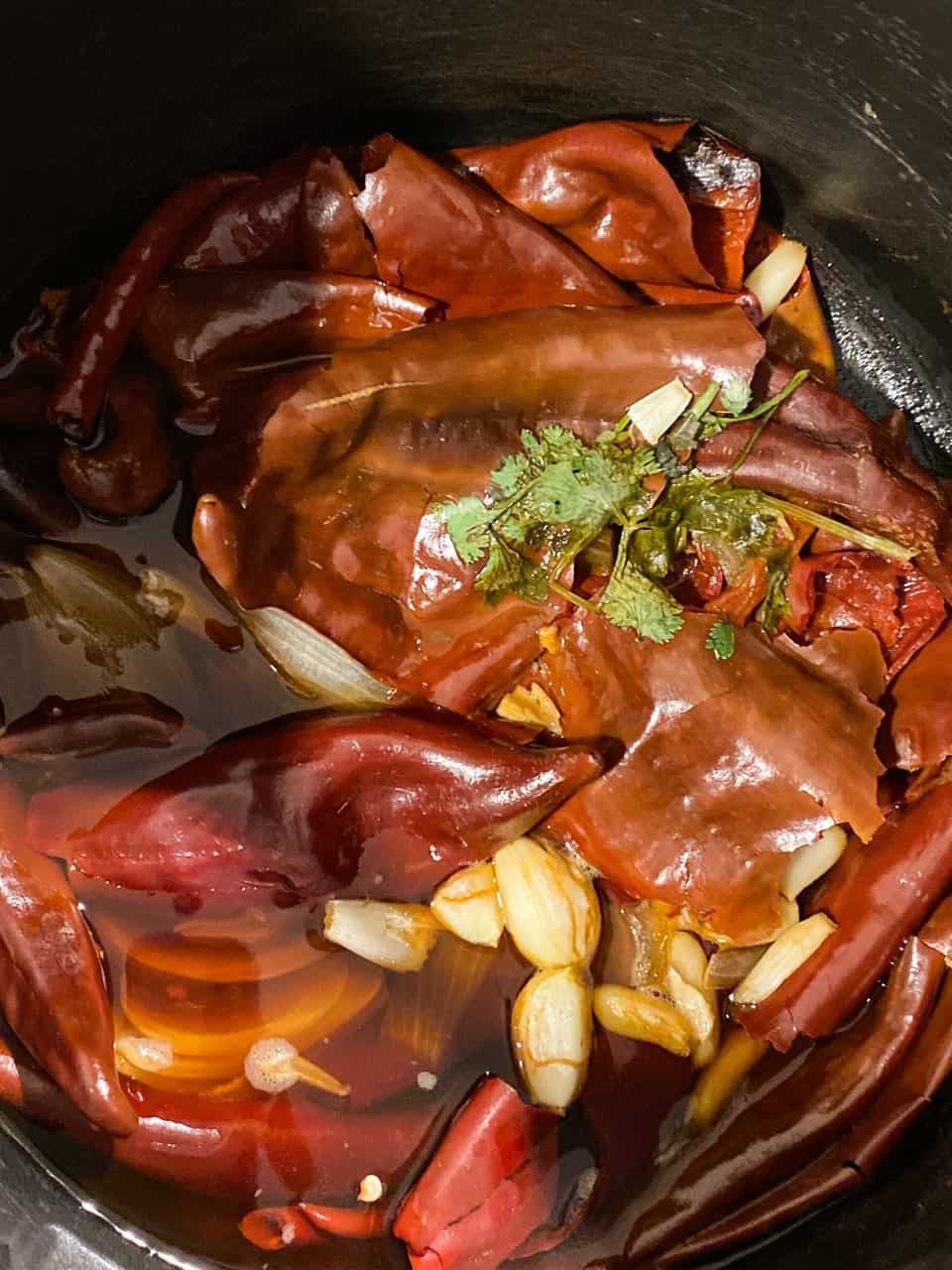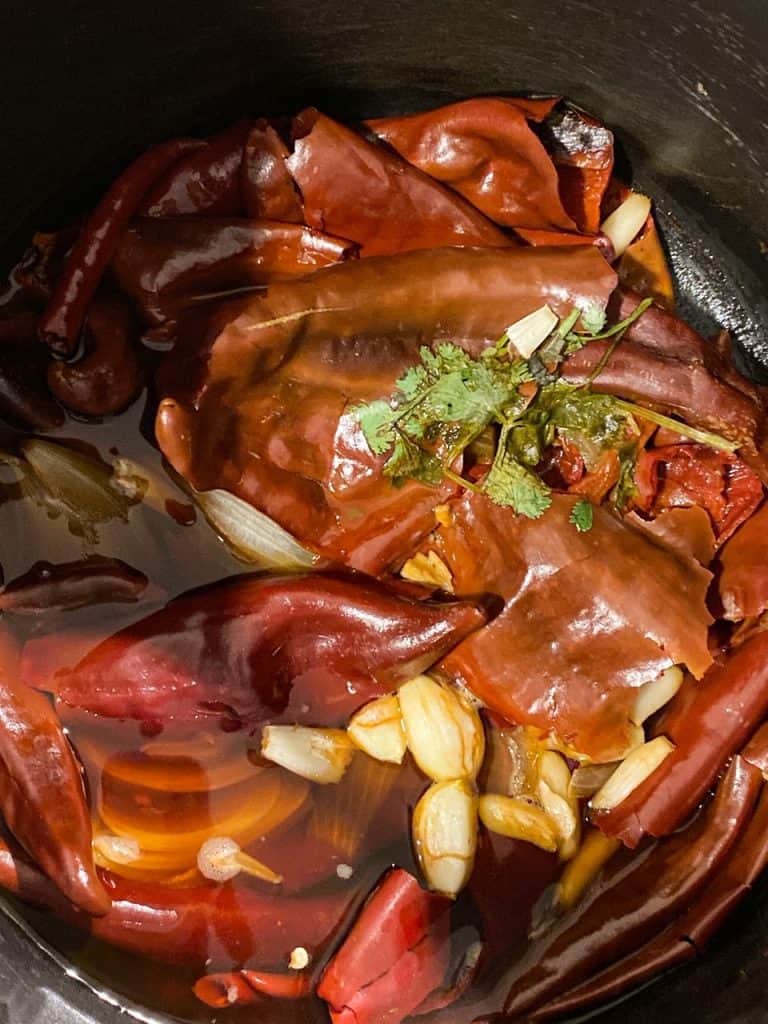 Soaking the dried chiles in hot water is another method to help rehydrate them.
Blend the rehydrated peppers on high in a blender or food processor for about two to three minutes, or until the mixture forms a smooth, thick, liquid type mixture.
Depending on how great the blender is, it is recommended to strain the mixture through a fine mesh strainer to get all of the chunks out. Set this aside.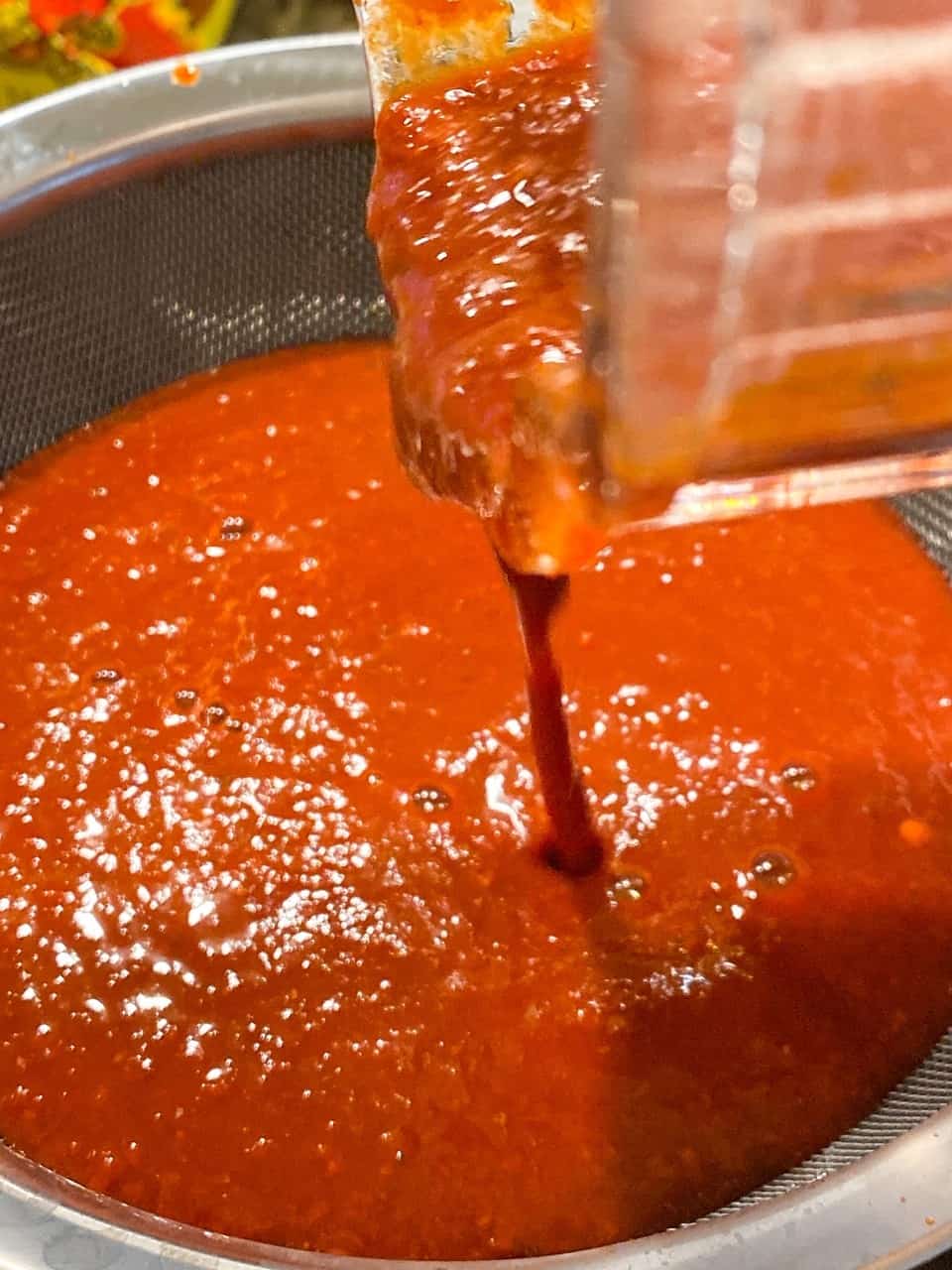 Cooking the beef for the birria stew
Now that the base is made for the consome, it is time to prepare the beef. The pressure cooker was a HUGE time saver for this recipe.
Season the beef roast liberally with Chili powder, onion powder, garlic powder, seasoning salt, and ground cumin. Be sure to season all sides.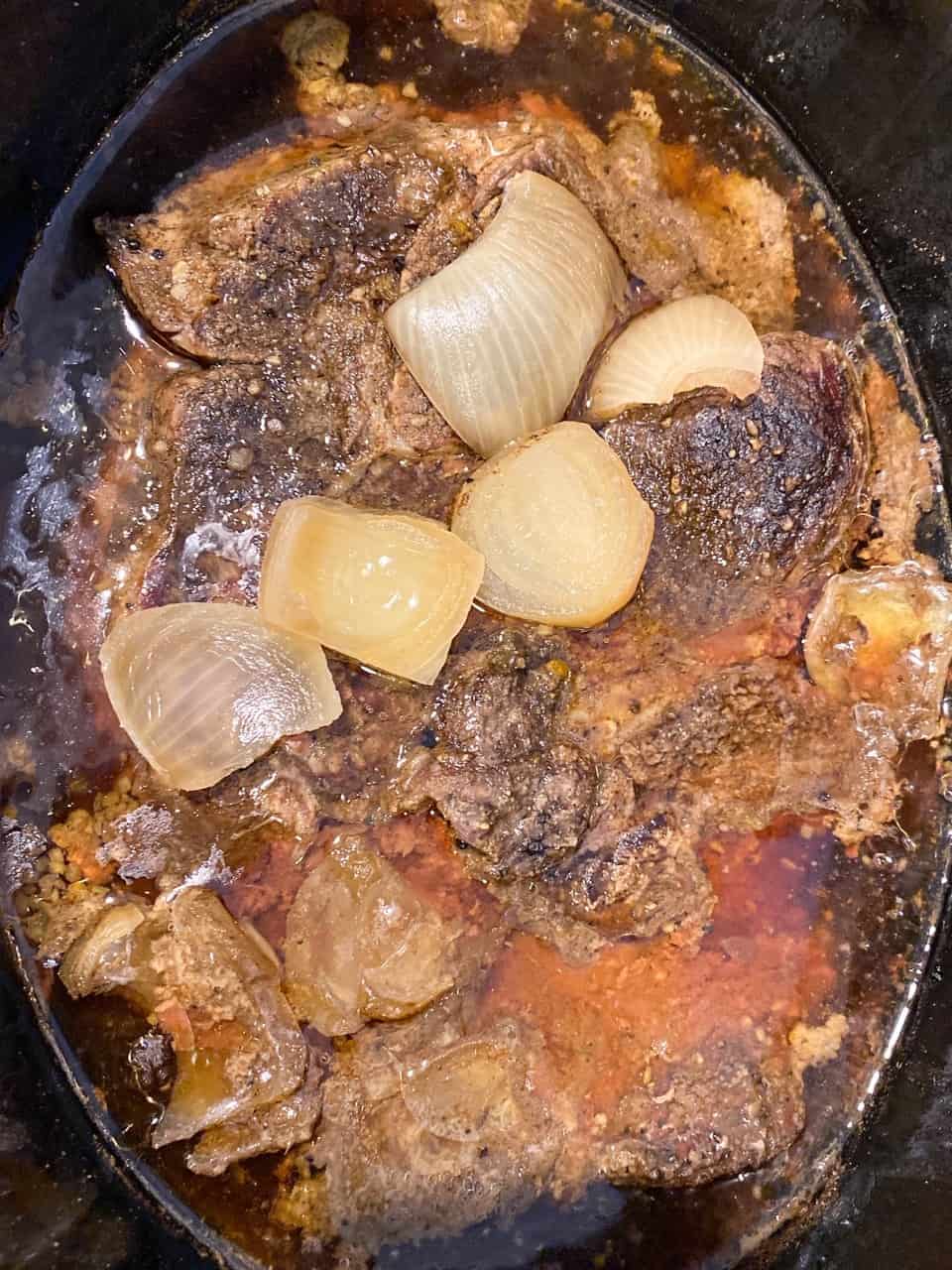 Place about two tablespoons of olive oil or vegetable oil into the instant pot and put it on sauté mode. Gently place the roast into the oil and sear for 5 minutes on each side. Once each side is browned, put the pressure cooker on the "meat" mode.
It is now time to pour the consome mixture into the pressure cooker. Pour it directly over the beef. Add three to four bay leaves, two cloves, two cloves garlic, and more salt and seasonings.
You can also add a cinnamon stick for some additional flavor. A quarter of an onion is also an option to add at this point. Mix it well and close the lid. Set it to one and a half hours.
Cooking the meat and consome separately:
Simply make the birria broth, and leave it in a separate pot to simmer. Then, cook the beef as stated above, and add a bit of water instead of the consomé. Once you build the ramen bowls, add the consomé, then add some of the shredded beef.
One of the benefits of keeping them both separate is that any leftover beef can be used for another recipe or meal! Birria tacos are delicious to make with this meat. This shredded beef ragu is perfect to use leftover beef.
When you hear that *BEEP* from the instant pot the real action has started!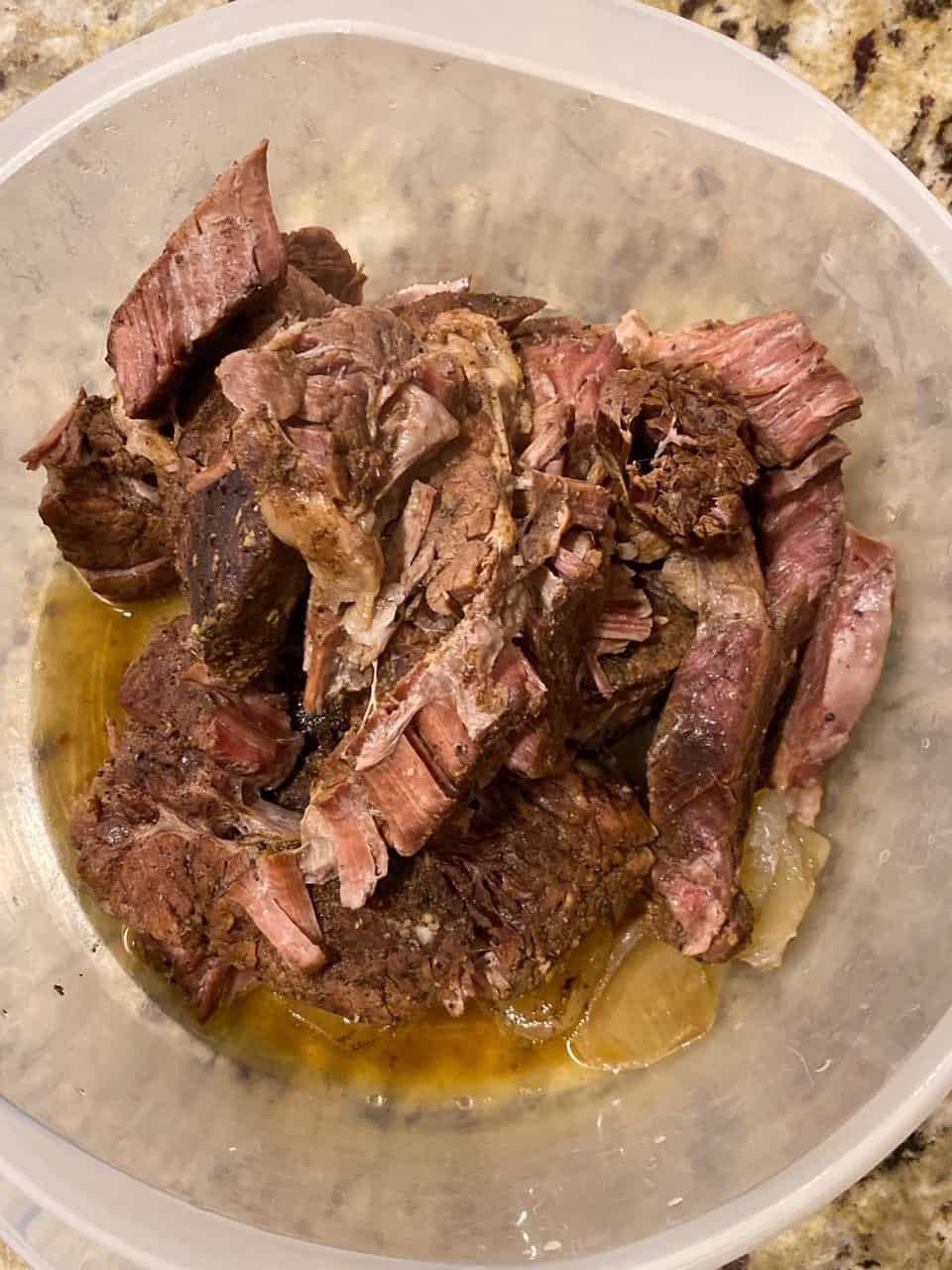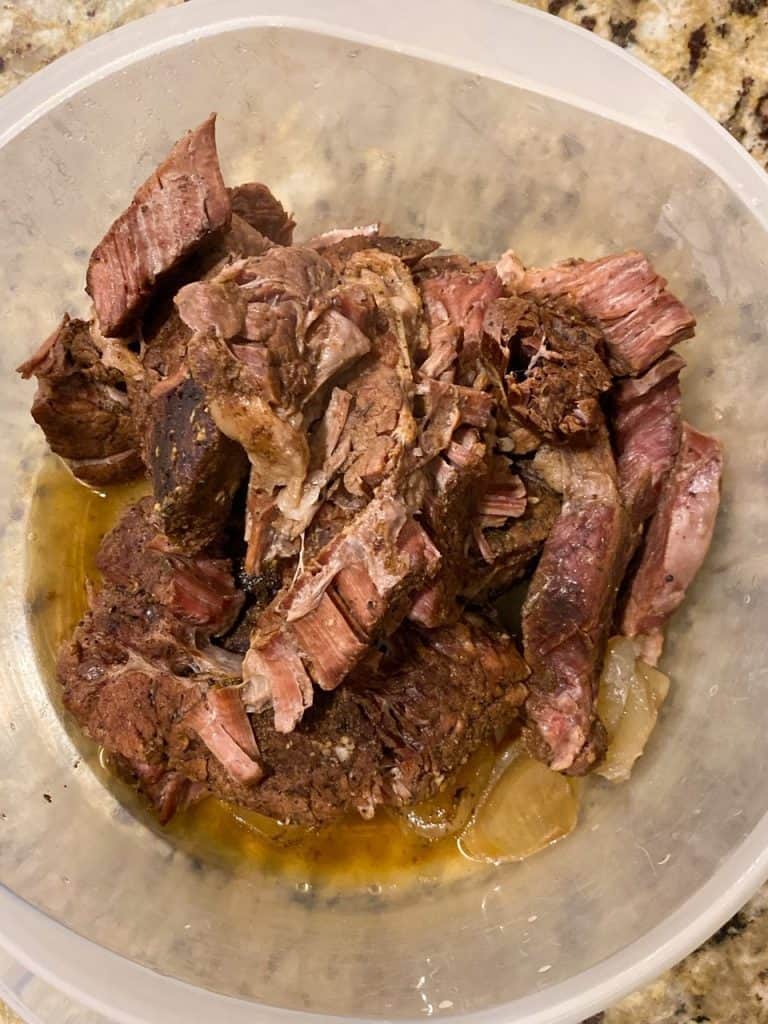 When the hour is up, and the pressure cooker beeps- it is time to go to work! It is now time to remove the beef, and shred it up. Use a large bowl and two forks, and go to work.
The birria meat should be perfectly tender at this point. So shredding it will be super simple. Shred it to your desired consistency. Bite size is ideal for us!
The meat can be added back to the birria, or keep it on the side until ready to serve.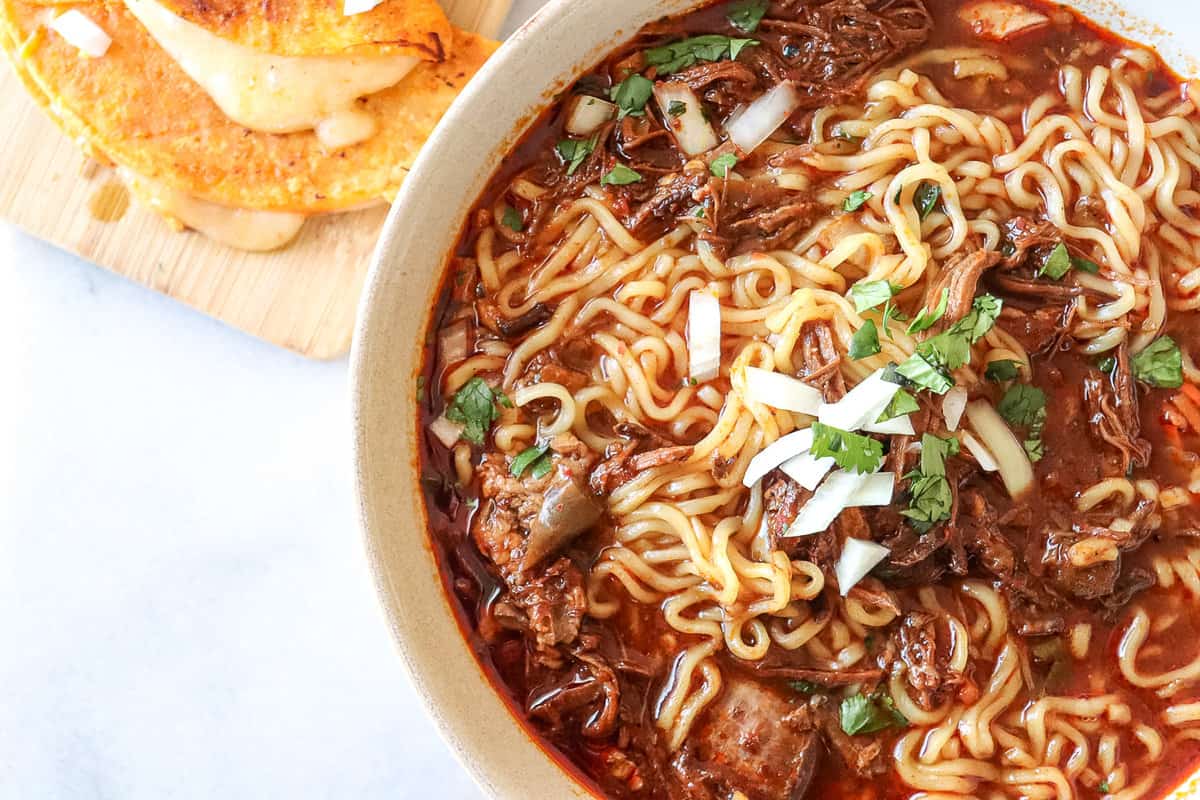 How to cook the birria de res without an instant pot
You can most definitely make the pot roast on the stovetop using a large stockpot. Follow the instructions with seasoning the roast beef. Then add enough liquid to cover the meat, and cover and simmer it until it's fork tender.
Another option is to use the slow cooker to make the birria. Simply follow all of the same directions, set the crockpot to high and cook the roast for at least four hours.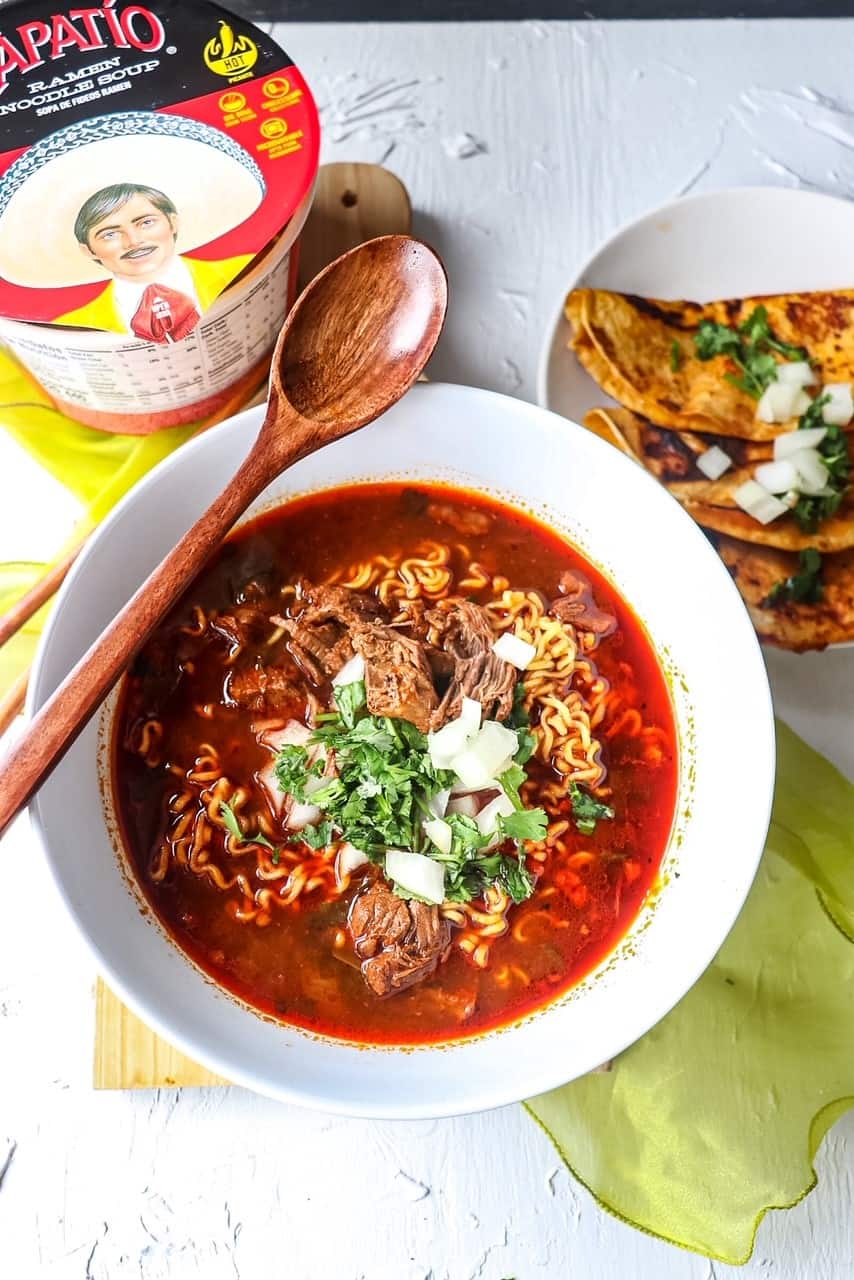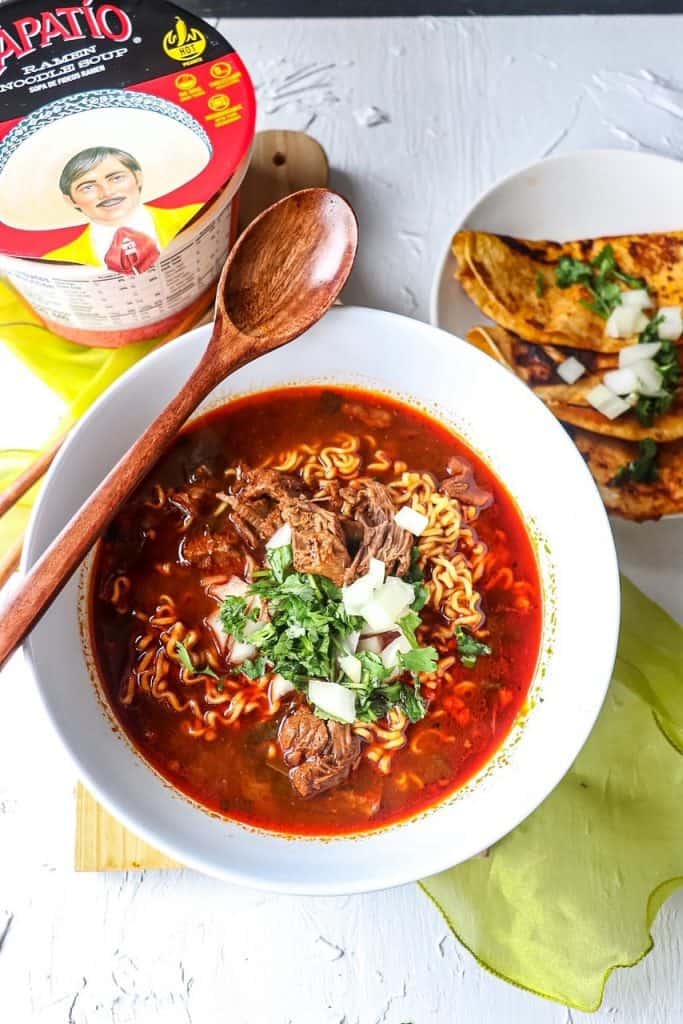 What kind of ramen to use:
In all sincerity, you can use any ramen noodles that are on hand! Use a pack of the inexpensive instant ramen noodles from your favorite grocery store. For the sake of the whole birria ramen experience, we ordered the Tapatio Ramen!
Since the birria sauce is so rich and flavorful, there is no need to use the seasoning packet that comes with the instant ramen noodles.
You can also use fresh noodles that are usually found at local Asian food stores. Usually Japanese ramen noodles are the easiest to find.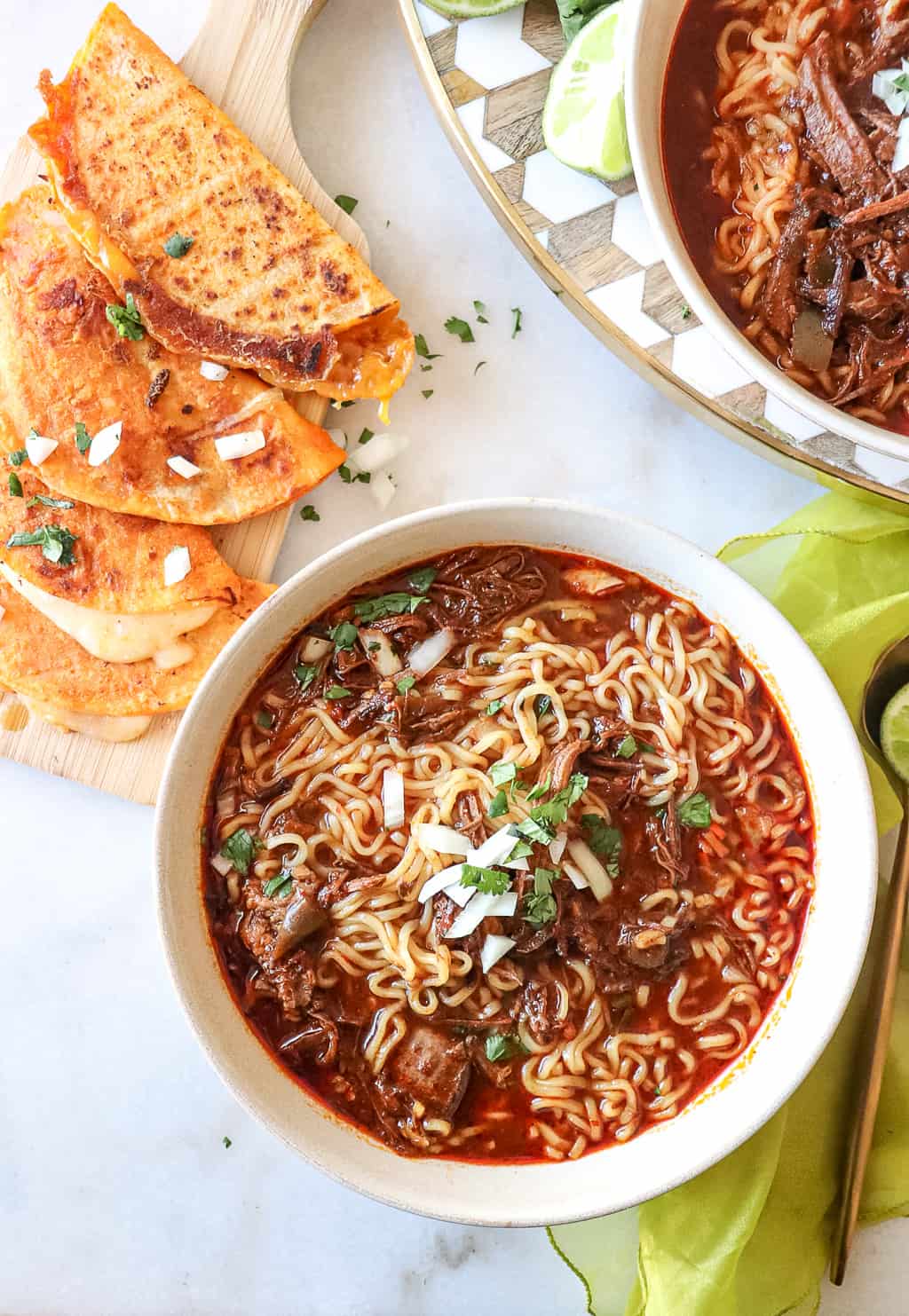 Boil the ramen noodles in water until they are al dente, according to package instructions. Drain the water, and ladle the birria sauce over the top- enough to cover the ramen.
Add the meat over the top of the birria ramen. Garnish with diced onions, cilantro, and a squeeze of lime. A simple quesadilla, or even just tortillas are perfect to dip into the birria ramen.
How to use leftover birria
If you happen to have any leftover birria, you can use it in a number of ways. Add the meat to corn tortillas to make birria tacos.
Or you can even make a quick quesadilla. Another delicious way to use it is to make taquitos, or a sandwich like a torta. This birria ramen recipe is PERFECT to enjoy on cinco de mayo too!
📖 Recipe
Yield:

6 servings
Birria Ramen with Beef in the Pressure Cooker
Total Time:
1 hour
20 minutes
Birria Ramen with Beef is made with a rich and flavorful broth that is served over ramen noodles. Dried peppers are the base, along with robust seasonings and spices.
Ingredients
1 Beef chuck roast, weight will vary
1 whole Onion, roughly chopped
3 cups Water
2 Beef bouillon cubes
2 tablespoons Garlic powder
1 tablespoon Onion powder
1 tablespoon Oregano
1 tablespoon Ground cumin
1 tablespoon Adobo seasoning, or seasoning salt
1 tablespoon Chili powder
Consomé Recipe
7 dried Guajillo chiles
4 dried Arbol chiles, (optional because they are spicy)
3 Roma tomatoes
2 Cloves (optional but recommended)
2 Bay leaves
½ tablespoon Oregano
1 teaspoon Ground cumin
½ teaspoon Ground cinnamon 
1 tablespoon Salt (adjust to taste)
2 Limes, juiced
1 cup Onions, diced (to garnish)
1 cup Cilantro, chopped (to garnish)
Ramen
6 packs Ramen noodles, discard season packet
Instructions
Preparing the Beef


Season the roast liberally with all of the seasonings. Ensure that it is rubbed into the beef until coated evenly.
Place the pressure cooker on sauté mode. Sear the beef on each side for 3 minutes.
Cover with water, add the beef bouillon cubes and chopped onion. Place the pressure cooker on the meat mode, cover and cook for one hour.
Remove the meat from the pressure cooker and place it in a large bowl. Shred the meat with your hands, or by using two forks.
Meat can be added to the prepared consomé, or left separate and added to each ramen bowl.

Consomé Instructions

Cut or tear the guajillo and chile de arbol down the middle to remove and discard the seeds and stems.

Place the chiles, tomatoes, cloves, bay leaves, and all of the other seasonings and spices into a stockpot and cover with about 3-4 cups of water. Bring the mixture to a rapid boil for 10 minutes. Remove the pot from the heat and allow it to cool to room temperature.

Using tongs or a fine strainer, carefully remove the bay leaves and cloves from the water mixture (save the water to use later). Add the peppers (and tomatoes if they didn't dissolve), into a blender with about 1 cup of the cooking water.

Blend on high for 1-2 minutes, or until the mixture is completely pulverized. Using a fine mesh strainer, strain the chile mixture into another stockpot by pushing it around the strainer with a spoon. Add a little bit at a time, until all of the chile mixture is used.

Add the cooking water (and 3-4 cups additional water) to the fine mesh strainer and continue pushing it through with a spoon. This is to ensure all of the flavors are extracted from the chile mixture.
All of the flavor is extracted when the chile mixture appears to be dried up.
Prepare the Ramen
Bring six to eight cups of water to a rapid boil. Add the ramen noodles and boil until they are al dente. About 7-10 minutes.
Drain the water from the noodles.
Add the desired amount of noodles to a bowl. Next, pour the consome over the noodles, just enough to cover them.
Each bowl can be topped with some of the shredded beef, it was not already added to the consome.
Garnish with onions and cilantro, and a squeeze of lime!
Nutrition Information:
Yield:
6
Serving Size:
1
Amount Per Serving:
Calories:

200
Total Fat:

6g
Saturated Fat:

2g
Trans Fat:

0g
Unsaturated Fat:

3g
Cholesterol:

12mg
Sodium:

1701mg
Carbohydrates:

31g
Fiber:

6g
Sugar:

9g
Protein:

9g
This website provides approximate nutrition information as a courtesy and for convenience only.