Chicken Birria Grilled Cheese Sandwiches with Consome are made with juicy and tender chicken, and perfectly melted cheese. Toasted to perfection, and dipped into the rich consome for added flavor.
While you are here, be sure to checkout this Birria Ramen, and these Beef Birria Quesatacos with Consome!
If you have not joined in on the birria hype by now, consider it time! This is your sign to get in the kitchen, and whip-up a batch of these amazing sandwiches. They are perfect for a weeknight dinner, or any other special occasion. Crusty bread, chicken, and a perfectly melted cheese; it does not get much better than that!
What is Birria?
Birria is a traditional Mexican dish that originated in Jalisco Mexico. Often times it is found and sold as street food. Usually it is made with goat, which is slowly cooked in a rich broth (consommé),and shredded.
More often, you will find Birria made with beef instead of goat. Almost any large cut of beef can be used to make Birria. For this recipe however, we subbed the beef for chicken! Cooked using the same method, and shredded just the same.
Best bread to use:
These birria sandwiches are very similar to a traditional "torta" style Mexican sandwich. Those sandwiches are usually made with a style of bread called Bolillos. They are oval shaped mini loafs of bread. Most often they are found in Panderia's (Mexican bread bakery's).
If this style of bread cannot be found, a great alternative is are mini oval shaped rolls from your grocers bakery section. For this recipe we used mini French rolls. One of the most important things in regards to the bread, is to ensure you get something that is substantial.
A bread that will hold up to the consome, and weight from the cheese and chicken is the most important part. So a loaf of sandwich bread will not do the trick here!
Alternative cooking methods:
If you do not own an Instant Pot (or pressure cooker), I highly recommend you get yourself one! Nonetheless, these sandwiches can be made on the stovetop vs. Instant Pot.
Follow all of the exact instructions, but instead of searing and cooking the chicken in an Instant Pot, simply use a large stockpot with a lid. Sear the chicken, make the consome, and pour it directly into the stockpot.
Simmer the chicken directly in the consome for 45 minutes to one hour, covered. Once the chicken is fork tender, that is when it is done!
About the consome:
Consomé is a rich, clarified soup in the traditional since. It starts out as a broth, which is then clarified using an egg white "raft." This "raft" helps remove impurities and fat to leave behind a clear soup.
Although that is traditionally how consome is made, we skipped the egg white raft for this recipe. Instead, we strained the chiles to leave behind a semi-thick, but super smooth, flavorful broth.
A lot of people just simply blend the rehydrated peppers, and add it directly into the meat to simmer. Since we are interested in a smoother broth-like consistency, we use a fine mesh strainer.
How to store and reheat leftovers:
I suggest that you make just enough sandwiches to be consumed in a single sitting. Leftover grilled cheese sandwiches are hard to reheat. When I attempted to reheat one of these sandwiches, it ended up burning, and the cheese did not get back to that melty consistency we want!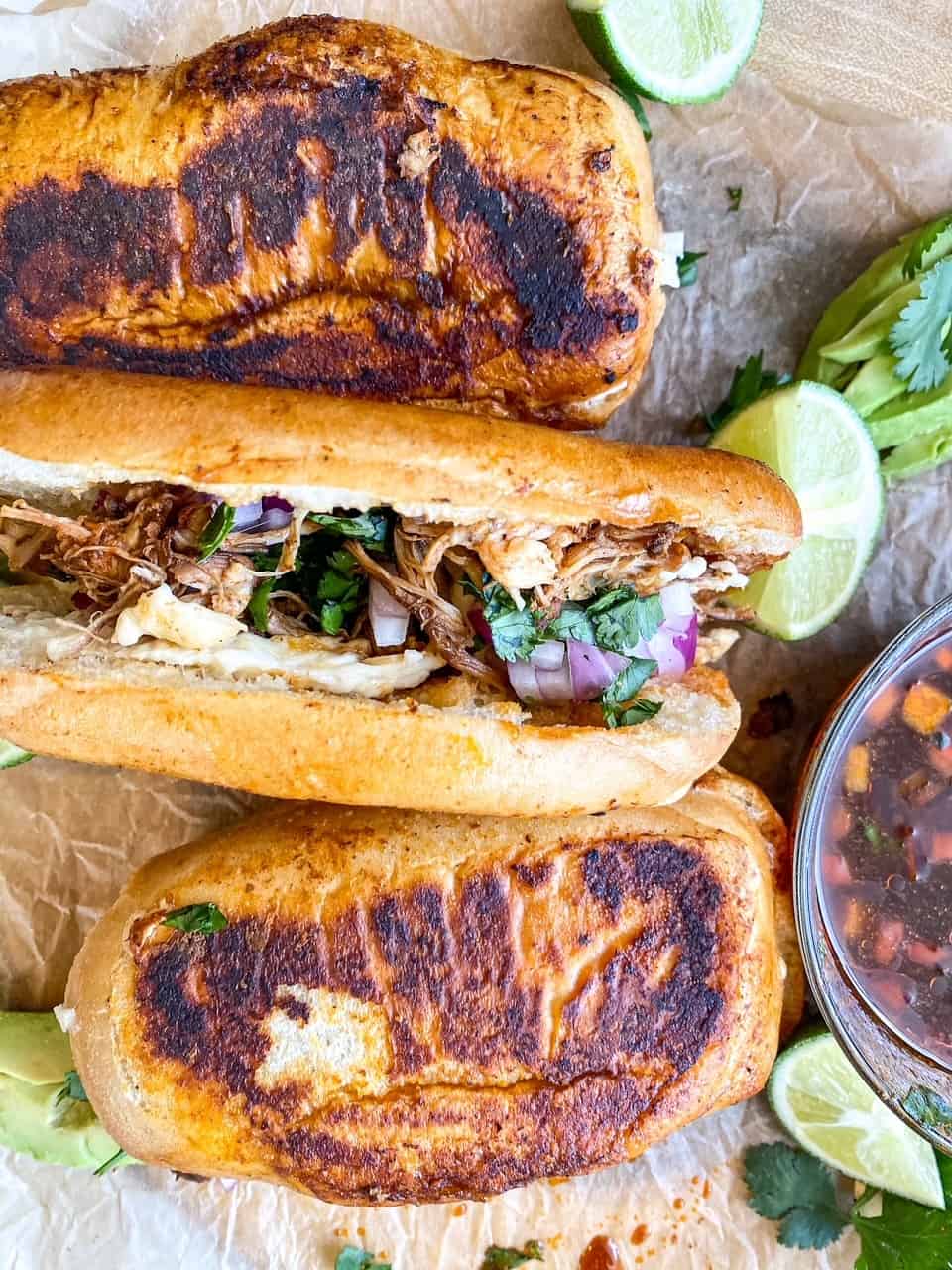 How to make a vegetarian version of the sandwich:
To make this sandwich vegetarian, you will swap the chicken out for jackfruit. If you are not familiar with jackfruit, check out this article to get more information. Treat the jackfruit exactly how you would a piece of meat.
Rinse the jackfruit well, because I recommend you use canned jackfruit. Let it rest in a colander to sort of dry out. Then you will season it liberally with all of the same seasonings in the recipe card. Add about 2 tablespoons olive oil to a skillet, and saute the jackfruit.
Only add about one cup of the consome into the skillet with the jackfruit. Save the rest to make the grilled cheese sandwiches, and to dip the sandwiches into.
📖 Recipe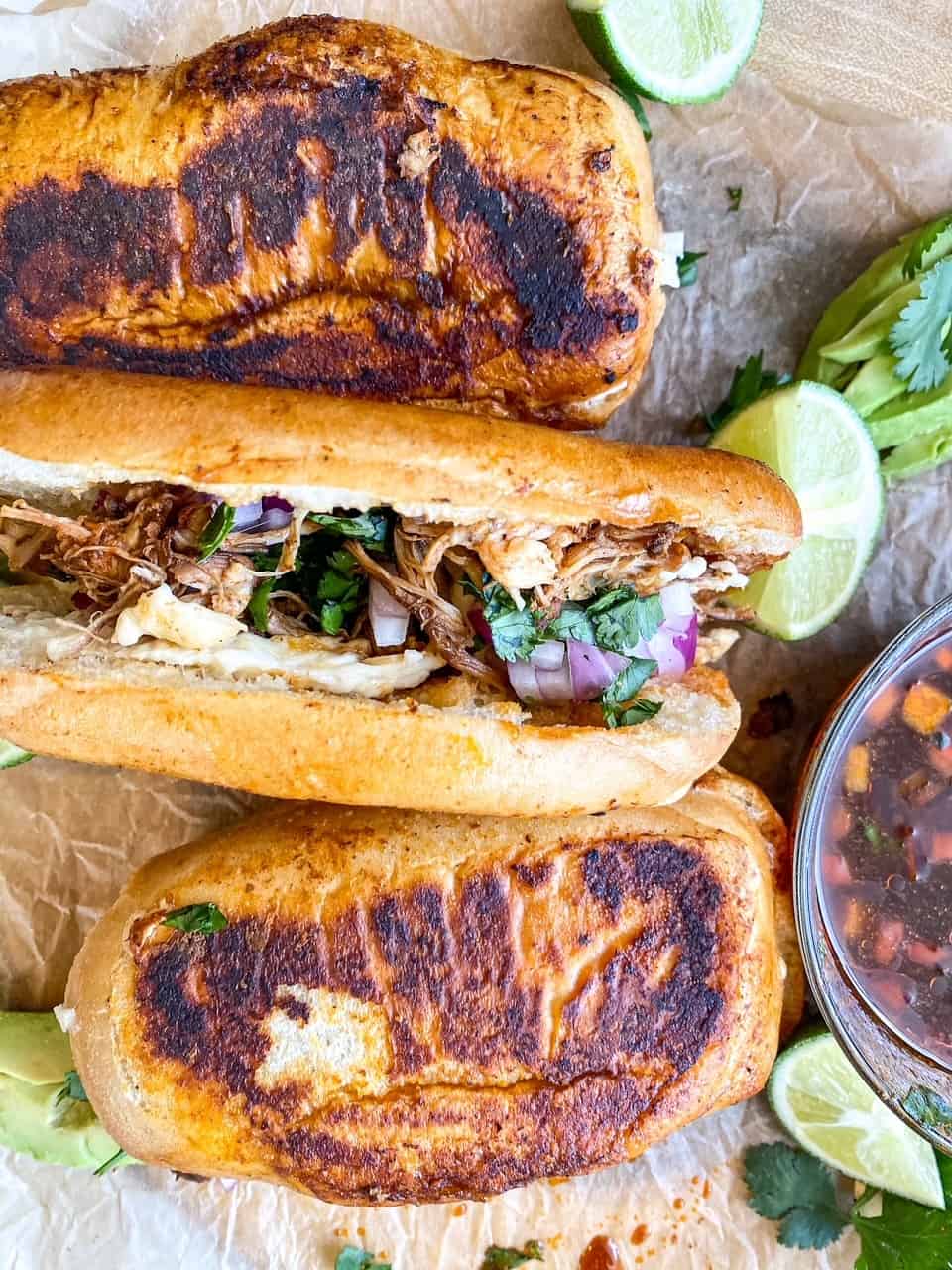 Yield:

6 Sandwiches
Chicken Birria Grilled Cheese Sandwich
Chicken Birria Grilled Cheese Sandwiches with Consome are made with juicy and tender chicken, and perfectly melted cheese. Toasted to perfection, and dipped into the rich consome for added flavor.
Ingredients
6 cups Monterrey Jack cheese, shredded
6 med-long Rolls, bolillo rolls are best 
1 cup Cilantro, chopped (garnish)
1 cup Red onion, chopped (garnish)
4 bay Leaves, to add to consome and chicken
Non-stick spray for grilling sandwiches
For the Consome
4 dried Guajillo peppers
2 dried Chile de arbol peppers
½ medium Onion
4 cloves Garlic
2 whole cloves
2 pieces Star anise
For the Chicken
6 boneless skinless Chicken thighs
½ tablespoon Seasoned salt
½ tablespoon Garlic powder
½ tablespoon Onion powder
1 teaspoon Chili powder
1 teaspoon Cumin
1 teaspoon Dried oregano
½ teaspoon Black pepper
2 tablespoons Olive oil
Instructions
Remove stems and seeds from all of the dried peppers. Place the peppers, onion, cloves, star anise, and garlic into a stockpot. Fill it with water, and bring it to a rapid boil. Boil for 2-3 minutes and remove from heat. Do not discard the water, just set it aside.
Set the pressure cooker to "saute" mode (see notes below, and post above for directions to cook on the stovetop).
Cut any excess fat from the chicken thighs, and place them in a large bowl. Add all of the seasonings, and olive oil to the bowl with the chicken. Use hands, or tongs to mix the oil and seasonings into the chicken evenly.
Place the chicken into the pressure cooker in one single layer. Sear on each side for 5 minutes. Continue this step until all of the chicken has been seared on both sides. Keep the chicken in the pot.
While the chicken is searing, add all of the peppers, onion, garlic and about 2 cups of the water they boiled in, to a blender. Blend on high for 3 minutes.
Use a fine mesh strainer to strain the sauce directly into the pressure cooker with the chicken. Use a spoon to push the pepper sauce through the strainer. Keep adding water as needed, to push the juice through the blended peppers. Continue this process until the peppers turn into a semi-dry paste.
Add the four bay leaves to the pressure cooker. Set it to "meat" mode and pressure cook for 45 minutes.
When it is done cooking, remove the bay leaves and discard. Next, remove the chicken from the pot and place it in a bowl. Using tongs or two forks, shred the chicken into fine pieces.
Heat a cast iron skillet over medium heat. Spray the skillet with non-stick spray. Add about ½ cup of the shredded cheese and chicken to each roll.
Place the sandwiches into the skillet and press down with a spatula to sort of flatten them.
Ladle a scoop of the consome broth that the chicken cooked in, directly to the skillet. Cook the sandwiches on each side until a golden brown crust forms, and the cheese is melted.
Add some of the consome to a bowl for dipping. Garnish both the consome, and sandwiches with the chopped cilantro and onions, and a squeeze of lime!
Notes
Chicken can be cooked in a skillet on the stovetop instead of a pressure cooker. Follow the exact same steps as described above. Use a skillet with a lid so that it can be covered and simmered for 45 minutes.
Recommended Products
As an Amazon Associate and member of other affiliate programs, I earn from qualifying purchases.
Nutrition Information:
Yield:
6
Serving Size:
1
Amount Per Serving:
Calories:

544
Total Fat:

27g
Saturated Fat:

16g
Trans Fat:

1g
Unsaturated Fat:

15g
Cholesterol:

162mg
Sodium:

550mg
Carbohydrates:

35g
Fiber:

5g
Sugar:

8g
Protein:

64g
This website provides approximate nutrition information as a courtesy and for convenience only.