This Homemade Korean Kimchi Recipe is a sour, robust condiment and side dish from Korea. It is easy to make and has so many health benefits!
While you are here, you should try these Korean Seared Pork Tacos and this Kimchi Fried Rice! Two great recipes to use your homemade kimchi.
I was first introduced to kimchi awhile back when I was attending hygiene school. It is definitely a taste that is unforgettable, and addicting! Kimchi is also something that is an acquired taste. One thing that is for certain, you will love it!
What is Kimchi?
Homemade Korean Kimchi is fermented cabbage and other veggies. It is a staple in Korean households. Kimchi is great for gut health and is primarily a healthy side dish.
This kimchi recipe is a bit quicker than traditional methods due to the difference in the brining method.
Ingredients needed for the Kimchi Recipe:
Most of these ingredients can be found at your local grocery store. If not, they will most certainly be at your local Asian Market. Here is what you will need:
Napa cabbage (and a head of green cabbage) which is optional but highly recommended.
Ginger: grated ginger is a key component in authentic kimchi.
Onions: yellow and green onions will be shredded or very finely minced 
Shredded carrots: these add a nice sweet bite to the fermented kimchi.
Apple, or pear: the apple and or pear help to ferment the cabbage to give the kimchi its unique sour flavor and health benefits.
Radish: a daikon radish is optional to add to the kimchi. It adds a nice textural difference to the side dish.
Gochujang: a key ingredient in most Korean recipes.
Korean red pepper flakes: these can be adjusted to make the kimchi more or less spicy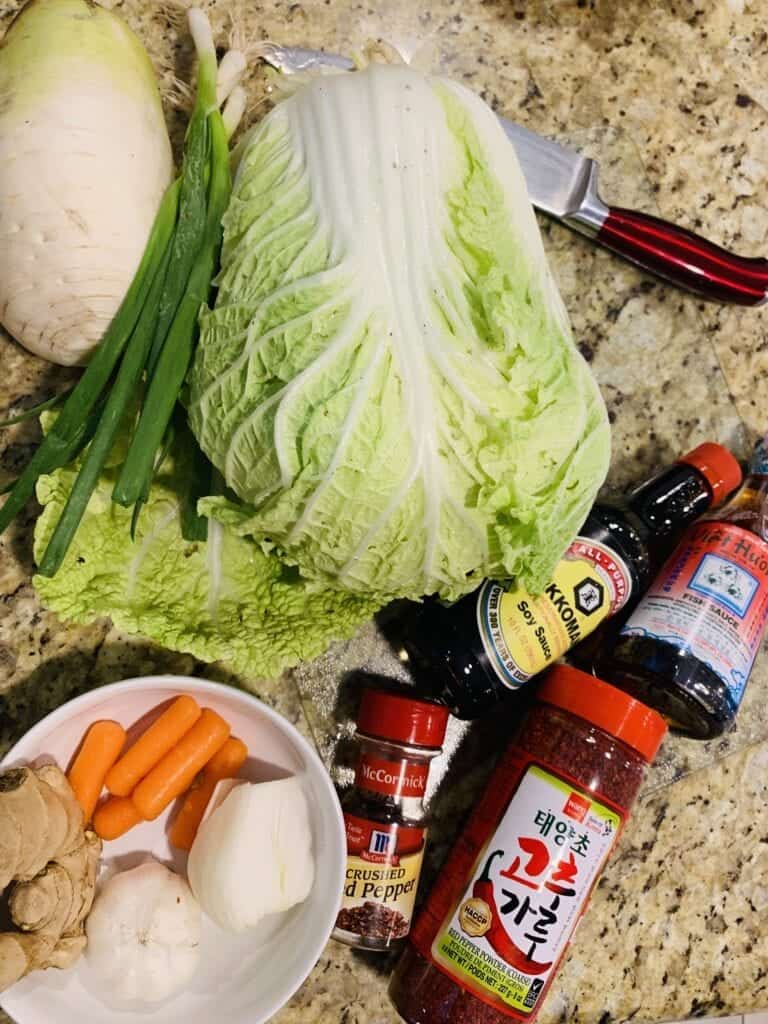 Have you ever heard of, or tried Kimchi?
Moment of honesty, I had not even heard of this supremely famous Korean side dish/appetizer until a dear friend of mine introduced it to me; and that was merely 4 or so years ago.
It was definitely love at first bite! If you enjoy anything pickled, you will enjoy kimchi!
The best kimchi experience!
We get to this tiny little house, with a handicap ramp, and a gravel parking lot driveway, and I began to have doubts! She assured me that this Korean Noodle House was some of the BEST Korean food she has had in all of Houston.
So I went with it, and I most certainly agreed with her after we ate our hand-made noodles, complimentary kimchi, and amazing soup! This little gem of a house-restaurant changed my love of kimchi FOREVER!
Fast-forward a few years- the restaurant has since moved to a strip-center, and their re-opening was HIGHLY HIGHLY ANTICIPATED! If you look back at their Yelp account, you may even find me or Alison questioning their re-opening!
Fun facts about kimchi:
Kimchi is a traditional side dish for almost all Korean meals
Kimchi is a generic name for "pickled" in Korean
It is a fermentation of various vegetables (hence the strong smell)
Fermentation creates natural lactic acid bacteria (probiotics) which have amazing health benefits
An acquired taste, but highly addictive once you learn to love it
What does the Kimchi taste like?
The flavor of kimchi is very sour, strong, robust, and can be spicy (depending on preference and making adjustments to the recipe). So you may be a bit turned-off by the smell and taste at first bite, but I can almost guarantee that you will go back for more! Having purchased many store-bought jars of kimchi, I finally decided to make it on my own.
Is it hard to make kimchi?
It seems intimidating at first, but when you make it once, you will realize how easy it really is. Homemade is also better because you can adjust your level of spiciness and how sour you want it.
If you have never had it before, I encourage you to try it ASAP! If you are already a kimchi fan, give this recipe a go. Once you realize how easy and delicious it is to make at home, you will never buy it from a store again!
📖 Recipe
Yield:

3 16 oz. jars
Homemade Korean Kimchi Recipe
3 days to ferment:
3 days
Total Time:
3 days
30 minutes
This Homemade Korean Kimchi Recipe is fermented cabbage and other veggies. It is a staple in Korean households. Kimchi is great for gut health and is primarily a healthy side dish.
Ingredients
2 heads Napa cabbage, chopped
1 head Green cabbage, chopped
1 Red onion, sliced
1 bunch Green onions, rough chopped
2 carrots, shredded
1 tablespoon Ginger, grated
2 cloves Garlic, grated
1 Korean radish, shredded
1 Apple or pear, shredded
Seasoning (adjust to level of spiciness)
1 tablespoon Fish sauce
½ tablespoon Soy sauce, (optional)
2 cups Korean hot pepper flakes
¼ cup Gochujang, korean chili paste
¼ cup Red pepper flakes
For Brining
8 cups Water, to cover chopped cabbage
2 cups Salt
Instructions
Add chopped napa and green cabbage to a large bowl, add water and salt to cover completely. Mix thoroughly to ensure all cabbage is coated with mixture.
Let brining mixture sit for 2-3 hours. After a few hours cabbage will appear wilted.
Strain and rinse cabbage VERY thoroughly to ensure most of the salt is rinsed off.
Using gloves, mix cabbage together with all of the vegetables, spices, apple or pear, fish sauce, and soy sauce (optional). Combine all ingredients thoroughly
Add kimchi to mason jars- leaving about an inch of room in each container. Place jars in room temperature for 2-3 days. Open lids everyday to allow gases to escape.
Taste to ensure level of sourness is achieved, cover jar with a piece of plastic wrap, place lid on tight, and refrigerate.
Notes
Refrigerated kimchi can last up to 6 months. 
Adjust chili flakes and powder to your level of spiciness.
Nutrition Information:
Yield:
12
Serving Size:
1 Servings
Amount Per Serving:
Calories:

87
Total Fat:

1g
Saturated Fat:

0g
Trans Fat:

0g
Unsaturated Fat:

0g
Cholesterol:

0mg
Sodium:

19377mg
Carbohydrates:

21g
Fiber:

4g
Sugar:

12g
Protein:

3g