Pozole Rojo is a rich Mexican stew, made with pork and hominy, and loaded with fresh toppings. The perfect bowl of comfort for any time.
If you're looking for more Mexican-inspired soups and broths, then check out this hearty Vegetarian Tortilla Soup or the spicy Birria Ramen with Beef.
This Pozole Rojo recipe yields 12 servings, so there is more than enough to go around the dining table. And it is a good thing too because everyone will want seconds!
Jump to:
Why we love this recipe
Let the aroma of slow-roasted pork, chiles, garlic, and onions fill your kitchen on a chilly Sunday afternoon.
The robust flavors of this Mexican stew bring back so many fond memories from my time in Texas. Now I get to serve it to my family!
What do I need to make Pozole Rojo?
The best way to conquer any recipe is to break it down to the essentials. Here are the key ingredients for Pozole Rojo:
Pork: I used pork shoulder/butt. It is not what it sounds like! Pork butt is actually a large cut of the shoulder of the pig. It is the best cut of pork for slow cooking because it comes out tender and succulent.
Chiles: red chile sauce is the heart of this recipe so you know it is gotta be homemade! Chiles provide Pozole Rojo with a distinct and robust, spiciness. However, you can mix and match chiles, depending on your taste buds (and heat tolerance). I used:

Guajilo chiles: Medium heat level with a tangy flavor.
Chiles de arbol: These fiery peppers bring the heat.
Chicken Broth: the base of the broth.
Onion and Garlic: I include them in the chile sauce but you can also saute and stir them directly into the broth.
Hominy: pozole is the Spanish word for "hominy." They are dried corn kernels, soaked in lime to soften them. Hominy is essential to this recipe because it helps thicken the stew, and provides a nice textural difference.
Cooking Pozole Rojo:
Some novice chefs are intimidated by stews but this recipe is simple, with delicious results! You will wonder why you did not make it sooner.
Here are the steps, simplified from start to finish. Check out the recipe for full directions!
Season the pork first, rubbing it with salt and pepper. Then preheat a large stockpot over medium-high heat. Next, add olive oil into the pot.
Sear the pork for 3 minutes per side. (When you sear pork, you are carmelizing the natural sugars and browning the meat. The finished product is a rich crust and savory flavor.) Then pour chicken broth into the pot and reduce heat to medium. After that, simmer the pork for 2 hours.
Shred the pork with your hands, when it is cool enough to touch.
Skim any fat that floats to the top of the water while the pork cooks.
Blend all the ingredients for your chile sauce while the pork is cooking.
Strain the chile mixture into the pot with the pork.
Mix pre-rinsed hominy into the pot with the pork then cook for an additional hour.
Top with garnishes!
Pozole Rojo Modifications
Before we finish I want to give you some suggestions for modifications:
Protein: While Pozole Rojo is traditionally made with pork, maybe you prefer a leaner meat or no meat at all. Try chicken breasts/thighs or pinto beans as an alternative.
Veggies: Traditionally, pozole is made with meat and hominy. If veggies are your thing- try zucchini, mushrooms, or even potatoes.
Spice: Want more spice? Add more chiles de arbol. Want a more moderate spice level? Then leave them out and just opt for the guajilo chiles.
Toppings/Fixings for Pozole Rojo:
Finally, the fun part! What's Pozole Rojo without toppings? It's still a yummy stew but I love loading it up with different toppings every time. Here are some suggestions:
Shredded cabbage
Green onion
Radishes
Lime/ Lime juice
Cilantro
Avocado
Tostadas
Sliced jalapenos
Cotija cheese
Have fun getting creative with the garnishes!
You should definitely give this Pozole Verde a try too!
📖 Recipe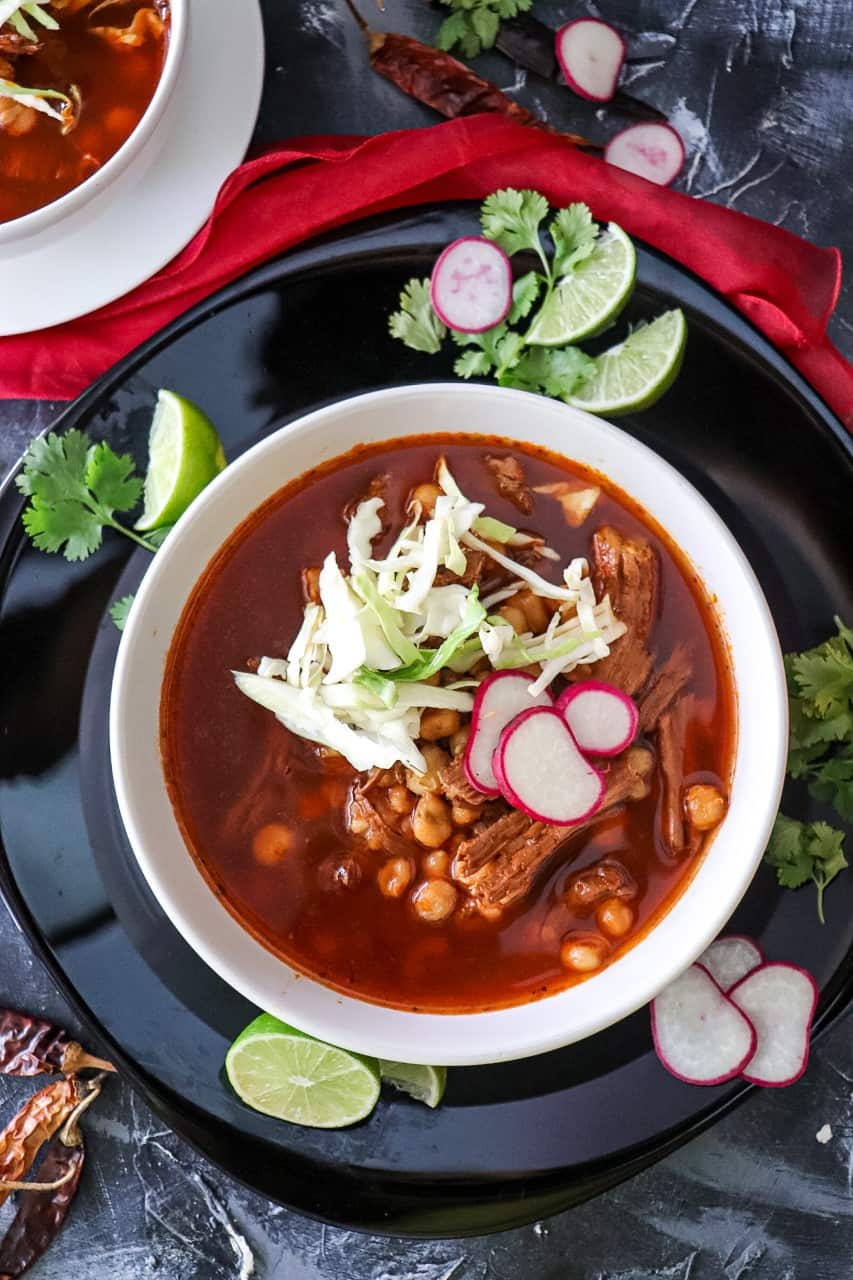 Yield:

12 servings
Pozole Rojo (Mexican Stew with Pork and Hominy)
Total Time:
3 hours
20 minutes
Pozole Rojo is a rich and comforting Mexican stew. Made with pork and hominy, and loaded with fresh toppings. The perfect bowl of comfort for any time.
Ingredients
2-3 pound Pork shoulder, (or pork butt)
2 tablespoons Olive oil
½ tablespoon Salt
½ tablespoon Black pepper
4 cups Chicken broth
3 15 ounce cans White hominy, (set aside until towards the end)
Red Chile Sauce for Pozole
10 dried Guajillo chiles
3 dried Chiles de arbol (optional for spice)
4 cups Water
3 cloves Garlic, whole
1 large Onion, chopped
2 teaspoons Dried Oregano
2 teaspoons Salt
2 teaspoon Ground cumin
1 teaspoon Smoked paprika
2 whole Bay leaves
Salt (adjust to taste at the end of cooking)
Instructions
Rub salt and pepper all over the pork shoulder. Preheat a large stockpot over medium-high heat. Add olive oil into the pot.
Place the pork directly into the pot with the olive oil, and sear on all sides for 3 minutes per side. Pour chicken broth into the pot then reduce heat to medium, cover the pot and simmer the pork for 2 hours.
Remove the pork and set it aside to cool. When it is cool to touch, use your hand to shred it into bite size piece.
Skim any fat that floats to the top of the water that the pork was cooked in.
While the pork is cooking, make the red chile sauce for the base of the soup. Remove all of the seeds and stems from the dried chiles.
Add the dried chiles, water, garlic cloves, and chopped onion to a saucepan and bring to a slow boil for 10 minutes. Remove all of the solids from the water, including the bay leaves, and place them in a blender.
Gently pour half of the water into the blender, (be careful if it is hot) and reserve the remaining water. Add all of the seasonings to the blender: oregano, salt, ground cumin, and smoked paprika. Blend on high for 2 minutes.
Use a fine mesh strainer, and strain the red chile mixture directly into the pot with the pork. Push the mixture through with a spoon, and add the reserved boiling liquid if needed to help loosen it up.
Next, open the cans of hominy, and rinse them well under cool water. Add the hominy into the pot with the pork. Cook for 1 more hour. Taste, and add salt to your taste.
Serve the pozole, and top with garnishments if desired, (see post above for ideas).
Notes
Slow cooker or pressure cooker method can be used in place of cooking on stove.
Recommended Products
As an Amazon Associate and member of other affiliate programs, I earn from qualifying purchases.
Nutrition Information:
Yield:
12
Serving Size:
1
Amount Per Serving:
Calories:

461
Total Fat:

28g
Saturated Fat:

9g
Trans Fat:

0g
Unsaturated Fat:

16g
Cholesterol:

104mg
Sodium:

1426mg
Carbohydrates:

22g
Fiber:

4g
Sugar:

5g
Protein:

30g
This website provides approximate nutrition information as a courtesy and for convenience only.