Taqueria Style Creamy Jalapeno Salsa taste just like your favorite taqueria's salsa! Made with a few simple ingredients.
Top these Beef Birria Quesatacos or these Green Chile Chicken Enchiladas with this delicious jalapeno salsa!
Moment of honesty- I judge a Mexican restaurant by their salsa. I know I'm not the only one! This creamy jalapeno salsa tastes just like your favorite Taqueria. All it needs are the tacos to put it on.
It's the greatest compliment to top street tacos, enchiladas, tortilla chips, or even eggs! Beware- it is super spicy! The best part is that this is SUPER SIMPLE and quick to make.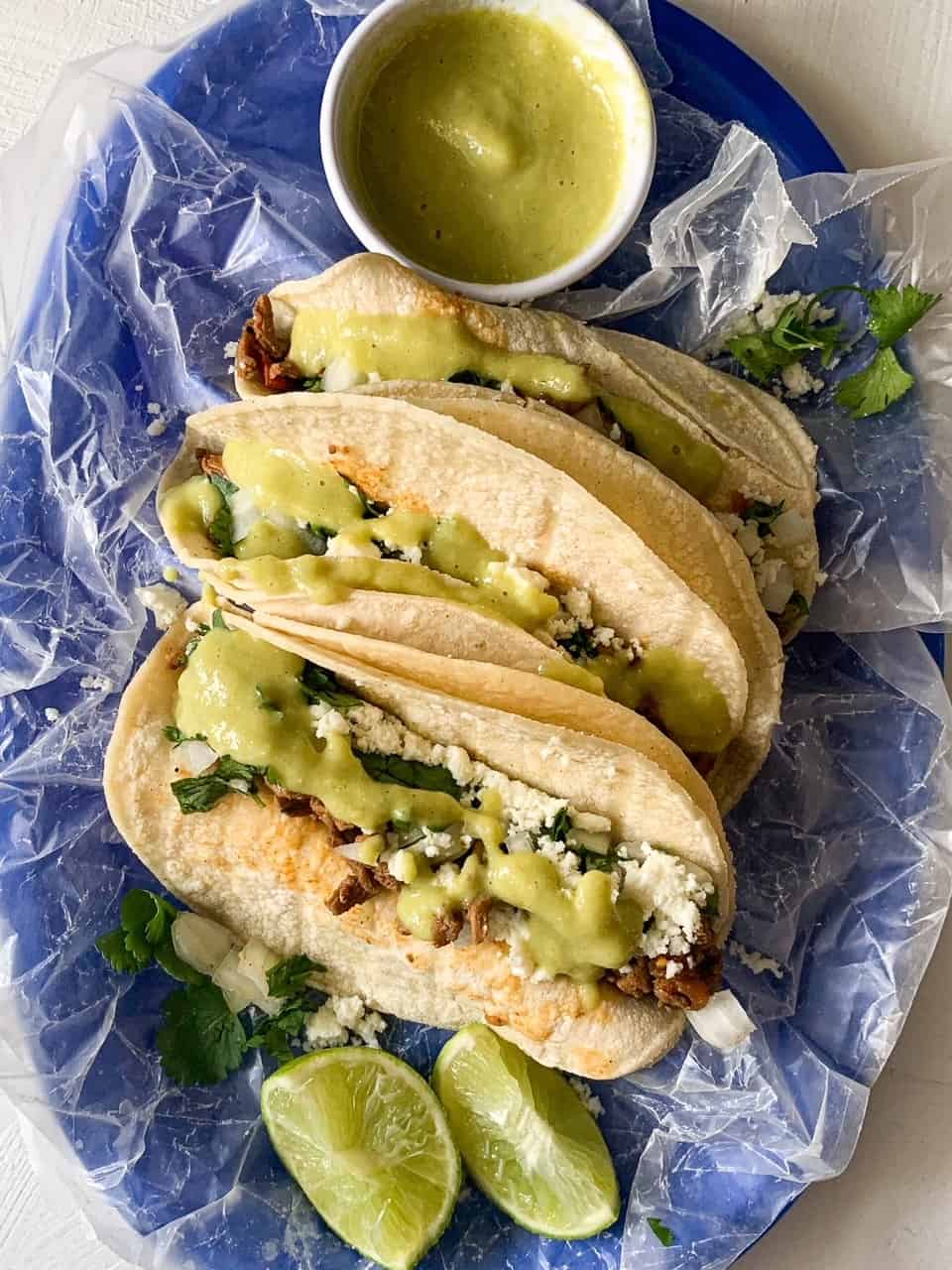 Gather ingredients for the Creamy Jalapeno Salsa:
Salsa does not get any easier than this! Literally all it takes are some jalapenos, onions, and oil! Of course the seasonings such as salt, pepper, and a tiny bit of garlic powder.
Once the jalapenos and onion are softened after boiling them, everything simply gets blended together. It is such a simple, yet super delicious salsa.
About the vegetable oil:
It is necessary! The vegetable oil is what creates the creamy texture for the salsa. Start with just a little bit. Maybe a teaspoon at a time; until the salsa is smooth and creamy.
Having tried this salsa without the the vegetable oil (substituted water), IT IS NOT THE SAME! Not even coconut, or olive oil will give the creamy consistency. So please do not omit the oil!
How to store the creamy jalapeno salsa:
Mason jars with an air tight, twist-on lid, are the best way to store the salsa. Any container with an airtight lid will work though. Ensuring that it is closed, and refrigerated is the best bet here.
How long can the salsa be refrigerated:
Store the prepared salsa in an air tight container and place it in the refrigerator for up to one week. Longer than one week, and the salsa will start to separate and get a bit acidic. If desired warm it up in the microwave for 10-15 seconds before serving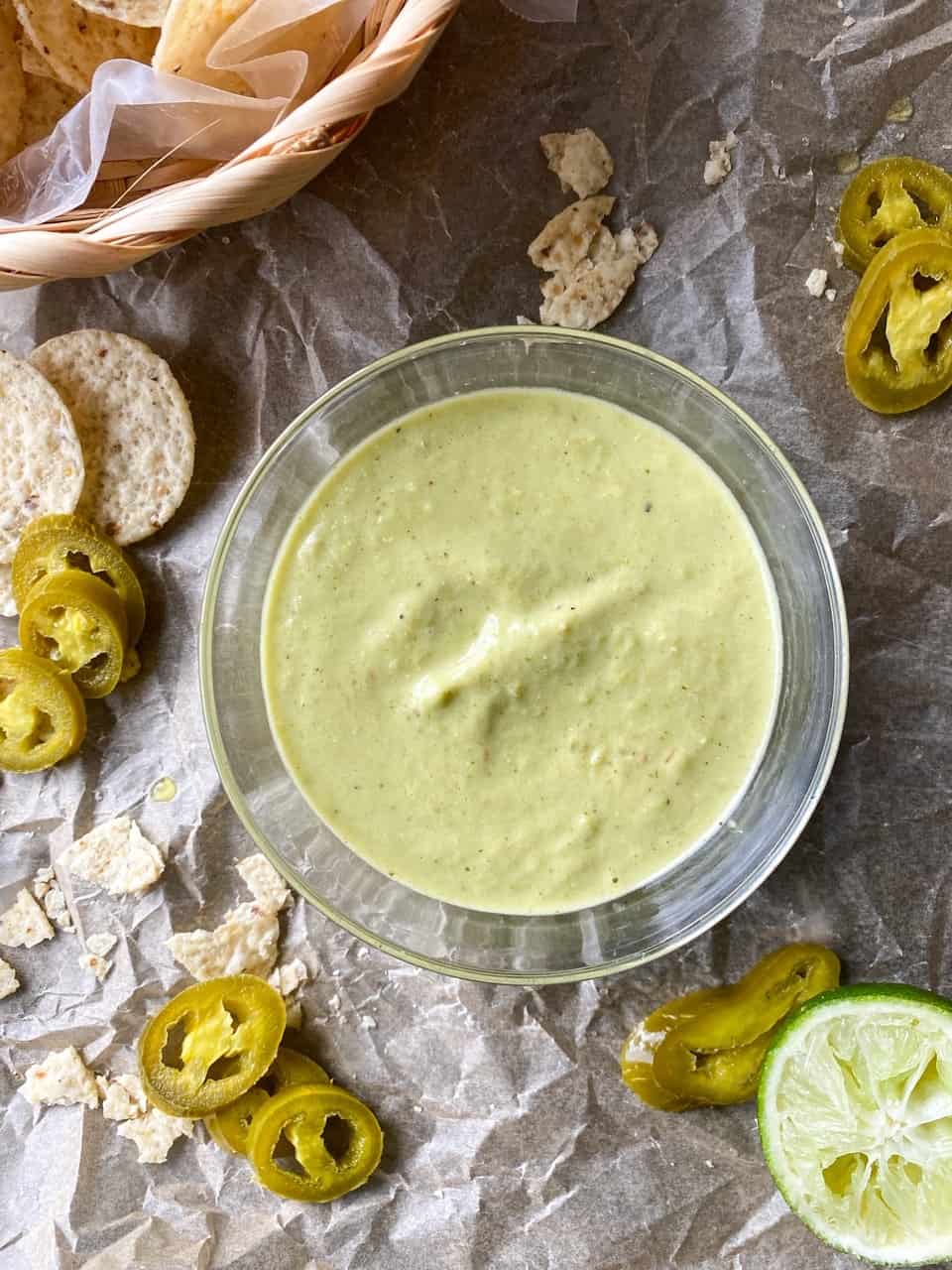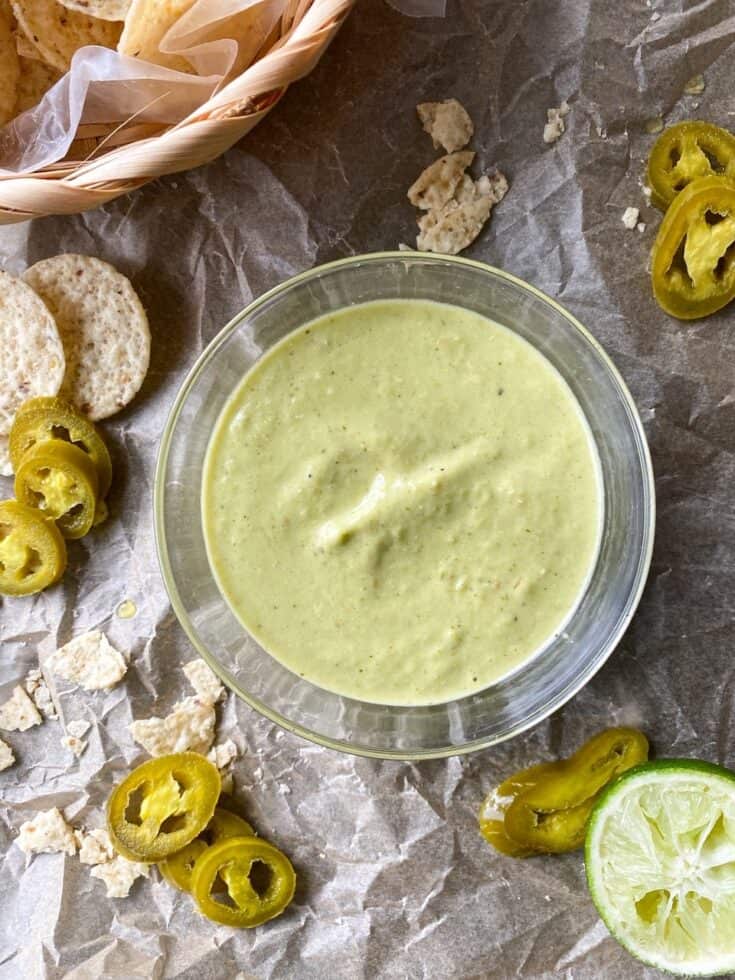 Yield:

6 people
Taqueria Style Jalapeno Salsa
Taqueria Style Creamy Jalapeno Salsa taste just like the salsa served by your favorite taco trucks and taquerias! Super smooth, creamy, and perfectly spicy.
Ingredients
6 Jalapenos
¼ Onion, chopped in 1" pieces
1 ½ tablespoon Vegetable oil
Seasoning (to taste)
½ tablespoon Salt
¼ teaspoon black pepper
¼ teaspoon garlic powder
1 squeeze Lime
Instructions
Boil the jalapenos and onion for 10 mins. Once they are softened, take jalapenos out of the water and cut off the stems.
Put the onions, jalapeno, and seasoning in a blender, add a tiny bit of the boiling liquid. Add the oil, squeeze of lime, and puree the salsa until smooth. Adjust seasoning to taste.
Notes
This salsa is very spicy!
Recommended Products
As an Amazon Associate and member of other affiliate programs, I earn from qualifying purchases.
Be sure to tag me on Instagram or Facebook when you make this recipe! I would love to see your creation, and give you a shoutout!