Churro dessert tacos with strawberries and cream made with golden fried tortillas covered with cinnamon and sugar. Filled with strawberries and whip cream. Be creative and fill with your favorite dessert topping.
While you're here be sure to checkout this super popular Southern Peach Cobbler recipe. These Candy Loaded Milkshakes are also a popular dessert on Razzle dazzle Life.
These dessert tacos bring back so many amazing memories. I remember when my mom would pan fry a tortilla, add a little butter, cinnamon, and sugar; and my brother and I would chow-down on it!
Or even better, our favorite Mexican restaurant served up an amazing dessert called sopapillas! These are a tortilla-like pastry that is fried up, and usually served with honey.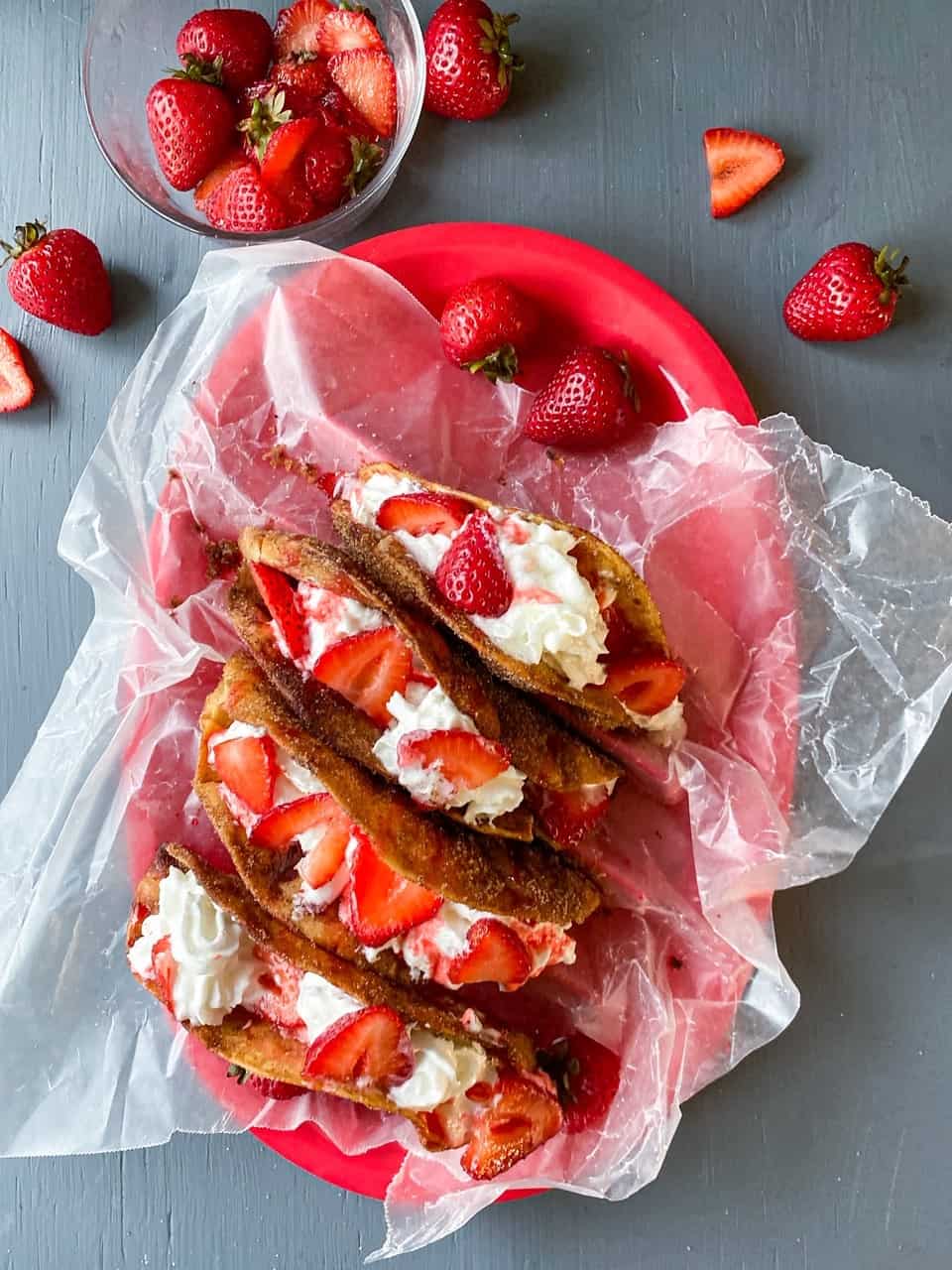 When we made these dessert tacos, they were devoured in a matter of minutes! One of the best things about them is how creative you can get with the filling.
Simple and sweet snacks like that bring back the fondest memories! Those traditions have continued to play out for my kiddos to this day.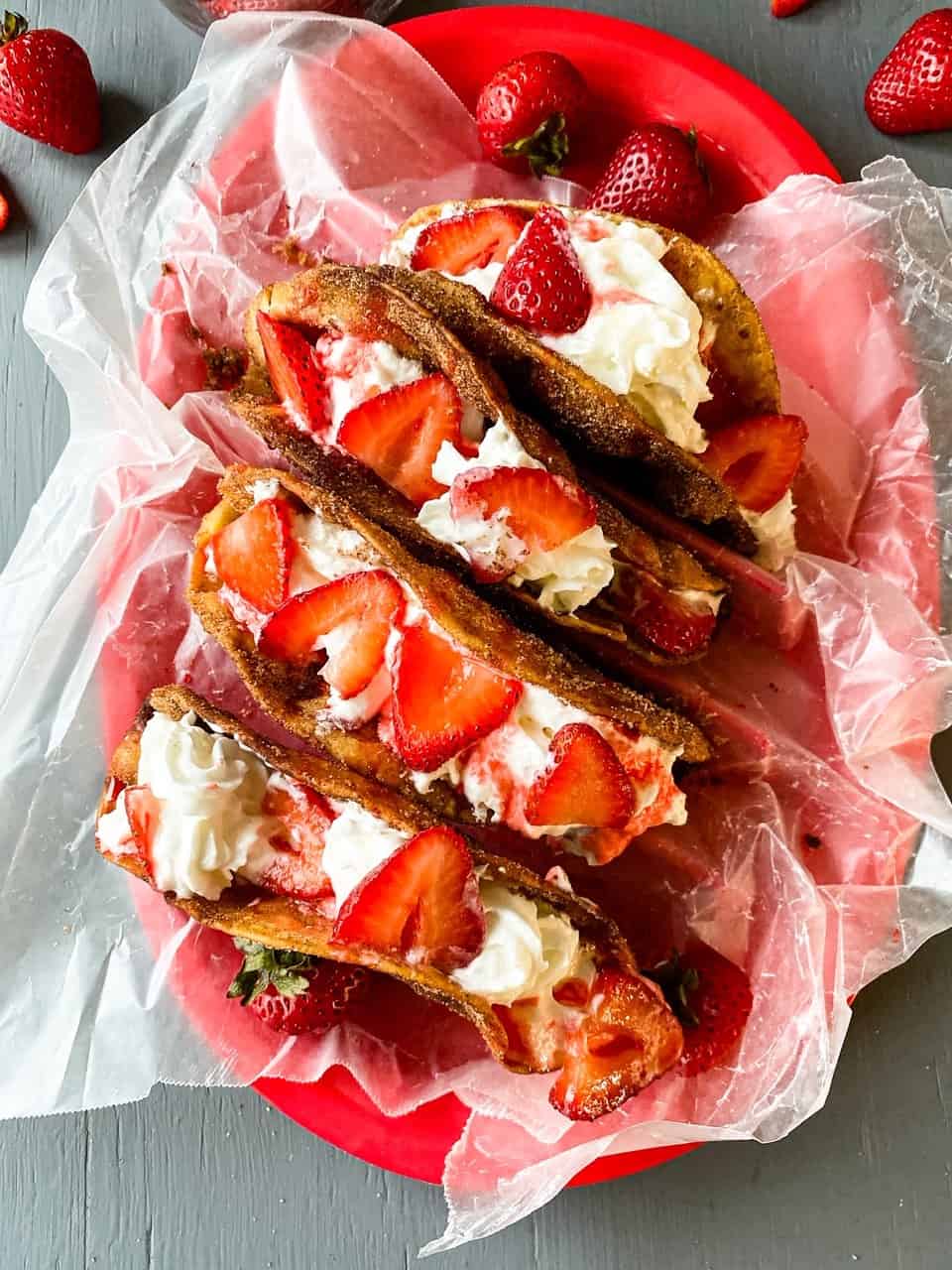 More filling ideas for churro dessert tacos:
Cookies and cream
Ice cream and sprinkles
Candy and whip cream
Cream cheese and fruit
Hazelnut spread and nuts
The filling ideas are virtually endless. Use whatever you have on hand. It's a great treat to have the kiddos help you make.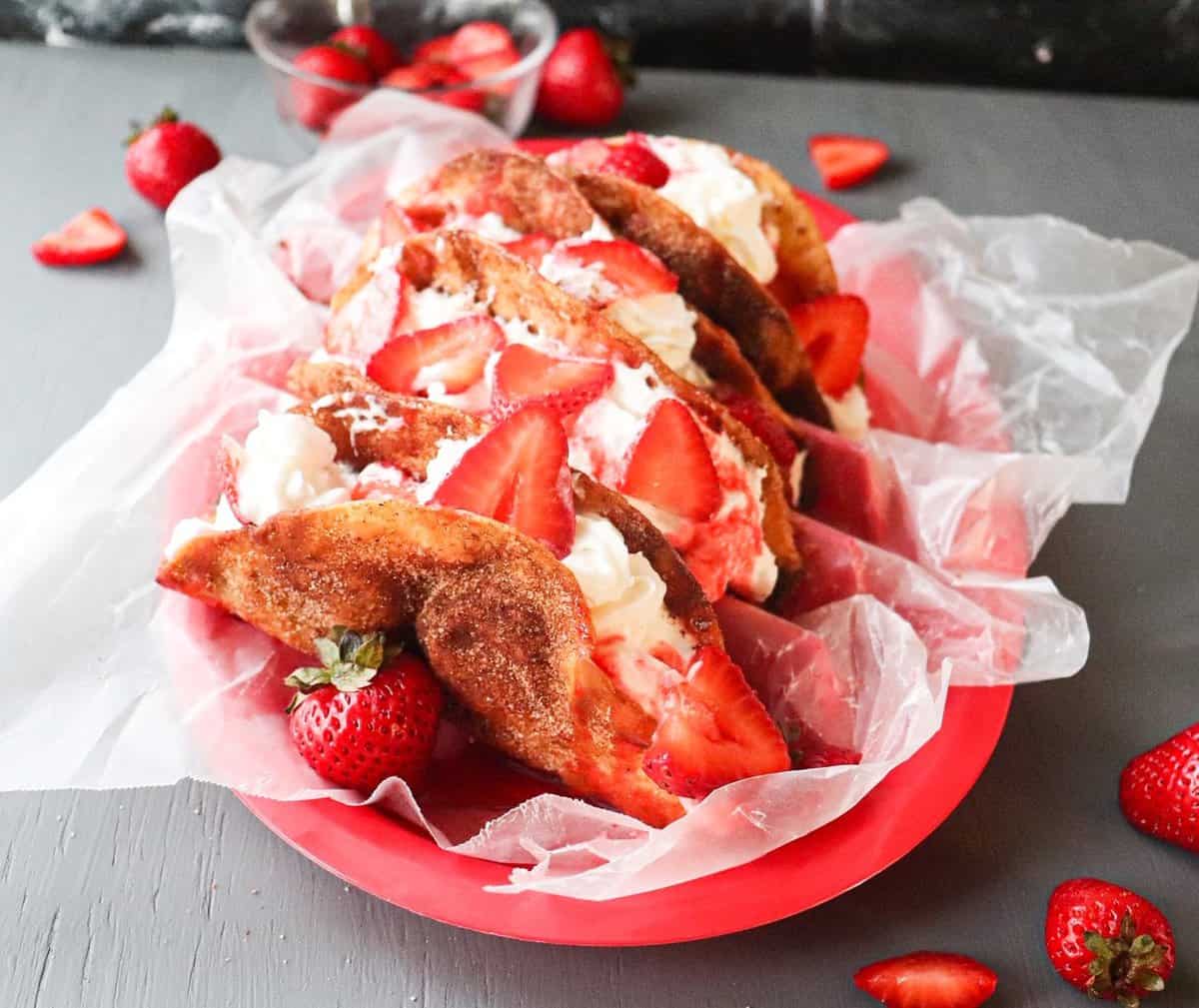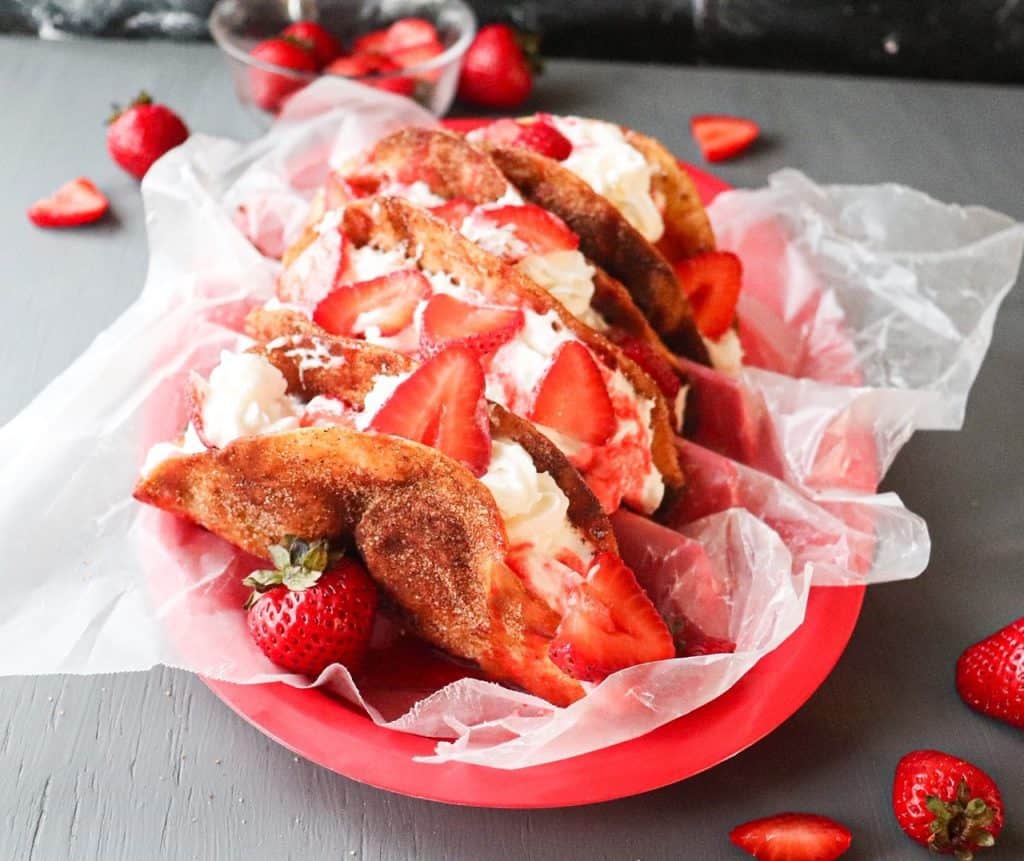 Can I use corn tortillas instead of flour?
No. Flour tortillas tend to puff up a bit when they are fried. This is the fluffy-like texture you want for a dessert taco. Cinnamon and sugar will also stick to the flour tortilla more.
Can I make the dessert taco shell in my air fryer instead of using cooking oil?
Yes you can make the taco shell in the air fryer. Keep in mind that you will have to manipulate the tortilla so it forms into a taco shell.
How long do I fry the tortilla?
Depending on how hot the oil is will determine how long you fry the tortilla. I recommend heating the oil over medium on the stove.
Fry each side of the tortilla until it is golden brown.
Be sure to submerge the tortilla completely while it fry's so that the inside can brown as well.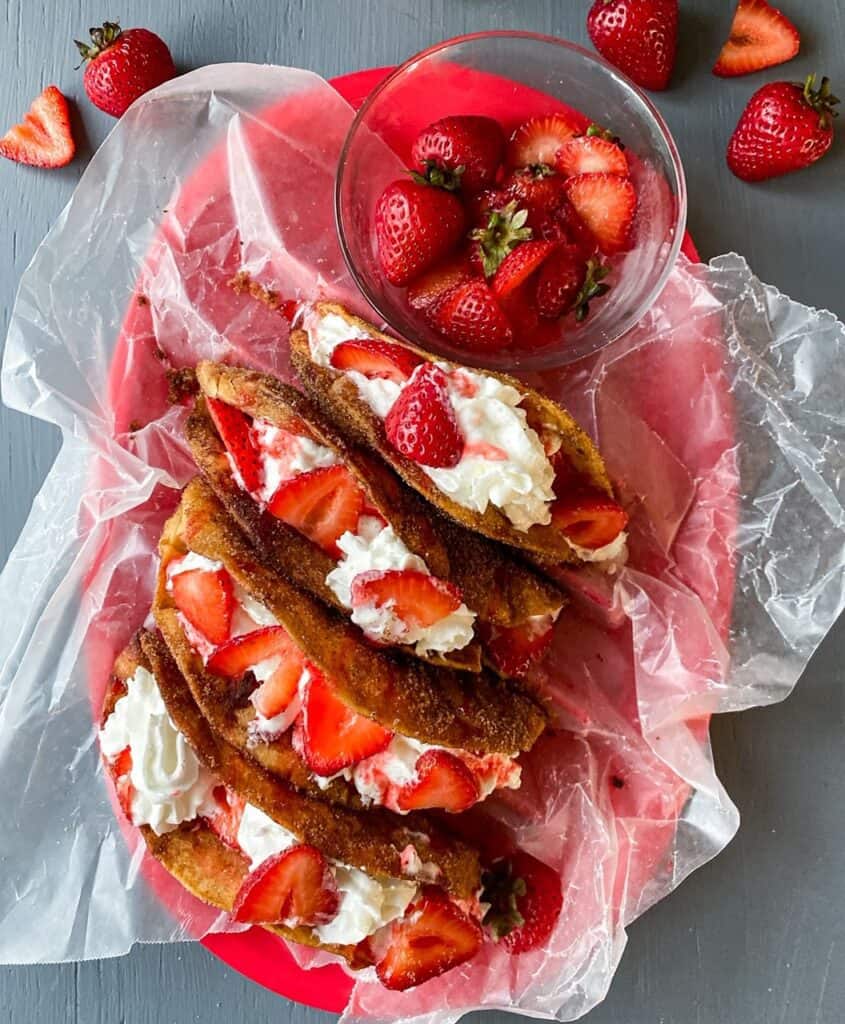 Dessert does not get much easier than this! As I mentioned, have fun with the fillings. Get the kiddos involved- with the coating and filling part of the recipe. Of course a grown-up should do all the frying!
📖 Recipe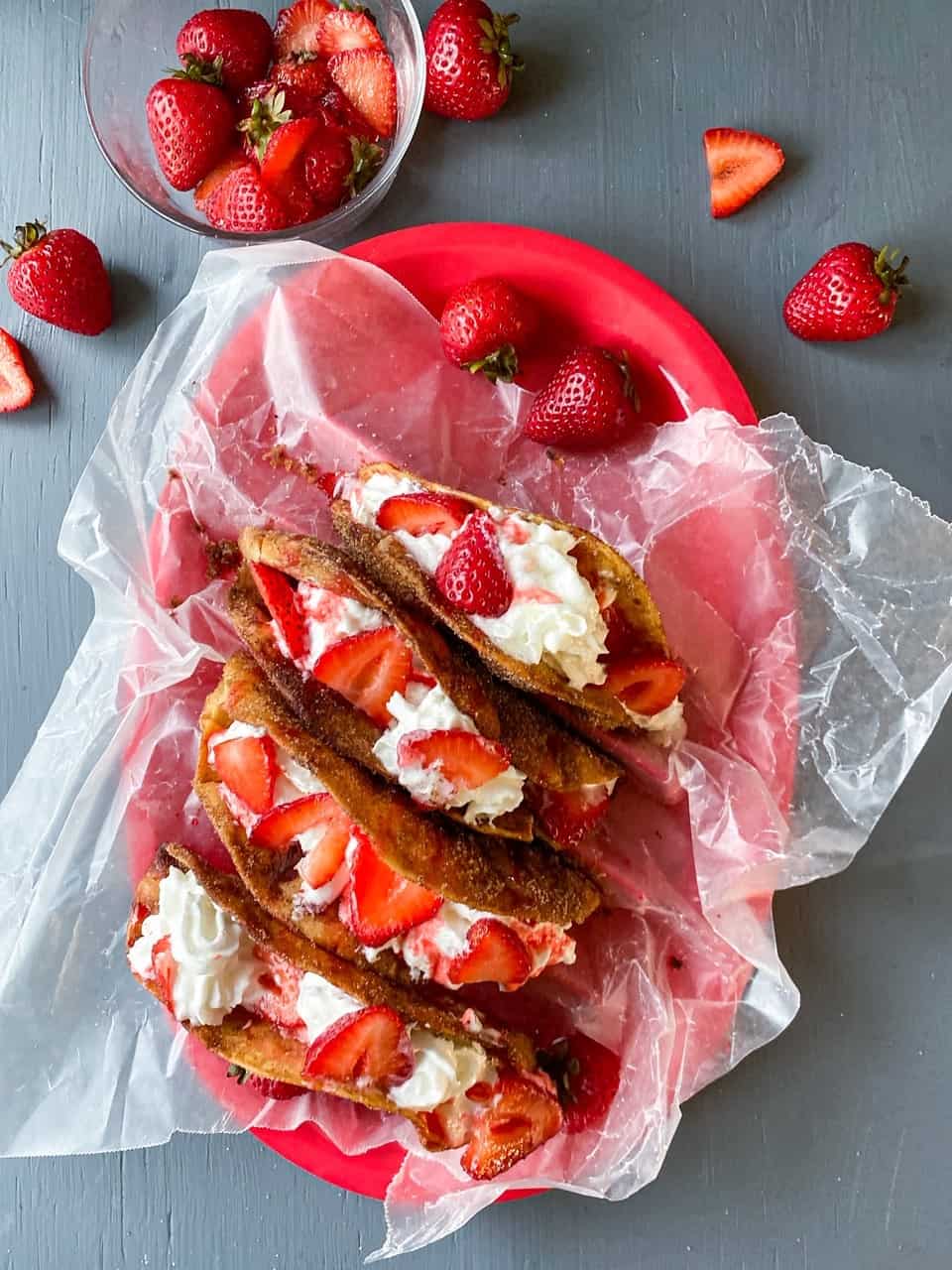 Yield:

6 Tacos
Churro Dessert Tacos with Strawberries and Cream
Churro dessert tacos with strawberries and creams delicious with golden fried tortillas covered with cinnamon and sugar. Filled with strawberries and whip cream. Be creative and fill with your favorite dessert topping.
Ingredients
6 flour Tortillas
1-2 cups Vegetable oil, to fry tortillas
¼ cup Ground cinnamon
½ cup Sugar
For Filling:
Canned whip cream
Strawberries, sliced
Instructions
Heat vegetable oil in a skillet over medium heat.

While oil is heating up, prepare the filling for the tacos. If using fruit, thinly slice it into bite-size pieces.
Pour cinnamon and sugar onto a plate or bowl. Mix it together and set it aside.
Gently lay the tortilla flat in the cooking oil. Let it fry on one side for about a minute. Using tongs, fold the tortilla in half to form the shape of a taco.
Continue to fry each tortilla until they are golden brown on both sides. Be sure to submerge the tortilla so the inside can brown-up as well.
Once they are golden brown, remove them from the oil and place them on a paper towel lined plate to drain excess oil.
After tortillas are cool enough to handle, toss them in the cinnamon sugar mixture to completely cost the shell.
Fill the tacos with whip cream and top with strawberries, or fruit of choice.
Notes
See post for notes and substitution ideas!
Nutrition Information:
Yield:
6
Serving Size:
1
Amount Per Serving:
Calories:

974
Total Fat:

80g
Saturated Fat:

7g
Trans Fat:

2g
Unsaturated Fat:

69g
Cholesterol:

1mg
Sodium:

315mg
Carbohydrates:

62g
Fiber:

6g
Sugar:

18g
Protein:

6g
This website provides approximate nutrition information as a courtesy and for convenience only.
Be sure to tag me on Instagram or Facebook when you make this recipe!
I would love to see your creation, and give you a shoutout!