Southern fried cabbage is a delicious, quick and easy side dish. It can be made with smoked beef sausage, bacon, or made vegan! Full of tender and juicy cabbage, onions, and plump pieces of beef sausage.
These Southern Collard Greens and Southern Macaroni and Cheese are some other amazing side dishes to accompany your next meal.
Fried cabbage has been a staple in many households for centuries. It is one of our absolute favorite dishes to make. We enjoy it as a side, or sometimes as a main meal. With the addition of the smoked sausage, it is hearty enough to be a stand-alone meal.
Jump to:
The Best Part About this Recipe:
Very few ingredients: You only need a head of cabbage, an onion, and whichever protein you decide to add.
Made in under 30 minute: Fried cabbage cooks super quick! So you can have this side dish on the table in no time.
Make it a vegan fried cabbage: Simply omit the meat used in this recipe to make it vegan.
Ingredients you need:
Southern fried cabbage is the best because of how fast it cooks, and how good it is when it is cooked down!
Cabbage: Grab a head of green cabbage from your local grocery store or farmers market.
Meat: Beef smoked sausage is a great protein to add to fried cabbage. You can also add turkey sausage, turkey bacon, or regular bacon as well.
Onions and peppers: Adding onions and bell pepper to your fried cabbage is for another layer of flavor.
Garlic and seasoning: A clove of garlic really helps elevate this cabbage recipe. The seasonings you use are typical everyday seasoning that you probably have in your pantry already
Instructions to make Fried Cabbage:
Grab yourself a medium to large head of cabbage. First thing first, wash the head of cabbage thoroughly. Once it is washed, cut it right down the middle so that you have two halves. Next cut the core out from the bottom end.
How to cut the core out of the head of cabbage:
After the head of cabbage is cut in half, you will cut each side of the core from the top, to the bottom. Next, make a slit in the top piece of the core.
The cuts should be deep, but not penetrate all the way through the other side of the cabbage. Use your hands to pull the core out.
You will end up with a hole of sorts, in the end of the cabbage. Lay the cabbage flat on the cutting board, and begin to slice it into bite size pieces.
How you cut the cabbage is not extremely important, just cut it into bite size pieces.
How to fry the cabbage:
Be sure that you use a pretty large skillet, with a lid. If you are adding the smoked sausage or any other meat, be sure to cook the meat first. Add the cabbage into the skillet once the meat is cooked. You may have to add the cabbage in handfuls, and give it time to wilt.
After you add all of the cabbage and onions to the skillet, add all of the seasonings. As I often say, adjust the seasonings according to your taste! Please adjust your seasonings accordingly!
Use a spoon or a spatula, stir the cabbage and meat until it is evenly coated with the seasoning. Place the lid on the skillet and let it simmer for about ten minutes. Remove the lid, stir well, and continue to simmer until the cabbage is tender.
Alternatives and Variations:
If you want to make vegan fried cabbage, all you have to do is omit the sausage or bacon in this recipe. Instead, you can add mushrooms, or extra bell peppers and onions.
You can also just cut the cabbage into bite size pieces and fry it on its own, just adding the seasoning.
Frying your bacon first will render bacon grease. Use the bacon grease to fry the cabbage instead of adding butter.
Pro-Tips:
Use a cast iron skillet to fry your cabbage. Not only does it help season it, it also helps cook the cabbage down beautifully because of how well it distributes the heat.
If you do not own a cast iron skillet, just use a high quality non-stick pan. This will make sure that the sausage or bacon, and cabbage does not stick to the skillet.
Storing and Reheating:
Once the cabbage and smoked sausage cools down, you can add the leftovers into an airtight container with a lid. Place the container into the refrigerator. You can store it for up to four days.
When you are ready to reheat the southern fried cabbage, simply place it in a microwave safe bowl or plate, and microwave on high for one to two minutes.
FAQ:
What meat goes into the fried cabbage?
For this recipe we added smoked beef sausage. You can find these in your groceries deli department. Look for a rope style sausage that is found near the bacon and hot dogs (reference recipe card below).
Often times, people add bacon to their fried cabbage. This is a delicious addition as well. If you are using bacon you can omit the butter and just fry the cabbage and onions in the bacon grease.
Why isn't my cabbage as green as it was?
Anytime you cook vegetables, they break down and lose a lot of their color. Since fruits and vegetables have enzymes in them, they break down when they are cut, and when they touch heat.
This is a natural occurrence. Don't you worry though, this fried cabbage is still absolutely delicious!
Other dishes with cabbage that you should try:
📖 Recipe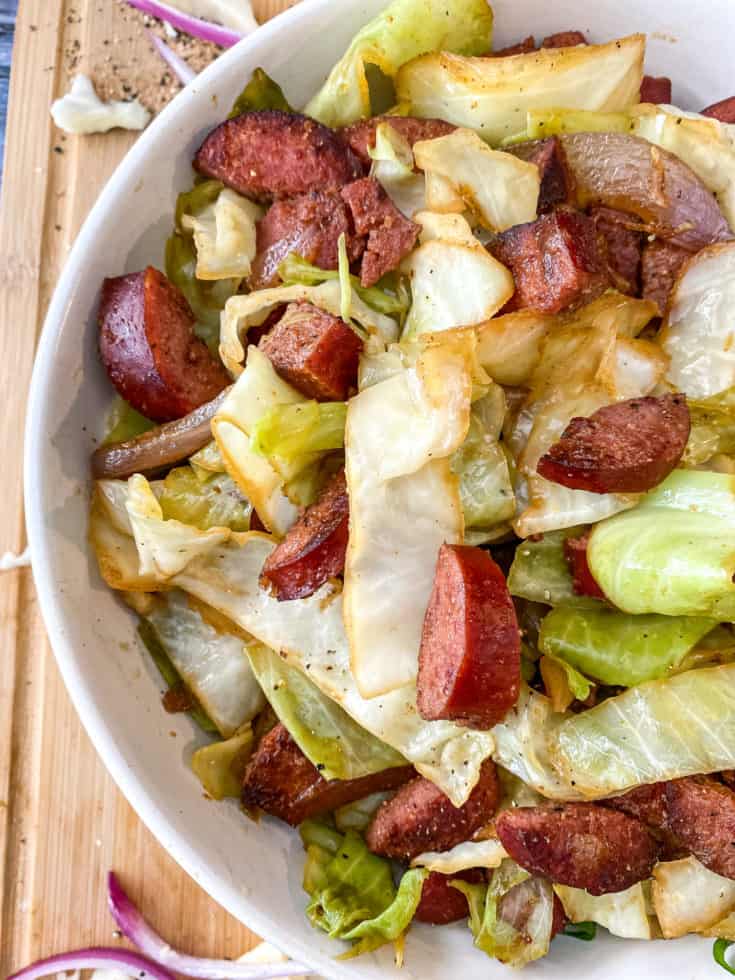 Yield:

6 servings
Southern Fried Cabbage with Sausage
Southern fried cabbage made with smoked beef sausage is a very quick and super delicious side dish or main meal. Full of tender and juicy cabbage, onions, and plump pieces of beef sausage.
Ingredients
1 rope link Smoked beef Sausage, cut in small pieces
½ stick Butter
1 head Cabbage, roughly chopped
1 medium Onion, chopped
1 clove Garlic, diced
¼ cup Water
Seasoning
1 tablespoon Seasoned salt
½ tablespoon Garlic powder
½ tablespoon Onion powder 
1 teaspoon Black pepper
Instructions
Heat a large skillet over medium heat. Add the smoked beef sausage to the skillet and fry until each piece has began to brown, about 5-7 minutes.
Add the butter to the skillet. Begin to add in the chopped cabbage. It may not all fit at first, but it will begin to wilt very quickly. Next add the onions and garlic and all of the seasonings.
Stir the cabbage until everything is combined and the seasoning is incorporated well. Add the ¼ cup of water.
Cover the cabbage and simmer over medium for 10 minutes. Open the lid and stir it so that the pieces on the bottom do not burn.
Continue to simmer an additional 10 minutes, stirring frequently. Cabbage is done when it is tender.
Notes
If you prefer your cabbage super tender, continue to simmer with the lid on for a longer duration.
Be sure to stir the cabbage frequently, as it will easily burn.
Recommended Products
As an Amazon Associate and member of other affiliate programs, I earn from qualifying purchases.
Nutrition Information:
Yield:
6
Serving Size:
1
Amount Per Serving:
Calories:

181
Total Fat:

13g
Saturated Fat:

7g
Trans Fat:

1g
Unsaturated Fat:

5g
Cholesterol:

31mg
Sodium:

942mg
Carbohydrates:

15g
Fiber:

5g
Sugar:

7g
Protein:

5g
This website provides approximate nutrition information as a courtesy and for convenience only.