Philly Cheesesteak sandwich, made with warm soft bread, perfectly melted cheese sauce, and tender steak. Leftover, or freshly made steak work perfectly for this recipe. Super simple and quick for a great weeknight meal.
Homemade Philly Cheesesteak Sandwiches are perfect for a weeknight meal. I mean, don't you just love a great sandwich!? We certainly do, especially when it's simple and filling.
This is the EASIEST Philly Cheesesteak recipe you may have ever found! All of the real Philly natives out there, don't shun me, because nothing about this Philly Cheesesteak is authentic! Let's just call it "a spin on the ol' classic." Although it's not 100% authentic, I guarantee you it is absolutely delicious!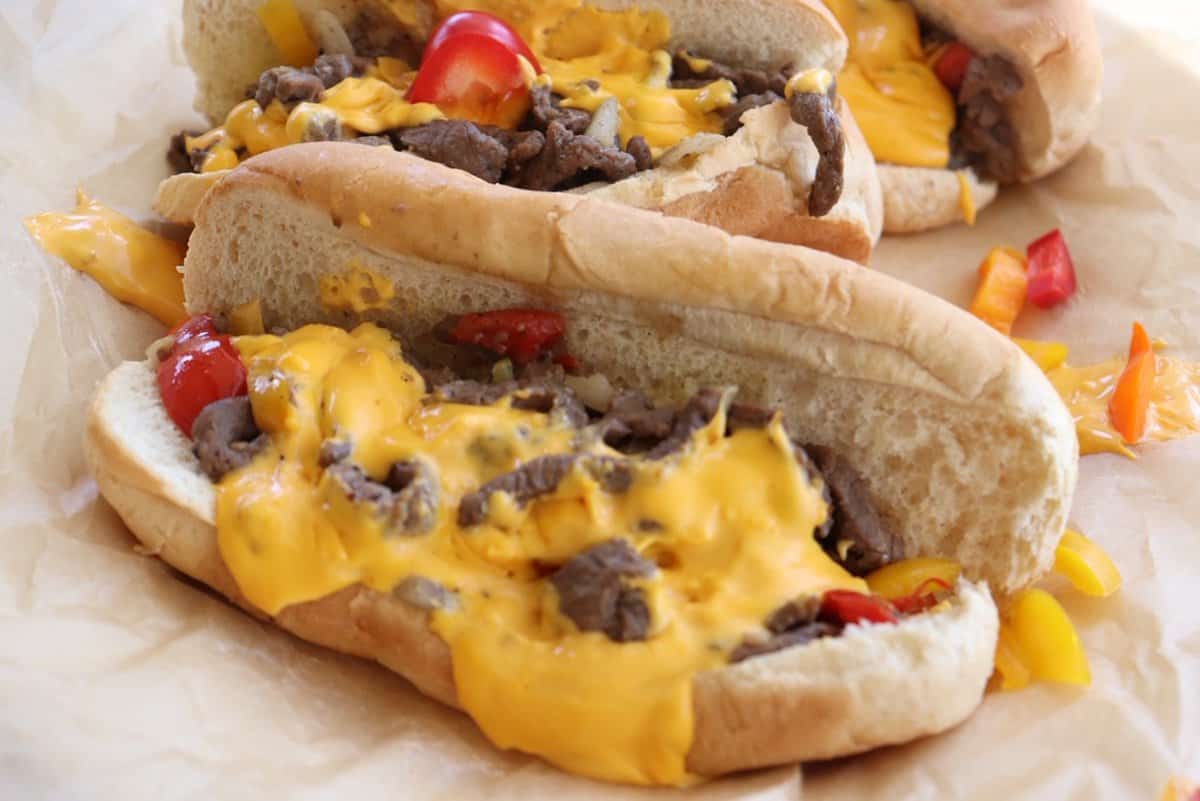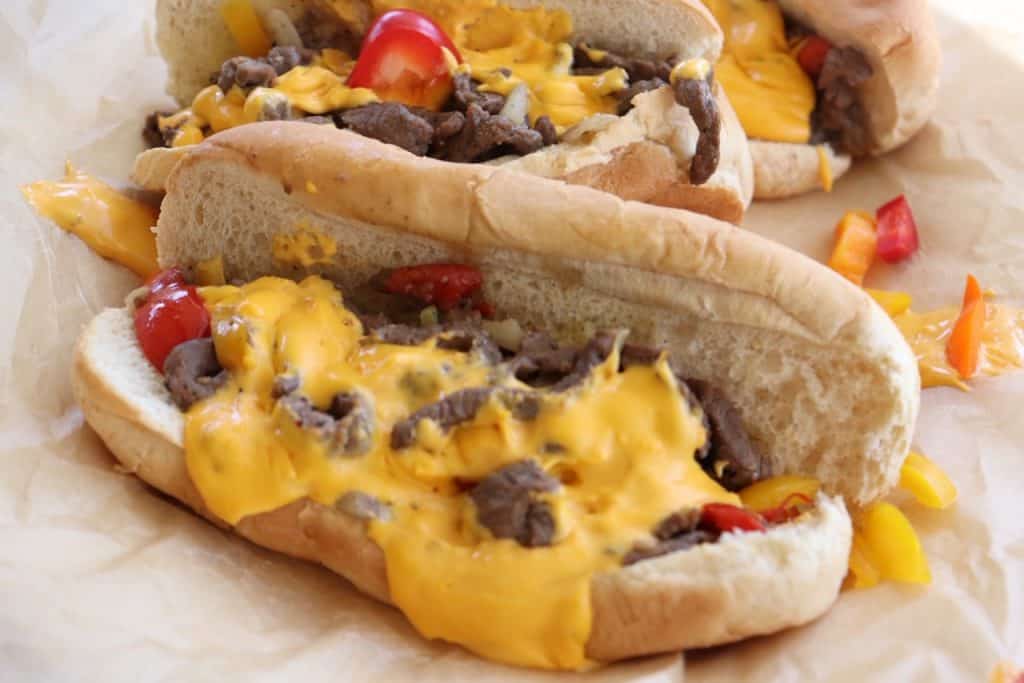 What you need for the Cheesesteak sandwich:
Leftover steak, or make the steak fresh. The idea is to use a very thin cut of meat though, (ribeye is the best because it comes out very tender EVERY time)!
Velveeta cheese sauce, buy the sauce pre-made, or buy a small block of Velveeta and follow instructions to prepare a cheese sauce. It is very simple, just add milk!
Bell peppers and onions. Of course you can get them fresh and slice them; but as you know, I'm all about making life easy. So I always keep a frozen pepper blend on hand! You can also add sauteed mushrooms (optional)
Seasonings
The beautiful part about this recipe is that you can use leftover steak, or even chicken. The Velveeta cheese is the perfect pair to this sandwich, it creates that nice cheesy layer that every cheesesteak sandwich needs and deserves.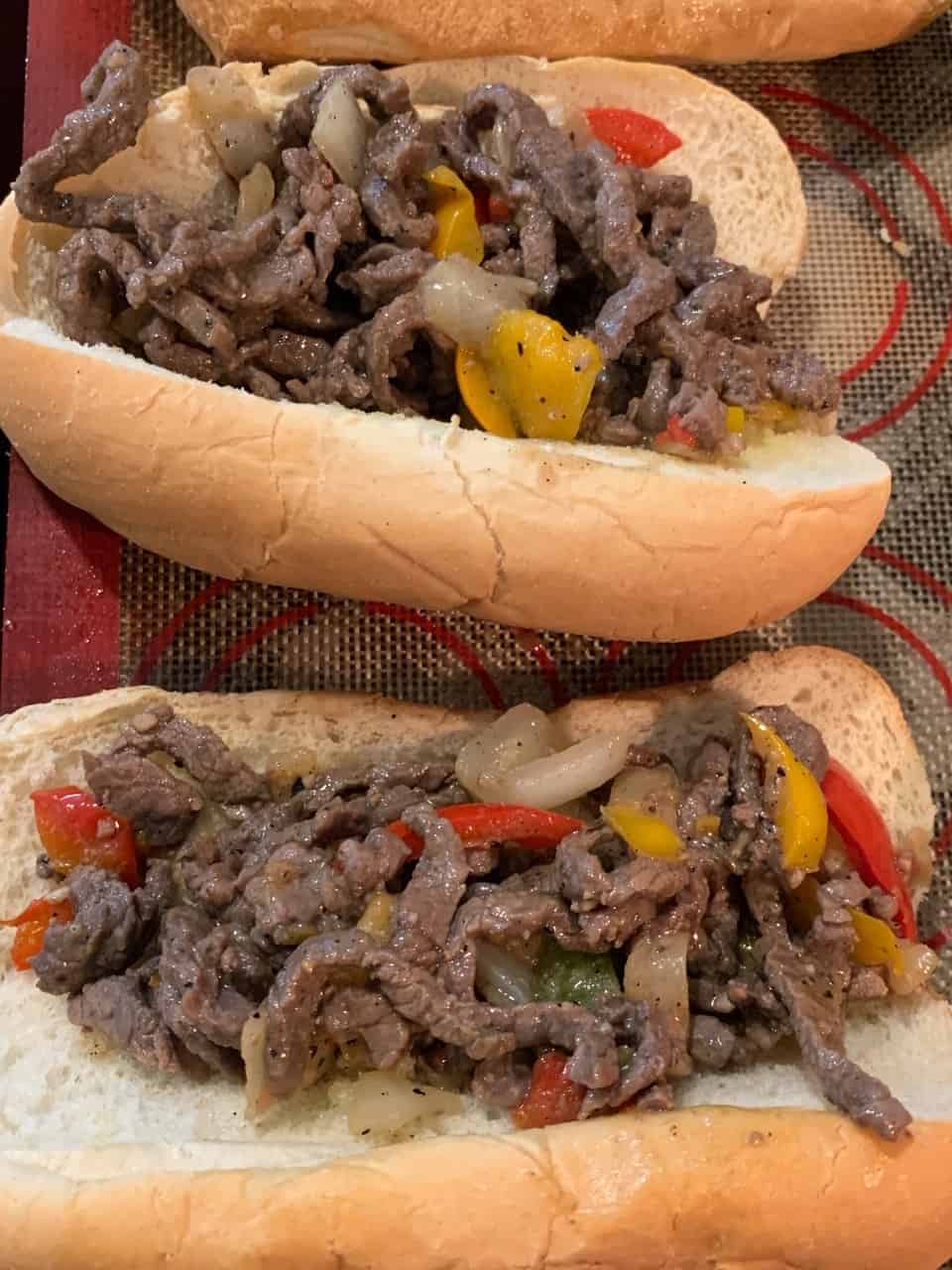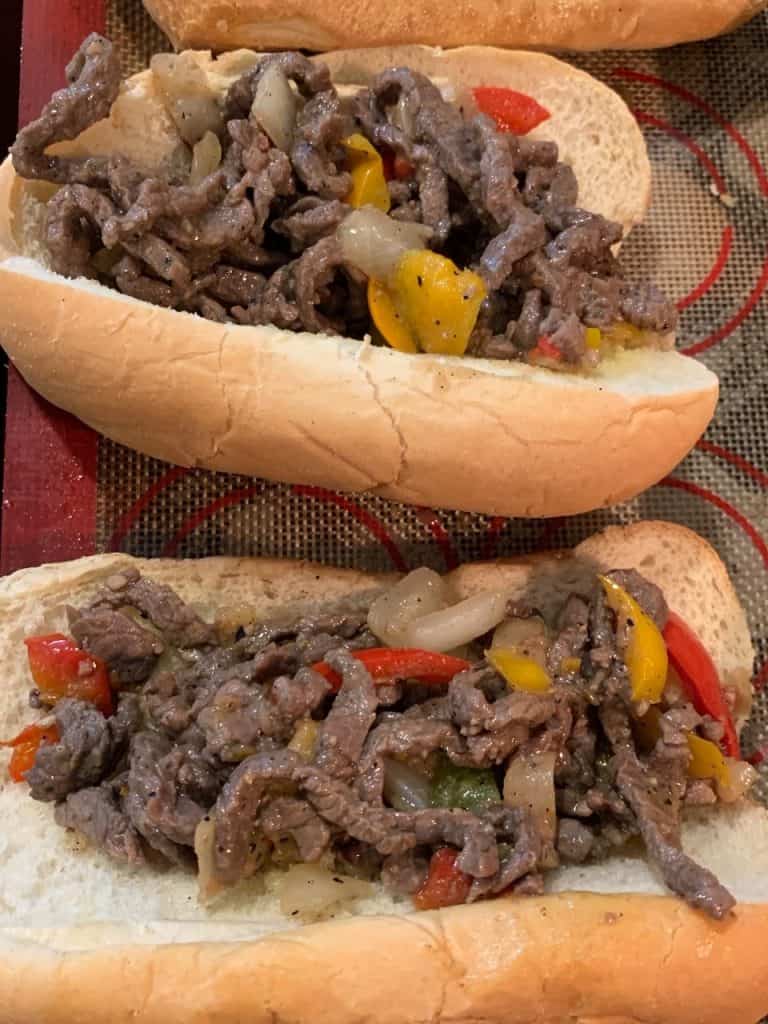 My local grocery stores sale these delicious loaves of bread, Cuban or Puerto Rican bread especially, for $1! Yes ONE dollar! It's bananas, and I buy one almost everyday to go with dinner.
DO YOURSELF A FAVOR…
And make this sandwich for dinner tonight! It is sure to make the whole family happy.
Yield: 6 People
Mouthwatering Philly Cheesesteak Sandwiches
Warm soft bread, perfectly melted cheese sauce, and tender steak create the ultimate philly cheesesteak sandwich. Leftover over or freshly made steak work perfectly in this recipe. Super simple and quick for a great weeknight meal.
Ingredients
2 cups Steak, cooked and thinly sliced
1 cup Bell pepper & Onion mix, frozen works great
1 tablespoon Olive oil
1 cup Velveeta Cheese sauce , recipe below
1 loaf Soft bread
¼ cup Mayonnaise
Seasoning
1 teaspoon Garlic powder
1 teaspoon Black pepper
1 teaspoon Onion powder
Velveeta Cheese Sauce
4 oz. Velveeta cheese, cubed
½ cup Milk
Instructions
Velveeta Cheese sauce
Add cheese and milk to a saucepan and melt over medium heat. Stir frequently until completely melted.
Cheeseteak Sandwiches
Warm olive oil in a skillet over medium-high, preheat
Add steak, bell pepper & onions, and seasoning. Cook until bell peppers and onions are soft and steak starts to get a nice crusty appearance.
Cut loaf of bread horizontally so you have a top and bottom piece to make sandwiches.
Slather mayo on both sides of the bread. Top with steak and pepper mixture, and then pour cheese sauce over the top
Close the large sandwich and place in the oven for about five minutes to warm bread. Remove from oven, cut, and enjoy!
Notes
Any form of American melting cheese works great in this recipe (store brand Velveeta)
This recipe used Cuban bread, any loaf sold at your local grocery store will work.
GIVE THIS RECIPE A TRY AND BE SURE TO TAG ME!
@RAZZLE.DAZZLE.LIFE
@RAZZLEDAZZLELIFE