This is the Best Tuna Salad Recipe because it is chock full of layers of delicious flavor! Super creamy from the mayo, with a tiny hint of spice from the diced jalapenos. I promise you will crave it time-and-time again!
Be sure to checkout this Creamy Chicken or Turkey Salad and this Blackened Salmon BLT while you are here!
Ingredients needed for tuna salad:
One of the best things about this tuna salad, is the simplicity of it! Here are the few ingredients you need to make it:
Can of albacore tuna
Mayonnaise
Mustard
Onions
Sweet pickle relish
Jalapeno (optional, but HIGHLY recommended)! Trust me, it is not too spicy, and adds an amazing kick that you did not know you needed!
Seasonings
Options to mix with canned tuna:
Another great thing about tuna salad is the versatility. Omit, or add whatever you like. We have made several different variations. Including tuna salad made with Greek yogurt. Some made with hard boiled eggs- this is a family favorite, but a whole different recipe!
If sweet pickle relish is not your thing, replace it with dill pickle relish. This is definitely another favorite of ours. When we add boiled eggs, the pickle relish adds a nice balance!
Seasonings and spices that pair well with tuna:
Ground cumin is such a delicious spice to add to tuna salad! Now, you may question this addition, but just trust me. It is absolutely delicious. Along with ground cumin, play around with garlic and onion powder.
Try to stay away from adding too much salt, as tuna is slightly salty on its own. Even more, the pickle relish adds a briny, salty flavor as well. So salt-free seasonings are always best.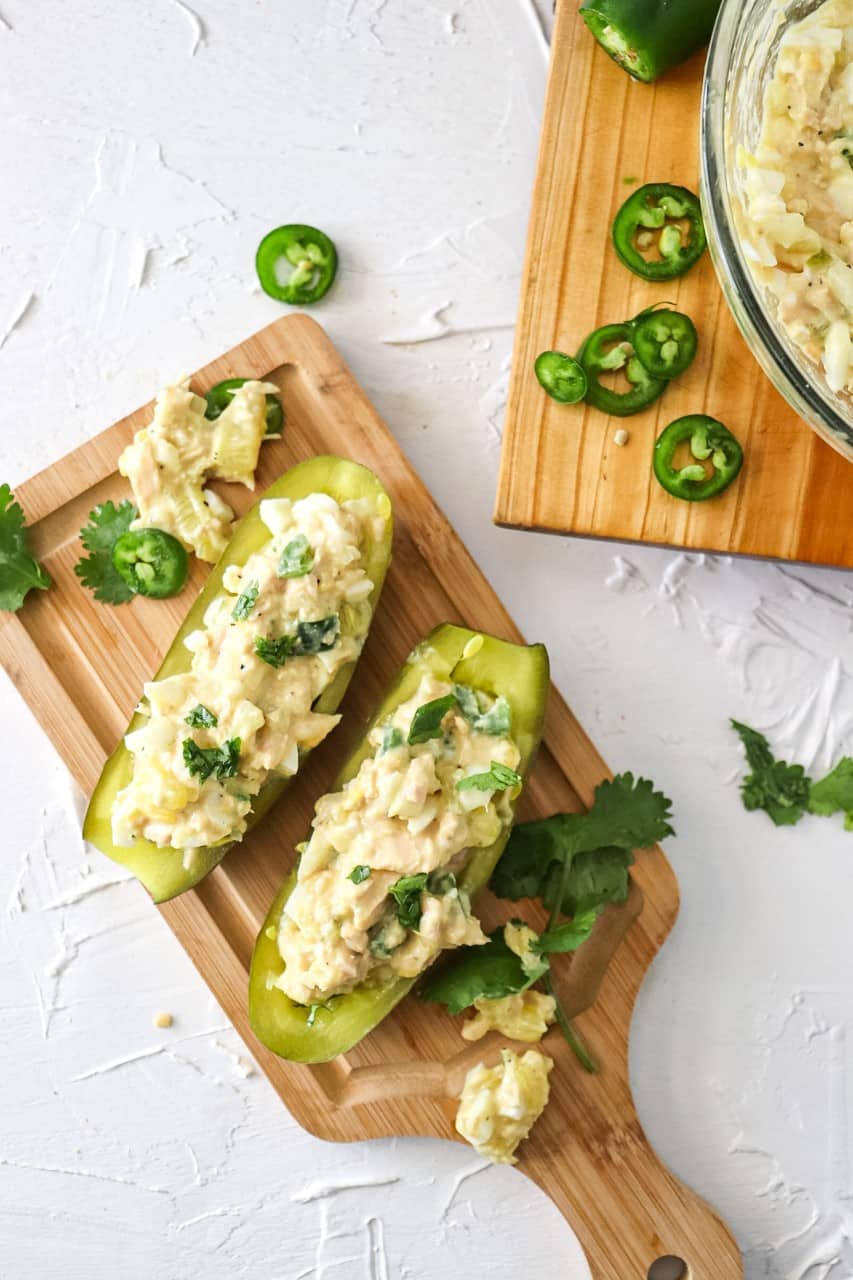 How to prepare tuna salad without mayo:
Greek yogurt is an excellent substitution for mayonnaise when making tuna salad. Add some Greek yogurt, and a touch of yellow mustard for a delicious creamy flavor. Another great substitution is sour cream.
Related:
Is tuna salad keto friendly (low-carb)?
Absolutely! There are very few carbs. Even better, there are so many healthy Omega-3 fats in tuna. So it is actually a very healthy, keto-friendly food. Keep in mind that the sweet pickle relish will add some carbs though. If you are trying to keep it completely low-carb, sub the sweet pickle relish with dill pickle relish.
Serving options:
For this recipe we actually served the tuna salad in pickle boats! It was a fun and delicious way to eat the salad. Scoop most of the flesh out of the pickle (you can add it to the salad if desired). Then you simply add the tuna salad right into the hollowed out pickle. Be sure to use large pickles for this.
Another serving option is to use cucumbers. Follow the same steps, hollow out the middle, and scoop the salad into the cucumber. This is a fun hands-free way to enjoy it! Often times, people eat tuna salad with crackers, or make a sandwich out of it. All of these are absolutely delicious, as the tuna is the star of the show anyways!
Yield:

4 Servings
The Best Tuna Salad Recipe
This is the Best Tuna Salad Recipe because it is chock full of layers of delicious flavor! Super creamy from the mayo, with a tiny hint of spice from the diced jalapenos. I promise you will crave it time-and-time again!
Ingredients
1 can Albacore tuna, drained
¼ cup Onions, diced
1 tablespoon Sweet pickle relish
½ tablespoon Jalapeno, diced (optional but highly recommended)!
1-1.5  cup Mayonnaise
1 teaspoon Yellow mustard
1 teaspoon Black pepper
½ teaspoon Ground cumin
Sprinkle of salt (optional)
Serving Options
2 large Pickles, cut lengthwise and middle scooped out
Jalapenos to garnish
Cilantro to garnish
Instructions
Open the can of tuna. Drain the water out of the can by pushing the lid down into the tuna. Press firmly and tilt the can over the sink until all of the water is drained out.
Add the tuna into a medium to large bowl. Dice the onions very finely and add them to the bowl. Next, add the sweet pickle relish.
Cut the jalapeno lengthwise and remove the seeds and membrane (white stringy part). If more heat is desired, leave the seeds and membrane in tact.
Dice the jalapeno very finely and add them to the bowl. Next add the mayonnaise, mustard, black pepper, ground cumin, and salt. Add more mayonnaise if a more "wet" and creamier texture is desired.
Stir all the ingredients together until everything is fully incorporated. Serve immediately or cover with a lid or plastic wrap, and refrigerate up to 3 days.
Serving Options

As pictured here, you can serve the tuna salad in a "pickle boat." It is a delicious, low-carb, keto friendly option.
Simply cut the large pickle in half lengthwise. Remove some of the flesh by scooping it out with a spoon. Add the tuna salad directly into the hollow you created.
Garnish with additional jalapeno and/or chopped cilantro if desired.
Nutrition Information:
Yield:
4
Serving Size:
1
Amount Per Serving:
Calories:

253
Total Fat:

43g
Saturated Fat:

7g
Trans Fat:

0g
Unsaturated Fat:

35g
Cholesterol:

41mg
Sodium:

549mg
Carbohydrates:

6g
Fiber:

1g
Sugar:

3g
Protein:

11g
This website provides approximate nutrition information as a courtesy and for convenience only.
Be sure to tag me on Instagram or Facebook when you make this recipe! I would love to see your creation, and give you a shoutout!