Smoky Chipotle Hummus is made like traditional hummus with the addition of smoky chipotle peppers. Skip store bought hummus and make this delicious appetizer yourself!
Check out this Spinach Jalapeno & Artichoke dip. You will also love this Pepper Jelly Cream Cheese Dip too!
What are chickpeas?
Chickpeas are part of the legume family; which technically classifies them as a bean. In fact, they are also called Garbanzo Beans. So both chickpeas and garbanzo beans are synonymous. They are considered nutritious because they are packed with protein and fiber.
What is Smoky Chipotle Hummus ?
Hummus is a dip, spread, or otherwise savory dish originating in the Middle East. It is made from cooked then mashed chickpeas, blended with tahini, a little lemon juice, and garlic. It's smooth, rich and somewhat creamy in texture.
This recipe incorporates a couple smoky chipotle peppers to add that smoky, subtle heat to the hummus. Usually garnished with olive oil and a few whole chickpeas. You can get creative and also add your herb and/or spice of choice; parsley, paprika, green onion, dill, etc.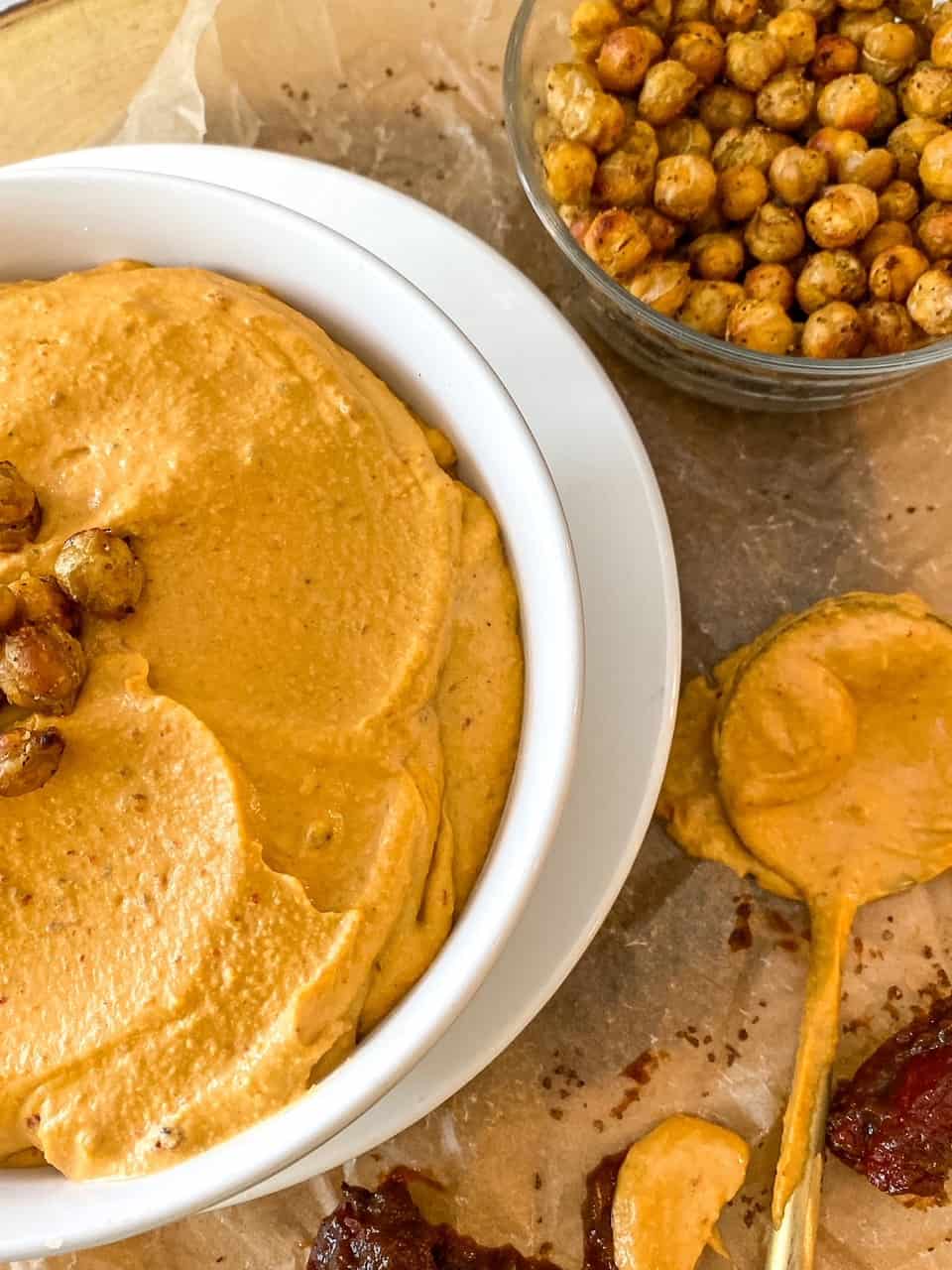 What if I do not have olive oil?
Olive oil is a staple ingredient as it's what gives the hummus it's smooth and luxurious texture. It's also drizzled on the top as a finish before serving. If you don't have any olive oil on hand, your best bet is to just omit it.
Vegetable and canola oils will alter the taste of the hummus. Add water about a teaspoon at a time to loosen it up if needed.
What to do if hummus is too runny:
If you find that your hummus has gotten more runny than you wish, it is likely that your liquid ingredient to bean ratio is a bit off. No worries!
The easiest way to correct that is to blend in more beans. With that, make sure you taste it to determine if you need to add more seasoning.
What do I serve with my Smoky Chipotle Hummus?
Traditionally, hummus is served with pieces of pita bread and eaten as a dip. Raw vegetables and pita chips are also popular accompaniments to eat with hummus. Veggies such as:
Carrot sticks
Cucumber slices
Celery
Sweet mini peppers
The options and uses for hummus are limitless. Use the hummus in pasta, salad, or even as a spread in a sandwich or wrap to add to the depth of flavor and texture.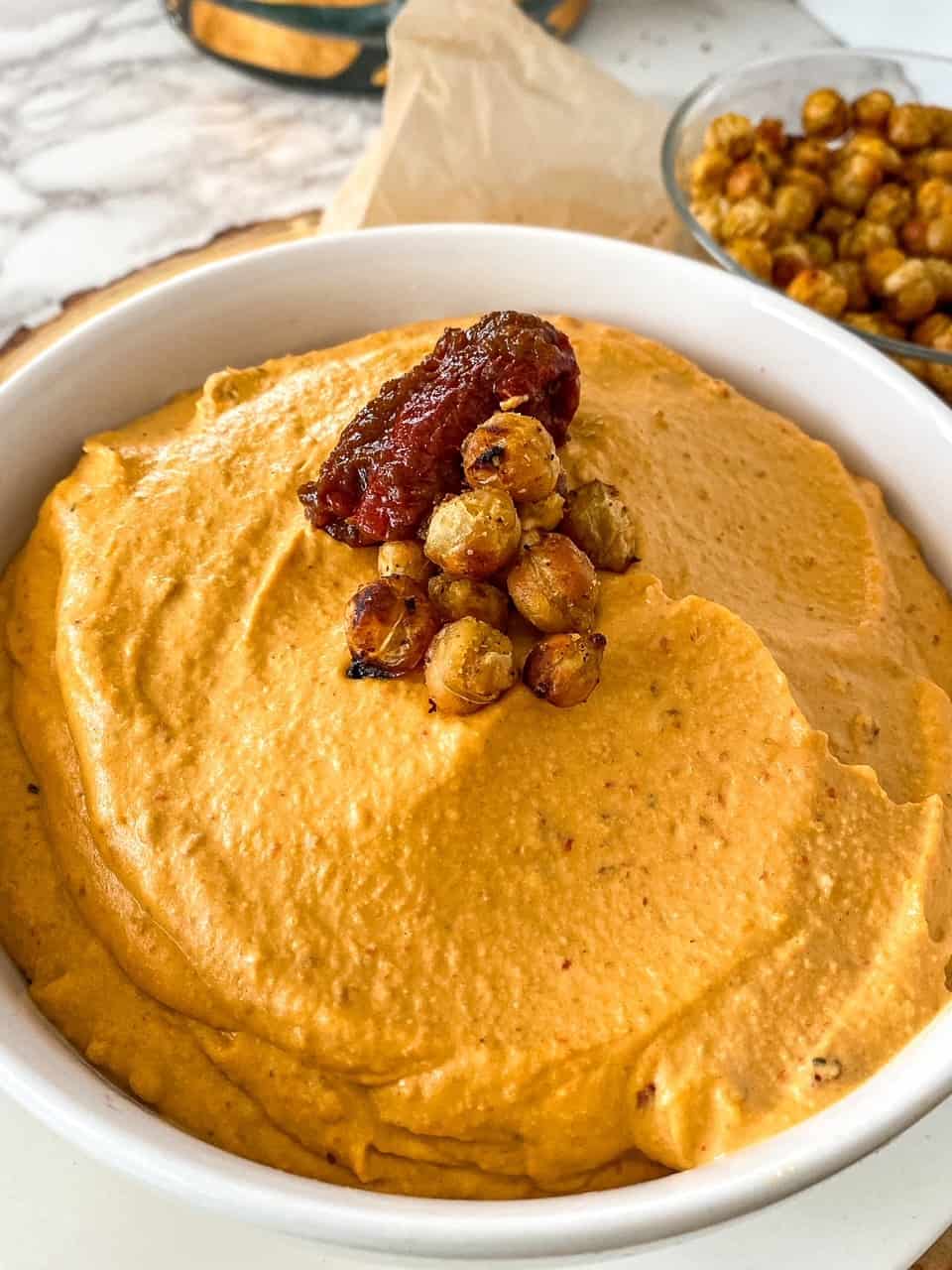 About the crispy chickpea topping:
The topping pictured here are simple and delicious roasted chickpeas. They make for an amazing textural topping for the hummus. Even more, they are a delicious snack option.
Drain a can of chickpeas, season with spices of choice. Great options for seasoning are cumin, garlic powder, and chili powder. Lay them out on a pre-greased baking sheet in one single layer. Bake them in the oven at 400 degrees for 7 minutes. Move them around and bake an additional 7 minutes.
How long can I store it in the refrigerator?
Once prepared, you should store your Smoky Chipotle Hummus in the refrigerator until you are ready to enjoy. Store it in an air tight container. It should stay fresh for 3-4 days.
Keep in mind since it does not have the preservatives added into it like if you had bought it from the store, the shelf life will be a bit shorter than prepackaged!
📖 Recipe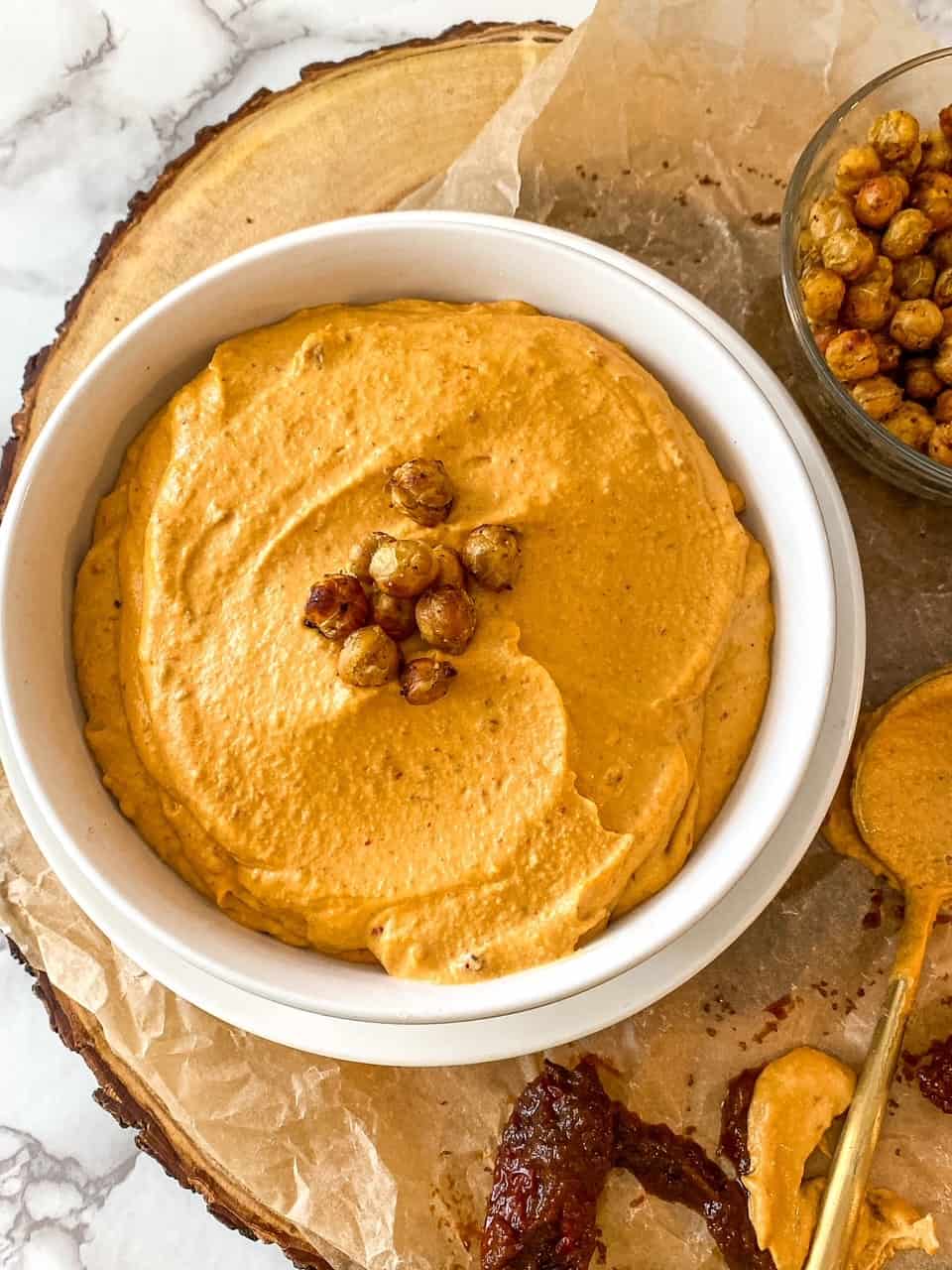 Yield:

2 cups
Smoky Chipotle Hummus
Smoky Chipotle Hummus is made like traditional hummus with the addition of smoky chipotle peppers. Skip store bought hummus and make this delicious appetizer yourself!
Ingredients
1 15.5 ounce can Garbanzo beans
¼ cup of Water
¼ cup Tahini, (sesame seed paste)
1 tablespoon Olive oil
2 Chipotle peppers (canned in adobo sauce)
1 whole clove Garlic
1 teaspoon Cumin
½ teaspoon Salt (to taste)
Instructions
Place the garbanzo beans, water, tahini, and olive oil into a blender or food processor. Blend until the mixture is smooth.
If the mixture is too thick, gradually add water (by the teaspoon), to loosen it to desired consistency.
Next add two chipotle peppers. They are usually found in a can with adobo sauce, only add two of the peppers. Add the garlic clove, cumin, and salt to taste.
Continue blending the mixture until it is all incorporated and smooth. Transfer to an airtight container, and refrigerate until ready to serve.
Nutrition Information:
Yield:
6
Serving Size:
2
Amount Per Serving:
Calories:

194
Total Fat:

10g
Saturated Fat:

1g
Trans Fat:

0g
Unsaturated Fat:

7g
Cholesterol:

0mg
Sodium:

374mg
Carbohydrates:

21g
Fiber:

6g
Sugar:

4g
Protein:

7g
This website provides approximate nutrition information as a courtesy and for convenience only.