Shrimp enchiladas with creamy poblano sauce are made with succulent shrimp, flour tortillas, and Monterey Jack cheese, smothered in a delicious creamy poblano sauce.
Since you love these enchiladas, be sure to check out these Green Chile Chicken Enchiladas and this Mexican Rice!
Anytime my family goes to a Mexican restaurant, you can bet money that somebody is going to order enchiladas! They are most certainly a favorite. There is something so comforting about that gooey cheese blanketing a savory filing wrapped in that tender tortilla!
On a mission to recreate one of our favorite green enchiladas, this shrimp enchilada dish was born. It all begins with plump and juicy shrimp that are marinated in a delicious cilantro lime sauce.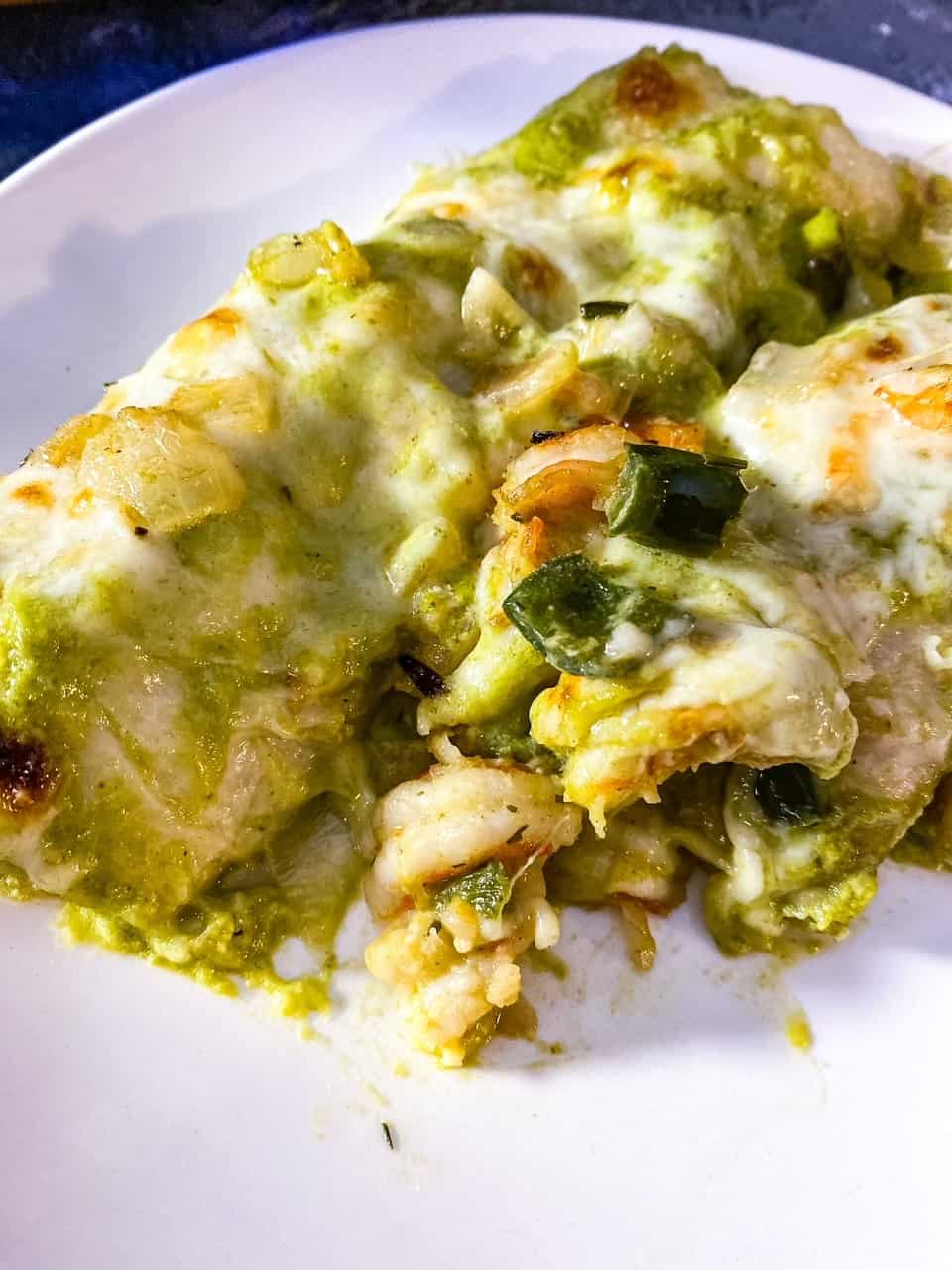 Ingredients needed for Shrimp Enchiladas with creamy poblano sauce:
It is important to gather all of the ingredients ahead of time. That way, you can jump right into rolling the enchiladas and preparing them for the oven. Here is what you need to get started:
Flour tortillas
Shrimp

Olive oil
Cilantro
Lime juice

Onions
Poblano peppers
Sour Cream
Garlic
Other ingredients that will be used are mainly seasonings and spices. Which include cumin, garlic powder, black pepper, and more.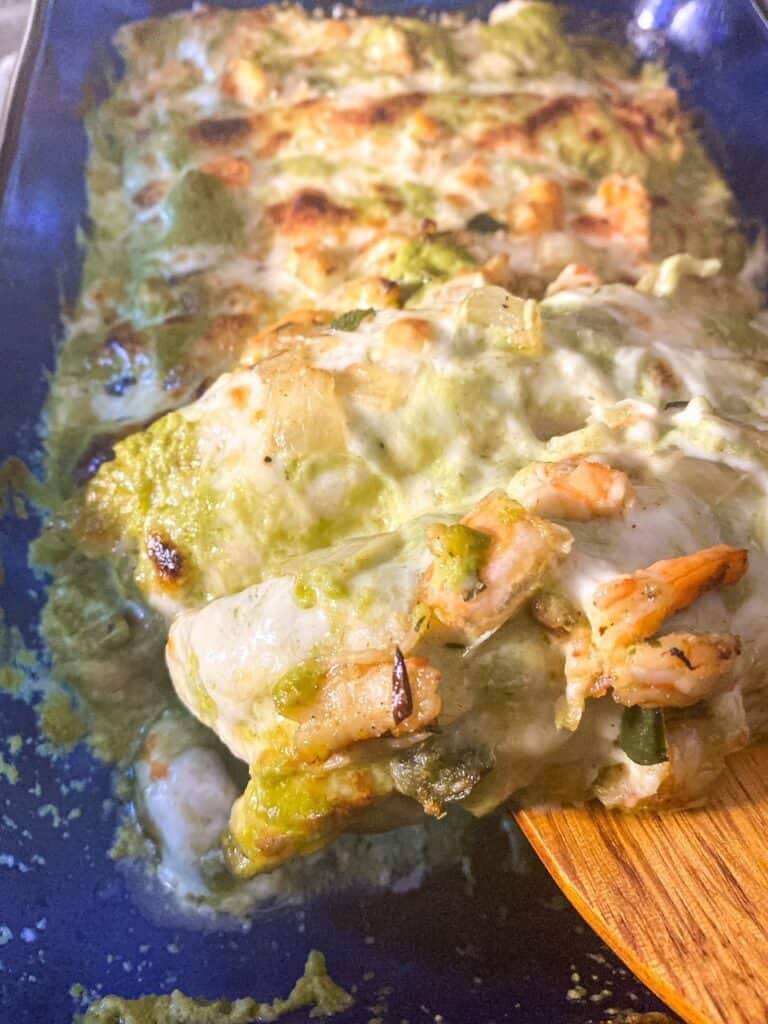 Marinating the shrimp:
This step is vital to achieve that extra layer of flavor. First, prepare the shrimp by removing the shell, and deveining it. Next, add the shrimp to a bowl. Cover the shrimp with the olive oil, chopped cilantro, and lime juice.
Combine the shrimp with the marinade by mixing it with a spoon. Ensure that the marinade is evenly incorporated throughout the shrimp. Cover the bowl with a lid or with foil, and set aside.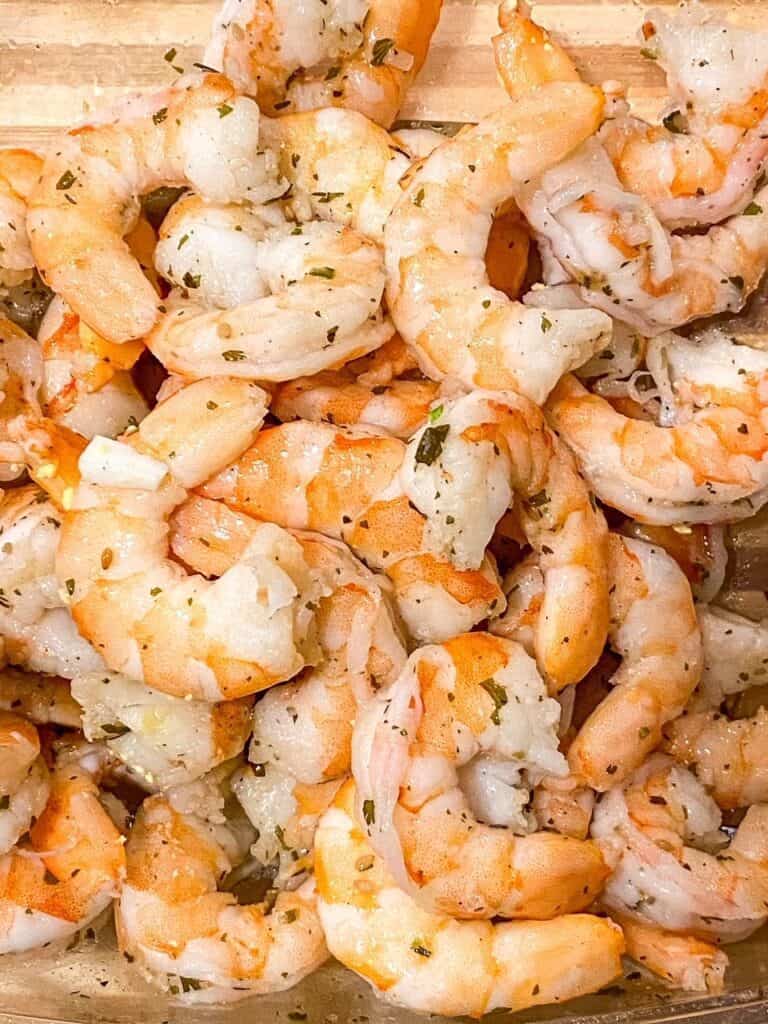 Making the creamy poblano sauce:
This creamy poblano sauce is definitely the star of the show. Start by roasting a head of garlic. Here is a detailed recipe for that. First cut off the head of the garlic, just enough to expose the cloves. Place it on a piece of aluminum foil, drizzle with olive oil, salt, and pepper. Wrap it up tight and place in a 350 degree oven.
Next, char the poblano peppers in a piping hot cast iron skillet. Turn the pepper over and over until every side is charred. Place the peppers in a bowl and cover it with a lid or aluminum foil. Let this set for at least ten minutes.
Is the poblano sauce spicy?
Not at all! Poblano peppers are very mild. Moreover, adding the sour cream definitely tames any hint of slickness. If spice is your thing, you may want to add a roasted jalapeño; or even some cayenne pepper. No worries for my non-spice lovers though, this sauce is definitely mild!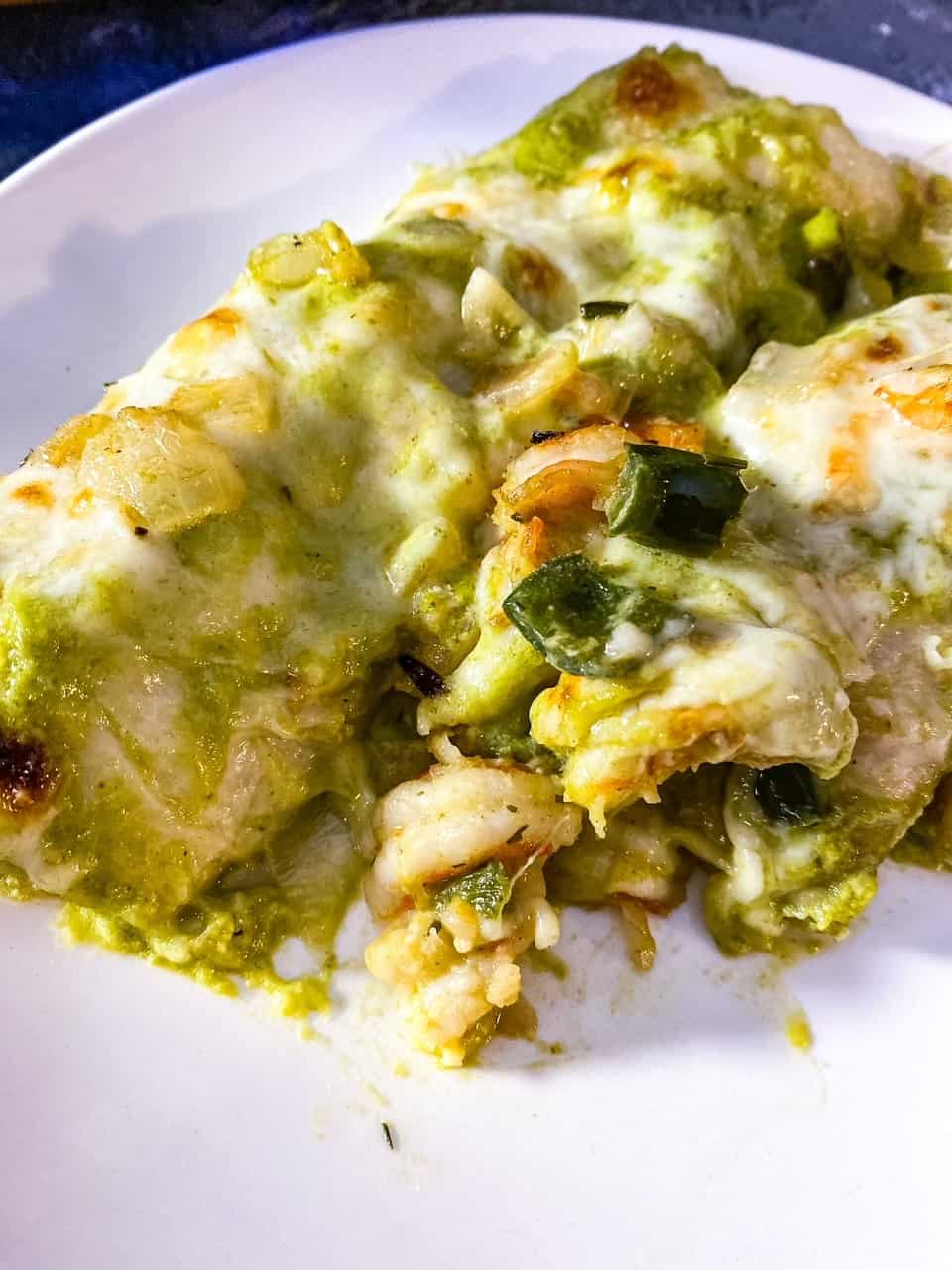 Can I make the enchiladas ahead of time?
Absolutely! One of my favorite things about enchiladas is that they can be made ahead of time. In order to make ahead, prep everything as directed- just do not add the sauce on top of the rolled tortillas.
Once they are prepped, cover the dish and place it in the refrigerator. When you're ready to hear them, add the sauce over the top of the enchilada, and cook as directed in the recipe card.
How to store and reheat leftovers:
If there happen to be leftovers (which is not likely), transfer the enchiladas to a container with a lid and place them in the refrigerator. They can be reheated in the microwave by cracking the lid of the container and microwaving on high for 2-3 minutes.
Another option is to place the enchiladas back into a baking dish and placing them in the oven. Heat the oven to 375, cover the dish with foil, and warm for 15-20 minutes.
What to serve with the shrimp enchiladas:
Make a simple jalapeño salsa, and of course you gotta have your toppings! Sour cream, shredded lettuce, and tomatoes are our favorite toppings.
This Mexican Rice is an absolute must in terms of side dishes. Another great side for any Mexican food is pinto beans. Since the shrimp enchiladas are super rich and hearty, they can definitely pass as a meal all by themselves too!
📖 Recipe
Yield:

6 Servings
Shrimp Enchiladas with Creamy Poblano Sauce
Shrimp enchiladas with creamy poblano sauce are made with succulent shrimp, flour tortillas, and Monterey Jack cheese, smothered in a delicious creamy poblano sauce.
Ingredients
2 pounds medium Shrimp, cleaned and deshelled
½ Onion, diced 
1 tablespoon Olive oil
¼ cup Cilantro, finely chopped
1 tablespoon Lime juice
12 medium Flour Tortillas
2 cups Monterey Jack cheese, shredded
½ tablespoon Seasoned salt
½ tablespoon Cumin
½ tablespoon Chili powder
1 teaspoon black pepper 
1 teaspoon Garlic powder
Creamy Poblano Sauce
5 Poblano Peppers
4 cloves Garlic
1 cup Sour cream
Salt and pepper to taste
Instructions
Creamy Poblano Sauce
Add shrimp, olive oil, cilantro, and lime juice to a bowl. Use a spoon to evenly coat the shrimp with the marinade. Cover the bowl and set aside.
Preheat the oven to 350 degrees. Cut the head off of the garlic, just about ½ inch to expose the garlic cloves. Place the garlic on a piece of aluminum foil that is big enough to wrap the whole thing.
Drizzle about ½ tablespoon of olive oil over the garlic. Sprinkle with salt and pepper and wrap the aluminum tightly around the head of garlic.
Place it in the oven for about 10-15 minutes.
Next, Place a cast iron skillet on the stove over high heat. Add the poblano peppers to the skillet and char them on each side. The skin should start to blacken. Keep turning until all sides are charred.
Remove the poblano peppers and wrap them in a bowl with a lid, or bowl covered with foil for at least ten minutes.
Uncover the bowl and gently peel the skins off of the poblano peppers and discard it. Discard the stems as well.
Add the peppers, garlic, and sour cream to a blender and blend until smooth. If the mixture is too thick, add a teaspoon of water at a time until desired consistency is met.
Season to your taste with salt and pepper. Set aside until ready to use.

Enchiladas
Sprinkle all of the seasonings over the marinated shrimp, and coat evenly by mixing it around with a spoon.
Add one tablespoon of olive oil, and one tablespoon of butter to the cast iron skillet over medium heat.
Add the shrimp in one single layer in the skillet, also add the diced onions. Sauté shrimp and onions for 2 minutes (flipping shrimp at one minute mark), and remove them from the skillet and place in a bowl (VERY important so shrimp doesn't overcook).
Optional: roughly cut shrimp up if desired so that it is in bite size pieces.
Add ½ cup Monterey Jack cheese directly into the bowl with the shrimp and onions. Mix together with a spoon and set aside.
Spray a 9x13 baking dish with non-stick cooking spray. Add a thin layer of the creamy poblano sauce to the bottom of the dish.
Spoon shrimp mixture into one side of the tortilla (about two tablespoons or so depending on size of tortillas).
Starting from the end that the shrimp mixture is on, roll the tortilla over until it is tightly closed.
Place the rolled tortilla seam side down directly into the baking dish. Continue the process until all the enchiladas are rolled. The dish should be tight by the time all of them are rolled and placed in there (about 12 enchiladas).
Cover the enchiladas with the remaining creamy poblano sauce, or just enough until the enchiladas are covered evenly. Sprinkle the remaining Monterey Jack cheese over the top. If there are any shrimp left, add that as well!
Cover the dish with foil, and place it in the oven for 15 minutes. Remove the foil and continue to cook for 5 minutes.
If desired, brown the cheese by placing the oven to broil for 1-2 minutes. CAREFUL because the cheese can burn easily on this setting!


Nutrition Information:
Yield:
6
Serving Size:
1
Amount Per Serving:
Calories:

649
Total Fat:

29g
Saturated Fat:

13g
Trans Fat:

0g
Unsaturated Fat:

12g
Cholesterol:

375mg
Sodium:

2428mg
Carbohydrates:

45g
Fiber:

4g
Sugar:

3g
Protein:

51g
This website provides approximate nutrition information as a courtesy and for convenience only.