This shrimp boil is a seafood lover's dream! Loaded with supple shrimp, sausage, corn, and potatoes. Then drenched in an amazing garlic butter sauce.
Since you love shrimp, you should definitely checkout these Garlic Butter Shrimp and Grits. You will also love this highly raved about Garlic Butter Seafood Boil!
Shrimp boils are a delicious party food, or quick and easy dinner idea! They are made in well under 30 minutes, and can be made as a single serving, or a large party!
Jump to:
Ingredients needed for the shrimp boil:
Gather all of your ingredients before you get started. Here is what you will need:
Shrimp: it is important to get the uncooked shrimp. If it is frozen and already pink, it is pre-cooked and will definitely over cook if you boil it!
Sausage: for this recipe we used beef smoked sausage. Feel free to replace it with turkey sausage, or any sausage you prefer.
Corn: corn on the cob will be used for this recipe. You can use fresh or frozen. Be sure to cut the ears down to individual servings.
Potatoes: make sure you use the baby potatoes for this shrimp boil.
Butter: unsalted butter is recommended because you will be adding a lot of seasonings.
Seasonings: these will range from Old Bay seasoning, to garlic powder, to chili powder.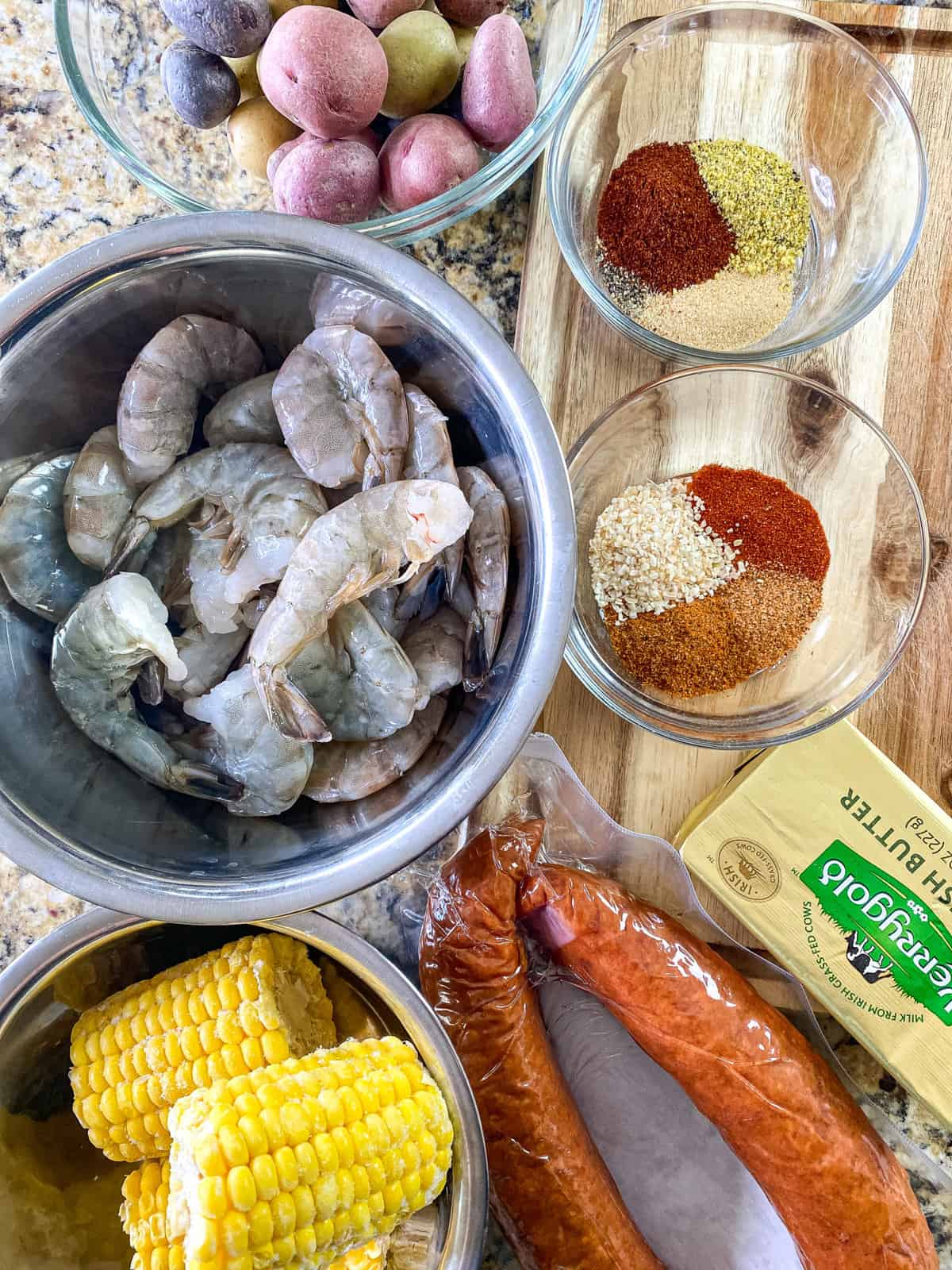 Recommended equipment to use:
To make a great shrimp boil you will need the right type of stock pot. I highly recommend that you use a double broiler type of pot so that you can strain the boil directly out of the water without a fuss.
You will also need a great cutting board. Cutting your onion and garlic for the garlic butter sauce, as well as the sausage for the shrimp boil is necessary.
Is the garlic butter sauce spicy?
No the garlic butter sauce is not too spicy. If you do not really like spicy food, definitely adjust the amount of cayenne pepper and red pepper flakes that you add into the sauce. Aside from those two seasonings, nothing else in the sauce will be spicy.
Check out the story below for some more details!
Tips to not overcooking the shrimp:
Be sure that you buy the uncooked shrimp. This means either buying the shrimp fresh or frozen, but with the peel and/or tail on. If the shrimp is already pink when you purchase it, that means that it is precooked. When the shrimp has a grey, translucent-like color, that is when you know it is fresh.
Precooked shrimp does not need to be boiled, if it is, it will definitely be over cooked. Once you remove the peel and tail from your shrimp, add it to the boiling water during the very last minutes of cooking. The shrimp will only need to cook for a good three minutes.
Boil the corn, potatoes, and sausage, and also make your sauce. Once the potatoes are tender, and the sausage is cooked through, then you will add your shrimp.
Storing and reheating leftovers:
If you happen to have leftovers, it will be a shock! This shrimp boil is just that good. Nonetheless, if you have leftovers, store them in an airtight container and place them in the refrigerator for up to 5 days.
Try to store the garlic butter sauce separately from the shrimp boil. Once you are ready to reheat it, remove the shrimp from the boil, and place the other ingredients in a microwave safe container and microwave for 2-3 minutes, or until everything is heated through. Then add the shrimp to the microwave for 30 seconds.
Heat up the garlic butter sauce separately, and pour it over the shrimp boil, or use it on the side to dip the goodness into!
📖 Recipe
Yield: 8 Servings
Shrimp Boil with Garlic Butter Sauce
This shrimp boil is a seafood lover's dream! Loaded with supple shrimp, sausage, corn, and potatoes. Then drenched in an amazing garlic butter sauce.
Ingredients
2 pound Shrimp, peeled and deveined
1 rope Beef smoked sausage, sliced into coins
4 ears Corn, cut into individual servings
½ pound Baby potatoes
Garlic Butter Sauce
3 sticks Butter, unsalted
¼ cup Olive oil
3 tablespoons Garlic, diced (about 10 cloves)
1 whole Onion, cut into thin slices
1 Lemon, juiced
4 cups Chicken or Vegetable broth or water
3 tablespoons Old Bay seasoning
3 tablespoons Paprika
1 tablespoon Cayenne pepper (adjust for spiciness)
1 tablespoon Red pepper flakes (adjust for spiciness)
½ tablespoon Seasoned salt
1 tablespoon Lemon pepper seasoning, (optional depending on fresh lemon juice)
1-2 dashes Tabasco sauce
2 tablespoons Sweet chili sauce (optional)
Instructions
Shrimp Boil
Place the corn and potatoes into a large pot and cover with water. Bring it to a boil over medium heat. Boil until the baby potatoes are fork tender, about 10 minutes.
After the potatoes are fork tender, add in the sliced beef smoked sausage. Boil for another 10 minutes. While the potatoes and sausage are cooking, begin working on the garlic butter sauce in a separate skillet.
Once the sauce is just about done, add the shrimp into the pot with the sausage. Cook the shrimp for about 3 minutes, or just until they start to turn pink. Careful not to overcook shrimp (it cooks very fast)!
Garlic Butter Sauce
Melt one stick of butter and olive oil in a skillet on medium heat. Add the sliced or chopped onions and sauté them until they become translucent, about 5-7 minutes.
Stir in the Garlic and sauté for 30 seconds to one minute, be sure to stir constantly so the garlic doesn't burn. Add juice of the lemon, and all of the seasonings. Adjust cayenne and red pepper to your level of desired spiciness.
If using additional butter, add the additional sticks now (see notes above about healthier option).
Pour in the chicken broth, vegetable broth, or water now (choose either or, not all three). Simmer the sauce until the butter is melted and the sauce reduces a bit, about 10 minutes.
Pour over your favorite seafood and/or reserve some for dipping.
Nutrition Information:
Yield:
8
Serving Size:
1
Amount Per Serving:
Calories:

611
Total Fat:

28g
Saturated Fat:

17g
Trans Fat:

0g
Unsaturated Fat:

27g
Cholesterol:

108mg
Sodium:

740mg
Carbohydrates:

16g
Fiber:

4g
Sugar:

6g
Protein:

50g
This website provides approximate nutrition information as a courtesy and for convenience only.