Garlic butter seafood boil with delicious sauce recipe. Full of fresh crab legs, shrimp, potatoes, corn, and sausage. With thousands of five star reviews, this is the best seafood boil recipe!
While you're here, be sure to checkout this amazing Garlic Butter Shrimp and Grits recipe and this Shrimp Brochette!
Jump to:
We love a great seafood boil down here in the south! Add your favorite seafood to this recipe to make it your own. You should definitely add these Lobster Tails too!
Why you will love this easy seafood boil recipe
Great flavor! Fresh seafood is the ultimate treat. Any of your favorite seafood is great for this recipe. Add some dungeness crab legs, snow crab, king crab legs, lobster tails, or keep it simple the biggest shrimp you can find!
Family and Party friendly! cajun seafood boils and crawfish boils are the BEST to make for a crowd or to make just enough for the family to enjoy.
Restaurant quality! This low country boil is better than any Juicy Crab near me or The Boiling Crab that you may know and love.
There is something so magical about the opportunity to fellowship around a large pot full of a seafood, a cold beverage, and good friends or family!
Ingredients for the cajun boil :
Collect all of the items you need before you get started. It makes cooking so much easier! Here is what you will need for this seafood Cajun boil recipe:
Seafood: crab legs, shrimp, and any other seafood you like including lobster, clams, or crawfish.
Sausage: feel free to omit this ingredient if you are not a fan. Beef sausage was used for this recipe. Some of my audience have used chicken sausage, andouille sausage, and even meatless sausage as a substitute.
Potatoes: red potatoes are best because they hold-up and do not get so mushy. Regular (russet) potatoes can be used if that's what you have. Just cut the boil/cooking time a bit because they will get mushy.
Corn on the cob: frozen works just fine. Fresh sweet corn on the cob can be used as well. Although you do not have to, you can cut it in half for more servings. Try this Cajun Fried Corn on the Cob for a super flavor side.
Optional additions: boiled eggs- don't knock-it until you try it! Some people have sent me pictures of broccoli, and other veggies that they have added. I love it, get creative and make what you like!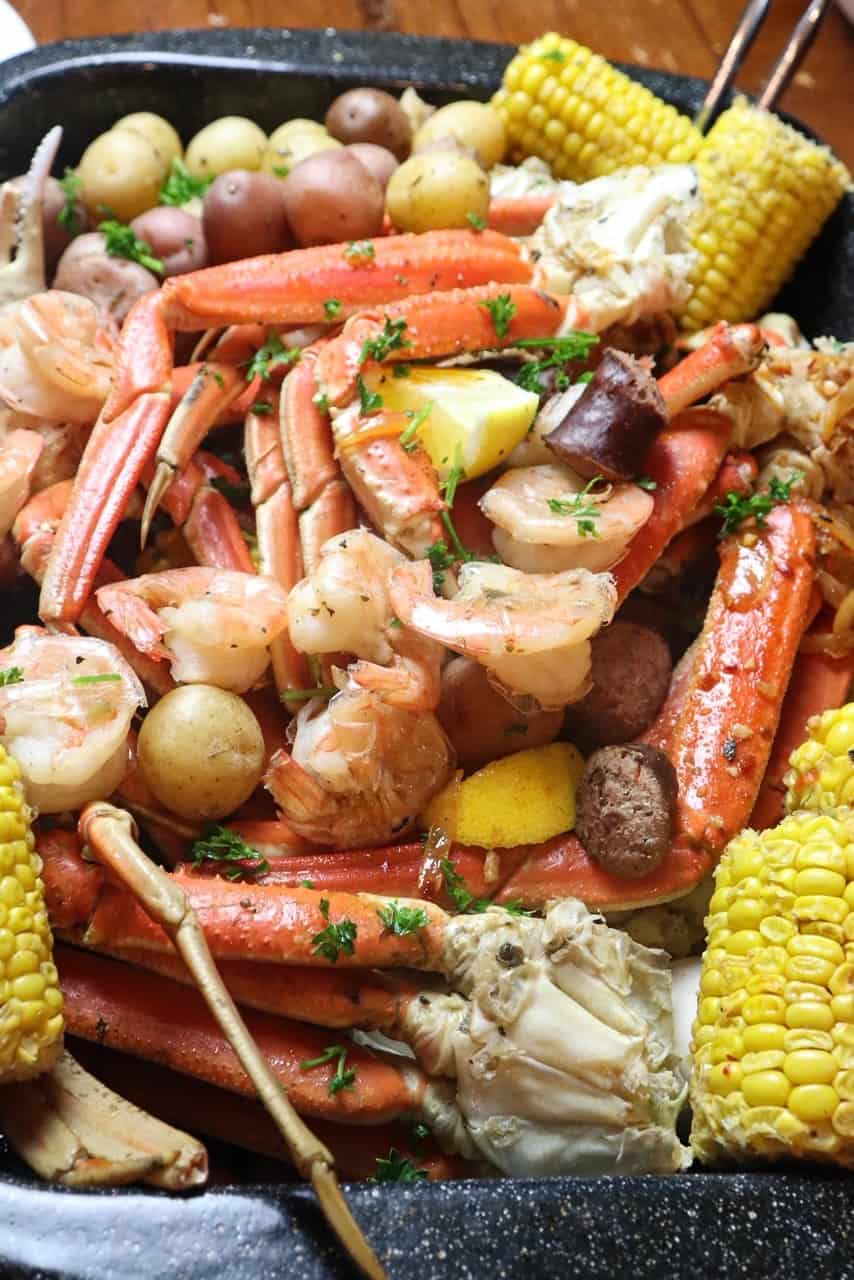 How do you make a seafood boil
Make your broth
To make a seafood boil you want to add cold water to a large stockpot over medium high heat. You can also add about 1 cup of a flavorful broth to the pot for .
Season the water with crab boil seasoning, old bay seasoning, or your favorite cajun seasoning.
Add your ingredients
Once you get boiling water, add your baby red potatoes and sweet corn first.
Then you let them cook for about 20 minutes and add in your smoked sausage. After about 15 minutes the sausage should be tender.
Now you can add in your favorite seafood. Place your snow crab legs and shrimp directly into the large stockpot and boil for about 10 minutes.
Seafood to add to your Cajun Seafood Boil recipe
Some of the most popular seafood used in a Louisiana garlic butter seafood boil recipe are crab legs, crawfish (or crawdads). Almost any kind of shellfish will work though. You can even add some lobster tails to make it super fancy!
Crab legs are just as amazing as crawfish, (and in my opinion, better)! You can definitely add some dungeness crab legs, some king crab legs, or some jumbo shrimp too!
Ingredients for garlic butter sauce:
This garlic butter sauce is the star of this entire recipe! You will fall in love the second you taste it.
Here are the main ingredients you will need:
Garlic powder: make sure you use the garlic powder and not garlic salt.
Old bay seasoning: old bay has a distinct flavor that pairs beautifully with a crab boil
Cajun seasoning: this is the main area that the salt content will come into play. So adjust it to get the best flavor for your taste buds.
Spices: you should add some red pepper flakes and cayenne pepper to add spice to your butter sauce. Hot sauce adds another great kick to get the best flavors!
Lemon wedges: adding fresh lemon juice gives it a nice acidity to balance the sauce.
All of these seasonings and spices are blended perfectly into the recipe for cajun crab boil butter sauce. You should also save some seafood boil sauce to dip your seafood into!
Plain melted butter is definitely a classic too. You can simply add some butter to a microwave safe bowl, and serve it with your seafood boil as a dipping sauce.
Pro-tips for the perfect low country boil:
To achieve the great flavor of this boil, here are some great tips for you to follow:
The potatoes take longer to cook, so start cooking them first. Red potatoes are best because they do not get too mushy.
Shrimp will cook SUPER fast! Use the biggest shrimp you can find; such as colossal shrimp or jumbo shrimp. You can use shell-on shrimp or you can buy it deshelled and cleaned.
This seafood boil recipe calls for crab legs and shrimp, but you can add or take away any shellfish you would like.
Some of the best recipes for a seafood boil include boiled eggs! You should definitely give it a try.
Adjust your cook time based on the kind of seafood you're cooking. Snow crab and shrimp cook the fastest!
Video of the best seafood boil recipe:
FAQ
Can I use frozen seafood?
Yes you can use frozen seafood for this recipe. Sometimes- it's cheaper, or just easier to find. Also, most frozen seafood is fully cooked, and then frozen.
Keep that in mind and adjust cooking times accordingly. If it is pre-cooked, cut the cooking time by 5-10 minutes. Try to get the jumbo shrimp with the shell on if you're buying frozen.
How long do I boil seafood?
Keep in mind the various type of seafood you will be adding to your low country boil. They will all cook at different speeds.
Crab legs: boil for about 8-10 minutes for crab, 20 minutes for fresh crab clusters
Shrimp: boil for about 3-5 minutes
Sausage: boil for 8-10 minutes
Remember to boil your potatoes first, then add your corn before adding the seafood.
What to serve with a low country boil:
Although this is a complete meal in and of itself, you can add some side dishes to round out your seafood. Here are a few ideas:
A side salad
Some roasted vegetables
Coleslaw
A lot of people like to use their bread to sop up that delicious juicy crab sauce. Adding a side of vegetables will also help balance out the meal!
Now that my mouth is watering.... enjoy this delicious seafood boil recipe!
More Seafood Recipes to try:
Salmon in Mushroom Cream Sauce
Shrimp Boil with Garlic Butter
📖 Recipe
Yield:

8 people
Garlic Butter Seafood Boil
Garlic butter seafood boil and sauce. Add this spicy sauce to your favorite seafood boil, and use some on the side to dip the yumminess in!
Ingredients
5 clusters Snow crab legs, washed thoroughly
1 pound Shrimp, deveined, tail on
1 pound Andouille sausage, cut into thick slices
6 Corn on the cob
6 Baby red potatoes
1 Lemon, cut in half
2 tablespoons Old bay Seasoning
2 Bay leaves
Seafood Boil Sauce (to pour over and dip)
4 sticks Butter, unsalted
¼ cup Olive oil
1 whole Onion, diced
3 tablespoons Garlic, diced
1 Lemon, juiced
2 cups Chicken broth, optional (see notes below)
3 tablespoons Old Bay seasoning
3 tablespoons Paprika
1 tablespoon Cayenne pepper
1 tablespoon Red pepper flakes
1 tablespoon Lemon pepper seasoning, (optional depending on fresh lemon juice)
1-2 dashes Tabasco sauce
Instructions
SEAFOOD BOIL
Fill up a large stock pot with water, leaving enough room at the top to add the seafood. Add old bay seasoning, lemon, and bay leaves. Bring to a light boil.
Place the corn and red potatoes into the seasoned water. Boil for 10 minutes.
Add the crab legs and sausage . Cover with a lid and boil for an additional 15 minutes.
Add the shrimp. Boil for 5 minutes (shrimp will turn pink, do not overcook).
Drain the water and remove bay leaves. Transfer to serving dish or leave in the stock pot.
Pour that delicious garlic butter sauce all over, and/or reserve some sauce on the side to dip the seafood in (recipe below).
GARLIC BUTTER SAUCE
Melt one stick of butter and olive oil in a skillet on medium heat. Add onions and sauté until they become translucent.
Add Garlic and saute for 30 seconds, stirring constantly so garlic doesn't burn. Add juice of the lemon, and all the seasonings. Adjust cayenne and red pepper to your level of spiciness.
Add remaining 3 sticks of butter. Simmer until butter is melted, stir constantly.
If using chicken broth, gently stir it into the mixture now. Pour over your favorite seafood and/or reserve some for dipping.
Enjoy!
Notes
Chicken broth is used to "cut" the sauce. It does not take away from the flavor in any way. In fact- it's great to add broth if trying to create more sauce, or pour directly over your seafood boil.
Sauce can also be used for dipping.
Recommended Products
As an Amazon Associate I earn from qualifying purchases. Although it is no extra charge to you, any purchases made will help with maintaining razzledazzlelife.com and are greatly appreciated!