This recipe for salsa roja is an easy and delicious condiment that can be added to pupusas, tacos, or used as a dip. It can be made as mild or as spicy as you like too!
Since you're a salsa roja fan, be sure to check out this Creamy Jalapeno Salsa, and this Curtido recipe for more delicious toppings!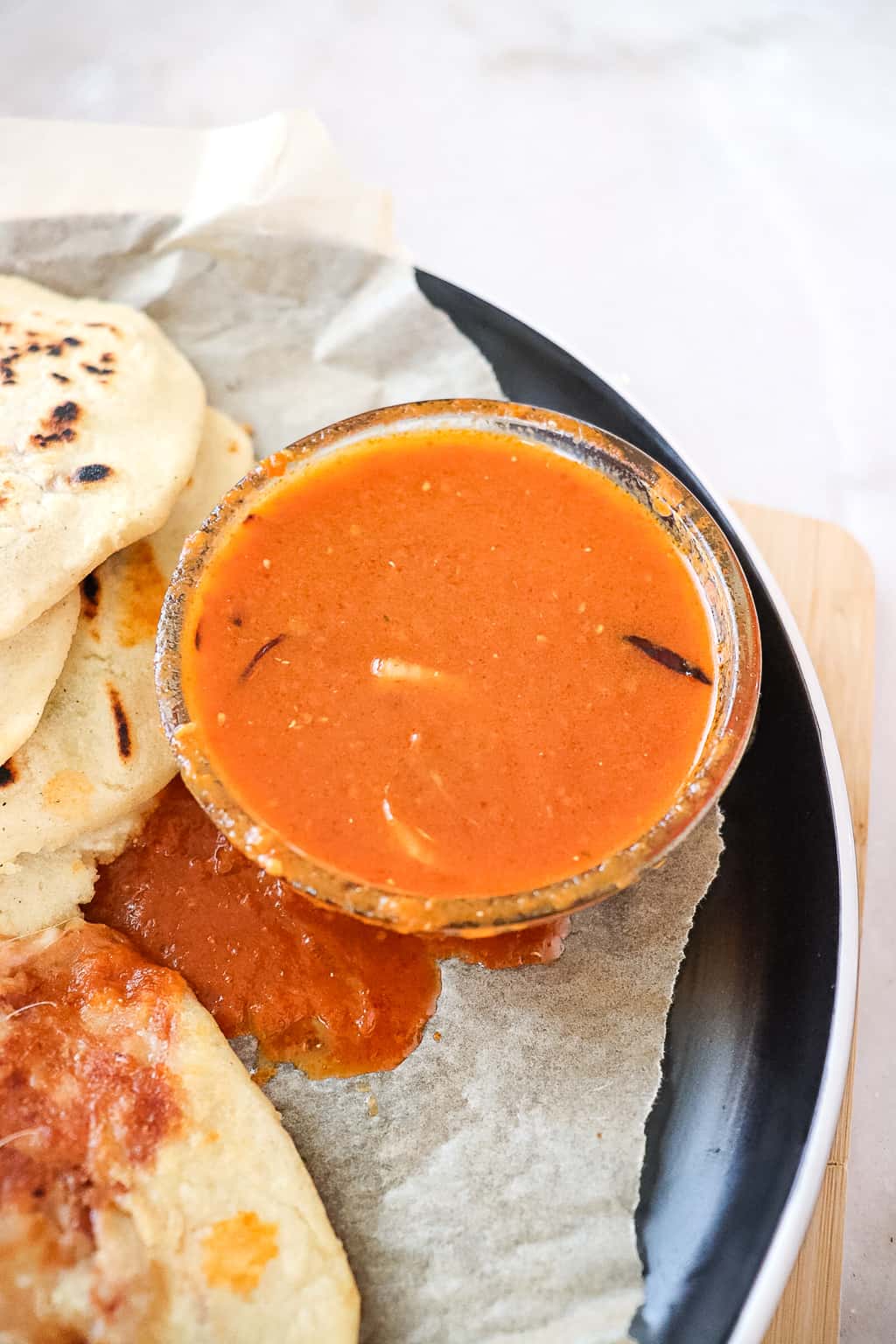 When I first tried this salsa roja at a Salvadorian restaurant, I instantly knew that I had to remake it! It is the most delicious salsa for your, tacos, or even enchiladas, along with that curtido of course!
Jump to:
The Best Part About this Recipe:
It is very simple to make! You will have this salsa prepared and ready to eat in less than 20 minutes. With a skillet and a blender, this is the most simple salsa to make.
Only a few fresh ingredients are needed! An inexpensive recipe is always a plus for any household. This is on the less expensive side because you are using fresh produce for this salsa roja recipe.
Make it extra spicy, or extra mild! If you love spicy food, you can definitely jazz up the spice by adding more jalapeno peppers, or even serrano pepper. Salsa rojo is so versatile.
Ingredients you need:
When you are at your local grocery store, be sure to head to the produce aisle because this recipe is made with fresh vegetables. Salsa roja para tacos is so quick and easy to make. Here is what you will need:
Tomato: Grab some roma tomatoes, these are usually less expensive. If you have another favorite tomato, such as tomatoes on the vine, that will work just as well.
Jalapeno: The peppers are where all of the spice comes from. So if you want yours to be on the mild side, follow this exact recipe. If you want it to be more spicy, add more jalapenos or serrano peppers.
Onions: White onions are essential to making that particular flavor that you want in this salsa.
Garlic: You will add one clove of garlic to this receta, it is essential to aid in the flavor of the sauce.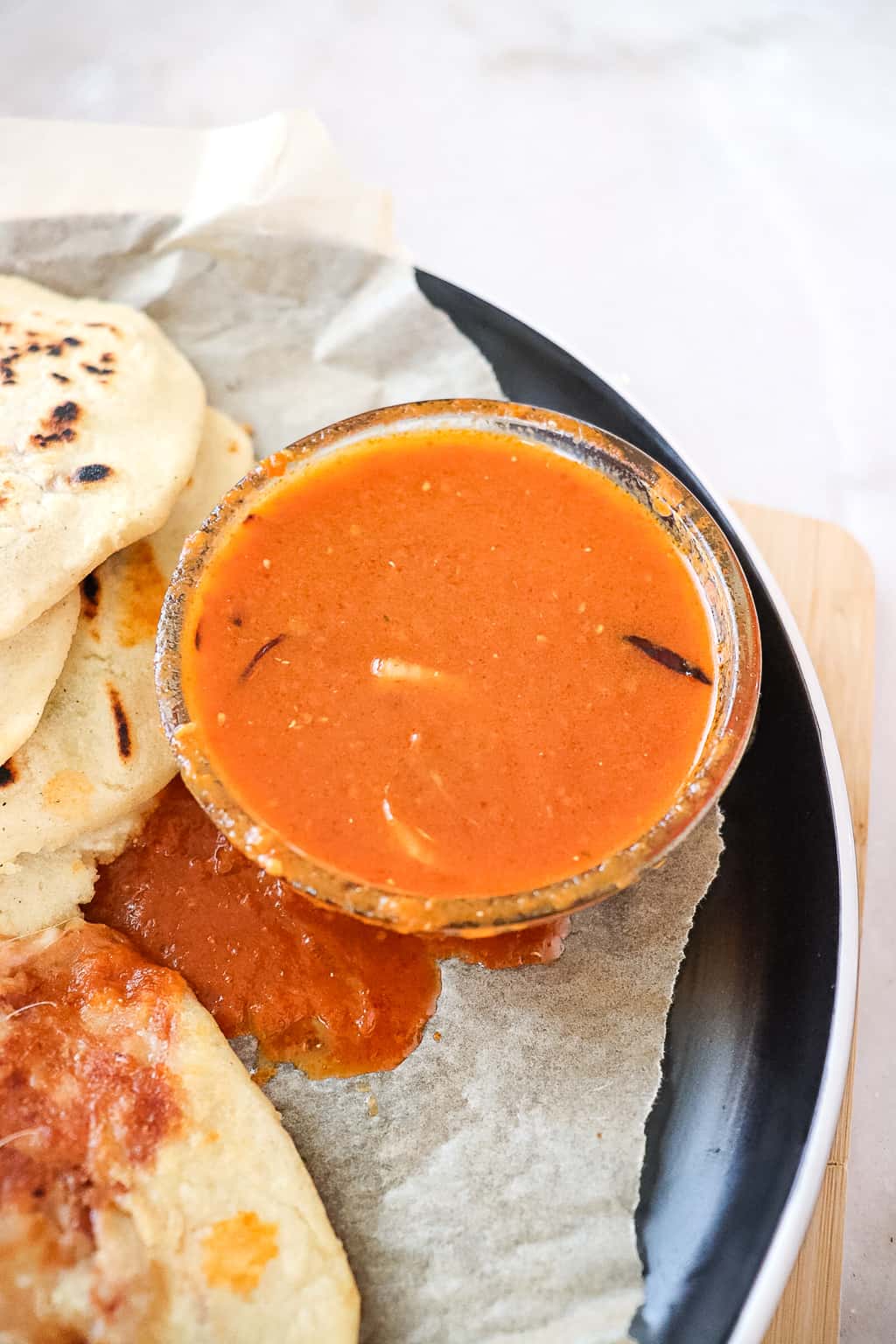 Instructions to make Salsa Roja:
First you need to boil your tomato, jalapeno, and garlic in a pot, in a bit of water. This is just to get them to soften up.
Once they are soft, remove them from the water and place them in a blender. Let them cool for two to three minutes. Add about ¼ cup of the water it boiled in.
Sprinkle the caldo de pollo seasoning directly into the blender. Then you will blend the salsa on high for about two minutes, or until everything is smooth.
Next you are going to remove all of the extra water out of the pot or skillet that the vegetables boiled in. Add the vegetable oil and heat it over medium heat.
Gently place the sliced onions into the oil and saute for about 5 minutes, or until they are translucent and golden brown. Be sure to stir continuously so that they do not burn.
Now you will carefully pour the blended salsa rojo directly into the skillet with the onions, and saute for 3-5 minutes. It is now ready to serve.
Alternatives and Variations:
Instead of roma tomatoes, you can use grape tomatoes, heirloom tomatoes, or even tomatoes on the vine. Whichever kind of tomato you are able to find in your store, or that you have on hand, will work for this recipe.
Make it spicy: This salsa recipe is mild, so if you want it spicier, you have to adjust the amount of peppers you add. Serrano peppers tend to be more spicy than jalapenos, so add those instead.
Omit the onions if they are not your favorite. Sauteeing the onions and adding them to your salsa is definitely recommended, as it adds a full depth of flavor.
If you do not like onions, just saute the salsa in the oil instead of adding the onions first.
Pro-Tips:
You can sear the tomatoes, jalapeno, and garlic in a skillet over medium high heat instead of boiling them. The goal is to get them nice and soft to blend.
Use salt and garlic powder to season the salsa if you don't have caldo de pollo seasoning.
Adding the fried onion really helps enhance the flavor of this salsa. Slice them large enough that you can pour the salsa and pick them out if you're not a fan of them.
Storing and Serving:
Once the salsa cools down, you can store it in an an airtight container with a lid. Even better though, pour the sauce into a jar with a lid.
Place the salsa in the refrigerator and it will be good for up to one week. When you are ready to use it, you can reheat it in a skillet, or the microwave. This salsa also tastes good when it's cold.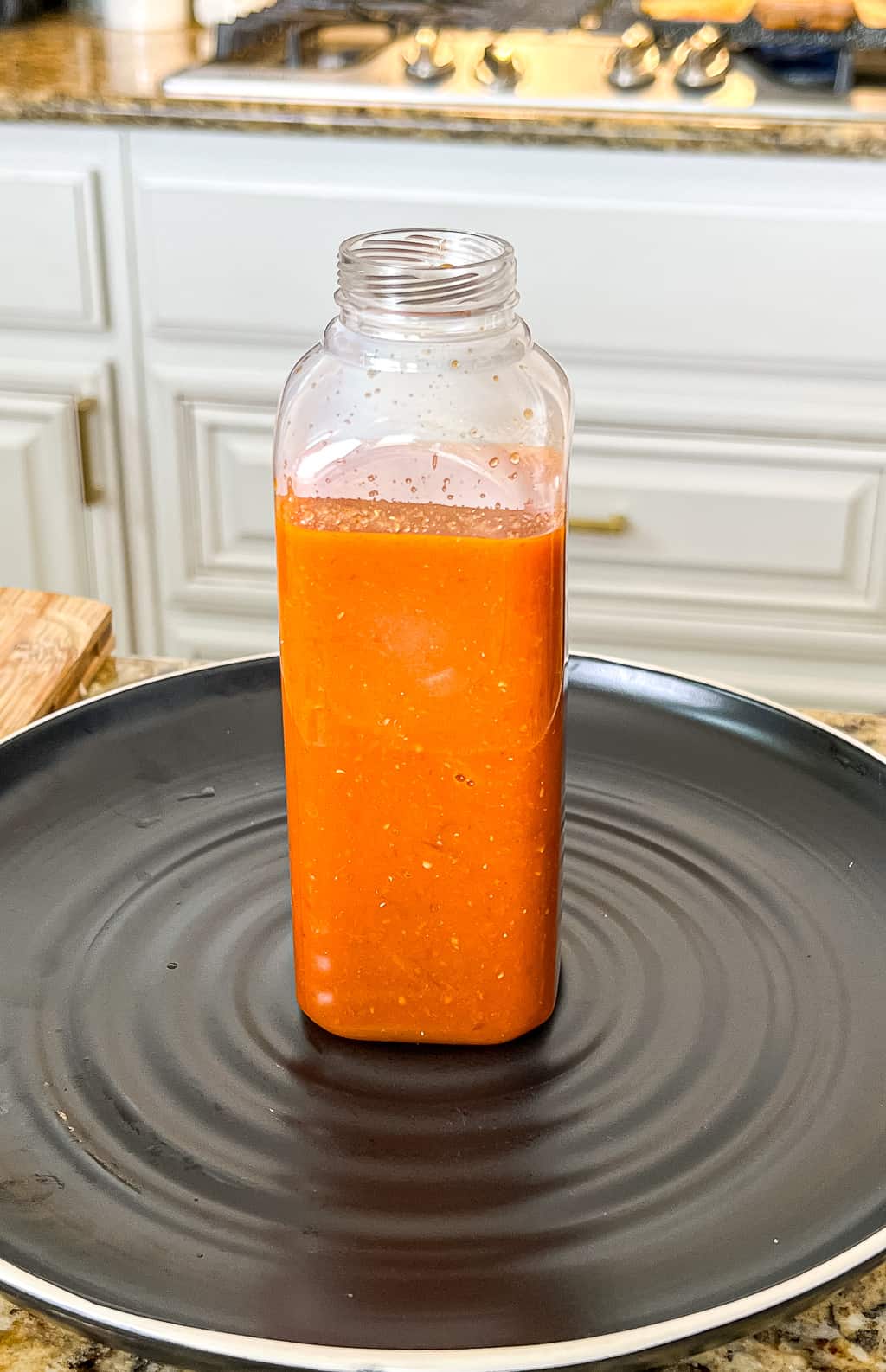 FAQ:
Is this salsa roja spicy?
No, this recipe is not too spicy. It is more on the mild side because it only calls for half of one jalapeno. The seeds and veins have also been removed, which tend to make it super spicy.
What should I eat this salsa with?
This Salvadoran salsa roja is delicious to eat with tacos, pupusas, or almost any food that you want to add an extra tang to. Unlike salsa verde, this one is made with a base of tomatoes. So it is a delicious topping for anything.
📖 Recipe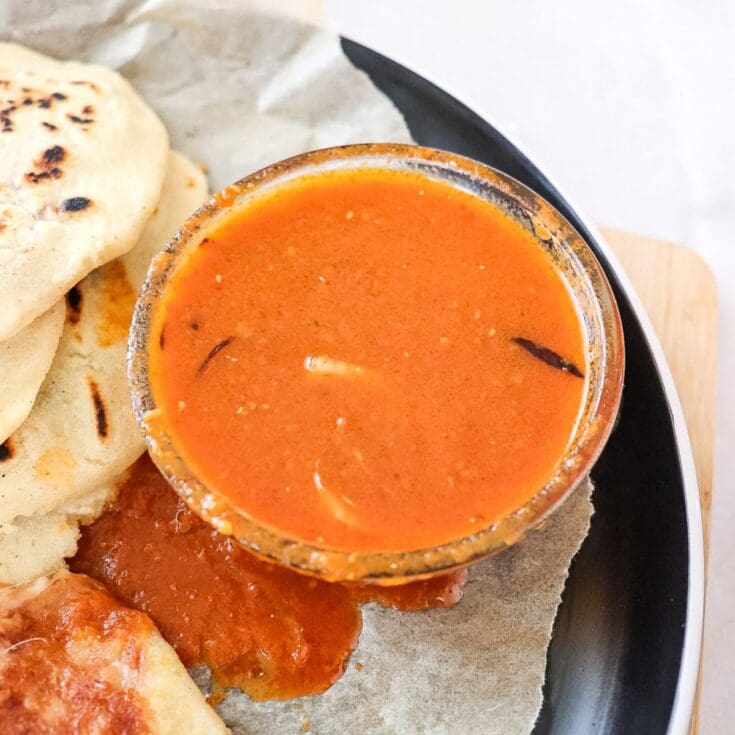 Yield:

6 servings
Salsa Roja
This recipe for salsa roja is an easy and delicious condiment that can be added to pupusas, tacos, or used as a dip. It can be made as mild or as spicy as you like too!
Ingredients
4 Roma tomatoes
½ fresh Jalapeno, remove the stems and seeds
1 clove Garlic
2 cups Water
1 teaspoon Vegetable oil
½ medium Onion, thinly sliced
1-2 teaspoons Chicken Bouillon seasoning (according to taste)
Salt as needed
Instructions
Add the tomato, jalapeno, and garlic to a medium size saucepan. Gently pour the water over the tomato mixture.
Heat the tomatoes over medium heat for about 5-7 minutes, or until tomatoes start to split and get soft.
Turn the stove off and use a slotted spoon to remove the tomatoes, jalapeno, and garlic and add them to a blender. Spoon one cup of the water that the tomatoes boiled in and place it into the blender.
Blend the mixture on high for one minute, until it is has a very smooth consistency. The salsa will be a bit thin. Set this aside.
Warm up the vegetable oil in a skillet over medium heat. Gently add the sliced onion directly into the oil and saute for 2-3 minutes, until they are golden brown.
Pour the salsa roja directly from the blender into the skillet. Simmer the salsa in the skillet over medium heat for an additional 2-3 minutes. Then it is ready to serve.
Nutrition Information:
Yield:
6
Serving Size:
1
Amount Per Serving:
Calories:

21
Total Fat:

1g
Saturated Fat:

0g
Trans Fat:

0g
Unsaturated Fat:

1g
Cholesterol:

0mg
Sodium:

325mg
Carbohydrates:

3g
Fiber:

1g
Sugar:

2g
Protein:

1g
This website provides approximate nutrition information as a courtesy and for convenience only.