These perfectly seasoned pork chops are lightly breaded and fried to golden crisp perfection. Southern-fried, just like grandma used to make!
While you are here, checkout this Macaroni and Cheese, along with these Collard Greens, and Red Beans and Rice to really round out this soul food meal!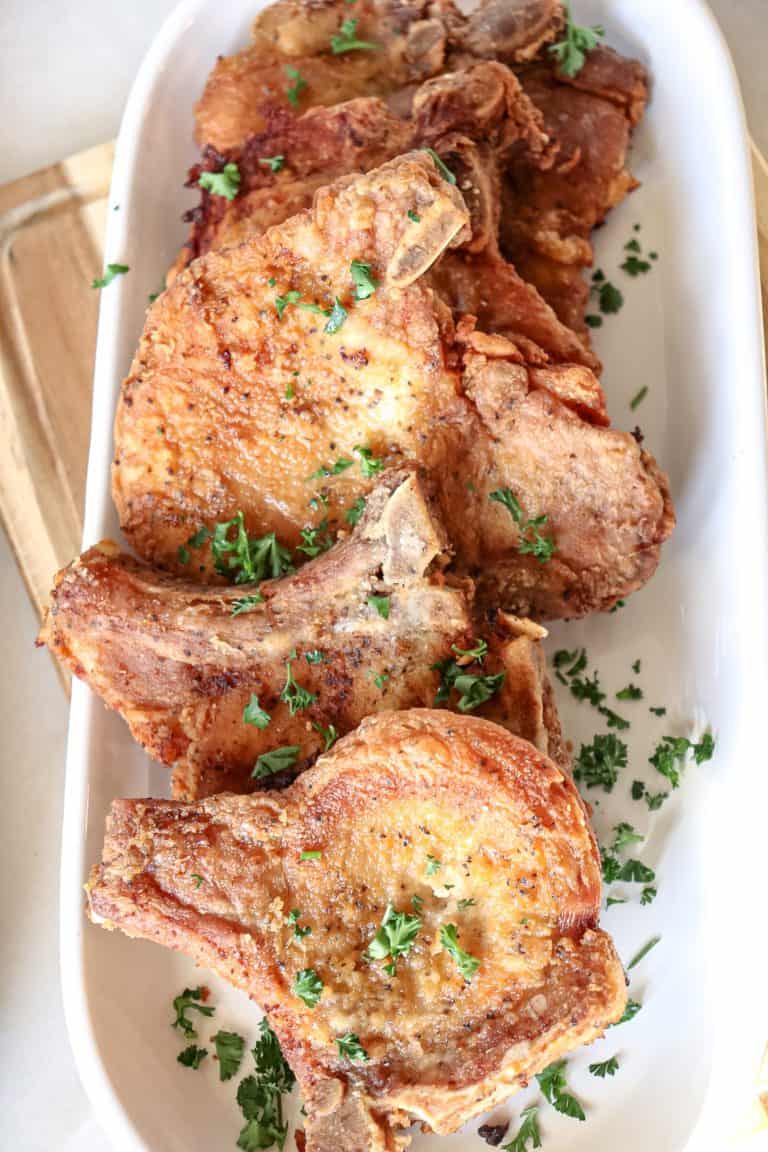 We have to talk about dinner! These southern fried pork chops are a breeze because they are prepped and cooked in no time! This recipe is a family favorite that has been passed down from generation-to-generation.
Jump to:
How to make fried pork chops
One of the things I enjoy so much about fried pork chops is the flavor. Pork is naturally a bit salty, so the seasonings we add just simply enhances the flavors.
Since pork chops are naturally salty, be easy on the salty seasonings. Lean into your powders; such as garlic powder, onion powder, paprika, etc. These add an abundance of flavor to any recipe.
It is important to season the pork chops with a bit of salt though. So an all purpose seasoned salt is a great addition.
Just remember to add lightly instead of liberally here! Black pepper is also an amazing enhancement for the flavor of fried pork chops.
If you're looking for a boneless pork chop recipe, check out these Honey Garlic Baked Pork Chops!
How to fry the pork chops:
Once the pork chops are cleaned, it is time to season. Add all of your pork chops to a bowl or dish, and add all of the seasonings. Massage the seasonings into the chops very well.
After they are well seasoned, it is time for the breading. Adding baking powder to the flour helps create a perfectly crisp breading. Add the dry mix to a shallow bowl or pan.
Place the pork chops into the seasoned flour mixture one-by-one. Be sure to press the flour into the pork chops by patting and pushing it down with your hands. Place the breaded chops onto a cooling rack or piece of parchment paper so that the flour can set in.
We like our pork chops to be fried a bit on the harder side, so we fry them in the pan over medium-high heat for about 7-10 minutes per side. Pork chops cook very fast, so it is easy to overcook them.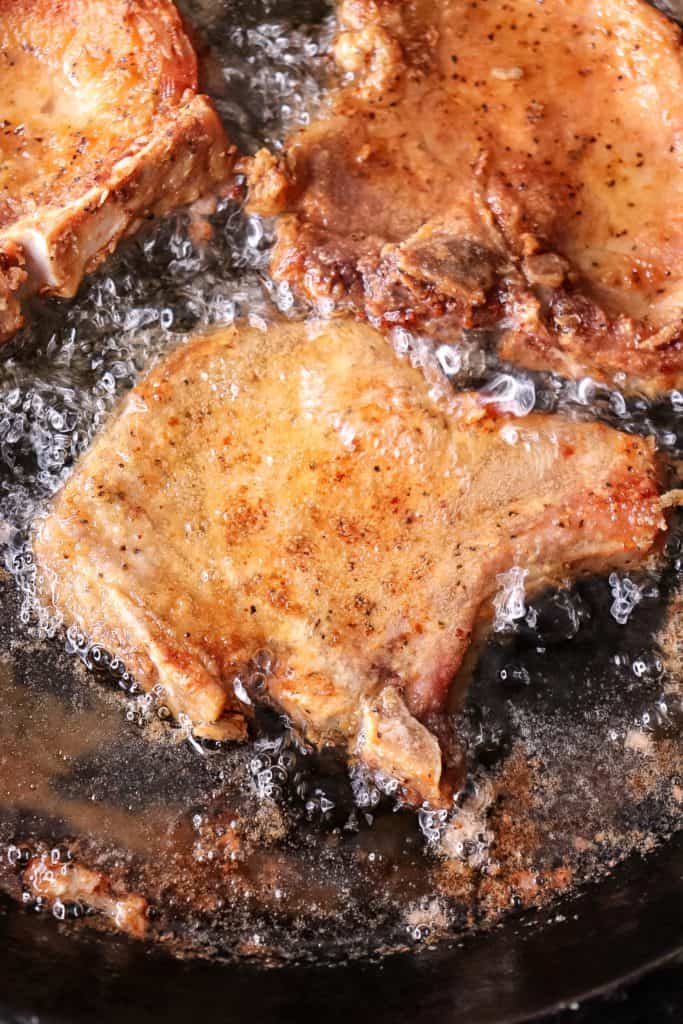 After the pork chops are golden brown on both sides (including the sides of the pork chops), and all of the pink juices have disappeared, remove them from the oil and set on a paper towel-lined plate to drain excess oils.
The pork chops will continue to cook a bit after they are removed from the oil. Now it is time to serve them with your favorite side.
How to store and reheat chops
If you happen to have any leftover pork chops, rest assured that they reheat very well. Let the remaining pork chops cool down completely. Then place them in a large Ziploc bag, or an airtight container.
After the chops are placed in their container or bag, put them in the fridge for up to three days.
When you are ready to reheat them, place them in the a 350 degree oven or air fryer and reheat for 7-10 minutes. You can also place them in the microwave for 1-2 minutes, but this will yield a more chewy pork chop.
Variations for the southern fried pork chops:
If you want them to be a bit spicy, add some cayenne pepper into your breading. Just about one teaspoon should do the trick.
You can also double batter the pork chops if you like a thicker breading. Simply add them to an egg mixture, then flour, then egg, and panko breadcrumbs.
Boneless pork chops can be fried using this exact same method. Scrambling up some eggs in a bowl for a wet batter dredge is a great method to get a thicker breading on the chops.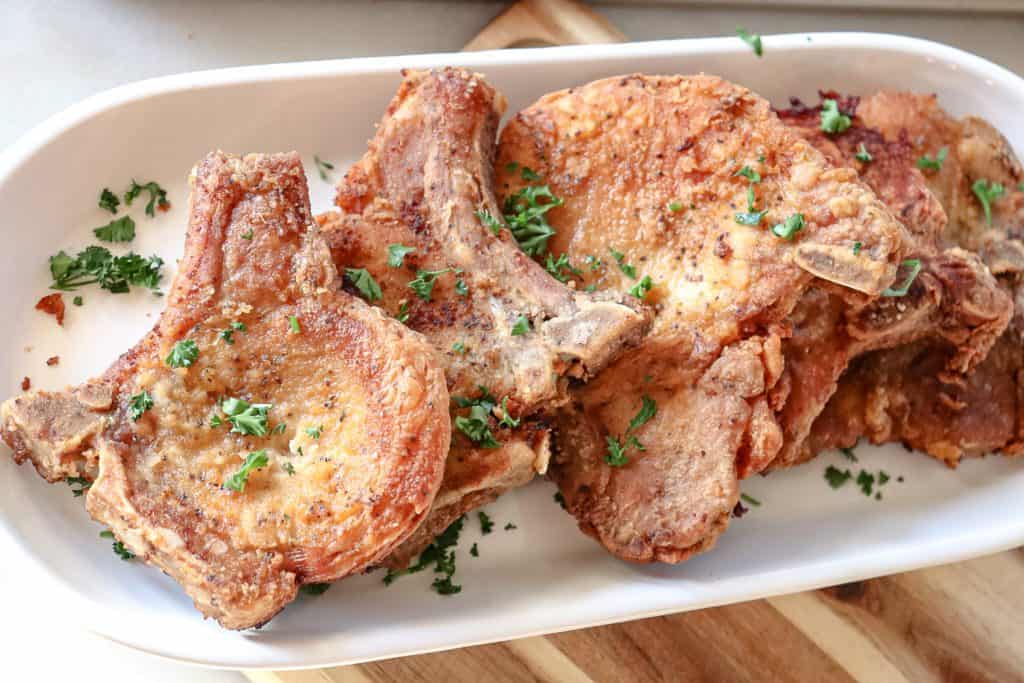 Why are pork chops considered soul food?
Soul food and "fried" go hand-in-hand! It is all about the breading and the crispy exterior that is created after frying. Fried chicken and fried pork chops are stars of the south when it comes to soul food.
Some of the best chops are smothered in a homemade gravy, or simply grilled on the barbeque pit. You can be sure to find pork chops on almost any menu in a black household!
📖 Recipe
Yield:

6 people
Perfectly Seasoned Fried Pork Chops
These perfectly seasoned fried pork chops are lightly breaded and fried to golden crisp perfection. Southern-fried, just like grandma used to make!
Ingredients
6 Pork chops, center cut
2 cups Flour
2 teaspoon Baking powder
2 cups Vegetable oil
Seasonings (to taste)
1 tablespoon Black pepper
2 tablespoons Seasoning salt
½ tablespoon Garlic powder
½ tablesppon Onion powder
1 teaspoon Paprika
Instructions
Add the vegetable oil to skillet, cast iron is recommended. Heat the oil up over medium on the stove.
Place the clean pork chops into a large bowl, and add all of the seasonings. Rub the seasonings into the pork chops evenly, and thoroughly.
Place the flour in a shallow dish; baking dish or a large platter. Season the flour with a light sprinkle of the same exact seasonings from the pork chops.
Begin to bread the pork chops by adding them directly into the flour mixture one at a time. Coat each side with the seasoned flour, and press the flour into the pork chops.
Remove the pork chops from the flour and place on a piece of parchment paper, or a cooling rack so that the flour can set. Repeat this process until each pork chop is thoroughly coated in the seasoned flour.
Once each pork chop is coated, carefully add them, one at a time, into the hot vegetable oil. Place them in one single layer, careful not to overcrowd the skillet.
Fry the pork chops for about 5 minutes, and flip to the other side. Then fry an additional 5-7 minutes for a "hard fry." Adjust to your level of doneness.
Remove the pork chops from the oil and place them on a clean bed of paper towels, or a cooling rack so that all of the excess oil can drain.
Repeat this process until all of the pork chops are fried.
Notes
Adjust cooking time according to desired wellness  
Nutrition Information:
Yield:
6
Serving Size:
6 people
Amount Per Serving:
Calories:

732
Total Fat:

41g
Saturated Fat:

9g
Trans Fat:

2g
Unsaturated Fat:

53g
Cholesterol:

12mg
Sodium:

271mg
Carbohydrates:

14g
Fiber:

2g
Sugar:

0g
Protein:

45g
This website provides approximate nutrition information as a courtesy and for convenience only.