Easy leftover pork fried rice is made with pre-cooked rice, and leftover pork. It is quick, delicious, and tastes way better than takeout!
You will love this Kimchi Fried Rice and these Homemade Lumpia (Filipino Egg Rolls). Be sure to check them out while you're here!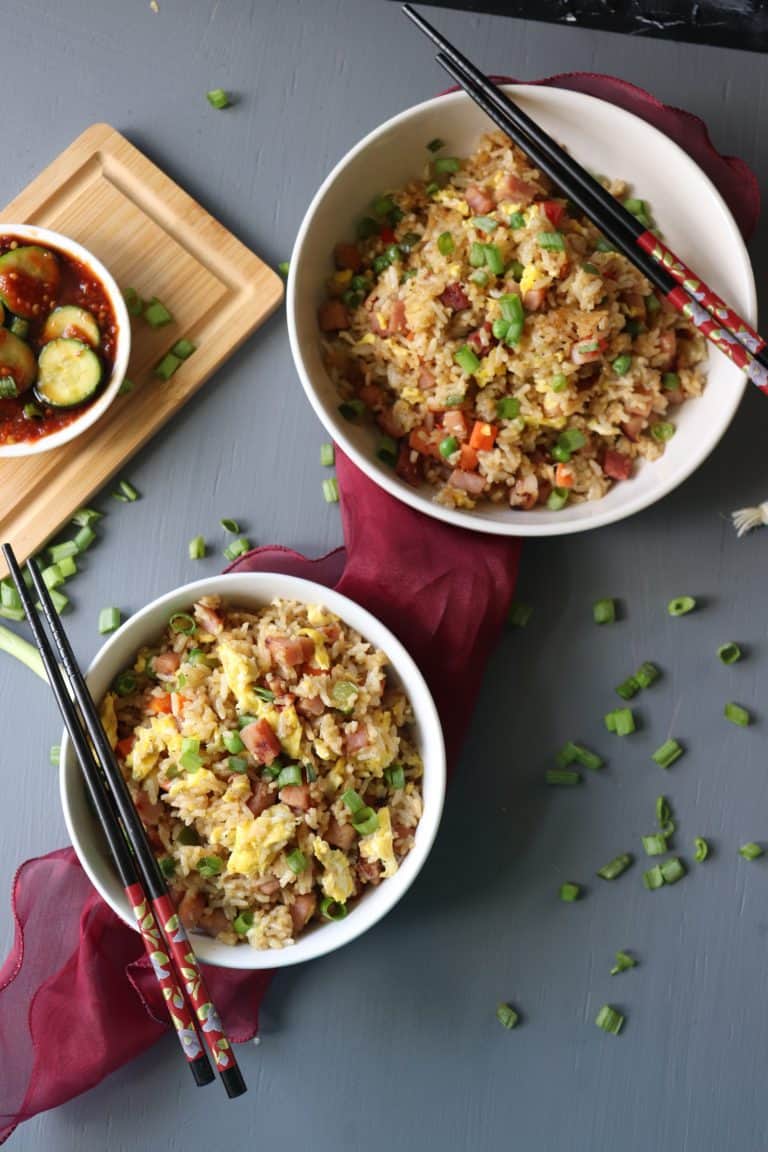 One thing you can bet on, is me visiting the mall food court and hitting up the Asian spot! There's just something so magical about the food court Asian food; especially the fried rice.
Even more, when you order takeout, and that lovely white container full of fried rice is delivered along side the entrée! Yes indeed! So it was only right that I mastered my fried rice at home.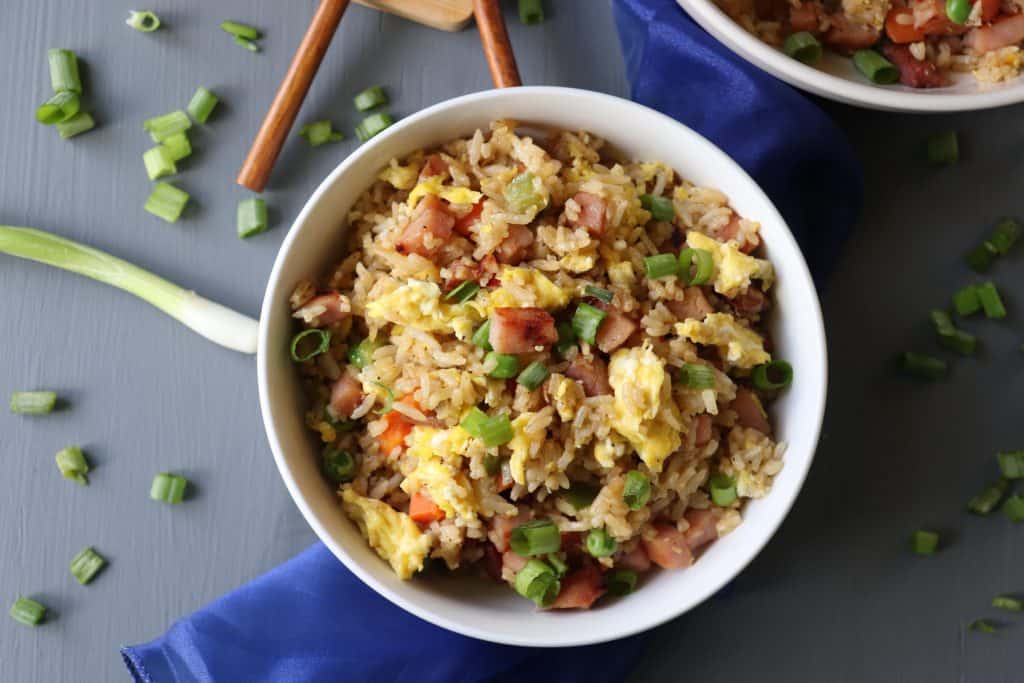 What kind of rice is used for fried rice?
Long grain white rice works best for this recipe. Medium grain can also be used. Brown rice can also be substituted for white rice if you desire.
Another great substitution, especially for my friends following the Keto diet, cauliflower rice! Follow the recipe to the "T," substituting cauliflower rice for regular.
A few pointers regarding fried rice:
It is imperative that pre-cooked, cold rice is used. The rice should be cooked a few hours, to a few days ahead of time. Place the rice in the refrigerator until you're ready to use it.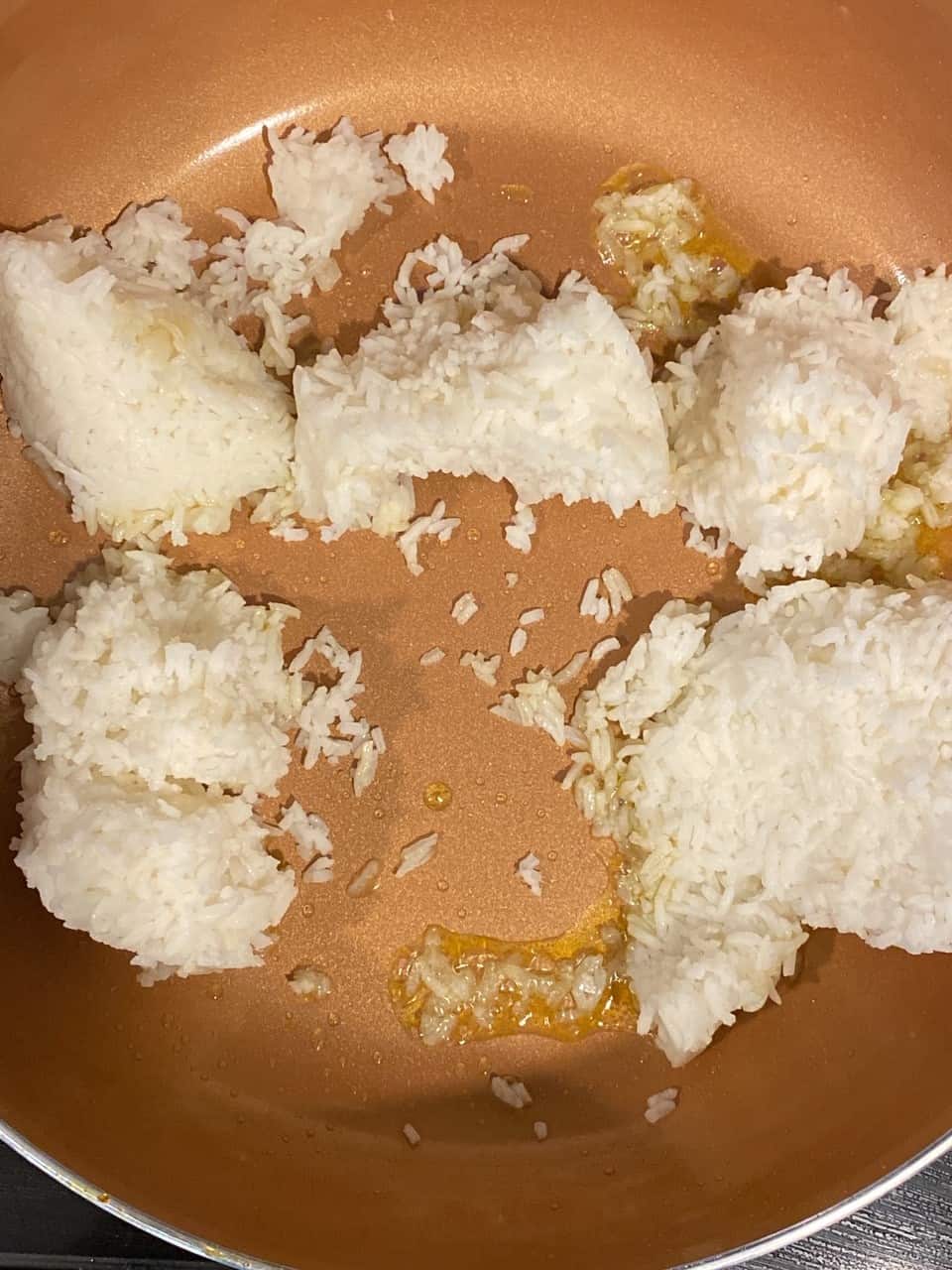 Warm rice cannot be used, because it will turn to mush! Once the cold rice hits the hot oil, it creates an amazing fried texture.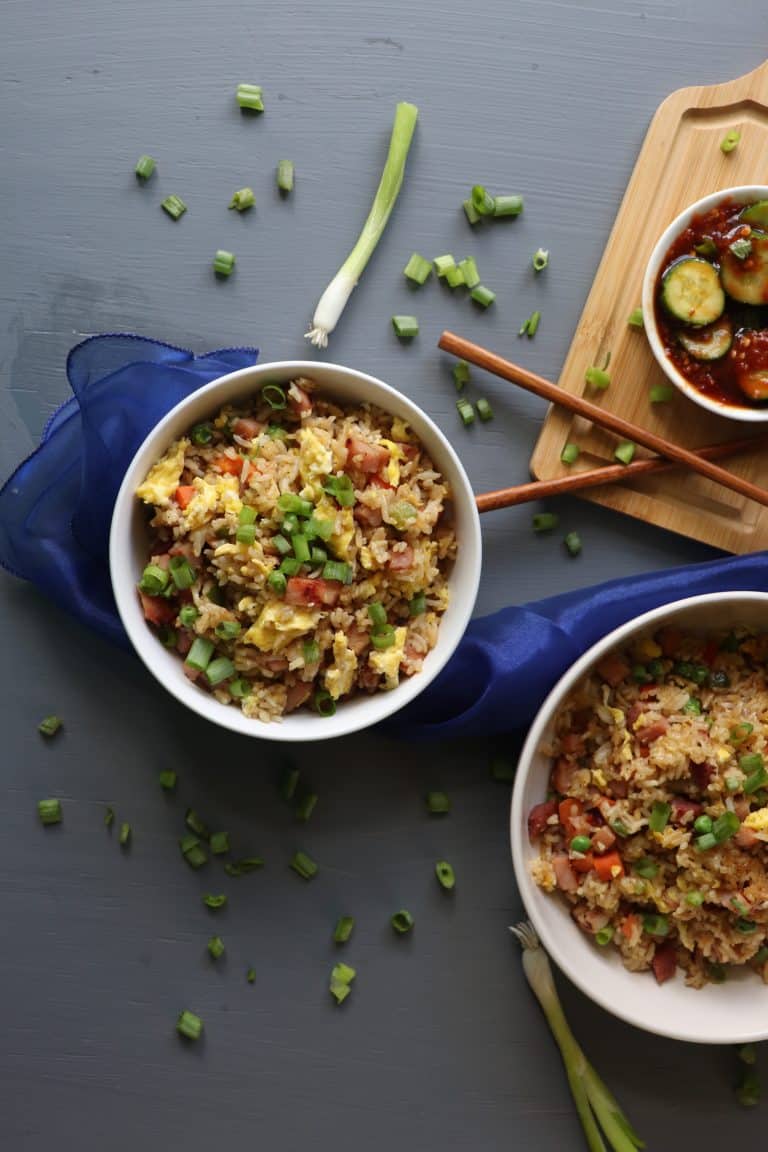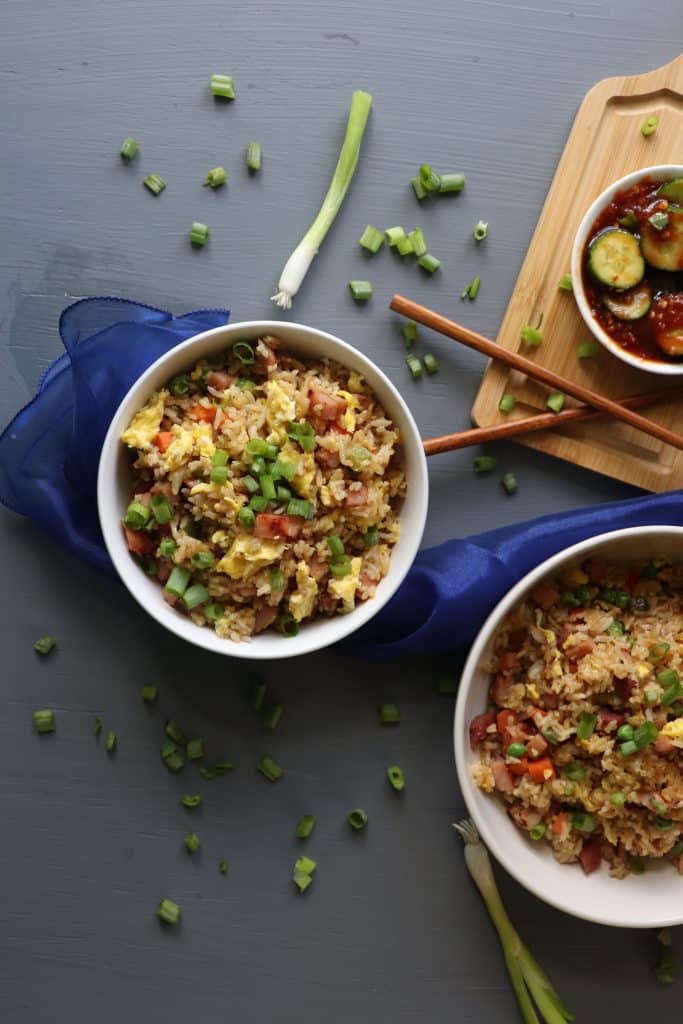 What kind of oil is fried rice made with?
Typically, fried rice is made with a canola, or vegetable oil. In addition to that, add a bit of sesame oil for the true Asian flavors that you get from restaurant style fried rice.
Can I substitute pork for something else?
Absolutely! Add cooked chicken instead of pork. Or omit the protein altogether and just make vegetable fried rice. Beef is another great addition. A lot of people make fried rice with seafood; shrimp or crab.
Leftover ham is PERFECT for this recipe. After the holiday's we most always have leftovers. So dice it up into bite size pieces, and add it to the fried rice!
Whichever protein you use, be sure to dice it into bite size pieces. Unless it's shrimp, of course those will remain whole.
Tofu would work well for this recipe also. Simply fry it up as you normally would, and follow the remaining instructions to finish the rice.
Pro tip for adding eggs to the fried rice!
Scramble the eggs in a bowl off to the side. After frying the rice, veggies, and pork and mixing it all together, push the rice mixture to the side of the pan. This will leave half of the pan empty.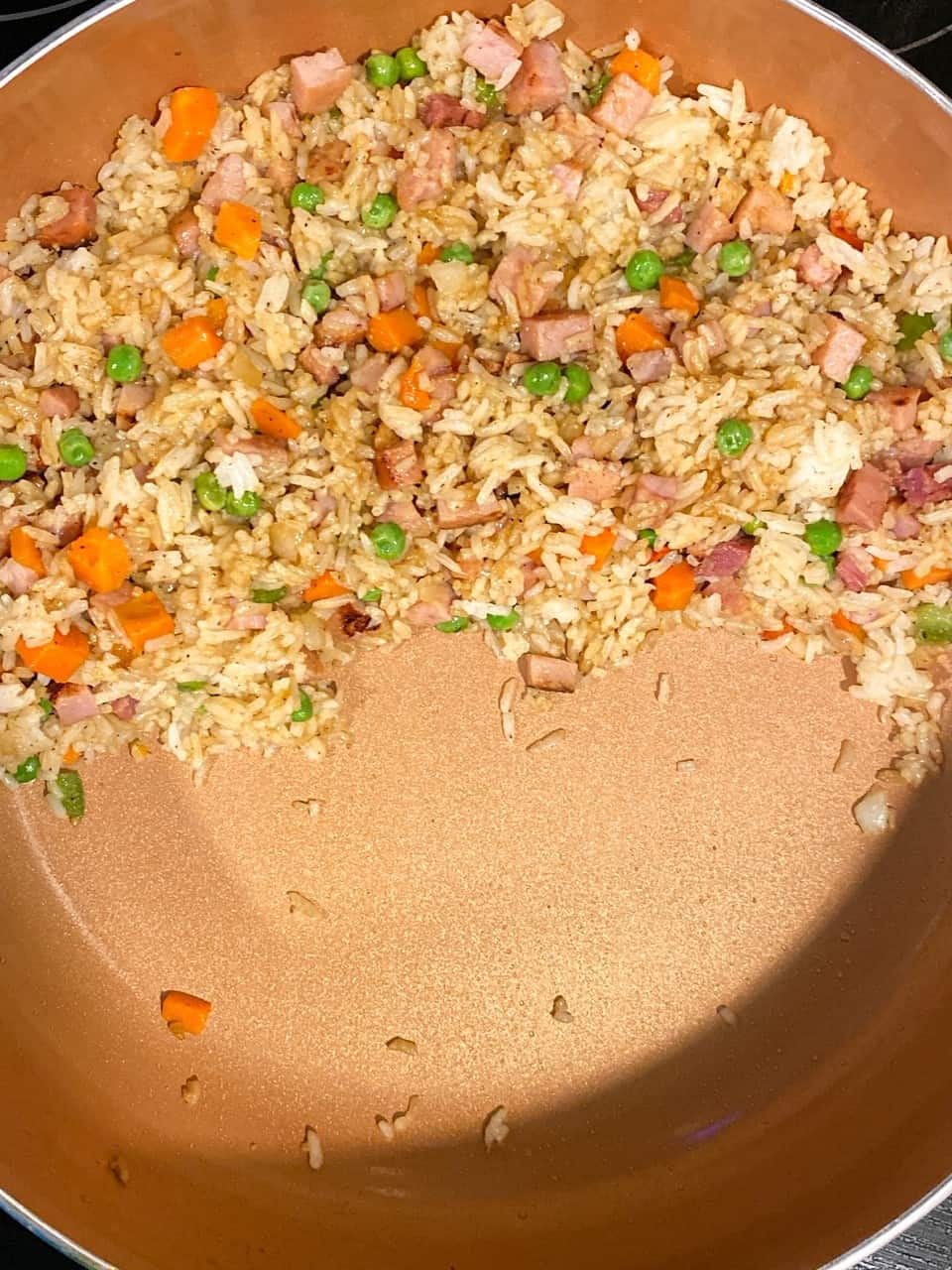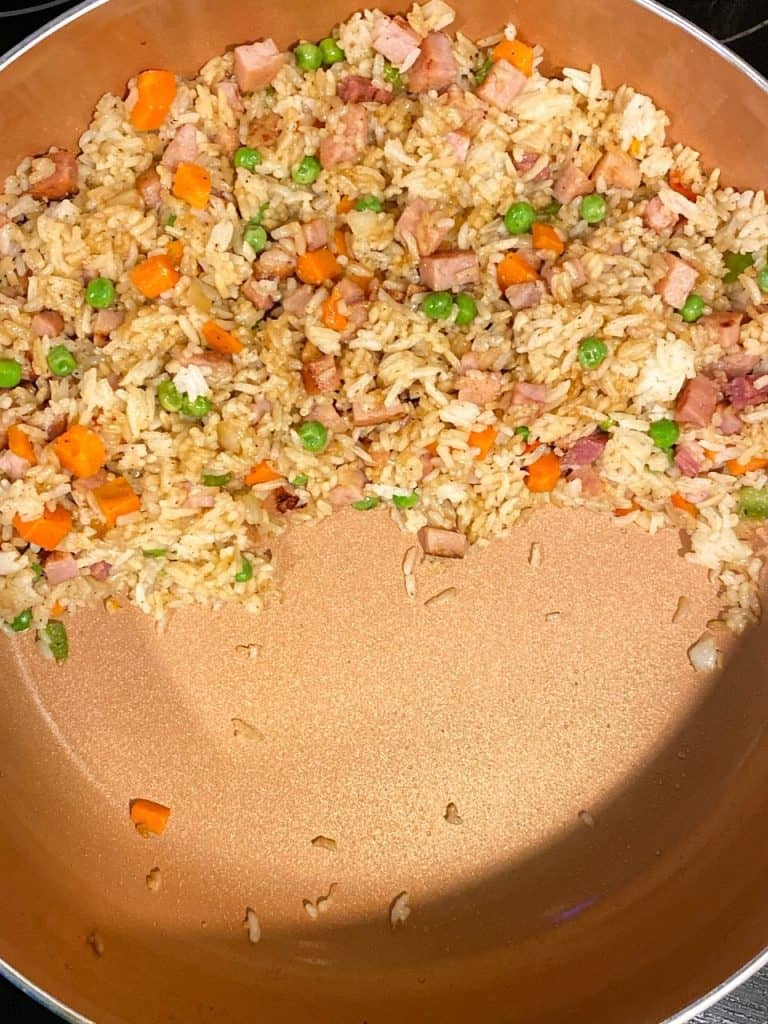 Spray the pan with a non-stick cooking spray. Pour the eggs into the empty side of the pan. Stir them continuously until they are cooked through.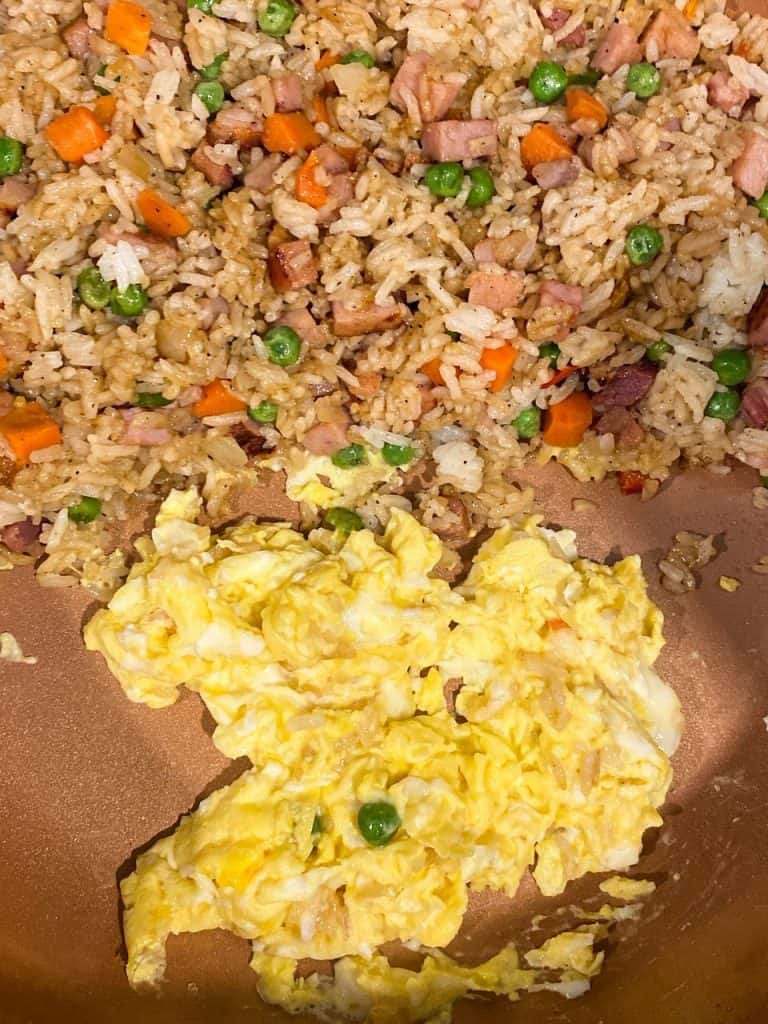 Once the eggs are cooked all the way, mix them in with the rice and stir until combined. Do not be shy with the soy sauce, add more if needed.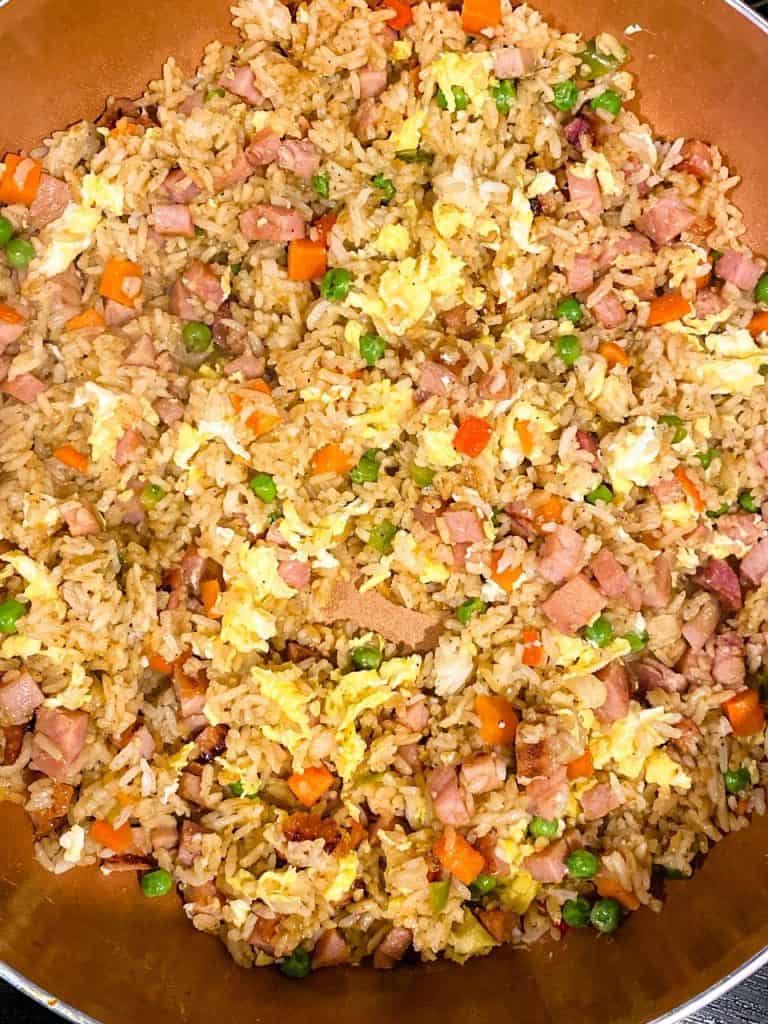 What creates the authentic Asian flavors?
First and foremost, the sesame oil and soy sauce offer major depths of flavor for this rice. Next, the addition of the protein (pork for this recipe), add a tremendous amount of flavor.
If you are watching sodium intake, use a low sodium soy sauce, but this ingredient is absolutely necessary!
Yield: 6 servings
Easy Leftover Pork Fried Rice
Easy leftover pork fried rice is made with pre-cooked rice, and leftover pork. It is quick, delicious, and tastes way better than takeout!
Ingredients
2 tablespoons Vegetable oil
3 cups Long grain rice, precooked
1 cup Frozen vegetables
1 cup Pork, precooked or leftover
½ cup Red bell pepper, chopped
2 whole Eggs
1 tablespoon Garlic powder
½ tablespoon Black pepper
1-2 tablespoon Soy sauce
1 teaspoon Sesame oil
Green onion, to garnish
Instructions
Cook frozen vegetable in the microwave for 2-3 minutes. Just enough to thaw them. Heat vegetable oil in a wok, or a large nonstick skillet over medium high heat.
Roughly dice the bell pepper, and the leftover pork. Make sure they are bite size pieces.
Once the oil is smoking, add the pork and the bell pepper and saute for 5 minutes. Stir it around often so that it does not burn.
Add the rice to the pan and begin stirring it around. Continue stirring the rice around so it does not burn. Cook for about 5 minutes.
If the vegetables have any water from nuking them in the microwave, be sure to drain all of the water. Add the vegetables into the pan and saute and stir for another 5 minutes.
Now add the seasonings, soy sauce, and sesame oil into the pan. Stir it around until it is thoroughly combined.
Push the rice to one side of the pan so that the other side is completely open. Crack both eggs into the open side of the pan and scramble them around with your spatula. Be careful not to mix the eggs into the rice until they are cooked through.
Once the eggs are completely cooked, mix them into the rice until it is all combined.
Garnish with green onion.
Notes
See post for additional notes for substitutions and cooking tips.
Recommended Products
As an Amazon Associate and member of other affiliate programs, I earn from qualifying purchases.
Nutrition Information:
Yield:
6
Serving Size:
1
Amount Per Serving:
Calories:

296
Total Fat:

12g
Saturated Fat:

3g
Trans Fat:

0g
Unsaturated Fat:

9g
Cholesterol:

95mg
Sodium:

350mg
Carbohydrates:

29g
Fiber:

2g
Sugar:

2g
Protein:

16g
This website provides approximate nutrition information as a courtesy and for convenience only.
Be sure to tag me on Instagram or Facebook when you make this recipe! I would love to see your creation, and give you a  shoutout!