Yuca that is boiled until tender, and then air-fried until golden and crispy. A great alternative to traditional potato French fries.
Another great side dish is this Cheesy Garlic Bread and these Pepperoni Potato Skins.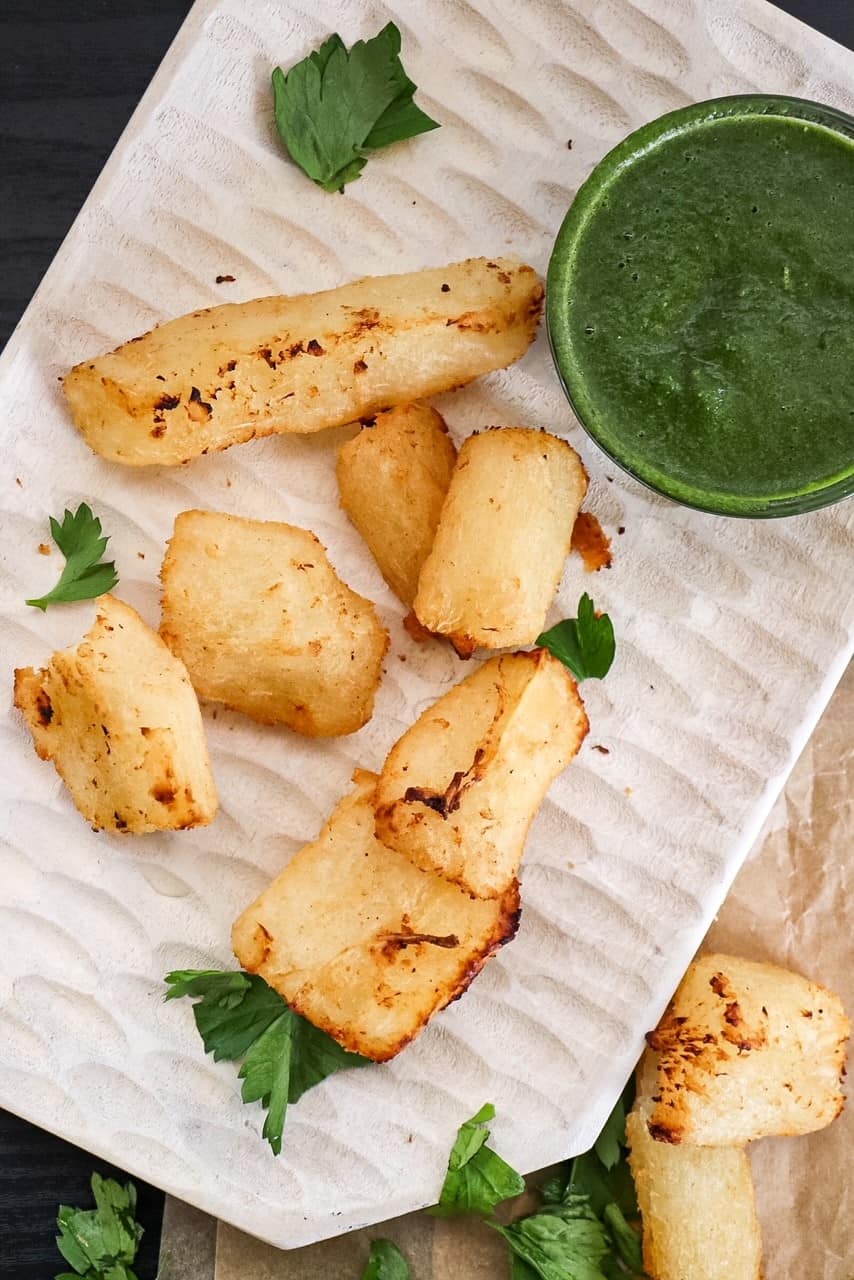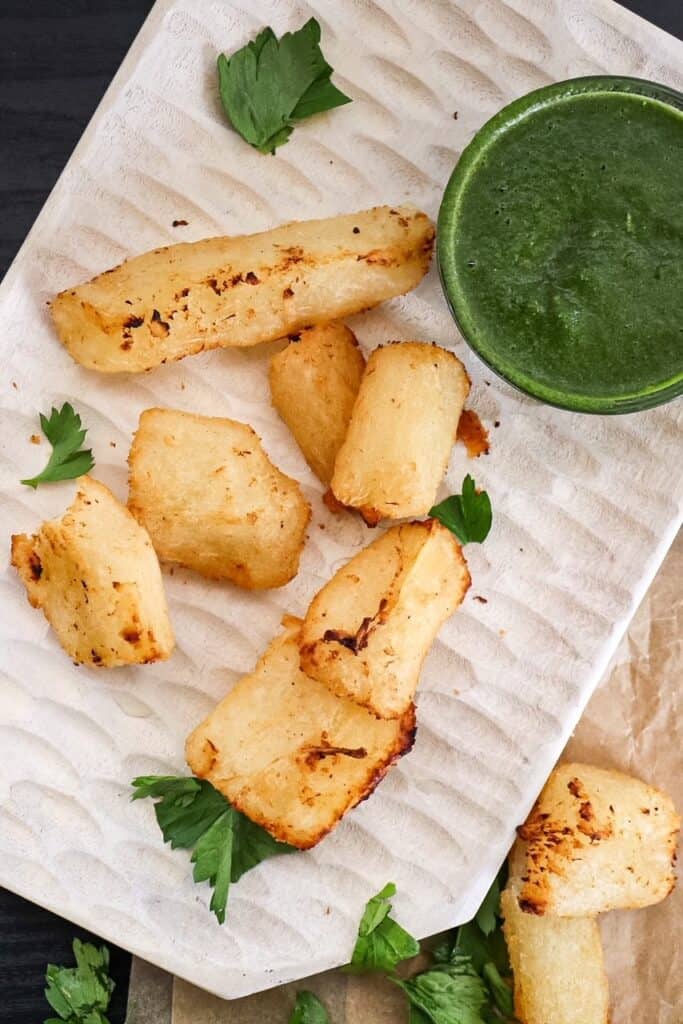 Now that we live in South Florida, we have been privy to so many different cuisines and food options. This fried yuca with mojo sauce has been one of my family's favorites so far. Cassava is the actual name of the vegetable. It has taken on many names, one of the most well known being yuca.
What is Yuca?
Yuca is a vegetable that is native to South America. It looks like a mix between a parsnip, and color of a potato. Most often, we find it served at Cuban restaurants. One of the easiest and tastiest ways to prepare it is to fry it. However, there are several different ways that it can be prepared.
About the Mojo Sauce:
Mojo sauce is an extremely strong, and flavorful dip or marinade. Once I tried it, I knew it had to be recreated! This is an adaptation from Plating + Pairings mojo recipe. You can compare it to a sort of chimichurri sauce. For the fried yuca, it is used as a dip.
For this mojo sauce, we used:
Garlic- this is the ingredient that stands out the most in the sauce
Parsley- helps with texture, and gives the sauce a beautiful green color
Cilantro- this provides a beautiful punch of flavor
Olive oil- helps emulsify and marry all of the ingredients
Orange juice- gives a beautiful acidic flavor to the sauce
Once you make the sauce, it can be stored in an airtight container in the refrigerator. Use the mojo sauce on steaks, chicken, or any other meat or vegetable that you like.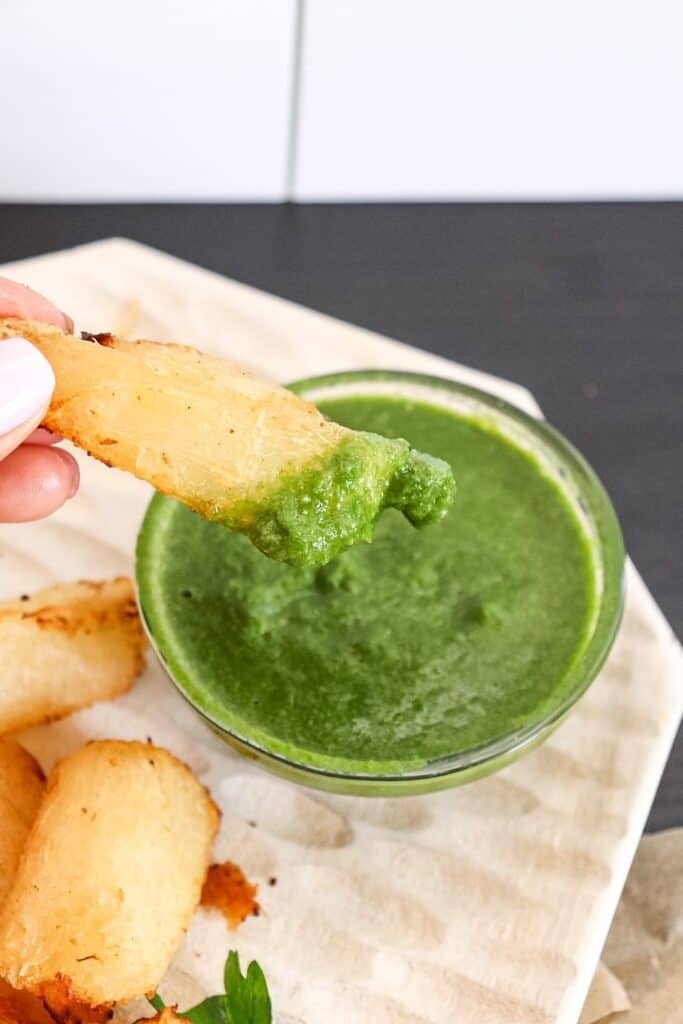 What does yuca taste like?
Yuca has a very mild flavor. With this cooking method, it takes on the texture of a potato after it is fried. That is why it is a great alternative to traditional French fries.
If you do not have an air fryer:
If you do not have an air fryer, simply fry the Yuca in oil. Heat the oil on a stove in a shallow skillet, and fry the yuca until it is golden brown. Once it is done frying, remove it and place it on a bed of paper towels to help absorb excess oil.
📖 Recipe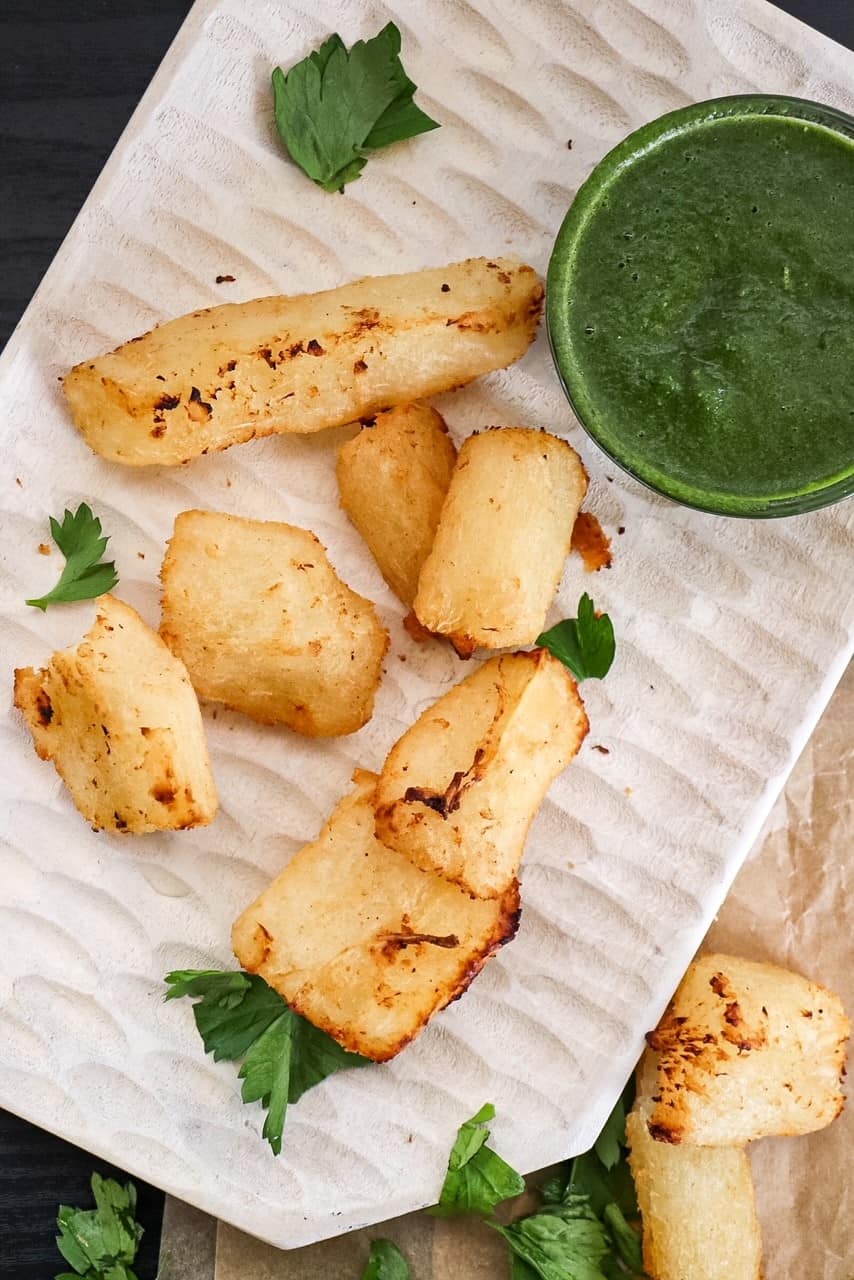 Yield:

6 servings
Fried Yuca with Mojo Sauce- made in the air fryer
Yuca that is boiled until tender, and then air fried until golden and crispy. A great alternative to traditional potato french fries.
Ingredients
2 large cassava, also known as yuca
6-8 cups of Water, to boil
1 tablespoon Kosher salt, to season
Mojo sauce, for dipping
Olive oil to coat
Instructions
In a large stockpot, bring water to a boil
Peel the cassava (yuca) until all of the skin is removed and only the white flesh remains.
Cut the yuca in half so that they fit into the stockpot
Boil the yuca for about 20 minutes, maybe longer if needed. Yuca should be very tender.
Once tender, remove from the boiling water and set aside to cool and dry out.
Heat the air fryer up while you prepare the yuca.
After the Yuca cools down, cut into wedges, or strips. Remove the tough fibers that run down the middle of the yuca and discard them.
Coat the yuca with the olive oil. Place it in the air fryer in a single layer. Place on air-fry mode for 7 minutes, turn it over and fry an additional 5-7 minutes, or until golden brown.
Remove from the air fryer and season with salt. Serve with mojo sauce.
Notes
Yuca can be stored in the refrigerator for 2-3 days after boiling if you do not wish to fry it right away.
If you do not have an air fryer, yuca can be fried in oil on the stove.
Nutrition Information:
Yield:
6
Serving Size:
1
Amount Per Serving:
Calories:

191
Total Fat:

3g
Saturated Fat:

0g
Trans Fat:

0g
Unsaturated Fat:

3g
Cholesterol:

0mg
Sodium:

1180mg
Carbohydrates:

40g
Fiber:

2g
Sugar:

2g
Protein:

1g
This website provides approximate nutrition information as a courtesy and for convenience only.