This is such an easy salmon croquettes recipe, and they are absolutely delicious to eat! With a few simple ingredients, you will have this southern classic on the table in no time.
You should definitely check out this Creamy Blackened Salmon Pasta and this Delicious Smoked Salmon Dip while you are here!
Salmon croquettes are a true southern classic! We have been enjoying these easy and delicious salmon patties for decades. Whether for breakfast, lunch, or a light dinner. They are truly a treat!
Jump to: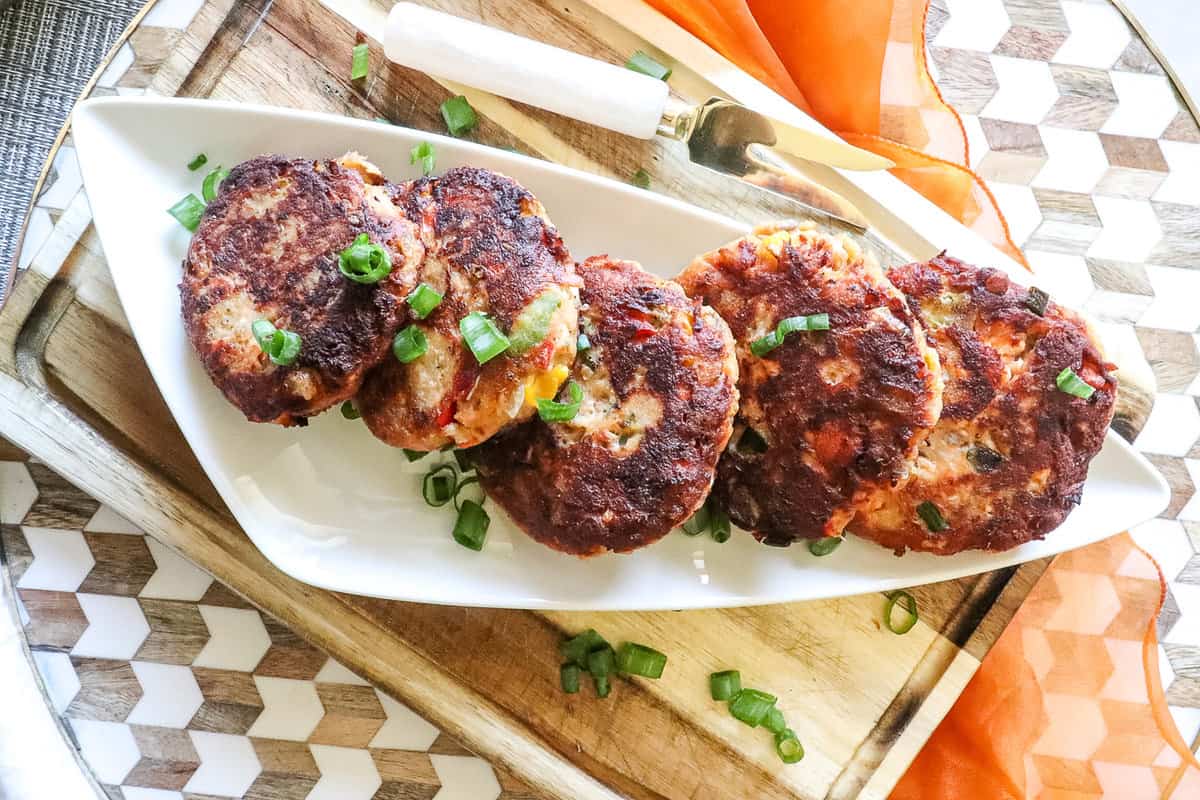 What is a salmon croquette?
A salmon croquette is a salmon patty that is formed with a few simple ingredients. You can make them with either canned or fresh salmon. The old school, southern classic croquettes are made using can or package salmon.
What is in a salmon croquette?
Most croquettes call for a blend of red peppers, green peppers, and onions. The typical binder that you will find is egg and flour. Of course there will be plenty of seasoning as well!
How to make them:
You want to start by adding your salmon to a bowl. Then you will dice up your peppers and onions into small pieces. Add the them to the bowl with the salmon.
Now you can add one whole egg, and your flour. Sprinkle in your seasonings, and mix this up very well. Using your hands, you will form small patties. Keep them as round and juicy as possible!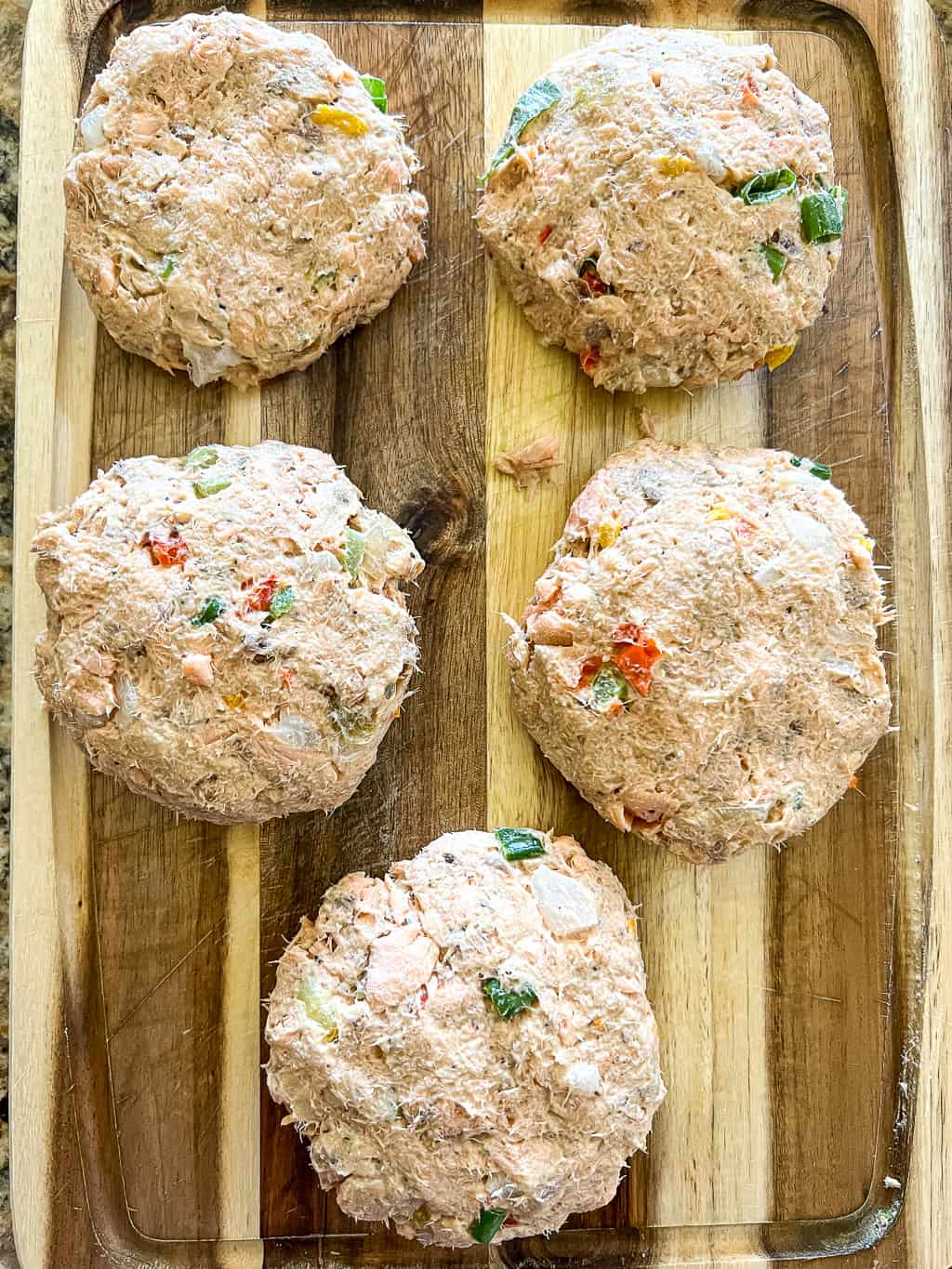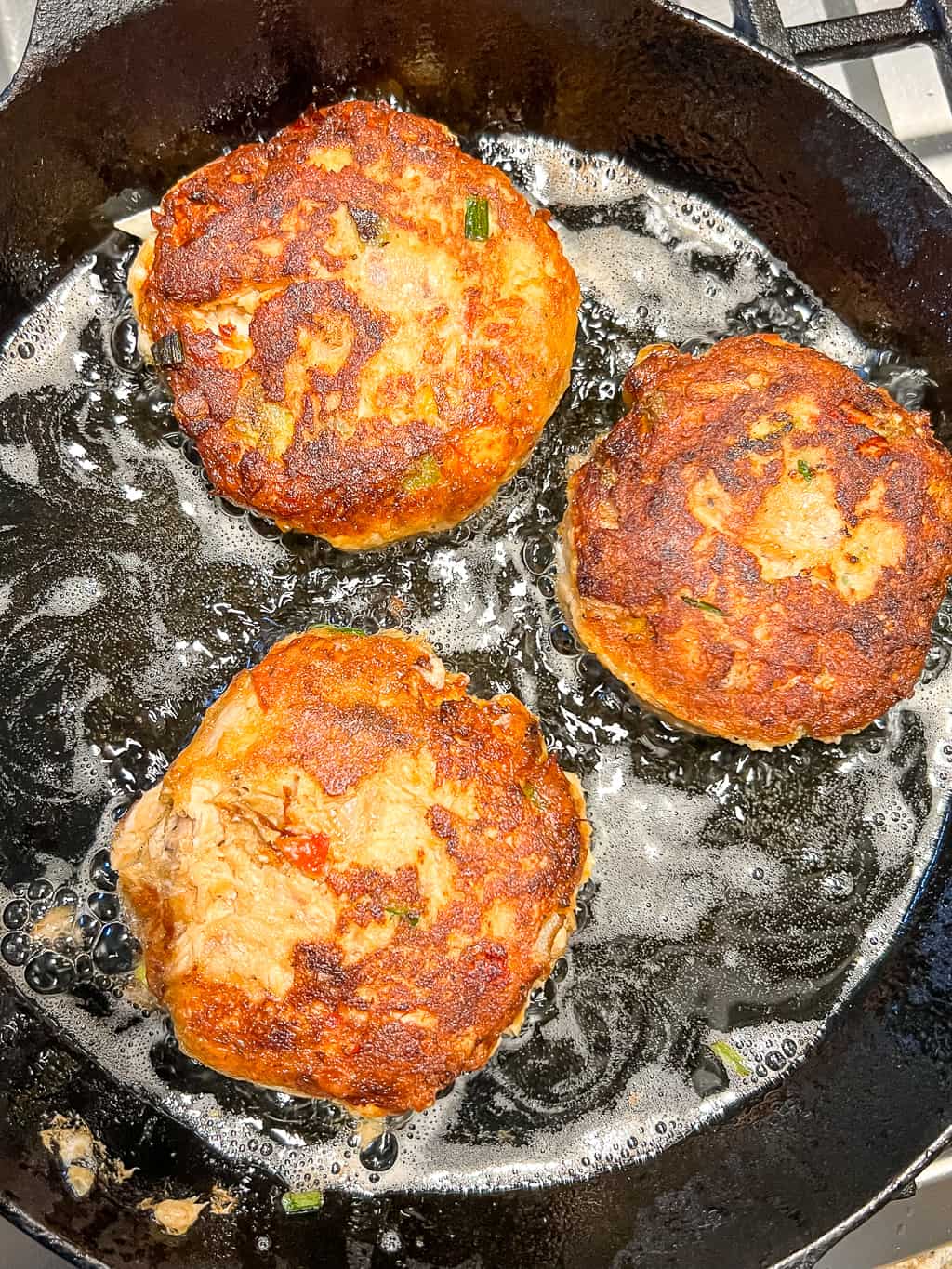 How to cook croquettes:
You want to start by heating some vegetable oil in a cast iron skillet, or any other shallow skillet. Place just enough oil to cover the croquettes at least half way.
Then you will gently place the salmon croquettes directly into the hot oil. Fry them on each side until they are golden brown; fried about five minutes per side.
Other ways to cook croquettes:
These can be cooked in the air fryer instead of frying them in oil. Simply form them into the patties and place them into a pre-greased or non-stick air fryer on the air fry or baker mode at 375°.
Spritz the outside with a canola or olive oil spray. Cook them for 5-7 minutes, check after 5 minutes to ensure they do not need to be flipped. After they are golden brown on one side, flip them over and cook an additional 5 minutes.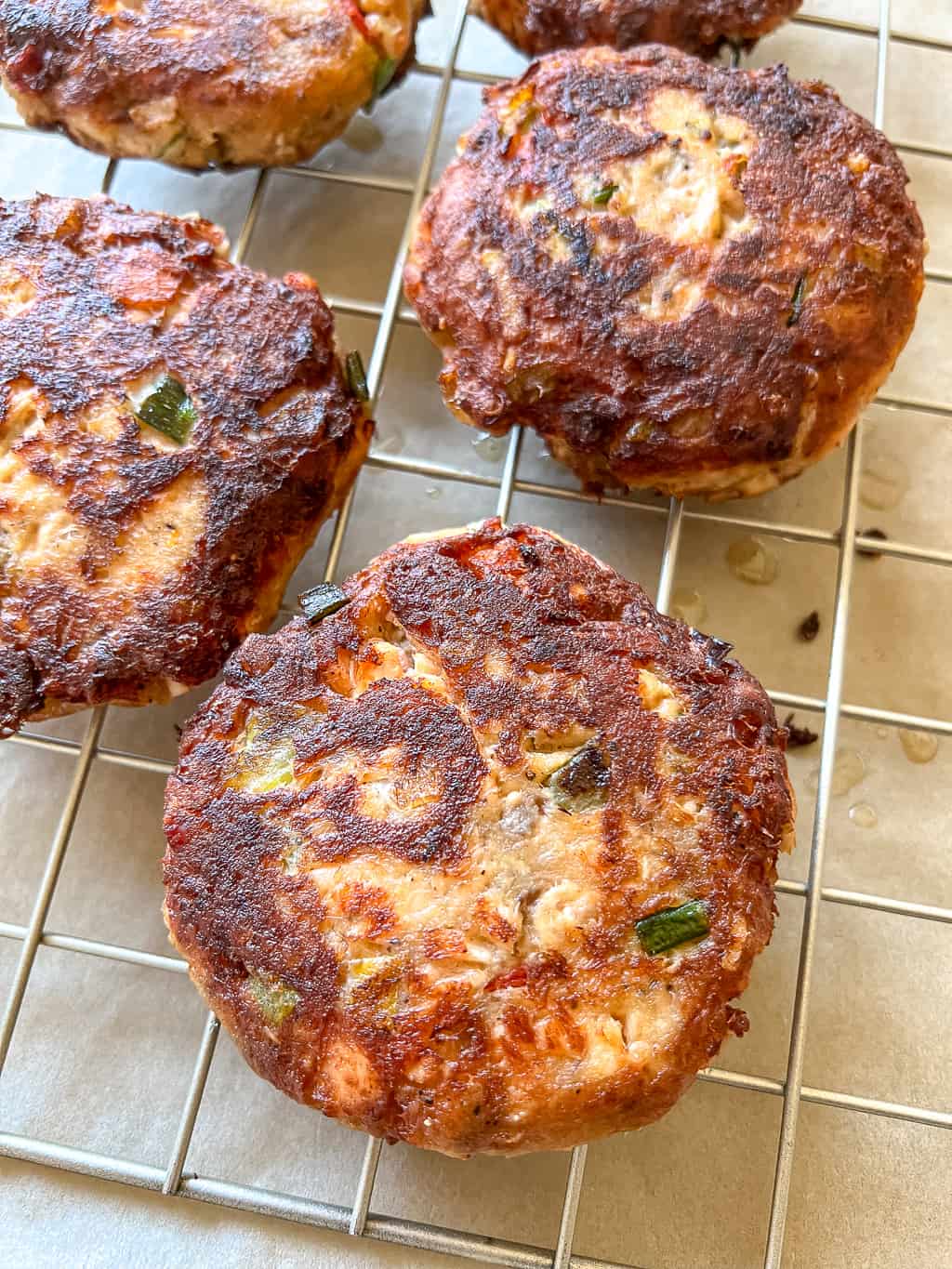 Can I use can or packaged salmon to make croquettes?
Absolutely! The old school and southern classic version of salmon croquettes are made with package or canned salmon. Just drain any excess juices from the salmon, and prepare them according to the instructions below.
Some southern salmon croquettes recipes may also call for cornmeal along with the flour. The cornmeal offers a nice crunch when the salmon patty's are fried up. So that ingredient is completely optional!
What to eat with salmon croquettes?
A lot of people enjoy this recipe for salmon croquettes with a piping hot, buttery bowl of Creamy Grits for breakfast. You can also eat them for lunch with a big salad, and maybe some crackers.
For a well rounded and complete dinner, make the salmon croquettes as your main entrée alongside some vegetables. Add some delicious cornbread or garlic bread as well!
📖 Recipe
Yield:

5 Salmon Croquettes
Easy Salmon Croquettes Recipe
This recipe for salmon croquettes is super simple to make, and absolutely delicious to eat! With a few simple ingredients, you will have this southern classic on the table in no time.
Ingredients
1-2 cups Vegetable oil, for frying
2 cups Salmon (pre-cooked or packaged)
1 large Egg
1 cup All purpose flour (reserve ½ cup if needed)
¼ cup Red bell pepper, diced
¼ cup Green bell pepper, diced
¼ cup Onion, diced
Seasoning
½ tablespoon Seasoned salt
2 teaspoons Garlic powder
2 teaspoons Black pepper
Instructions
Pour just enough oil into a skillet to cover the salmon croquettes at least half way when they are frying. Heat the vegetable oil over medium heat.
While the oil is heating up, place the precooked or packaged salmon in a large bowl. Crack the egg and add it to the salmon.
Sprinkle the flour directly into the salmon mixture. Next add the bell peppers and onions.
Add the seasoned salt, garlic powder, and black pepper directly into the bowl.
Use a spoon and start to mix. Break up the salmon a bit as you mix, if needed. Continue mixing until the flour is fully incorporated into the salmon.
The salmon mixture should be easy to roll and form into a patty, if not- continue to add flour until you get the right texture (no more than an additional ½ cup).
Grab about ¼ cup of the salmon mixture and roll it into a ball with your hands. Then gently smash it down to form a thick patty.
Set them aside and continue this process until all of the salmon has been used.
Once all of the patties are formed, gently place them, one at a time, directly into the hot oil. Try not to overcrowd the pan.
Fry them for 5 minutes, or until a nice golden brown crust begins to form. Then use a spatula to flip them over and fry on the other side for an additional 5 minutes.
Once they are golden brown on all sides, remove them from the oil and place them on a cooling rack (or bed of paper towels), to drain the excess grease.
Eat right away!
Nutrition Information:
Yield:
5
Serving Size:
1
Amount Per Serving:
Calories:

579
Total Fat:

70g
Saturated Fat:

5g
Trans Fat:

0g
Unsaturated Fat:

20g
Cholesterol:

44mg
Sodium:

128mg
Carbohydrates:

10g
Fiber:

1g
Sugar:

1g
Protein:

24g
This website provides approximate nutrition information as a courtesy and for convenience only.