Scalloped potatoes smothered in a homemade cheese sauce and loaded with ranch seasoning and bacon crumbles. Delicious side dish for any meal or occasion.
For more delicious side dish ideas check out this Southern Macaroni and Cheese, and these Tried and True Southern Greens.
Cheesy bacon ranch scalloped potatoes were on the menu for last night's dinner. I do not know about you, but I have to wake up every single morning with "what's for dinner" on my mind. Admittedly, it's annoying! Some say that's a part of adulting though... lol!
On a serious note though, these cheesy bacon ranch scalloped potatoes came about because we wanted something cheesy. Macaroni and cheese is always a great answer, but that gets played out after so much of it.
One thing we always keep in our pantry, are potatoes. They are such a versatile vegetable, everyone should have a bag at all times. A few Christmas' ago, I was gifted a veggie bullet- and it is my absolute FAVORITE kitchen gadget! This machine can spiralize, slice, and shred just about any and everything. It is a time saver for sure!
Let's get to these cheesy bacon ranch scalloped potatoes!
First things first- get those potatoes sliced thinly. Use a sharp knife, or a mandoline slicer if you own one. Next, begin on the cheese sauce. Melt the butter in a medium size saucepan, over medium heat. Also add the cubed Velveeta cheese to the pan.
NEXT:
Slowly pour the half and half  into the cheese mixture. Stir vigorously to get it all combined, and smooth. After it is an almost smooth sauce, start to add the chicken broth. The sauce may be slightly thick, so add more chicken broth if needed. Once the sauce is smooth, remove it from the heat and set aside.
Now it's time for the cheese!
Shredding the cheese by hand is highly recommended. Store bought, pre-shredded cheese is easy and convenient, but it does not taste the same!
How to assemble the cheesy bacon ranch scalloped potatoes:
Place the potatoes in a large bowl and season liberally with the packet of ranch seasoning. For more flavor, add some seasoning salt, garlic and onion powder, and black pepper. Mix the potatoes up good so they are fully coated with the seasoning.
Spray non-stick cooking spray in a baking dish and begin layering the potatoes. Place an even layer of potatoes, then some bacon crumbles, and some of the cheese sauce. Continue with those layers until all of the cheese sauce and potatoes have been used. On the top layer, add the remaining shredded cheddar cheese and bacon crumbles.
Cover the dish with aluminum foil and bake for about 30-45 minutes in the oven at 375 degrees. Cooking times may vary depending on oven settings. Scalloped potatoes are done when they are fork tender.
After the potatoes are fork tender, remove the foil from the baking dish. Place the oven on broil, and cook the potatoes for 3-5 minutes. Keep a close eye on them so that they do not burn. A golden, cheesy crust is the goal here!
Remove the potatoes from the oven and allow them to sit for seven minutes to cool down, and settle. Serve with your favorite entree- such as these Lemon Pepper Honey Chicken Wings, or these Perfectly Seasoned Fried Pork Chops.
Yield: 6 Servings
Cheesy Bacon Ranch Scalloped Potatoes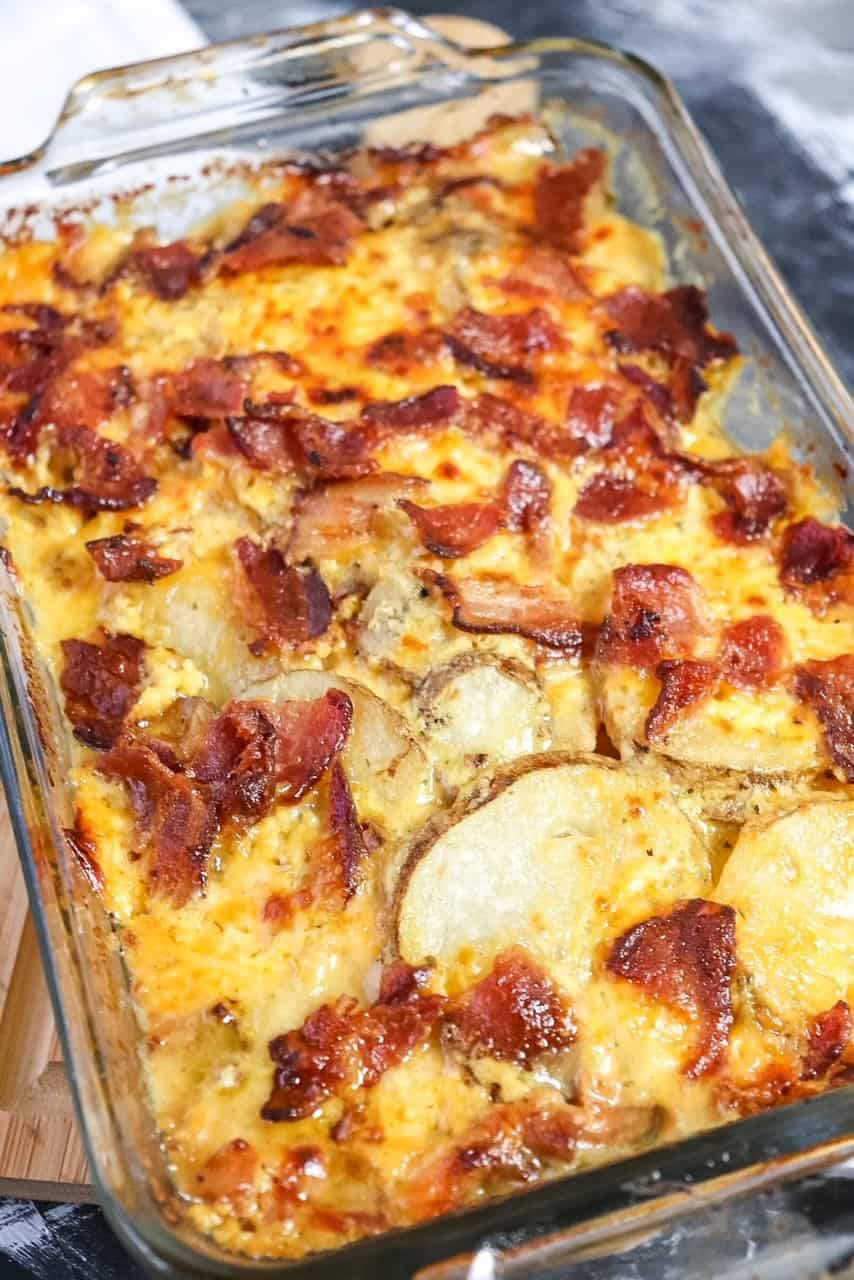 Scalloped potatoes smothered in a homemade cheese sauce and loaded with ranch seasoning and bacon crumbles. Delicious side dish for any meal or occasion.
Ingredients
4 medium Potatoes, sliced thin
2 tablespoons Butter
1 cup Velveeta cheese, cubed to melt into milk
1 cup Half and half, heavy cream or whole milk can substitute
1 cup Chicken broth, or vegetable broth
3 cups Shredded cheddar cheese, reserve 1 cup to sprinkle on top
1 cup Bacon, crumbled
Seasoning (to taste)
1 packet Ranch seasoning mix
½ tablespoon Seasoning salt
1 teaspoon Black pepper
1 teaspoon Garlic powder
1 teaspoon Onion powder
Instructions
Preheat oven to 375 degrees.
Using a mandolin or a knife, cut each potato into thin slices, about a quarter inch thick.
In a large bowl, add the potatoes and all of the seasoning. Stir them around to ensure each piece is coated evenly with the seasoning. Set this aside.
Melt butter in a medium size sauce pan. Add the cubed Velveeta cheese and begin to let it melt.
Slowly add half and half to the cheese, stirring vigorously to get a smooth mixture. Sauce will begin to thicken. Start to add in chicken (or vegetable) broth and continue to stir until fully combined and smooth.
Once sauce is creamy and not too thick, remove the cheese sauce from the heat and set it aside.
Spray a 9x13 baking dish with non-stick cooking spray. Begin layering the potatoes in the dish. Create one even layer of potatoes, add about ½ of the cheese sauce, then sprinkle with shredded cheddar cheese, then bacon bits.
Continue layering until all of the potatoes have been used. Cover with the remaining cheese sauce, shredded cheese, and bacon bits.
Cover with aluminum foil and bake for 30-45 minutes. Remove the foil and broil on high for 3 minutes to achieve a nice brown crust.
Notes
Baking times may vary depending on oven settings. 
If cheese sauce is too thick, add more chicken broth to thin it out.
Use vegetable broth in place of chicken broth if desired.
Whole milk or 2% can be used in place of half-and-half.
Nutrition Information:
Yield:
6
Serving Size:
4 People
Amount Per Serving:
Calories:

628
Total Fat:

40g
Saturated Fat:

23g
Trans Fat:

1g
Unsaturated Fat:

13g
Cholesterol:

124mg
Sodium:

2022mg
Carbohydrates:

39g
Fiber:

3g
Sugar:

8g
Protein:

29g
This website provides approximate nutrition information as a courtesy and for convenience only.
Be sure to tag me on Instagram or Facebook when you make this recipe! I would love to see your creation, and give you a shoutout!