Smothered chicken with grits is the ultimate comfort food. Juicy fried chicken breast smothered in a delicious gravy and served over a bed of creamy grits. This meal is made in well under 30 minutes too!
You gotta check out these Brown Gravy Hamburger Steaks and these Garlic Butter Shrimp and Grits while you are here!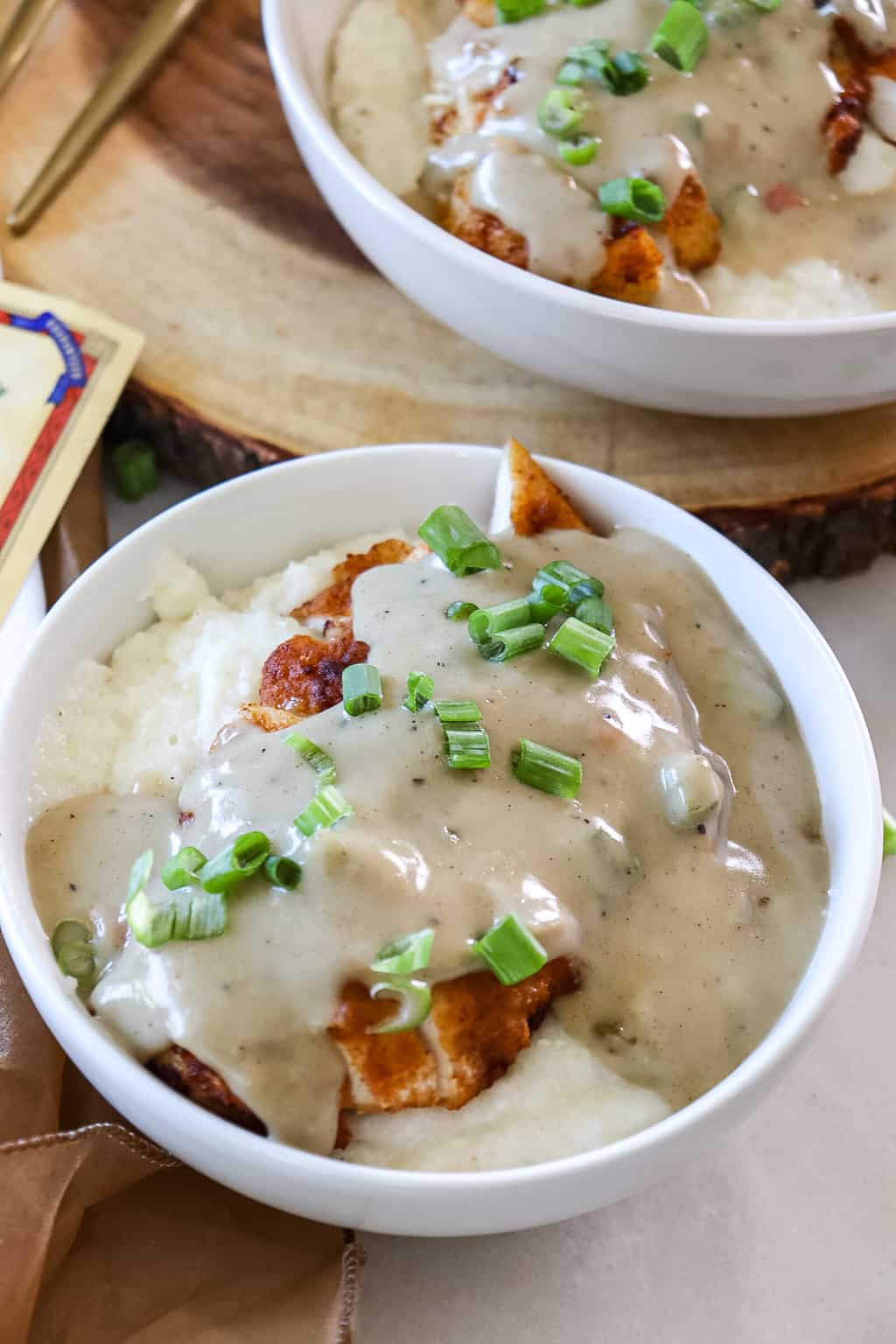 This recipe has been made in partnership with Pioneer®. My opinions are all my own.
Pioneer products have been my go-to for many years! When this Jalapeno gravy made its debut, I knew I had to try it. You definitely won't be disappointed with this one.
Jump to:
Ingredients needed for this chicken and grits recipe:
This recipe for chicken with grits cannot get much easier. You need to grab these few key ingredients to make the most delicious dinner you may have ever had:
Chicken: for this fried chicken we used chicken breasts. You can definitely use chicken thighs if you prefer.
Grits: to make this a quick and easy dinner, try to use the five minute grits.
Gravy: Pioneer gravy is key to making a delicious weeknight meal in well under 30 minutes!
Seasonings: grab some seasoned salt, garlic powder, black pepper, and paprika to achieve the perfect flavor profile.
What is smothered chicken?
Smothered chicken is a soul food classic. There are several interpretations of the dish, but the outcome is usually the same. A piece of chicken, whether a whole chicken cut up, a chicken breast, or a thigh, smothered and covered in a rich and savory gravy sauce.
In the south, smothered chicken dishes are made by first frying the chicken. Breading it first in a flour mixture will help ensure that it keeps a nice crisp to it. Some may pan sear their chicken to create a sort of Cajun chicken flavor.
How to make smothered chicken with grits:
You want to start by lightly breading your chicken breast in a seasoned flour mixture. Then you will pan fry it until a nice crispy exterior is formed. Set the chicken aside.
Then you will make your creamy grits. Adding some heavy cream and or milk to your grits help ensure that they are nice and smooth and creamy.
Now you want to make your gravy, use the prepared Pioneer gravy packet to help make your life and dinner so much easier!
Assemble your plate or bowl by adding the buttery grits first. You can slice up your chicken into bite size pieces and add it right on top of the grits. Next ladle some of that delicious gravy right on top of the chicken, and enjoy!
What kind of gravy to use to smother chicken:
For this recipe we used the Pioneer Roasted Jalapeno Gravy. It was PERFECT for smothering that chicken fried chicken with. It is not spicy at all, but has the perfect flavor to balance out the chicken.
You can also use a brown gravy, or a country gravy to smother your Cajun fried chicken with. The whole idea is for you to have a nice creamy and saucy gravy to sop up those grits with!
How to cook grits with chicken broth:
Instead of adding water to your saucepan for your grits, add some chicken broth or vegetable broth. Bring it to a rapid boil, and slowly whisk in your grits.
The key to the perfectly creamy and smooth grits is to add a touch of heavy cream or half and half. Stir them constantly, using a whisk at first, to ensure they do not clump up
Dinner recipes with grits:
Add some Gouda or cheddar cheese to your grits once they are almost done cooking to make some delicious cheesy grits. Then you can serve them with virtually any protein.
Shrimp and grits is absolutely amazing together. Another great variation is catfish and grits, or salmon and grits. The great thing about grits is how versatile they are, so eat them for breakfast or dinner.
What sides go with smothered chicken?
Pair your smothered chicken with a great squash medley, or some steamed broccoli. You can keep it all the way soul food inspired and serve the Cajun smothered chicken with a side of collard greens and corn bread.
Alternatively, you can serve the smothered chicken over some mashed potatoes. Add a robust side salad to help round out the meal.
📖 Recipe
Yield:

4 Servings
Smothered Chicken with Grits
Smothered chicken with grits is the ultimate comfort food. Juicy fried chicken breast smothered in a delicious gravy and served over a bed of creamy grits. This meal is made in well under 30 minutes too!
Ingredients
Chicken
2 whole Chicken Breast, cut in half lengthwise
½ tablespoon Seasoned salt
2 teaspoon Garlic powder
1 teaspoon Black pepper
1 teaspoon Paprika
½ cup All purpose flour
1 tablespoon Seasoned salt (to season flour)
¼ cup Vegetable oil, to fry chicken
Creamy Grits
4 cups Water
1 cup 5 minute grits
½ cup Half and half
½ cup Milk, 2%
2 tablespoons Butter, unsalted
½ teaspoon Salt (adjust to taste)
½ teaspoon Black pepper (adjust to taste)
Gravy
1 packet Jalapeno gravy, Pioneer brand
¼ cup of Bell peppers and onions
Instructions
Place the cut chicken breast on a clean surface and use a paper towel to thouroghly dry each side of the chicken.
Add all of the seasonings: seasoned salt, garlic powder, black pepper, and paprika, to a small bowl and mix them up until they are fully combined.
Sprinkle the seasonings liberally over the chicken breast, coat both sides. Place flour and seasoned salt in a shallow dish or plate, and mixt to combine.
Add the vegetable boil into the cast iron skillet and heat it up over medium heat.
Grab one chicken breast at a time, and coat each side in the flour mixture be sure to press the flour into the chicken so that it sticks. Set the chicken aside on a cooling rack or a plate so that the flour can settle for at least 2-3 minutes.
Gently place the chicken into the hot oil and butter in the cast iron skillet in one single layer, careful not to overcrowd the pan. Fry for 4 minutes on one side, and flip. Then fry an additional 4 minutes on the other side.
Once the chicken is fried, remove it from the oil and place it on a cooling rack to drain excess grease. Turn the heat off in the cast iron skillet, but do not drain the oil and bits from frying the chicken.

Making the Grits
Add water to a large sauce pan and bring it to a boil over medium heat.
Slowly add the grits into the boiling water and whisk vigorously at the same time you pour the grits in. Continue to stir to ensure the grits to not get lumpy.
Turn the heat down to low and continue to whisk the grits until they begin to thicken up, about 3 minutes.
Pour in the half and half and the milk, and mix it in until it is well combined. Cook an additional 2 minutes being sure to stir so that clumps do not form.
Sprinkle in the salt and pepper, and add the butter.
Stir it up until it is combined, and the butter is melted. Enjoy!
For the Gravy
Make gravy according to the package instructions and set it aside.
Add the bell peppers and onions into the same skillet that the chicken fried in, and saute for 2-3 minutes, just until they are soft.
Add in the water for the gravy (according to the package), and the gravy mix.
Stir constantly until it is to your desired consistency.

Assemble the smothered chicken with grits
Pour the hot grits into your bowl, then top it with the fried chicken (cut the chicken into bite size pieces if desired), then top it with that rich gravy, and enjoy!
Nutrition Information:
Yield:
4
Serving Size:
1
Amount Per Serving:
Calories:

688
Total Fat:

33g
Saturated Fat:

10g
Trans Fat:

1g
Unsaturated Fat:

21g
Cholesterol:

112mg
Sodium:

2196mg
Carbohydrates:

61g
Fiber:

4g
Sugar:

4g
Protein:

37g
This website provides approximate nutrition information as a courtesy and for convenience only.