Experience the great taste of a gyro without leaving your home. Try this delicious homemade gyro meat recipe and serve it in a pita with tzatziki sauce. Step-by-step instructions will help you create the most delicious gyro meat in a matter of minutes!
While you are here be sure to check out Nana's Homestyle Meatloaf and these Hamburger Steaks for other great recipes using ground beef.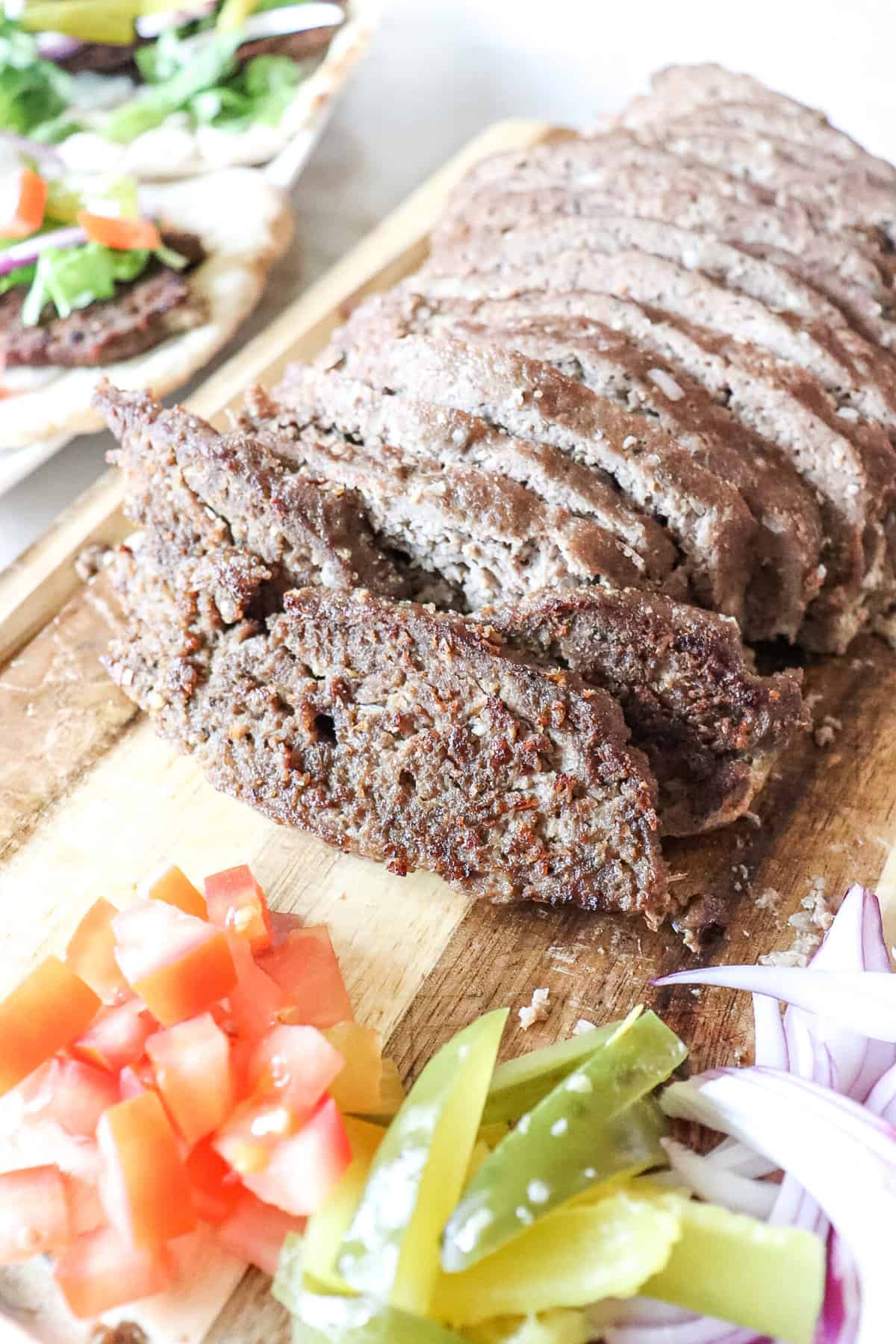 Greek and Mediterranean food is one of my family's absolute favorites! It is quite pricey when you eat out though. So it is only right that we learned to enjoy things like this, and homemade hummus, to enjoy in the comfort of our home!
Jump to:
What is gyro meat made of?
Traditionally gyro meat is made with a combination of ground beef and ground lamb. These two proteins are combined with a variety of heavy spices and herb to create the most delicious and robust flavors.
The salt and spices are what give this delicacy it's traditional Greek flavors. In fact, the salt content helps the meat tighten-up during the cooking process; which creates a very dense and flavorful protein.
Seasonings you need for this gyro recipe:
For this recipe we used:
Salt
Garlic powder
Dried Oregano
Ground cumin
Dried thyme
Salt
Black pepper
How is the meat cooked?
This super popular Greek street food is typically cooked on a vertical spit or vertical rotisserie which spins under a heat source until cooked through. So essentially it is cooked rotisserie style.
With this method, you will mince the meat down to a very fine mixture, and then packed into a tight loaf in a loaf pan or baking dish lined with aluminum foil, and cook it in the oven. Bake it until the internal temperature of the meat reaches 165 degrees Fahrenheit.
You want to be sure to pack the meat into a very tight loaf to remove all of the air pockets. This ensures that it cooks into a very dense and easy to slice piece of meat.
How to serve the gyro meat:
This gyro meat is absolutely delicious by itself as a main entrée. You can serve it with a fresh salad with cucumbers and tomatoes, a or even a side of rice. Top a delicious Greek salad with this meat, and sprinkle it with feta cheese for a complete meal.
It is absolutely delicious to use as the filling for gyro sandwiches though! Add it to a fresh piece of warm pita bread, and add your favorite toppings. This tzatziki sauce is an absolute must to serve along side the meat though! Serve your gyro sandwiches with a side of roasted potatoes or French fries.
Do I have to use lamb?
No you do not have to use the ground lamb for your gyro meat. You can absolutely substitute it with lean ground beef, ground pork, or even ground turkey or chicken if you desire.
The consistency will vary a bit depending on which protein you use. If you only want to use ground beef, that would be just as delicious. The key is to ensure the meat is minced finely, and packed tightly so you create the dense gyro meat.
Is gyro meat healthy?
It is a great source of protein because of the beef and lamb mixture. However, both of these ground meats are very high in fat content.
With that said, it is important to enjoy this very dense and flavorful meat in moderation. Another thing to consider is that the meat is very low in carbohydrates and sugar. So it may be ideal for people eating a low carbohydrate diet.
How to store and reheat leftovers:
After the meat is cooked, save the drippings from the dish. Then you should allow it to completely cool down. Once it has cooled down, you can store it in an air tight container, or a gallon Ziploc bag.
Place the leftovers in the refrigerator for up to five days. When you are ready to eat it, pan fry the slices of gyro meat in a skillet over medium high heat for about two minutes per side.
Other delicious recipes using ground beef:
Here are some more delicious recipes that use ground beef:
📖 Recipe
Yield:

6 Servings
The Best Homemade Gyro Meat Recipe
Total Time:
1 hour
5 minutes
Experience the great taste of a gyro without leaving your home. Try this delicious homemade gyro meat recipe and serve it in a pita with tzatziki sauce. Step-by-step instructions will help you create the most delicious gyro meat in a matter of minutes!
Ingredients
1 pound Ground lamb
1 pound Ground beef
½ medium Onion, roughly chopped
4 cloves Garlic, minced
2 tablespoons Olive oil
Seasonings
1 tablespoon Garlic powder
1 tablespoon Dried Oregano
1 tablespoon Ground cumin
2 ½ teaspoons Salt
2 teaspoons Dried thyme
1 teaspoon Black pepper
Instructions
Preheat the oven to 350 degrees.
Use a large bowl and add the ground lamb, ground beef, onion, garlic, and olive oil. Add in all of the seasonings as well.
Use a large spoon, or your hands to fully combine this mixture. Once the ingredients are combined, add the meat mixture in small batches to a food processor or a blender.
Mix it up for about one to two minutes, or until the meat and all of the ingredients are finely minced. Remove it from the blender or processor and set it aside in a bowl. Continue adding the meat in batches until it is all finely minced.
Place the minced meat into a 9x5 loaf pan or 9x13 baking dish. Press it together firmly to shape it into a log-like rectangular shape. Be sure to PRESS OUT ALL OF THE AIR BUBBLES.
The meat mixture should be packed firm so no air bubbles remain. Place the dish in the oven and bake for 45-50 minutes. The internal temperature should read at least 165 degrees Fahrenheit.
Remove the gyro meat from the oven and reserve excess oil that accumulated.
After the meat rests for about 10-15 minutes, slice it very thinly. Optional: fry it in the oil that you reserved prior to serving.
Nutrition Information:
Yield:
6
Serving Size:
1
Amount Per Serving:
Calories:

479
Total Fat:

33g
Saturated Fat:

12g
Trans Fat:

1g
Unsaturated Fat:

17g
Cholesterol:

141mg
Sodium:

839mg
Carbohydrates:

4g
Fiber:

1g
Sugar:

0g
Protein:

40g
This website provides approximate nutrition information as a courtesy and for convenience only.