This homemade tzatziki sauce recipe makes a tangy, cool addition to grilled meat and vegetables. It is everyone's favorite condiment at restaurants! Learn how to make this sauce at home!
Be sure to try this copycat in-n-out sauce and this green mojo sauce while you are here!
This is undeniably one of the most requested an best sauces you can get at any Mediterranean restaurant! It is addictingly delicious y'all.
Jump to:
What is the white sauce used in the gyro sandwich?
One of the infamous sauces that are served with gyro sandwiches is called Tzatziki sauce. This is a creamy, refreshing sauce that is made with a base of Greek yogurt, and finely shredded cucumbers.
This Greek dip is traditionally made to be eaten with meats, veggies, or just as a simple side-topping to a meal.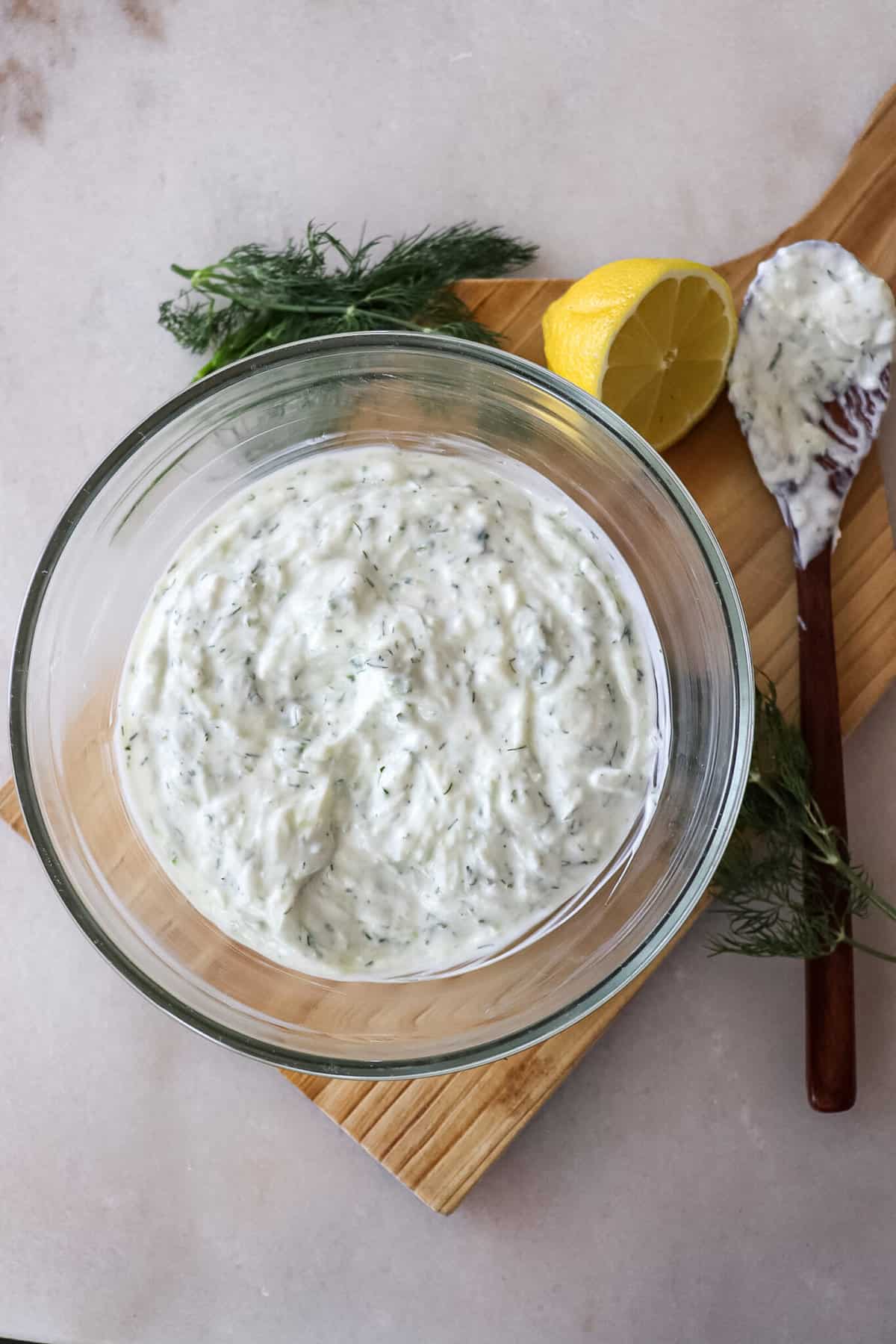 Ingredients needed:
This recipe only calls for a few simple ingredients. So you can whip up this delicious sauce in well under ten minutes! Here's what you will need:
Greek yogurt
Cucumber
Fresh dill
Lemon Juice
Extra virgin olive oil
Seasoning
Fresh mint (optional)
How do you make this tzatziki recipe:
A very important step in making this tzatziki sauce is shredding the cucumbers. You cannot dice them, or you will have big chunks of cucumbers in the sauce; and we want a somewhat smooth texture. So instead, you will need to use the fine side of a shredder to get a nice shred on them.
Once the cucumbers are shredded, add them to a cheese cloth so that you can strain out the excess moisture. You will squeeze them in the cloth until no more juice comes out.
Set the strained cucumbers to the side and add your Greek yogurt to a bowl. Finely chop your dill, and your mint if you decide to use it. Add the cucumber, mint, and dill to the yogurt.
Mix this up well until everything is combined. Next add your olive oil and lemon juice. Combine that thoroughly and then add your seasonings.
Place a piece of plastic wrap or a lid on the bowl and place the tzatziki sauce in the refrigerator for at least ten minutes.
What can I use instead of Greek yogurt?
Substitute the Greek yogurt with sour cream if you need to. The Greek yogurt is definitely preferred because it offers a slightly different flavor profile. However, sour cream with yield a delicious sauce as well.
Can you use lime instead of lemon?
You can definitely use lime instead of lemon if that is what you have on hand. Both of these add a nice citrus and sour taste to the sauce. Which is exactly what we are looking for.
Is tzatziki sauce healthier than ranch?
If you are comparing this sauce to say, a buttermilk ranch, then yes it is more healthy. Ranch is made with different bases, one of them being sour cream. So in comparison, it can be just as healthy, if not less healthy just depending on the exact ingredients in the ranch dressing.
What to eat with this sauce:
This sauce is absolutely delicious with almost any protein, but especially chicken recipes! You can bake some chicken and add this full-fat Greek yogurt sauce directly on the side to dip it into. Even more, add this as a sauce for your next kabob recipe.
It is also very good with pita bread. Make pita chips to dip, or make a sandwich out of pita and add the sauce on top. It is also a delicious addition to a salad.
📖 Recipe
Yield:

6 servings
Easy Homemade Tzatziki Sauce
This homemade tzatziki sauce recipe makes a tangy, cool addition to grilled meat and vegetables. It is everyone's favorite condiment at restaurants! Learn how to make this sauce at home!
Ingredients
½ cup Cucumber, finely grated
1 cup Greek yogurt, plain and whole fat
1 clove Garlic, grated
1 tablespoon Lemon juice
½ tablespoon Olive oil
1 teaspoon Dill, grated and fresh
1 teaspoon Salt
1 teaspoon Mint, grated (optional)
Instructions
Finely grate the cucumber using a box box grater. Place it on a cheese cloth or some sort of cloth so that you can squeeze out the excess liquid. Once the liquid is squeezed out of the cucumber, set it aside.
Using a medium to large mixing bowl, place the Greek yogurt, lemon juice and Olive oil in it. Mix them together thoroughly.
Next, add the dried out cucumber, grated dill, salt, and mint if you are using it, directly into the Greek yogurt mixture.
Stir the sauce up until it is well combined. Cover with plastic wrap, or a lid and refrigerate for at least 10 minutes before enjoying!
Notes
Tzatziki can be stored in the refrigerator for up to 7 days as long as it is tightly covered.
Stir the sauce before each use, as settling will occur and liquid will rise to the top.
Nutrition Information:
Yield:
6
Serving Size:
1
Amount Per Serving:
Calories:

38
Total Fat:

1g
Saturated Fat:

0g
Trans Fat:

0g
Unsaturated Fat:

1g
Cholesterol:

2mg
Sodium:

367mg
Carbohydrates:

3g
Fiber:

0g
Sugar:

2g
Protein:

4g
This website provides approximate nutrition information as a courtesy and for convenience only.