This Blackened Chicken Bacon Ranch Sandwich is made with juicy and tender pieces of chicken, homemade ranch dressing, and ample bits of bacon. It is going to be one of the THE BEST chicken sandwiches you have ever had!
Sandwiches are always a great idea so you should check out these Slow Cooker BBQ Chicken Sandwiches and these Birria Grilled Cheese Sandwiches while you are here!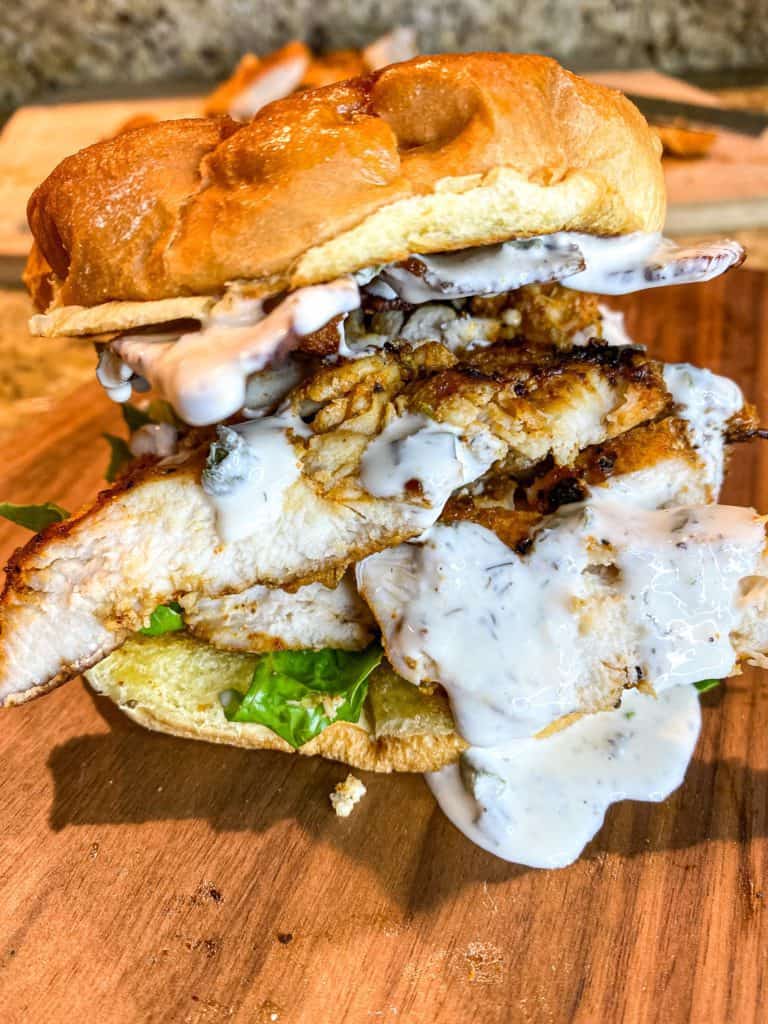 There is nothing better then a good sandwich! Seriously, sandwiches are so versatile and easy to put together. In fact, they are one of our favorite quick and easy weeknight meals because of how filling and simple they are to put together!
Jump to:
Ingredients needed for the chicken bacon ranch sandwiches:
Gathering your ingredients before hand will make it so simple to prepare these sandwiches. One of the best parts about this sandwich is that it only requires a few simple ingredients:
Chicken breast- if you can buy the thin chicken breast, that will save you a step in the cooking process.
Bacon- we used 4 slices for this recipe, but feel free to add as much bacon as you like!
Lettuce- romaine lettuce holds up the best on these sandwiches.
Buns- brioche buns are highly recommended! Of course you can use whichever kind of buns you find or have on hand.
Homemade ranch- mayo, sour cream, buttermilk, and seasonings. t is way more simple to make than you may think.
How to make the homemade ranch dressing:
Making ranch dressing is MUCH easier than you may think. Once you make it from scratch, I highly doubt you will ever buy it store bought again!
What you need to do is mix equal parts mayonnaise, sour cream, and buttermilk. If you do not have buttermilk, use regular milk and mix it with lemon juice. This creates a great buttermilk substitution.
Next you will add all of your seasonings. The dill is the star of the show for this ranch! If you have fresh dill, it is even better. If not, dried dill works great. Add the dill, garlic powder, salt, pepper, and chives.
Mix this up until it is thoroughly combined. You can place it in an airtight container and store it in the refrigerator for up to one week.
Ours got eaten up in one night though!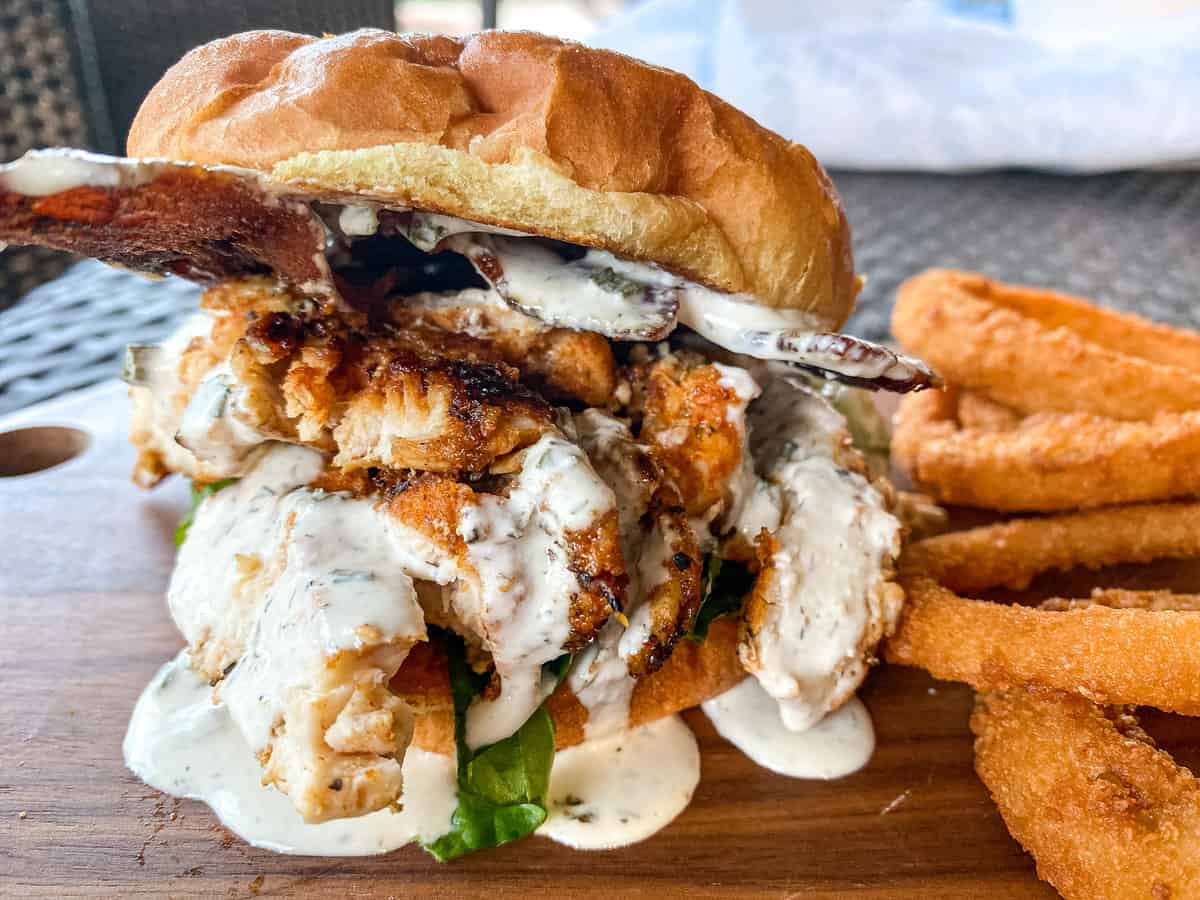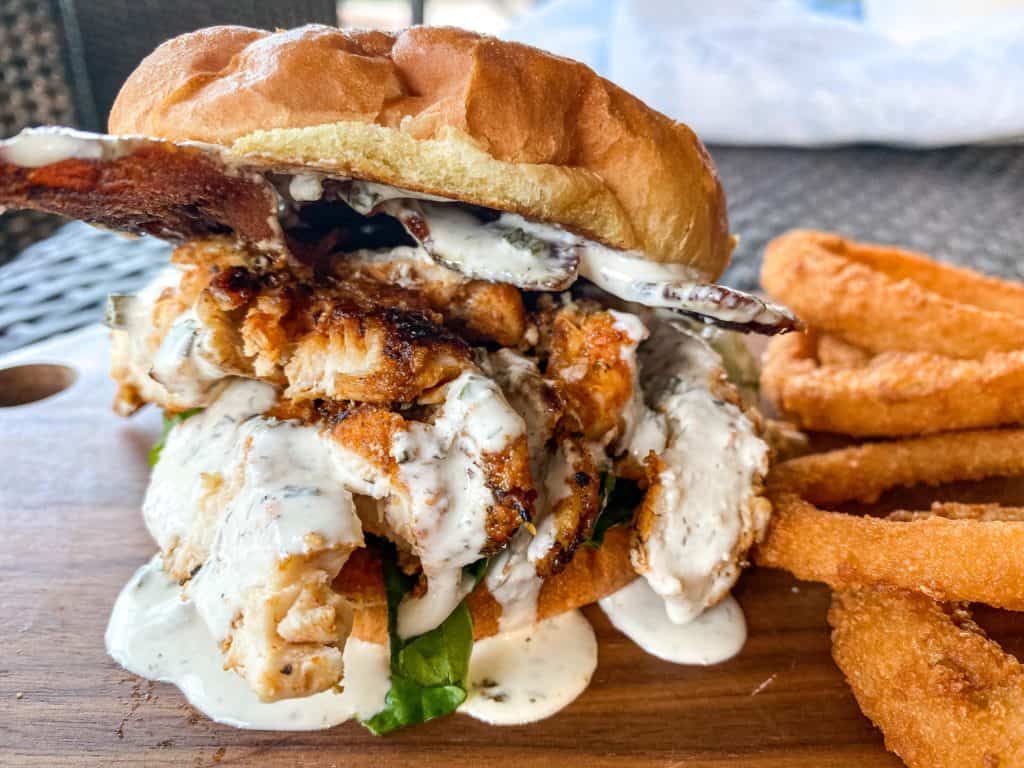 Is blackened chicken spicy?
No blackened chicken is not spicy. There is an optional seasoning that can make it a bit spicy, which is cayenne pepper. For the most part though, blackened chicken just means the method in which it is seared/cooked; as well as the seasonings used.
Variations and substitutions:
If you do not have the ingredients on-hand to make the homemade ranch, you can substitute store bought ranch. I promise you that you want the homemade version though!
Another substitution is the kind of bread you use. Feel free to switch out the brioche bun for a white or any other kind of hamburger bun. Toasting the bun is important because it helps the bread hold up to the weight of the sandwich.
Also, you can definitely sub regular bacon for turkey bacon if desired. Although, I cannot attest to the taste of the sandwich with turkey bacon!
Regular bacon just adds that umami type flavor that we know and love.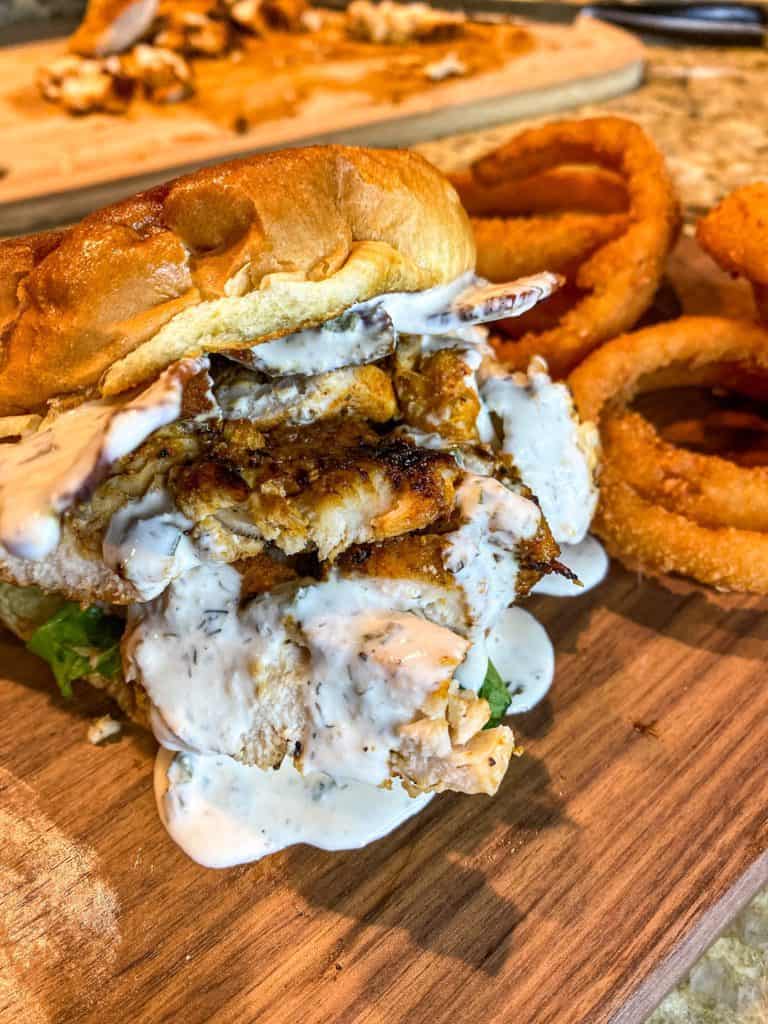 What kind of skillet should I use to make blackened chicken?
The best skillet to use for these sandwiches is a cast iron skillet. Cast iron skillets are naturally non-stick, and they provide the best sear for proteins. You can definitely add a touch of olive oil if desired.
This just helps achieve the blackening that we want.
If you do not own a cast iron skillet, a non-stick skillet will work as well. Heat the skillet up over medium-high on the stove. Add the olive oil (optional), and sear each chicken breast for 7 minutes on each side.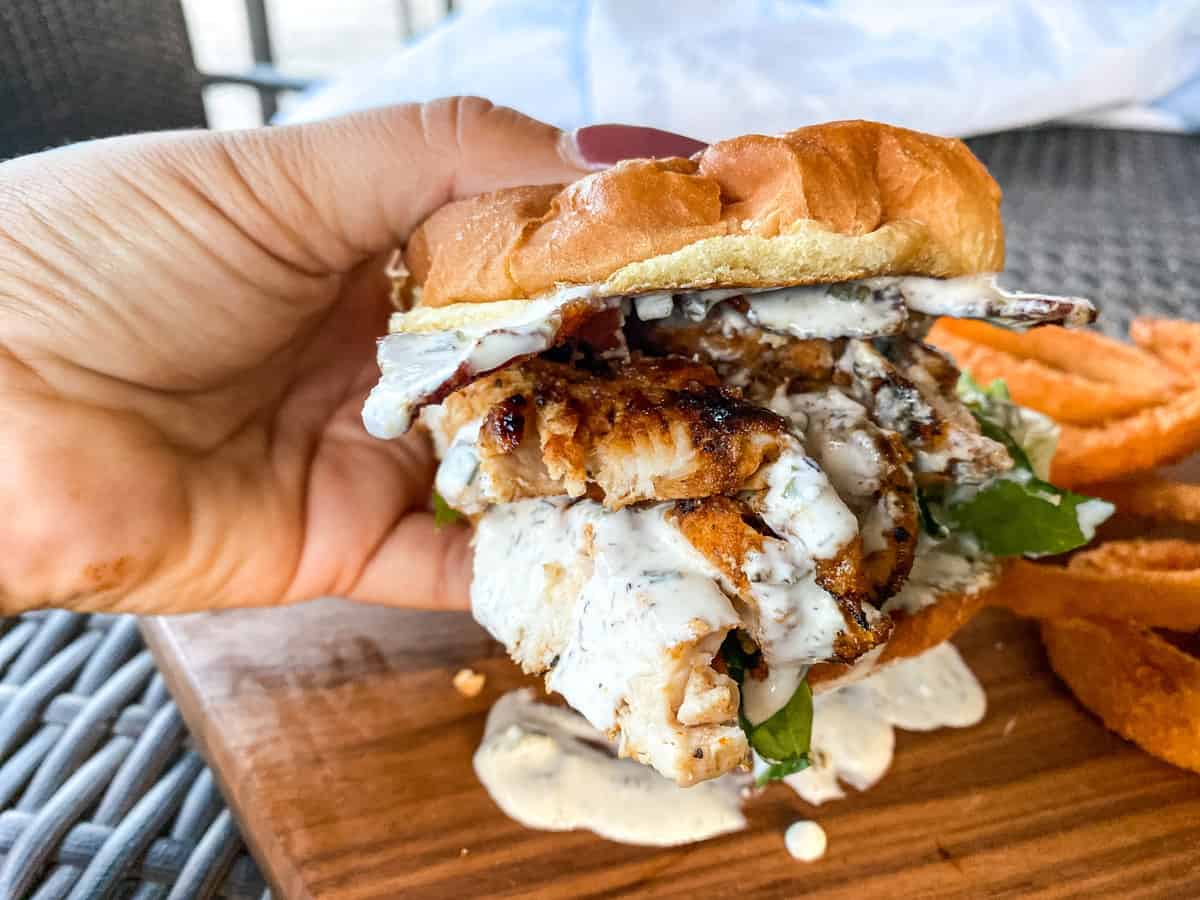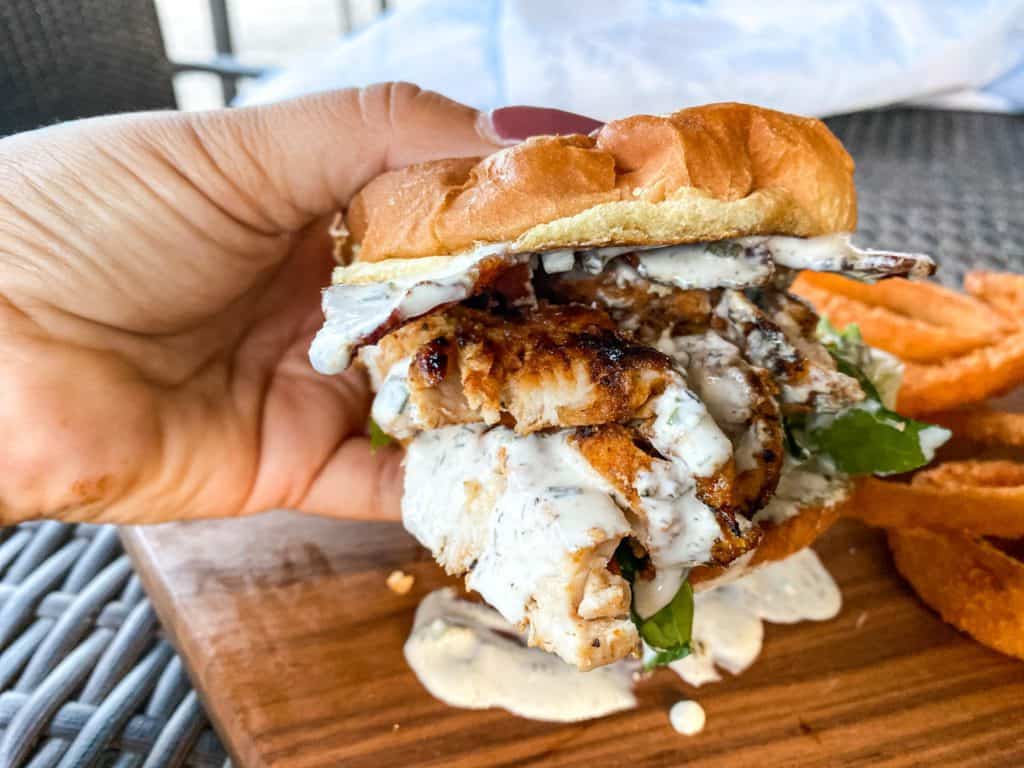 How to save and reheat leftovers:
If you happen to have any leftovers, you can definitely store them in the refrigerator for up to five days. Instead of adding the chicken to sandwiches, simply store it in an airtight container and store in the fridge.
If the sandwiches are already made, you can wrap them up with plastic wrap or aluminum foil,
To reheat the chicken or the sandwiches, wrap them in a damp paper towel and microwave for one minute. Be sure to remove the lettuce (if the sandwich is already made) before reheating.
📖 Recipe
Yield:

4 Sandwiches
Blackened Chicken Bacon Ranch Sandwich
Additional Time:
5 minutes
This Blackened Chicken Bacon Ranch Sandwich is made with juicy and tender pieces of chicken, homemade ranch dressing, and ample bits of bacon. It is going to be one of the THE BEST chicken sandwiches you have ever had!
Ingredients
4 boneless skinless Chicken breasts
6 slices Bacon
1 tablespoon Seasoned salt
½ tablespoon Garlic powder
½ tablespoon Onion powder
½ tablespoon Paprika
2 teaspoon Black Pepper
1 teaspoon Cayenne pepper (optional)
2 tablespoons Olive oil
1 cup Romain lettuce, shredded
½ cup Shredded cheddar cheese (optional)
4 Brioche buns
Homemade Ranch Dressing
½ cup Mayonnaise
½ cup Sour cream
½ cup Buttermilk
2 teaspoons Dried dill (or fresh)
1 ½ teaspoon Garlic powder
1 teaspoon Dried chives (or fresh)
1 teaspoon Lemon juice
½ teaspoon Salt (to taste)
½ teaspoon Black pepper
Instructions
Homemade Ranch Dressing
Use a medium size bowl and add in the mayonnaise, sour cream, buttermilk, and all of the seasonings.
Stir the mixture very well until all of the seasonings are fully incorporated.
Place the ranch in an airtight container and refrigerate until you are ready to use.

Sandwiches
Place your chicken on a cutting board (covered in parchment paper or plastic wrap) and use a kitchen mallet or rolling pin to flatten out chicken.
Place the chicken in a large bowl, and add all of the seasonings directly over the chicken. Mix chicken around with tongs or gloved hands until each piece is evenly coated with the seasonings.
Preheat a cast iron skillet over medium heat and add the olive oil into the skillet. Once the oil is hot, gently place the chicken in the skillet in a single layer. Cover with a lid (or foil) and let the chicken sear for 7 minutes.
While the chicken is searing, begin cooking the bacon in a separate non-stick skillet over medium heat, until it is cooked all the way through (5 minutes one side, flip and 2 minutes on the other side). Remove it and allow it to drain any excess grease on a cooling rack.
Remove the lid from the chicken and flip it over. Cover it and cook an additional 8-10 minutes. The chicken should have a nice blackened crust on it.
Remove the chicken from the skillet and set it aside to rest for at least 5 minutes. After five minutes slice the chicken into thin slices.
While the chicken is resting you can use the cast iron skillet to toast your buns. Simply butter each side, and place them flat in the skillet over medium heat for 3-5 minutes.
Optional: add the chicken back into the skillet and cover with cheese until it is melted.
To build your sandwich add some of the homemade ranch, layer with the romaine letter, the chicken slices, and bacon. Top with more ranch if desired. ENJOY!


Recommended Products
As an Amazon Associate and member of other affiliate programs, I earn from qualifying purchases.
Nutrition Information:
Yield:
4
Serving Size:
1
Amount Per Serving:
Calories:

567
Total Fat:

43g
Saturated Fat:

11g
Trans Fat:

1g
Unsaturated Fat:

27g
Cholesterol:

172mg
Sodium:

242mg
Carbohydrates:

23g
Fiber:

3g
Sugar:

9g
Protein:

36g
This website provides approximate nutrition information as a courtesy and for convenience only.