This Easy and Cheesy Baked spaghetti is a delicious and filling Italian- inspired spaghetti casserole dish made with tender spaghetti noodles, rich tomato sauce, and plenty of gooey cheese. Perfect for a cozy weeknight dinner! This hearty baked spaghetti recipe is sure to become a family favorite
Be sure to check out this Easy and Delicious Lasagna, as well as this Rasta Pasta with Sausage, Shrimp, and Chicken while you are here!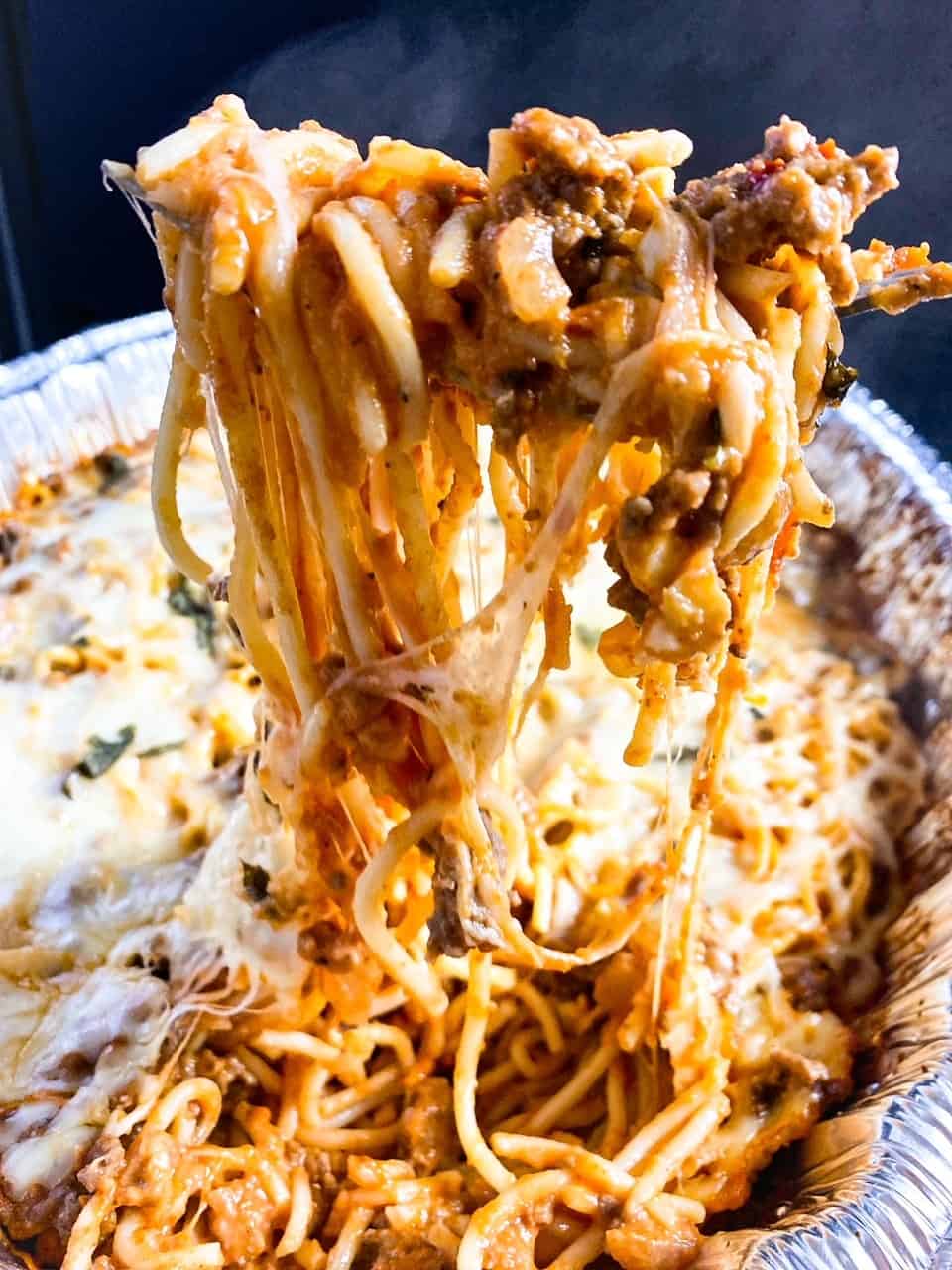 Having the ability to cook for a large family of six is a must in my household. So a good spaghetti bake is in constant rotation. Even more important, being able to cook for my family of six, as well as any additional company we may have!
Why you will love this recipe
Make ahead: Save yourself some time in the kitchen and make this ahead of time. Just add your cooked spaghetti to your sauce, add in the cheese mixture, and bake it when you are ready.
Comfort food: This spaghetti bake is the ultimate comfort dish. There is nothing like a quick and easy plate of pasta for dinner!
Everyday ingredients: Most people keep a box of spaghetti noodles and spaghetti sauce in the pantry! These are the main ingredients that make up this spaghetti mixture for the dish!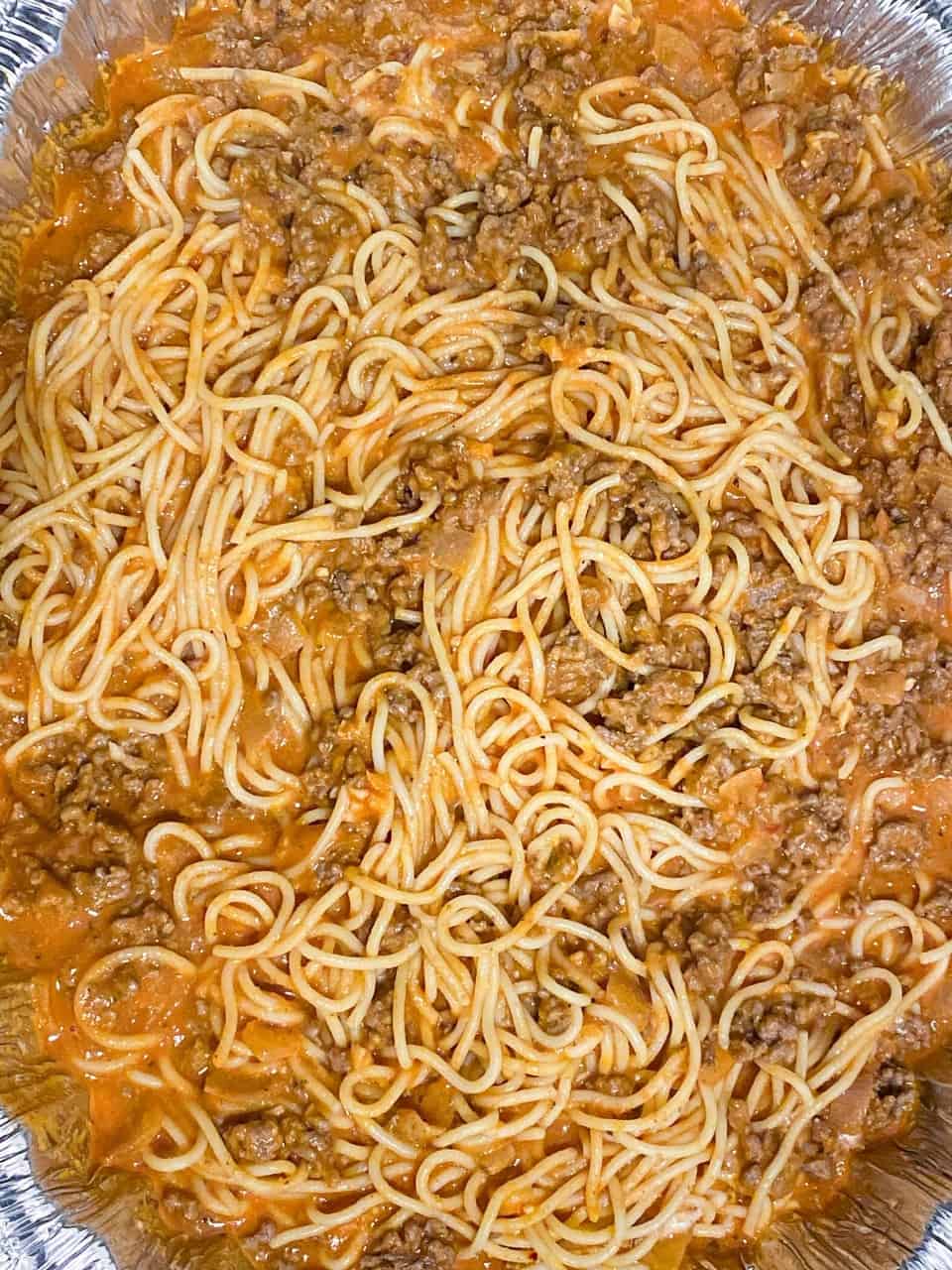 What you need to make the Cheesy Baked Spaghetti:
Here are the key ingredients you should gather prior to getting started:
Meat: you can definitely use Italian sausage instead of ground beef, or use both Italian sausage and beef! Ground turkey is another great substitution.
Cheese: adding American cheese to the spaghetti sauce helps give you that overall cheesiness that you want. You will also need mozzarella cheese and parmesan cheese
Garlic and onion: these are necessary to add that extra flavor to your marinara sauce.
Spaghetti noodles: grab your favorite brand of noodles for this baked spaghetti casserole.
Seasonings: seasoned salt, garlic and onion powder, pepper, Italian seasoning, and red pepper flakes and sugar (which are optional, keep reading)!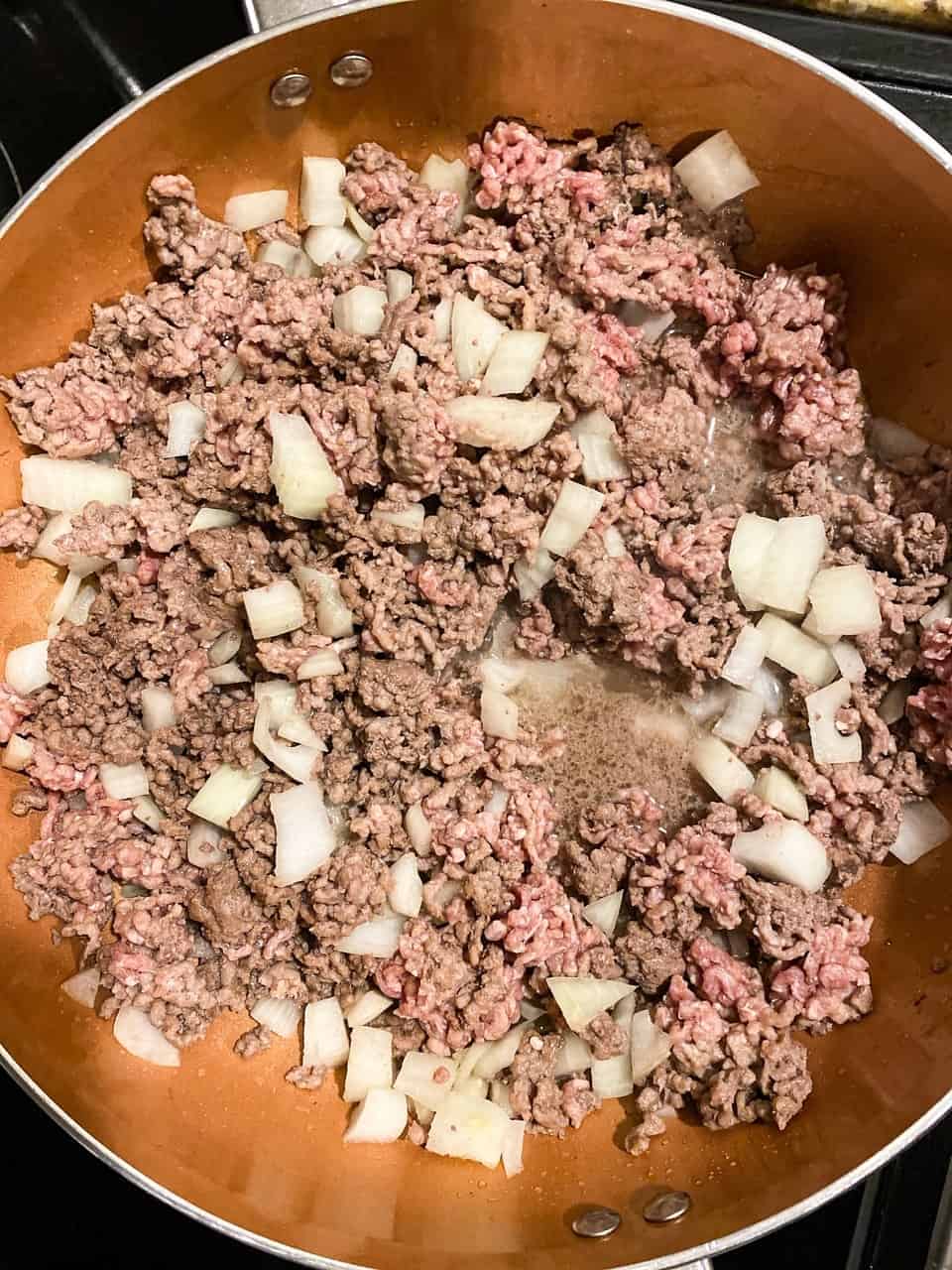 How to make a spaghetti bake
To begin, preheat your oven to 350 degrees Fahrenheit and grease a 9x13 inch baking dish with cooking spray.
Bring a large pot of water to a boil. Now boil your spaghetti noodles according to the package directions, and drain them, reserve at least 1 cup of the pasta water et.
Brown your ground beef in a large skillet over medium heat. Drain any excess fat and add in your garlic and onion and saute until they are soft, for about 5 minutes.
If you are using ground turkey, be sure to add olive oil to the skillet prior to adding the meat.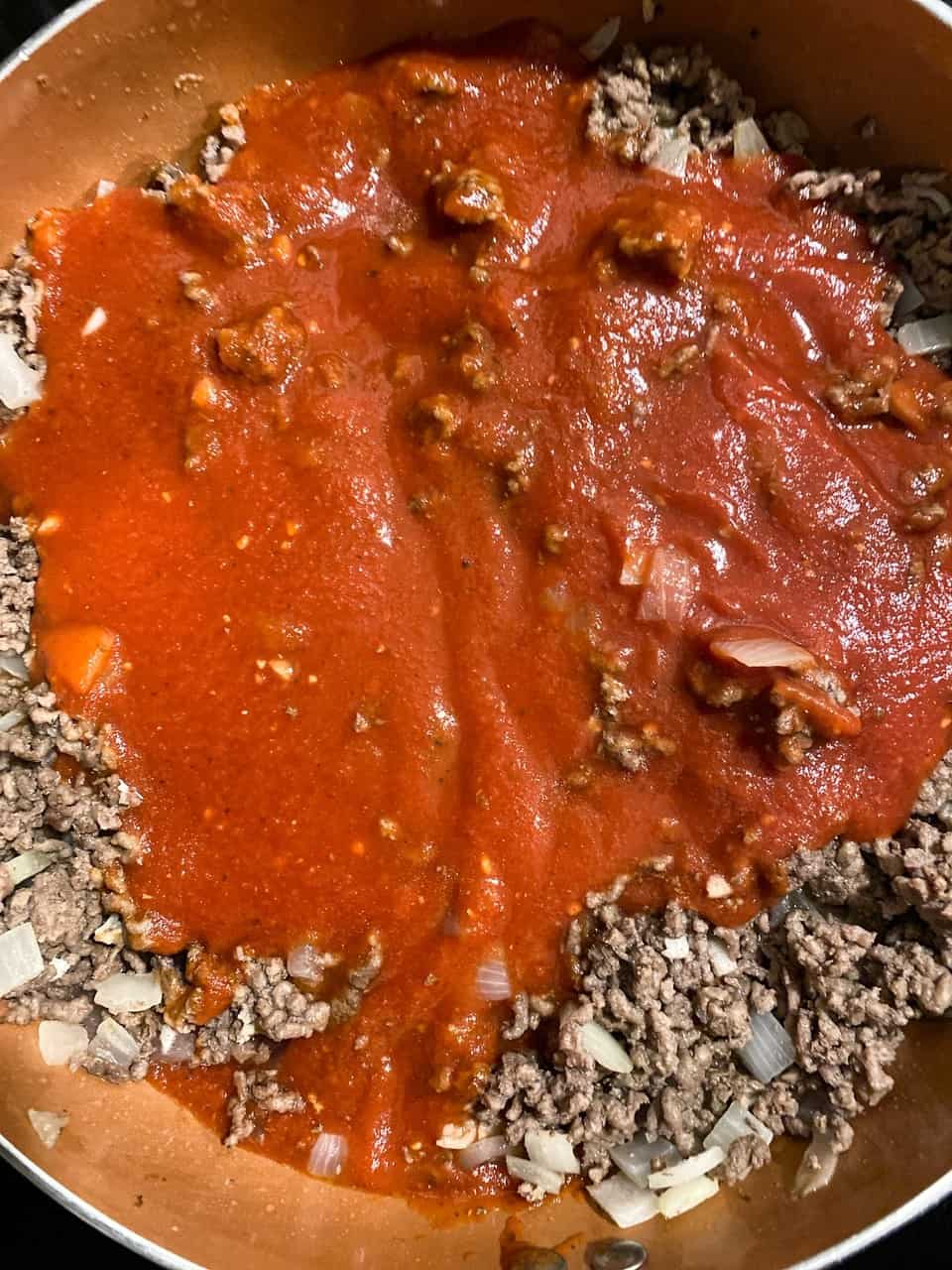 Now add your tomato sauce, reserved water, and seasonings, including Italian seasoning. Stir until everything is combined.
Then add in your American cheese directly into the meaty marinara sauce and stir it around until it melts.
Place your noodles in the baking dish and pour your sauce right over the top. Mix it up until everything is fully combined.
Sprinkle your mozzerella cheese over the top. Now you will place a sheet of aluminum foil right over it and place the dish in your 350 degrees oven. Bake the spaghetti for 25 minutes, then remove it.
Sprinkle some fresh basil right over the top, and serve with some garlic bread!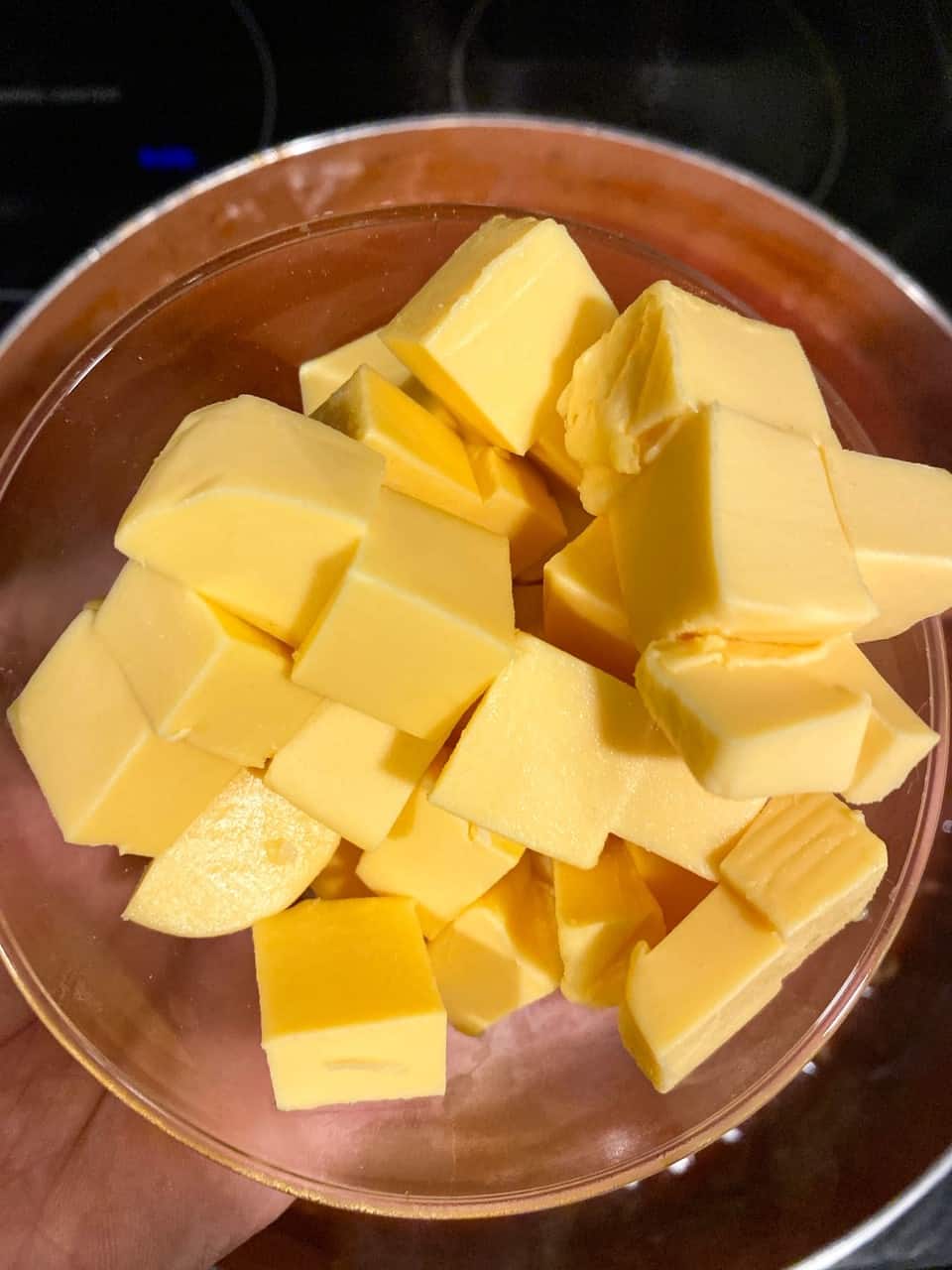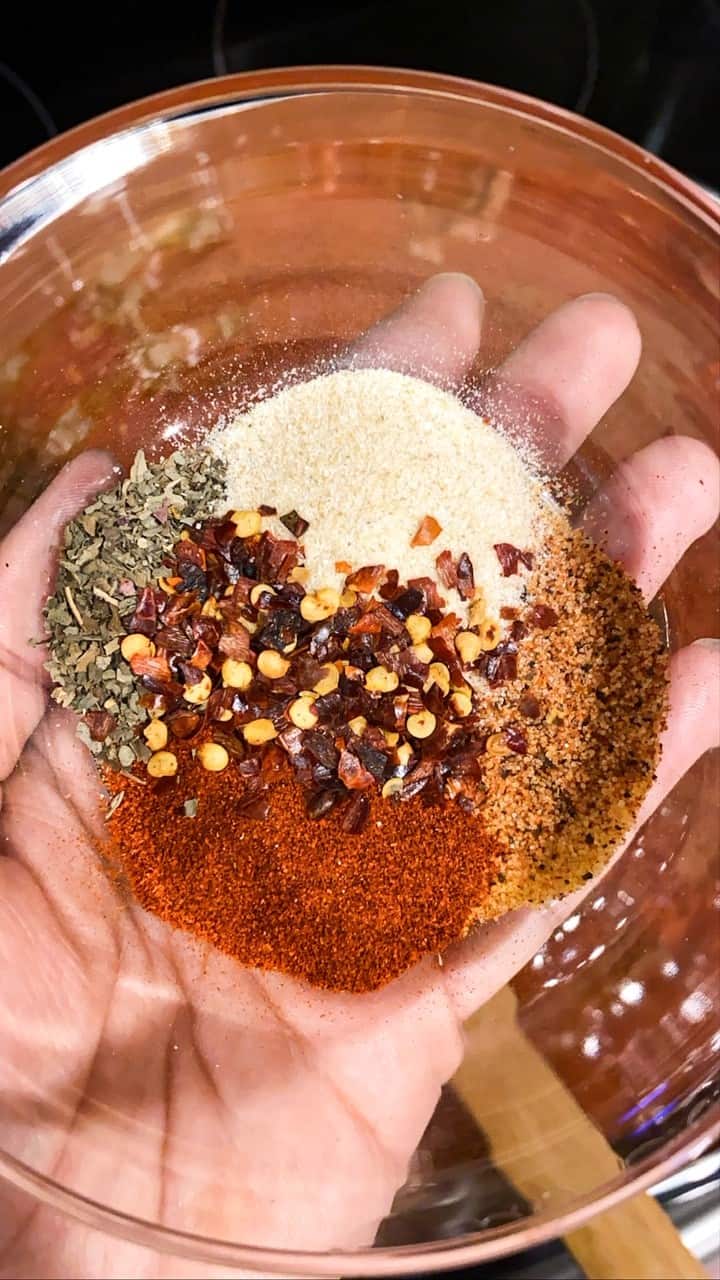 Cheese additions and alternatives
The American cheese is the most delicious to add that scrumptios cheesiness that you want. Instead of American cheese you can add: ricotta cheese, cream cheese, cottage cheese, or even sour cream.
FAQ & Pro Tips
Can I bake the pasta without boiling it first
No. Cooking or baking the pasta directly in the sauce is not recommended, as it makes the cooking process much longer. Furthermore, it is easier to control the doneness of the pasta by boiling it prior to baking.
What is al dente pasta
Al dente pasta is the best way to cook any dry pasta. It is where the pasta still has a "bite" to it. So instead of being super soggy, it is still a bit firm, and has a slight chew to it.
The term al dente means "to the tooth in Italian. One of the main reasons this is important for this dish, is because the cooking process is going to continue when it is mixed with the tomato meat sauce.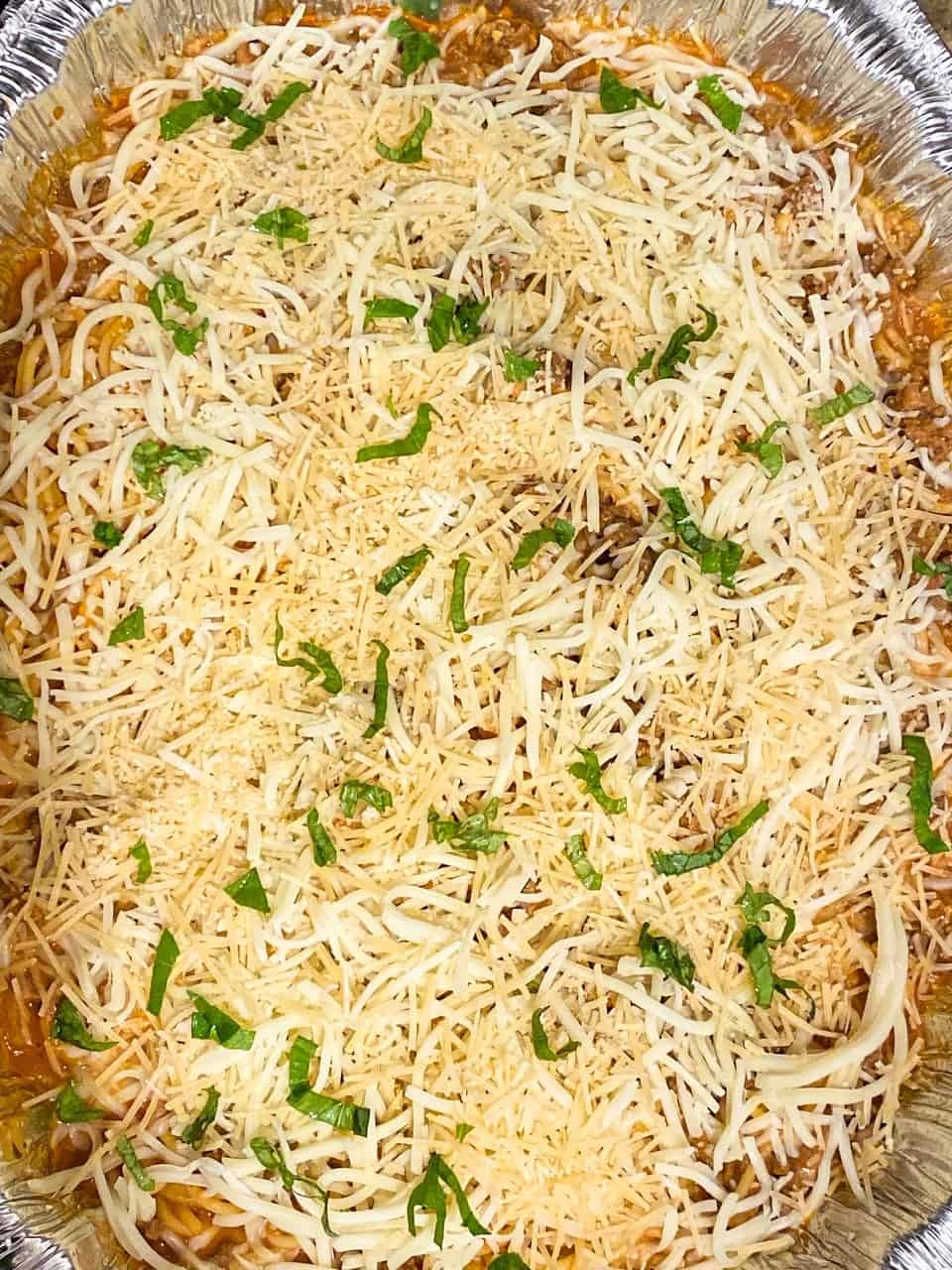 How to cook pasta al dente
Once the water comes to a rapid boil, gently place the pasta in it. Using a large pasta spoon, separate the pasta by gently stirring it around. Turn the heat down to medium and cook the pasta for 7-10 minutes. After 7-10 minutes, use a strainer to drain the water. Rinse it with cold water to stop the cooking process.
What do I do if my pasta sauce is too thick?
Before draining the water the spaghetti noodles boil in, be sure to reserve at least two cups. This starchy pasta water will help thin out the tomato meat sauce.
Thinning it out a bit is important because as it cooks, it will thicken. Even more, adding the Velveeta cheese will cause it to get very thick.
More pasta recipes to try
📖 Recipe
Yield:

10 Servings
Cheesy Baked Spaghetti
This Cheesy Baked spaghetti is traditional, but with a delicious twist! It is made super cheesy with the addition of American, and other delicious shredded cheeses, and a super flavorful sauce.
Ingredients
1 pound Ground beef
1 small Onion, diced
1 clove Garlic, minced
16 ounces Tomato sauce
2 cups Water, that pasta cooked in
1 tablespoon Seasoned salt
1 tablespoon Italian seasoning
½ tablespoon Garlic powder
½ tablespoon Onion powder
1 teaspoon Black pepper
1 teaspoon Red pepper flakes, (optional)
1 tablespoon Sugar, (optional)
8 ounces Velveeta cheese, cubed
3 cups Mozzarella  cheese
2 cups Italian cheese blend
16 ounces Spaghetti noodles
Enough water to cover and boil spaghetti
1 teaspoon Salt, for water to boil pasta
Instructions
Preheat oven to 350 degrees. Bring a large stockpot of water to a rapid boil. Put enough water in the stockpot to cover the spaghetti noodles. Add the teaspoon of salt to the water.
Once the water comes to a rapid boil, slowly add the pasta. Use a large spoon to separate the spaghetti noodles while they cook.
Reserve two cups of the cooking liquid and set aside. Once the pasta reaches an al dente texture (tender, but not soggy), strain the water and rinse the spaghetti with cold water to stop the cooking process; and set aside.
In a separate, deep skillet, add the ground beef and cook over medium heat. Use a spoon or spatula to break the ground beef up into small pieces.
After almost all of the pink is cooked out of the beef, add the onions and garlic. Continue to stir the mixture until all of the pink is cooked out of the ground beef.
Use a strainer to drain the grease off of the ground beef mixture, (do not rinse the meat). Add the ground beef back to the skillet, and turn heat to low-med.
Gently pour the tomato sauce into the skillet with the ground beef, and mix well. Add the reserved pasta water into the skillet and mix it together.
Sprinkle in all of the seasonings, and sugar (optional), and mix until combined. Next, add the Velveeta cheese and stir until the cheese is melted into the sauce.
Spray a deep casserole dish with non-stick cooking spray. Gently pour the spaghetti sauce into the dish. Next pour the cooked spaghetti noodles into the dish.
Add half of the mozzarella cheese into the dish with the pasta. Using tongs or a spoon, mix the sauce into the pasta and cheese until combined well.
Sprinkle the remaining remaining cheeses on over the top of the spaghetti. Add fresh basil or Italian seasoning over the top if desired.
Cover the dish with aluminum foil and bake for 30 minutes. After the spaghetti bakes for 30 minutes, remove the foil and set the oven to broil.
Broil the spaghetti for 2-3 minutes KEEP A CLOSE EYE ON IT SO IT DOES NOT BURN! This step is to brown and crisp up the cheese on top of the spaghetti.
Nutrition Information:
Yield:
10
Serving Size:
1
Amount Per Serving:
Calories:

526
Total Fat:

28g
Saturated Fat:

15g
Trans Fat:

0g
Unsaturated Fat:

9g
Cholesterol:

106mg
Sodium:

1571mg
Carbohydrates:

35g
Fiber:

2g
Sugar:

7g
Protein:

34g
This website provides approximate nutrition information as a courtesy and for convenience only.