Chicken and Sausage Gumbo is a hearty bowl of comfort with juicy pieces of chicken, andouille sausage, and veggies swimming in homemade roux. You will definitely want seconds of this classic southern dish served with a scoop of white rice!
If you are looking for more Louisiana-inspired meals then you have come to the right place! My 20- Minute Jambalaya is quick and easy to prepare. These Jambalaya Stuffed Peppers are AMAZING too!
As someone with Southern roots, it is not a special occasion without a pot of gumbo! This savory stew starts with a simple roux and you slowly add vegetables, chicken, and sausage. It is generously seasoned with Cajun spices and cayenne pepper.
Jump to:
Why we love this recipe
This is the best chicken and sausage gumbo recipe ever because it is packed with flavor and steeped in tradition. Follow this recipe and before you know it, you will have perfected the art of preparing gumbo!
The Origins of Gumbo
Gumbo is a melting pot of cultures: West African, European, and Native American. Now it is associated with Lousiana and Cajun culture. Gumbo is definitely at the heart of southern cuisine.
The term gumbo derives from the African word for okra. In several West African languages, okra is "ki ngombo", or, in its shortened form, gombo. So my Chicken and Sausage Gumbo contains okra. If okra does not suit your palette, omit it.
Gumbo is a spicy, rich, flavorful stew typically filled with meat and shellfish. Of course, there are many variations depending on region and personal tastes. Make Chicken and Sausage Gumbo your way!
What is filé powder?
Keeping with tradition, this Chicken and Sausage Gumbo recipe also includes filé powder. Filé powder is a spicy herb made from dried and ground leaves of the sassafras tree. The sassafras tree is native to North America.
It was first used in cooking by Native Americans. Later, the Cajun people used it as a seasoning and thickener in stew, soups, and gumbo.
Filé powder is an acquired taste and totally optional in this recipe. If you add it, stir it in individual serving bowls. Use it sparingly as it is very potent.
Do not add filé powder directly to the pot because that will result in a slimy broth.
Does all gumbo have sausage?
Most varieties of gumbo contain some type of smoked sausage. Although it is not necessary, all of my versions include it! Gumbo usually includes a sausage such as kielbasa, chorizo, and andouille (my personal favorite).
Do you cook Chicken and Sausage Gumbo covered or uncovered?
The key to great gumbo is patience. You need to be by the stovetop to stir, sear, saute and make the roux. For that portion of the recipe, I cook the gumbo uncovered. Once it is ready to simmer, I cover the gumbo.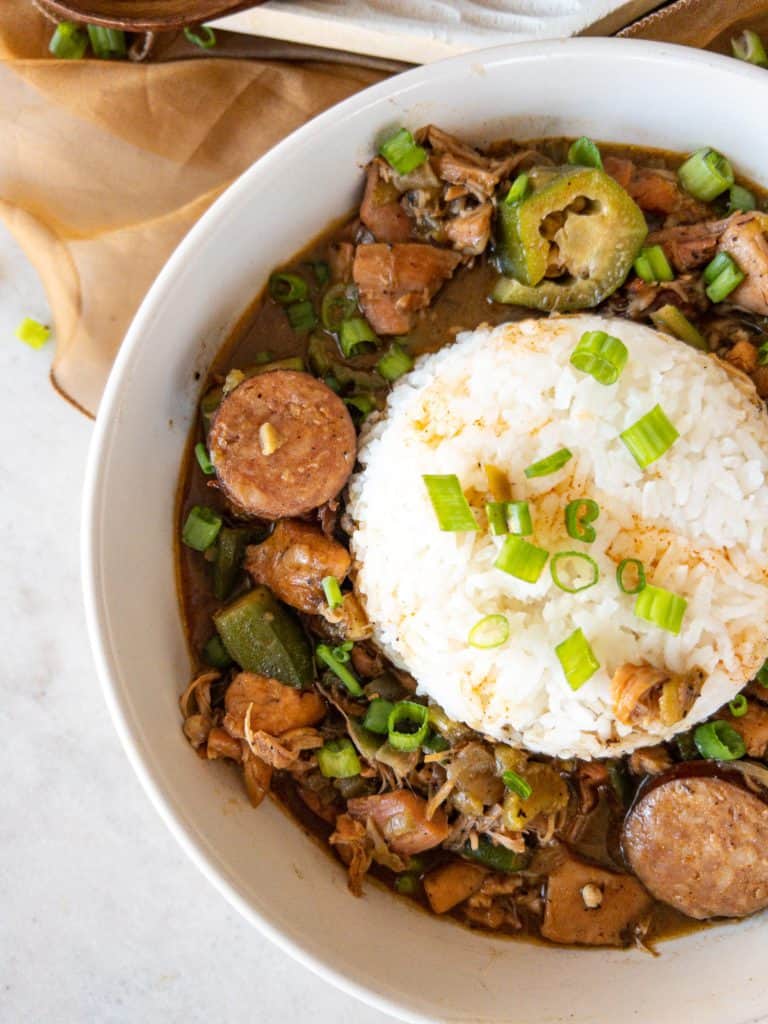 Is gumbo better the longer it cooks?
The low and slow method results in the best gumbo. Simmering over a long period of time allows the flavors to meld. Chicken and Sausage Gumbo needs to simmer for at least an hour and up to an entire day. This also prevents the gumbo from burning or over-reducing.

📖 Recipe
Yield:

6 Servings
Chicken and Sausage Gumbo Recipe
Total Time:
1 hour
10 minutes
Chicken and Sausage Gumbo is a hearty bowl of comfort with juicy pieces of chicken, andouille sausage, and veggies swimming in homemade roux.
Ingredients
6 boneless skinless Chicken thighs (or 3 breasts)
Season chicken: ½ tablespoon cajun seasoning, 1 teaspoon garlic powder, 1 teaspoon black pepper
2 tablespoons Vegetable oil, to sear chicken
1 pound Andouille sausage, sliced into "coins"
1 cup Okra, sliced and frozen (optional)
2 ribs Celery, diced
1 whole Onion, diced
1 whole Green bell pepper, diced
2 cloves Garlic, diced
Cooked white rice, to serve
For the roux
1 cup Vegetable oil
1 cup flour
Liquid and Seasoning
32 ounces Chicken stock
2 cups Water (as needed if gumbo gets too thick)
2 Bay leaves
1 tablespoon Cajun seasoning
1 teaspoon Black pepper
Salt, to taste
½ teaspoon Cayenne pepper, optional for spice
File powder, optional per serving
Instructions
Heat a heavy- bottom stock pot over medium heat. Add the vegetables and allow it to heat up.
Gently place the seasoned chicken into the oil and sear on each side for 4 minutes (this is to brown the chicken). Remove the chicken and set aside.
Next, add the sliced sausage directly into the same pot and brown on each side for about 2 minutes. Remove the sausage and set it aside.
Start the roux: Turn the heat up to medium-high. Add the vegetable oil and allow it to heat up for at least one minute.
Begin to gently add in the flour a little at a time, while whisking continuously. Once all of the flour is added to the oil, continue to whisk for about 15 minutes.
The flour/oil mixture will begin to get more and more brown as it cooks, (it is not burnt)! The roux is ready when it is a deep chocolate brown color, and it is thick like a cookie batter.
Once the roux reaches the right color and consistency, add all of the veggies (okra, celery, onion, and green bell pepper) directly into it and sauté them for 5 minutes.
While the veggies are sautéing, cut the chicken into bite-size pieces.
Pour the chicken stock directly into the roux and stir it until everything is combined.
Gently add in the chicken and sausage and mix it all together. Add in all of the seasonings: bay leaves, Cajun seasoning, black pepper, and salt (to taste). Cover the pot and allow it to simmer for at least one hour.
Adjust desired thickness by adding water if needed (may need to adjust salt as well). Serve with file powder if desired.
Serve over cooked white rice.
Notes
Add file powder to each individual serving instead of the whole pot of gumbo.
Recommended Products
As an Amazon Associate and member of other affiliate programs, I earn from qualifying purchases.
Nutrition Information:
Yield:
6
Serving Size:
1
Amount Per Serving:
Calories:

1006
Total Fat:

75g
Saturated Fat:

14g
Trans Fat:

1g
Unsaturated Fat:

56g
Cholesterol:

201mg
Sodium:

1990mg
Carbohydrates:

36g
Fiber:

3g
Sugar:

6g
Protein:

48g
This website provides approximate nutrition information as a courtesy and for convenience only.