Pink Starburst Shots and Cocktails taste just like a pink Starburst! They are made with watermelon puckers, vanilla vodka, and sweet and sour mix.
Be sure to check out these Bourbon Peach Limeade Smash for another great cocktail idea. You will also enjoy these White Chocolate Martinis!
These Pink starburst Shots are definitely a treat! They have a fruity and sweet flavor just like the pink starburst candy that we know and love! Super delicious, and so fun and easy recipe to make and enjoy.
What you need to make the Pink Starburst Shots and Cocktails:
One of the best parts about this cocktail recipe is that you only need a few simple ingredients. Grab a cocktail shaker if you have one, or even a blender if you want to make them slushy!
Here is what you will need:
Shot glasses and/or cocktail glasses
Vanilla vodka
Watermelon Puckers
Garnish using corn syrup, pink sugar, and a starburst
How to make a pink starburst shot:
Start by gathering your ingredients. The watermelon puckers is essential to this drink because of the flavor, and the vibrant pink color that it adds. So try not to omit it!
Add your vanilla vodka, sweet and sour mix, and watermelon puckers into a cocktail shaker. Put a few ice cubes into the shaker and shake it for about 10-15 seconds so everything is nice and blended.
Optional garnish ideas:
Use corn syrup to rim the edge of your shot glasses or cocktail glasses. Then dip the rims in a pink sugar mixture. This makes for a beautiful presentation. Another great idea is to add an actual pink starburst to the rim of the glass.
You can also add a dollop of cool whip or whip cream for a creamy addition to the shot! This will just add a smooth delicious flavor to an already amazing drink.
Here is a video with step-by-step instructions:
How to make the Starburst shots without a cocktail shaker:
If you do not have a cocktail shaker, a large glass or pitcher will work. Simply add the ice to the glass or pitcher. Then add the equal parts vodka, sweet and sour, and watermelon puckers.
Use a large spoon to give it a good stir. Then simply strain the mixture into serving glasses or shot glasses. Alternatively, you can use a blender to get it all mixed up!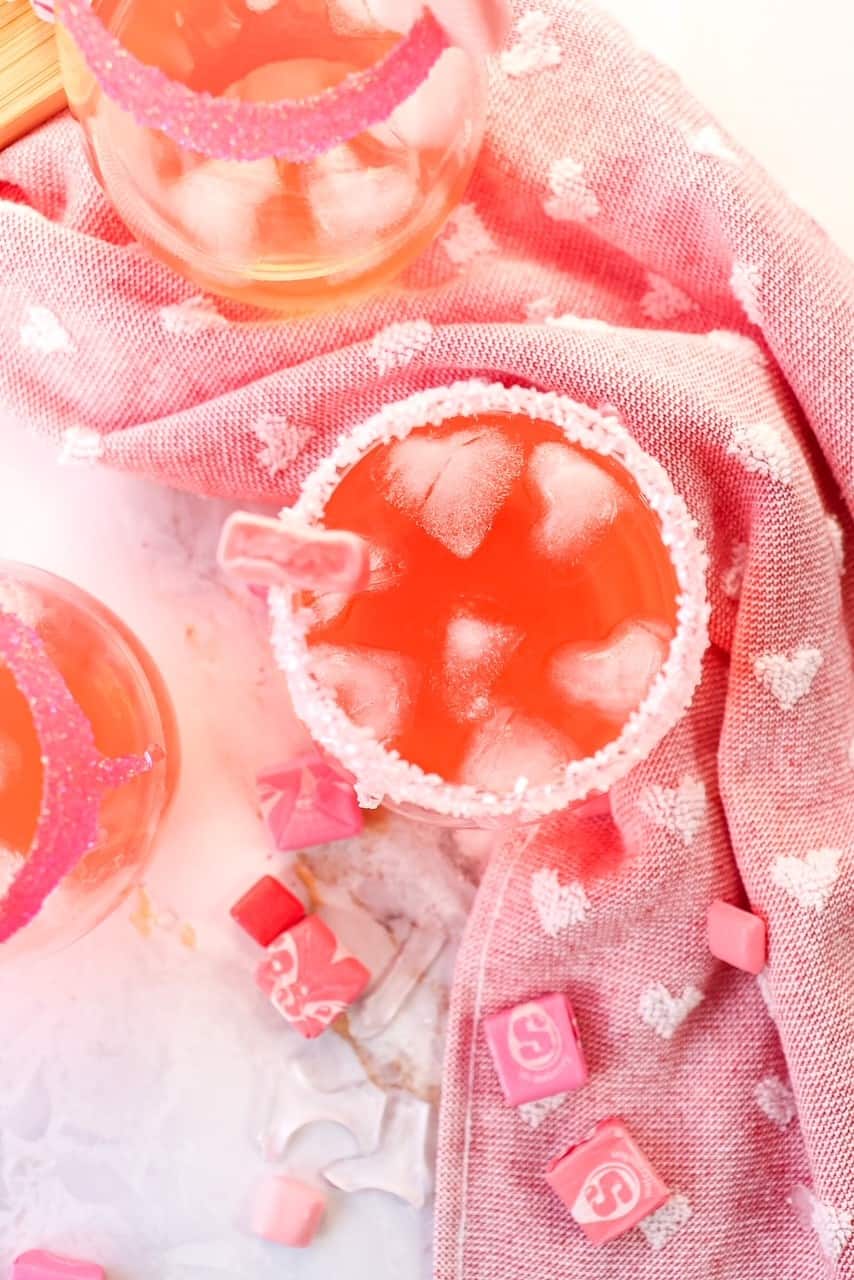 Make it into a slushly!
A pink starburst cocktail in slushy form is just EPIC! Place all of your ingredients into a blender. Including the puckers, vanilla vodka, and sweet and sour mix.
Add at least two cups of ice to the blender and blend on high for one minute, or until the ice becomes slushy. Serve the drink in a chilled mason jar or glass so that it does not melt and become too watery.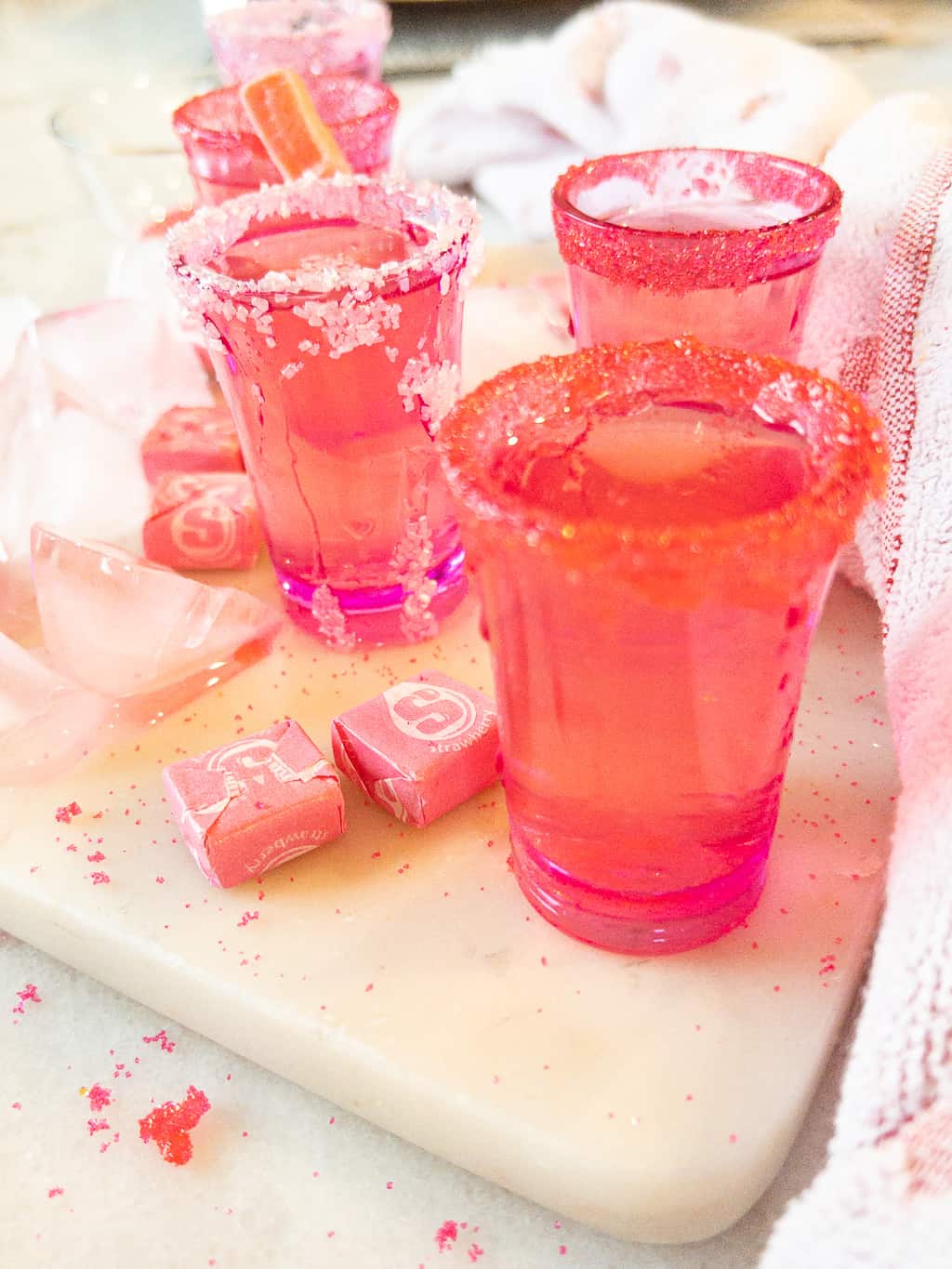 Alternative alcohol or liquors to use:
The vanilla vodka is truly a key ingredient to achieve the true pink starburst flavor. However, if you cannot find it, use regular vodka and add ½ a teaspoon of vanilla extract.
Even more, you can use a rum in place of the vodka. It would add a bit of a unique island like flavor vs. fruity flavor. Although I have never tried the shot with gin, some people have, and said it was just as delicious.
Click through the story below for more details:
The PERFECT drink for girls night!
When I tell you that you and your girls will have an absolute blast- you have to try them to believe me! We all know that the pink one is everyone's favorite starburst flavor, so imagine making it into a drink!
Making a large batch of the pink starburst cocktail:
If you plan on entertaining, make a large batch of the starburst shots and store it in the refrigerator. Use a pitcher with a lid, and pour equal parts of the vodka, sweet and sour, and puckers. DO NOT ADD ICE if you will not be serving immediately.
Store the pitcher in refrigerator for up to one week. When it is time to serve, pour the drinks into a shot glass, or cocktail glass with ice.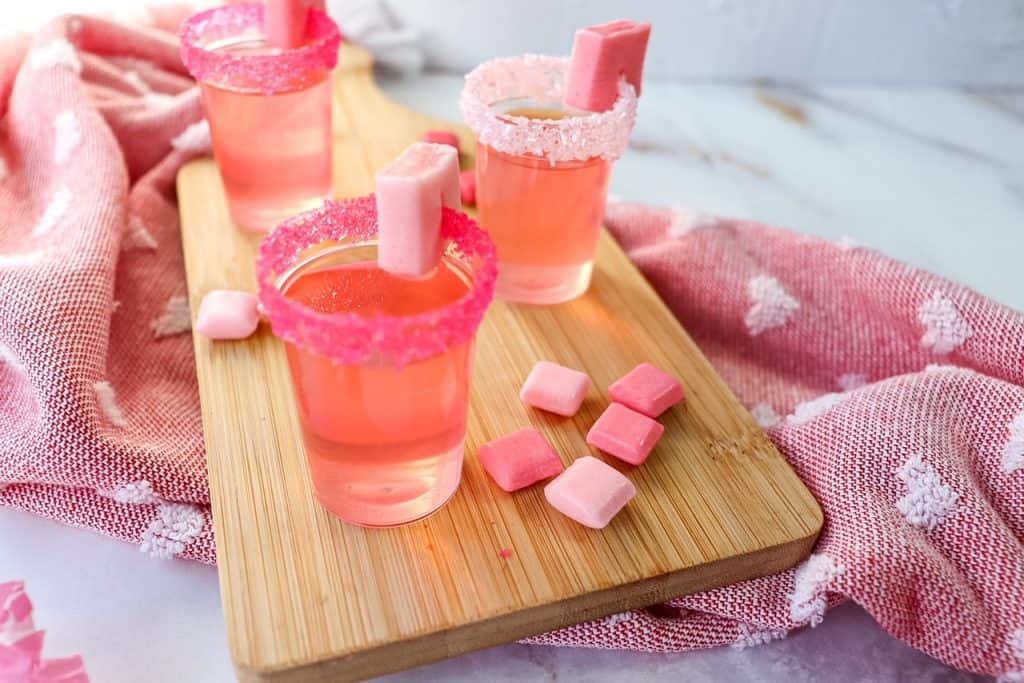 FAQ
When is the best time to make these shots and cocktails?
This is one of those drinks that is perfect for any occasion. Make a big batch for your next ladies night so you and the girls can enjoy them. Or they are even perfect for family get togethers.
Even more, these are the perfect cocktails to enjoy on your favorite holidays. Make a batch for you and your loved one on Valentine's Day, Mother's day brunch, or even your Fourth of July gathering! They are sure to be a hit any and every time you make them!
Can I order a pink starburst shot at the bar?
Yes you can! In fact, this is one of the first places I tried this drink, and was instantly in love. It goes down so smooth, and is absolutely delicious.
Can I make these into pink starburst Jell-O shots?
You can definitely make these into Jell-O shots. You can actually buy pink starburst flavored Jell-O at your local grocery store, or online.
Mixt the Jell-O according to the package instructions, and add your liquor directly into it. No need to add the sweet and sour mix or puckers.
📖 Recipe
Yield:

2 drinks 6 shots
Pink Starburst Shot and Cocktail
Pink Starburst Shots taste just like a pink Starburst! They are made with watermelon puckers, vanilla vodka, and sweet and sour mix.
Ingredients
4 ounces Vanilla vodka
4 ounces Watermelon Puckers
4 ounces Sweet and Sour Mix
Optional Garnish
Lite corn syrup
Pink sugar
Pink starburst
Instructions
Add ice cubes to a cocktail shaker. Pour in the vanilla vodka, watermelon puckers, and sweet and sour mix.
Shake the mixture up very well.
Alternatively, if you do not have a cocktail shaker, add all of the ingredients to a large cup or a pitcher. Add in the ice cubes and stir well until everything is fully incorporated.
Pour the pink starburst shots into shot glasses, or enjoy them as a cocktail over ice.
To garnish:
Pour the lite corn syrup in a shallow dish or bowl. Swirl the rim of the glass or shot glasses in the corn syrup. You can also use a lemon wedge to rim the glass.
Pour some pink sugar in a shallow dish or bowl. Swirl the rim of the glass or shot glasses in the pink syrup.
Cut a small slit in a pink starburst and wedge it onto the rim of the cocktail glass or shot glass.
Serve immediately.



Notes
See post for make ahead instructions, as well as variations for different alcohol.
Nutrition Information:
Yield:
6
Serving Size:
1
Amount Per Serving:
Calories:

111
Total Fat:

1g
Saturated Fat:

1g
Trans Fat:

0g
Unsaturated Fat:

0g
Cholesterol:

0mg
Sodium:

4mg
Carbohydrates:

18g
Fiber:

0g
Sugar:

15g
Protein:

0g
This website provides approximate nutrition information as a courtesy and for convenience only.