Italian Sausage and Tortellini Bake is tortellini pasta cooked to perfection with a hearty marinara sauce and Italian sausage. With a few simple ingredients, you will have dinner on the table in well under 30 minutes!
While you are here, be sure to check out this Mouthwatering Homemade Lasagna, and even better- this Fried Lasagna!
Italian food is ALWAYS a hit in my house. Pasta is definitely our favorite. The starchy goodness of a noodle, paired with any form of sauce, turns out to be a hearty and satisfying meal.
Jump to:
This sausage and tortellini recipe is quick, easy, and cheesy. That is what makes this Italian Sausage and Tortellini Bake a weeknight go-to!
Key ingredients you need for the tortellini bake:
This hearty Italian sausage pasta bake is ready in less than an hour with some simple ingredients.
Italian sausage: While you can use any variety of sausage, I opted for sweet. The inclusion of basil in sweet Italian sausage balances out the savoriness of this dish.
Tortellini: When cooked just right, this pasta is tender. I used cheese tortellini in this sausage tortellini skillet recipe.
Veggies: I used a pepper & onion mix. Find it in the frozen isle at most grocers, or slice fresh bell peppers and onions.
Spaghetti sauce: You can use a premade sauce to save time but my homemade marinara sauce recipe is simple, easy and delicious!
Cheese: I used shredded parmesan cheese and a melty cheese like mozzarella.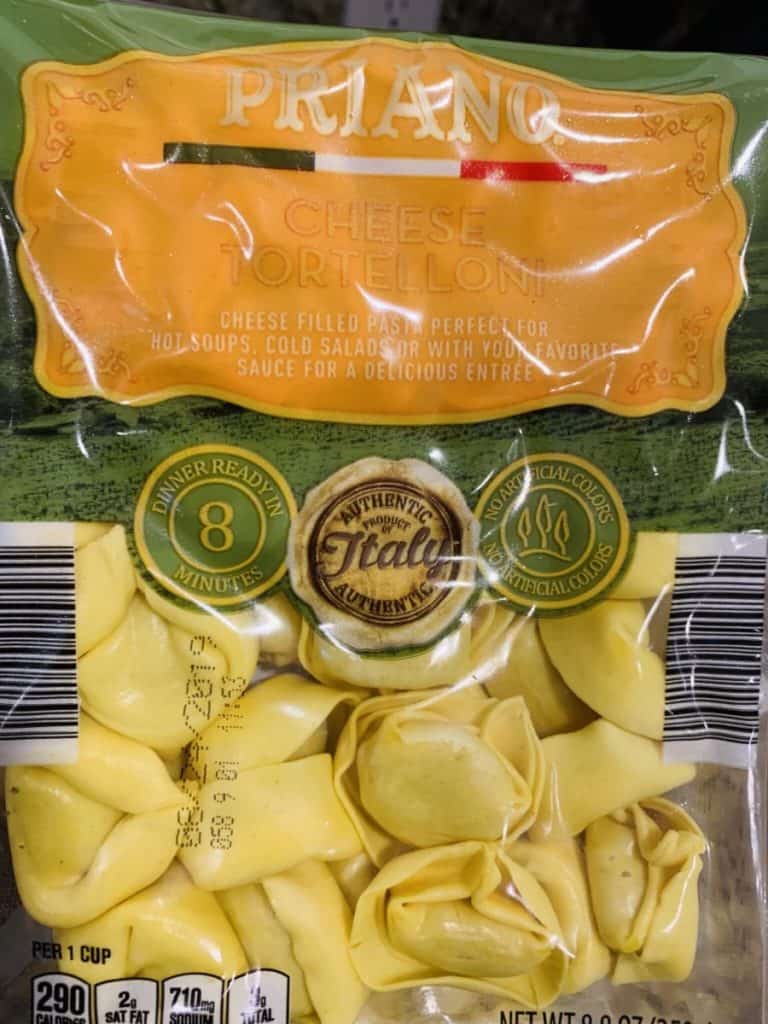 Which pasta is tortellini?
Tortellini noodles are "ring" shaped pasta with various delicious fillings. The filling can vary from meat to cheeses, or even a mushroom or tomato filling.
The most amazing part about this pasta is that it has a long shelf life. Most stores either sell it freeze-dried (on the shelf), or frozen.
Either way, you can stock your pantry and use it at a later date. The noodles cook super fast, so it takes the hassle out of dinner.
They also provide a fun meal for even the pickiest eaters in the household. Something like the "element of surprise" as to what is inside that pasta!
How is the Italian sausage tortellini pasta bake made?
You will start by browning, or searing the Italian sausage. Use a cast iron skillet or an oven proof skillet for this dish. Once the sausage is browned on all sides, remove it from the skillet and set it aside to cool.
Next you will start on making the pasta sauce. Of course you can use prepared sauce in a jar, but homemade is super easy! Checkout this homemade marinara sauce recipe for details.
Start by melted butter in the skillet. Then add your peppers, onions, and garlic and sauté for a few minutes.
After the pasta sauce is done, you will add the sliced Italian sausage and cooked tortellini pasta directly into the sauce.
Stir it all together and cover with shredded cheese. Bake the skillet on 375 degrees for 15-20 minutes, or until the cheese is melted.
What is the base for the pasta bake?
Tortellini is often served with a broth, in soup form, or in a dish with an alfredo or spaghetti sauce. In this particular recipe, we created a tortellini bake with Italian sausage and a delicious homemade marinara sauce.
Make a nice size batch of this marinara sauce and store it away for when you need it.
I freeze mine in large freezer bags but if you know how to can your preservatives, that is an even better way to store it!
Of course, you can use store-bought marinara sauces, but honestly, homemade is always better!
Trust me, if you can take a good 30 minutes to an hour out of one of your evenings or weekends, just make yourself a batch of homemade sauce. Cost-effective, and healthy = WIN-WIN!
Which skillet is best to cook Italian Sausage and Tortellini Bake in?
If you do not already have one, this cast iron skillet from Amazon is PERFECT for this dish, and it is less than $20! You will find yourself using your new cast iron skillet for almost all your cooking. It is my favorite skillet, hands-down!
Do you make any other homemade sauces and store them for later? Let me know in the comments below!
📖 Recipe
Yield:

6 People
Italian Sausage Tortellini Bake
Italian Sausage and Tortellini Bake is tortellini pasta cooked to perfection with a hearty marinara sauce and Italian sausage. With a few simple ingredients, you will have dinner on the table in well under 30 minutes!
Ingredients
1 pack Sweet italian sausage
2 packs Tortellini pasta, cheese tortellini used in this recipe
2 tablespoon Olive oil
3 cloves Garlic, minced
½ cup Pepper & onion trio mix, found in the frozen isle at most grocers
4 cups Homemade spaghetti sauce, see recipe below
8 ounces Shredded parmesan cheese
6 cups Water, for boiling the tortellini
1 teaspoon Salt
Instructions
Heat olive oil over medium high heat in a skillet or stock pot. Add Italian sausage and brown on all sides.
Add water and salt to a large stock pot and boil on medium high. Once water reaches a rolling boil, add tortellini. Cook according to package instructions, usually 8-10 minutes, or until pasta is al-dente. Once they are done, drain and set aside.
When Italian sausage is browned, remove from pan and set aside to cool on a cutting board.
Add the onion trio to the same pan, sauté for 5 minutes. Add garlic and sauté for 1 minute. Add homemade marinara sauce and turn heat down to medium low to allow sauce to simmer.
Once Italian sausage has cooled, slice it to ½ inch thick slices. Add it back to the pan with the sauce. Simmer for 10 minutes. Add tortellini pasta to the pan and combine.
Turn oven on broil. Transfer pasta to an oven safe dish (if not already using one). Sprinkle cheese over the top and broil until top cheese is bubbly and browned. BE SURE TO WATCH IT BECAUSE THE BROILER WILL BURN THE DISH VERY QUICKLY.
Notes
Cast iron skillet works best for this dish- as you can transfer it directly to the oven to broil the cheese (click the link for inexpensive skillet from Amazon).
Nutrition Information:
Yield:
6
Serving Size:
6 People
Amount Per Serving:
Calories:

501
Total Fat:

23g
Saturated Fat:

10g
Trans Fat:

0g
Unsaturated Fat:

11g
Cholesterol:

58mg
Sodium:

2074mg
Carbohydrates:

47g
Fiber:

7g
Sugar:

10g
Protein:

27g
This website provides approximate nutrition information as a courtesy and for convenience only.